It's no secret that most organizations struggle with their digital transformation strategy. In a typical business, 62% of employees struggle to access their data, and 75% find it challenging or annoying logging into all the applications they use day-to-day. Sound familiar? Likely, you've been in the same position; but we believe innovation shouldn't be a roadblock to building an award-winning digital workplace experience. Here are 10 ways you can bring your employee experience into the 21st century with an AI-powered smart assistant for the workplace.
1. Receive smart notifications from any data source
When you can see how your sales metrics are performing for this quarter, the changes your colleague made to a client proposal, a reminder about the upcoming fire alarm and more from one interface, work becomes significantly easier. Digital Assistant supports integrations from hundreds of cloud and on-premise enterprise applications, so you can receive smart notifications from across your entire enterprise ecosystem - and save valuable time checking each of them individually.
And with a smart assistant, notifications are more than just that - you can take action directly from the notification, whether that's leaving a comment on a document, starting a meeting or going directly to the application.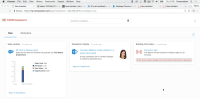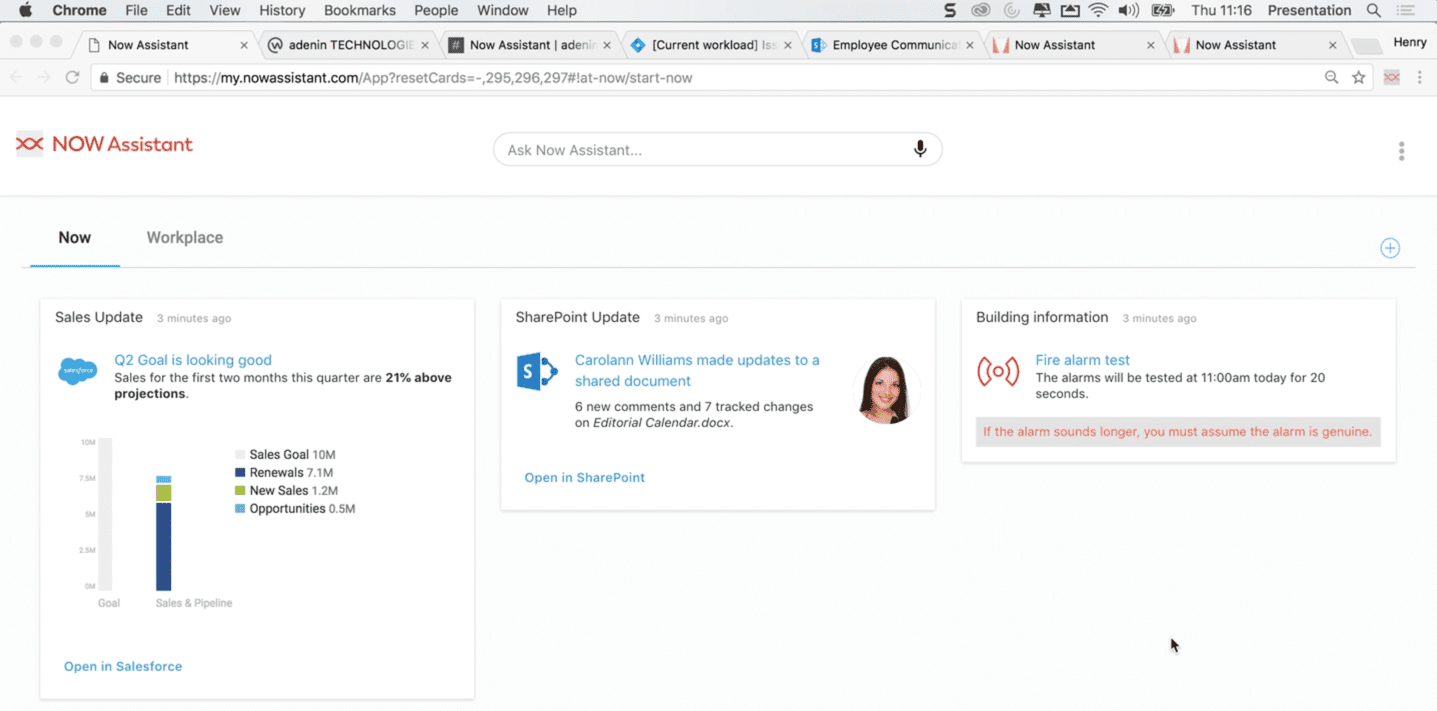 2. Use AI to find anything within seconds
You need that one really critical document. It needs completing and sending off to a client tomorrow, and it's hidden somewhere - in some repository, in some folder, and your to-do list for today is already a mile high. Don't panic. Ask your smart assistant anything and it can scour all of your connected sources in seconds, and return a result directly to your workspace.
You're not limited to asking for files, though. You can ask your digital assistant anything; ask for your remaining PTO allowance, a HR policy or what your calendar looks like for tomorrow, and the Digital Assistant AI engine will understand your intent and respond with exactly what you need to get things done.


3. Fill out forms on the go
If you're searching for how much PTO you have left, it's not a stretch to imagine that you might want to book that time off. Typically, this can take a good chunk of time - navigating to yet another portal, to yet another application, to fill out a form with awkward date inputs. Digital Assistant makes this effortless. Just click the link from within the card and fill out the form directly from within your digital assistant - fuss free forms, from anywhere.
If you use a mobile device at work, you probably wouldn't consider trying to make a leave request from your phone. Logging into the correct portal and then navigating it on a mobile device is at best difficult, and at worst physically impossible. Digital Assistant natively supports all devices, so you can fill out your forms anywhere - on the train, on your commute, or at a client site.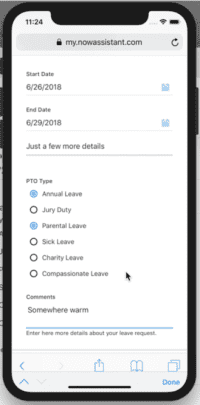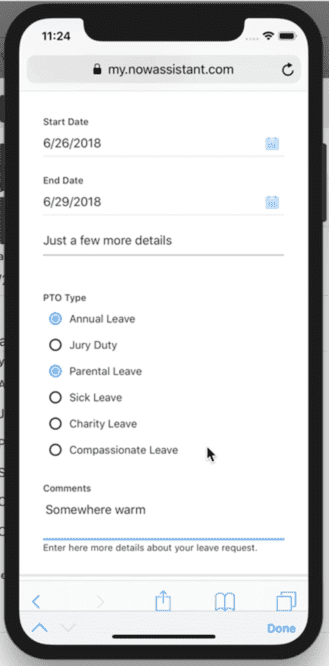 4. Find anything from within a chat application
Your digital assistant is available wherever you work. If you use Slack, Workplace by Facebook or other collaboration tools to work together with your team, Digital Assistant is available from within the app. Save the time, effort and frustration of constantly switching between applications to find what you need; simply ask Digital Assistant a question and receive AI-powered answers and results. You can even manage requests, workflows, approvals and more from inside your applications through the Digital Assistant enterprise chatbot platform.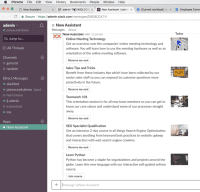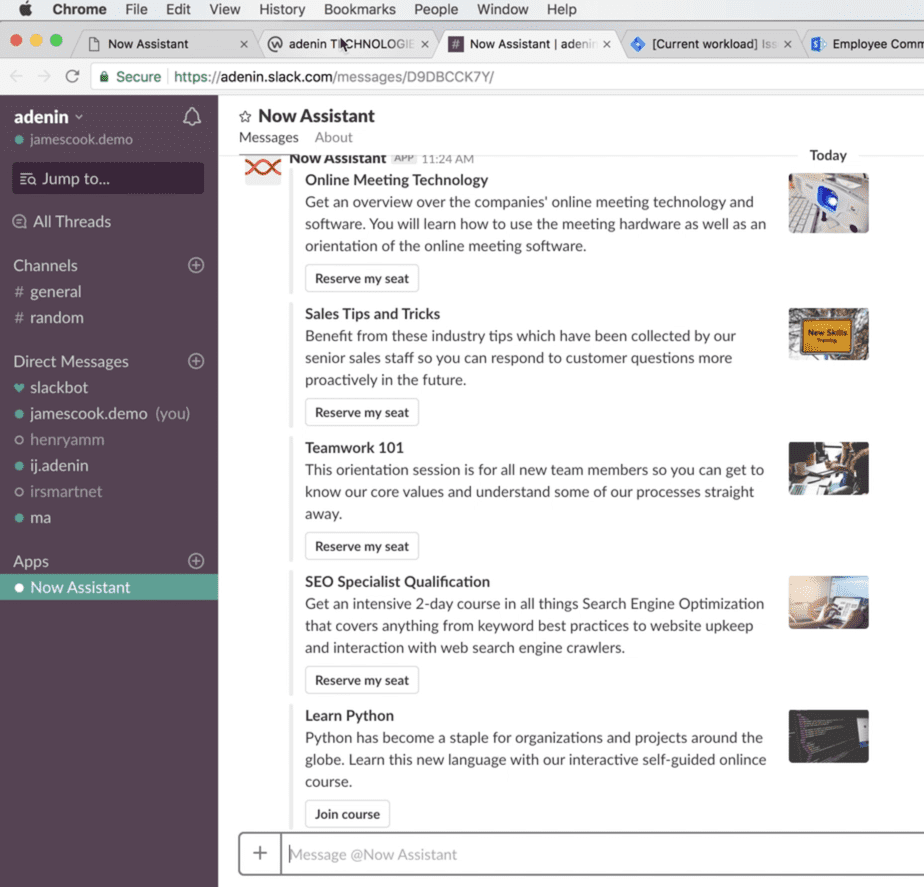 5. Ask Alexa anything you need
If part of your digital transformation strategy includes building a smart office, Digital Assistant has got you covered. Bring the power of AI to your business by integrating a smart assistant with your smart home devices, such as Amazon Echo and Google Home, and access your digital assistant wherever your smart devices are.


Ask your Echo Show or Google Assistant device about your available travel options, to start your meeting or show client information and Digital Assistant will understand and perform your request instantly. You can access all of your enterprise applications and data sources with only your voice, whether you're in your office, working from home or on the go.
6. Access your assistant right inside the browser
It can take up to 15 minutes to regain your concentration after a distraction. And let's face it - work brings a lot of distractions, in the form of emails, meeting reminders, file update notifications and more. All of this wasted time adds up, and can cost a company with 70,000 users as much as $50M a year; not to mention the impact this has on employee happiness and engagement.
You can access Digital Assistant directly from your browser, and receive all of your notifications in one place. You'll see the things that matter most to you, first, and you can even receive desktop alerts so you never miss a thing. Instead of switching between multiple applications constantly, you can focus on completing your tasks, safe in knowing that your smart assistant is available to answer any question you might have at a second's notice.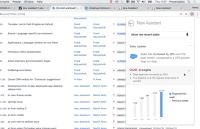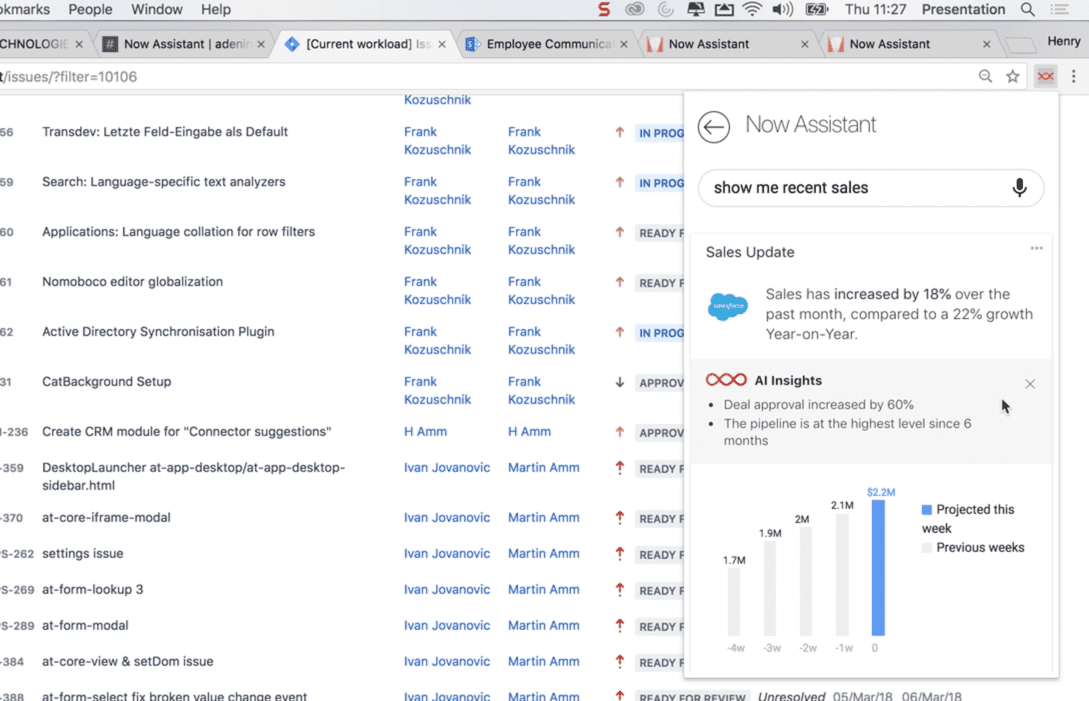 7. See Cards inside your Intranet
Intranet solutions like SharePoint are at the heart of a lot of businesses, and are critical to managing internal communications, HR and individual teams. But intranets are frequently static, can be difficult to navigate, and can encourage the problem of business data silos.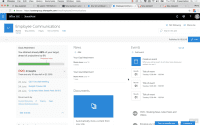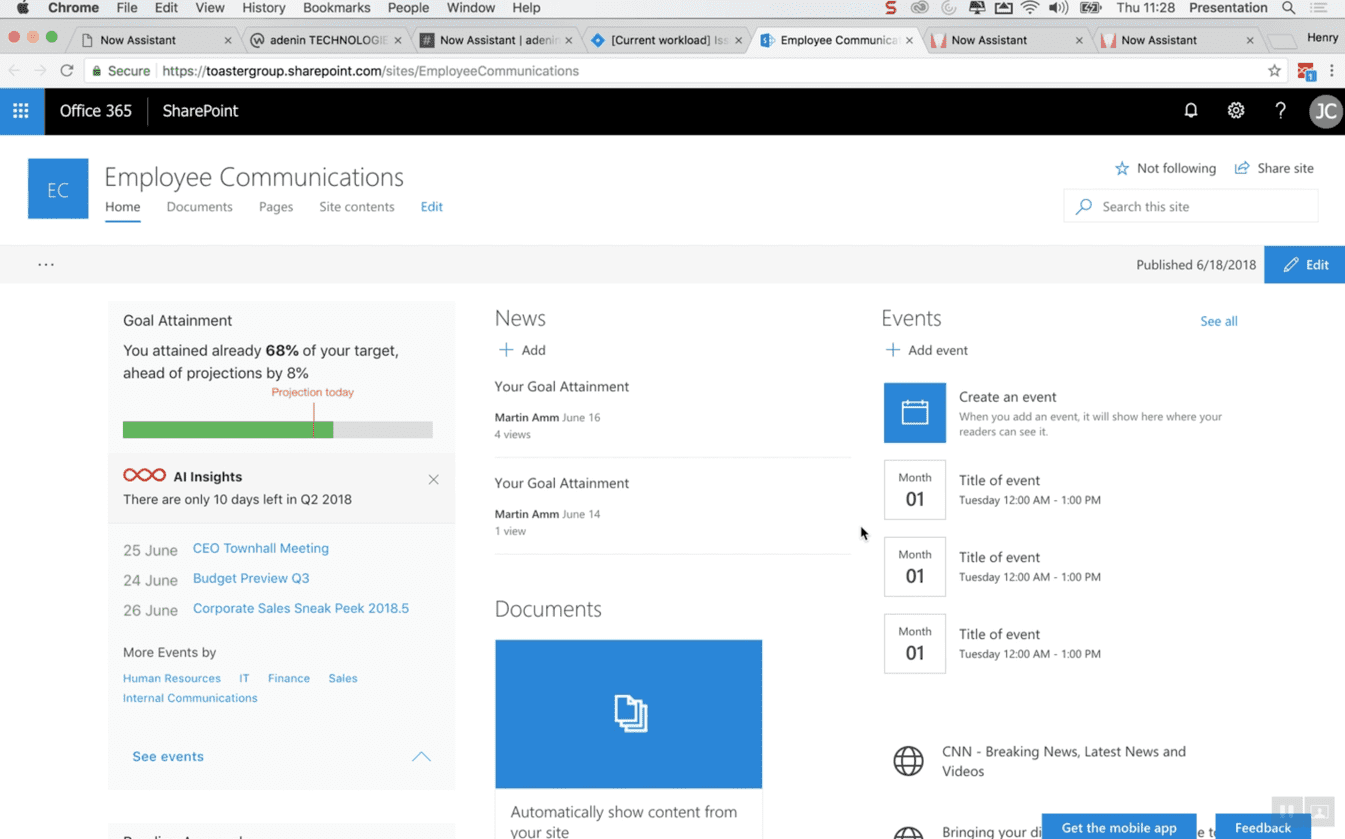 Digital Assistant can bring a new lease of life to your tired intranet. By integrating personalized cards into your SharePoint sites, employees can see key information at a glance; whether that's company wide, like a policy update or buildings alert; team based, such as a sales goal or finance target; or individual, like a task reminder.
8. Pin interesting Cards to your Workplace
If you see something you like, you can pin it to your personal Digital Assistant workspace. Keep everything you need close to hand, so your favourite cards are never more than a click away. Create a personal dashboard of files, figures, tasks and business insights. And when you're done with a card, you can just swipe it away.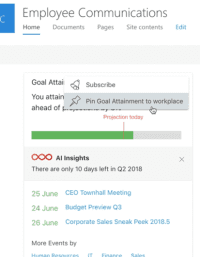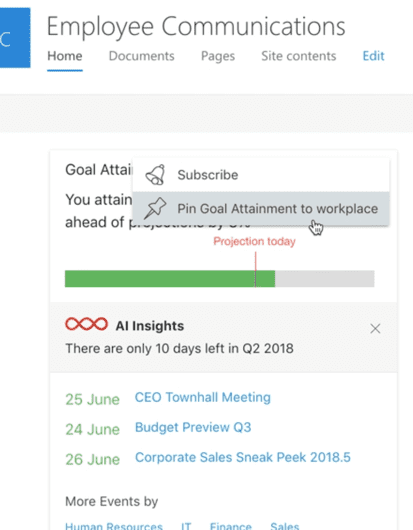 9. Manage all workflows
If you're a manager, keeping on top of approvals is yet another task added to your daily routine. Depending on which enterprise applications you use, you might even have to check four or five applications regularly to stay up to date with your approvals. Even then, you could be missing part of the picture; how easily can you decide whether to approve one team member's PTO request, without knowing what the rest of your team is doing?
Your smart assistant makes workflows and approvals simple. Integrate all of your enterprise applications with Digital Assistant, and you'll receive approval notifications as actionable cards. Digital Assistant's AI insights ensure that you get all the information you need to make a decision. So if you're sipping coffee in the break room or killing time on a train, you can easily accept, decline or refer requests from any of your apps.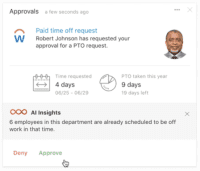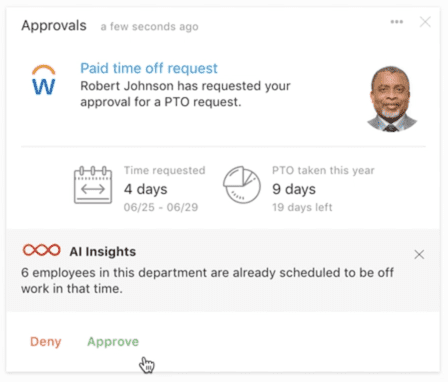 10. Get instant answers to anything
Have you ever searched a portal for something, then been directed to another portal to search there? Even then, the results you get are barely relevant, and you end up spending far too long trawling search result pages to find what you need. It's frustrating, and a huge waste of valuable time which could be spent more productively.
Ask Digital Assistant anything - who your company books rental cars with, whether you can fly business class, which customers are nearby or what your direct line manager's phone number is - from your browser, desktop, mobile or chat application - and receive a relevant, personalized response. Finding what you need becomes simple, quick and frustration-free.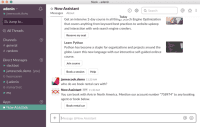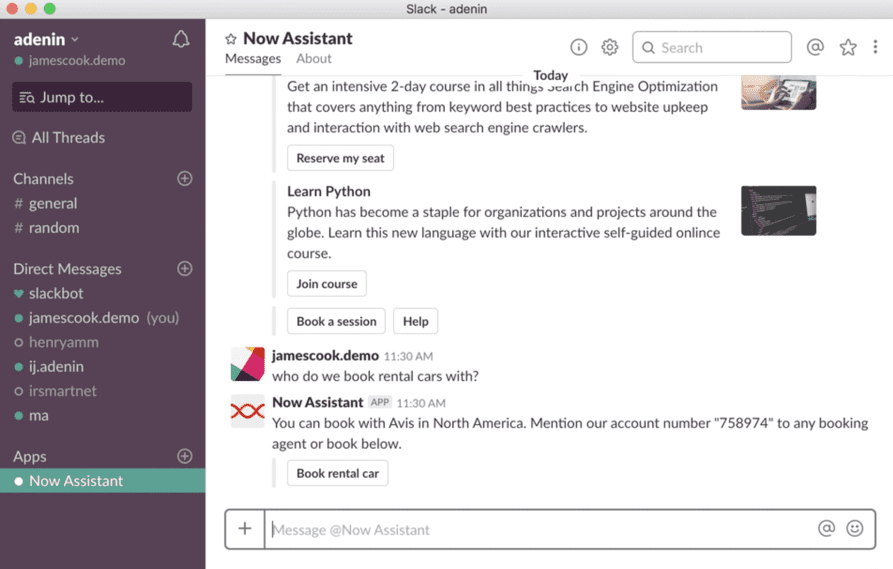 Want to learn more? Watch Henry Amm demonstrate the capabilities and benefits of Digital Assistant, the smart assistant for work, in our DWX 18 innovation spotlight.