Adaptive Cards are a standardized UX for business use cases, such as displaying Adaptive Cards in SharePoint, or to build a chatbot with Adaptive Cards. With the wide range of input types and the flexible layout they are a great way to make portable snippets of information.
Related: Building with Adaptive Cards? Here's what you should consider
If you're considering to build Adaptive Cards for your business, then these free samples could help you get there more quickly. Our 11 free samples show a great range of layouts with images, approve/decline buttons and expanding sections.
Workflow Adaptive Card templates
Approval request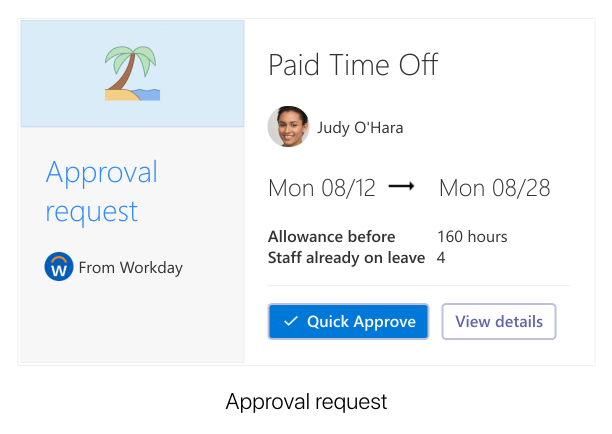 This template shows a new request for annual leave by an employee. Everything, from the icons, the "fact set" or the button labels could be quickly adapted to suit your use case.
Editor's tip:
Just click Use this template to start building out one of these templates before you connect it to one of the free app connectors.
Travel request approval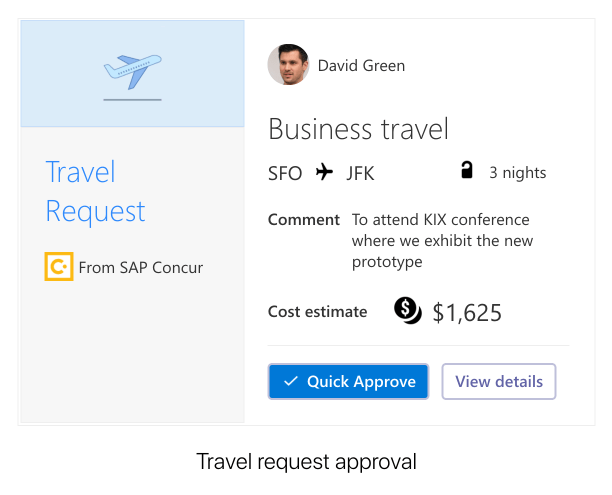 A variation of the Approval request, this template shows a prominent number instead of the "fact set" of the generic template.
Expense report and approval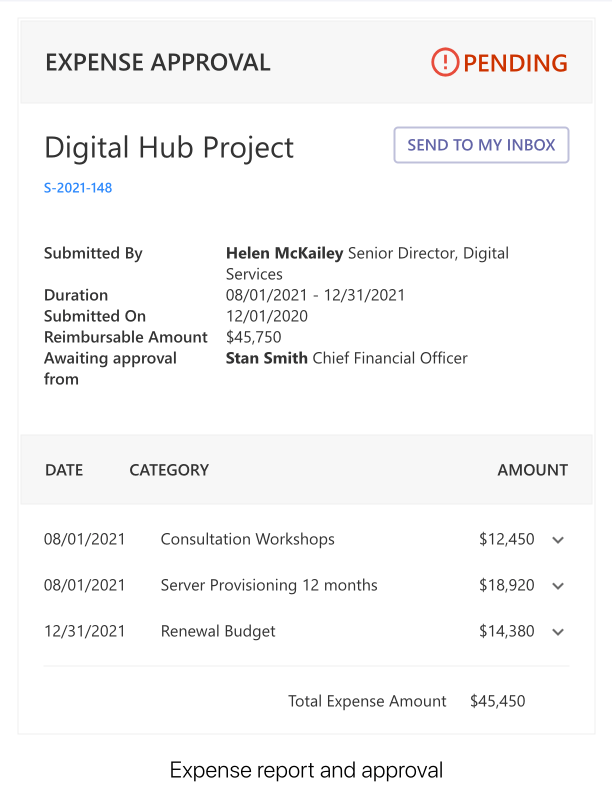 This template shows off the strength of Adaptive Cards. It has multiple sections that each can expand to reveal more details or let you leave a comment. The template also contains a set of Action buttons that let you approve or deny the request.
Form Adaptive Card templates
New PTO Request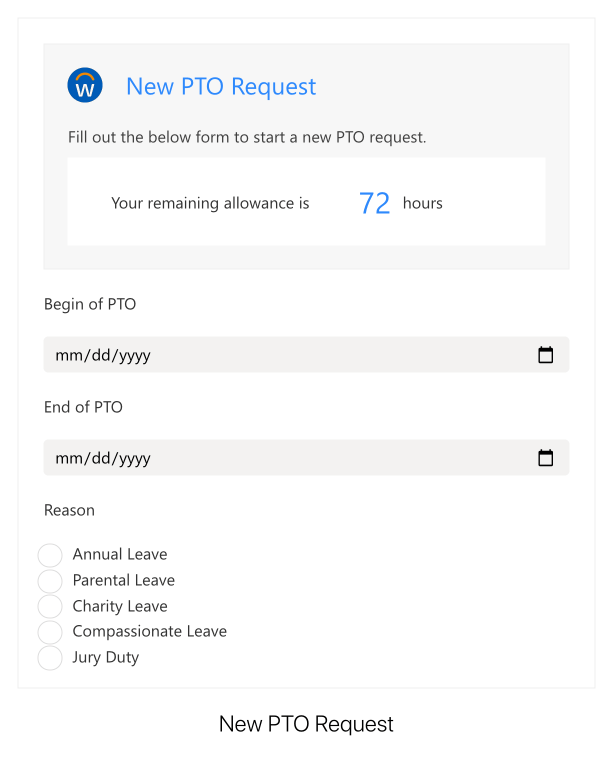 Forms are a strong reason why businesses should convert around Adaptive Cards. They're built to be portable from the ground up, allowing users to fill them out on their phones or on the big screen. This template shows off multiple different form types for a new annual leave request.
Using the API of an existing HR app it could even conveniently co-display the users remaining allowance in the context of their new request.
Notification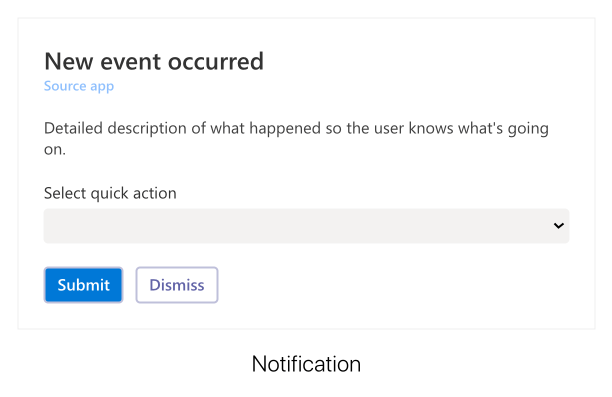 There could literally be a thousand use cases for showing the user a notification, e.g. after a Webhook triggered. Just think of all the times you would normally receive a static email, but with Adaptive Card you could instead select a preferred action, leave a comment or quickly approve something.
Internal comms Adaptive Card templates
Corporate news item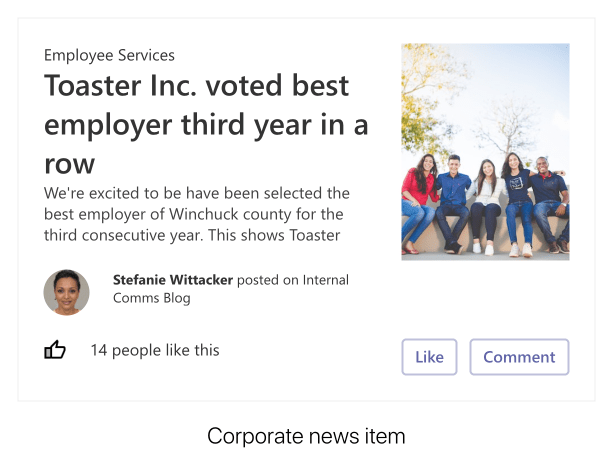 An attractive display for a Corporate news or Internal comms article, posted on a CMS or Intranet. It sports an avatar of the author, as well as a Like and Comment button (the latter of which reveals a comment section on click). Both the Likes and Comments could be fed back to the Intranet of choice via its API.
Workplace Anniversary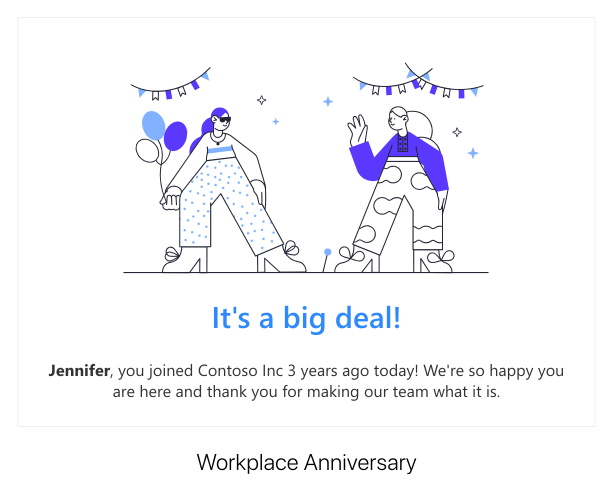 A groovy way to delight a user by sending them quick greetings about birthdays or anniversaries. This template could be quickly adapted by changing the illustration and verbiage to thank users for a reached project milestone, give Kudos after a deal was won, etc.
Corporate video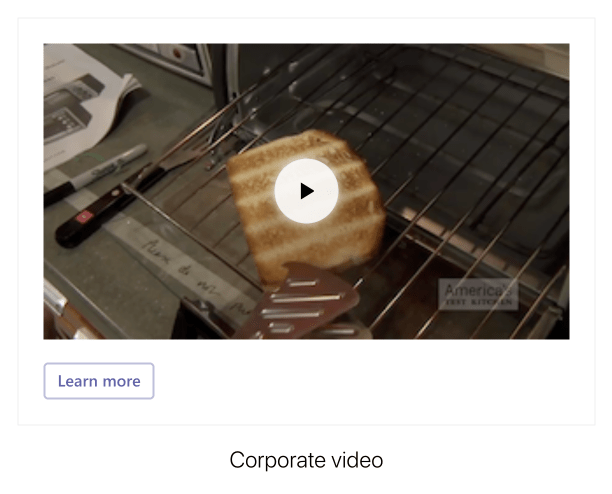 Having the opportunity to embed rich media into Adaptive Cards make them ideal an ideal candidate for mobile knowledge management solutions. Just ask a question and watch the answer demonstrated by video. Other user cases could cover training on the go, or just Corporate news and vlogs.
List templates for Adaptive Cards
Basic list item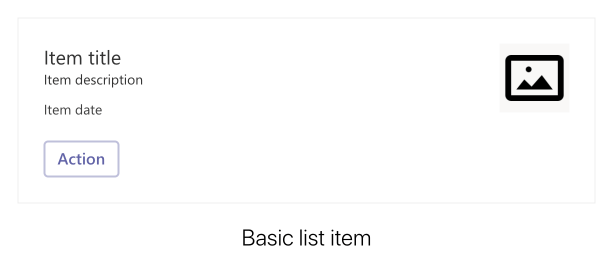 Simply includes a title, description, timestamp – as well as an optional teaser image and button. Even though it's just a single item, through the magic of Templating you can quickly have the list repeat itself for each item in your data.
Advanced list item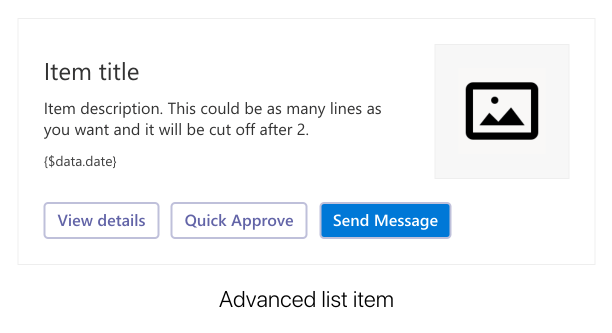 This template includes a bigger title, and image, along with multiple Action buttons that would make it useful for use cases where you want to respond to something, i.e. by approving, commenting, etc.
Interactive list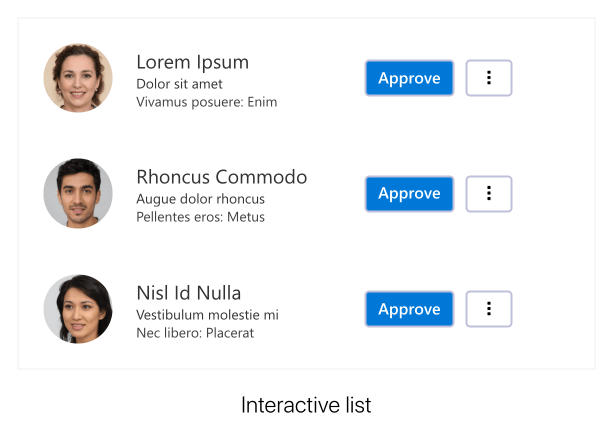 This list is focused on the users in it, making it ideal for messages, tasks or approvals. Although compact in appearance, the ellipsis button could reveal further options in a separate section.
~~~
Are you considering to use Adaptive Cards for your next project? Despite attractive layouts and easy data connections, there are some pitfalls you should consider before jumping on the bandwagon.
I hope you have found a suitable template as the basis for your own customizations. Just hit the Use this template button to load the template into the Adaptive Cards Designer and make your changes. Once you're done, deploy the Card to a channel of your choice.