You and I know, that being in charge of company IT is no picnic. Especially if you're planning to create a digital workplace, that's fun and engaging, you will need to chanel some serious Steve Jobs-level of faith in your abilities.
So if you're just dotting around your SharePoint admin area ready to question your existence, need some inspiration for an impressive presentation to your team, or are just plain curious: these are some signature features you can expect from introducing a digital assistant at your organization.
1. Centralized notifications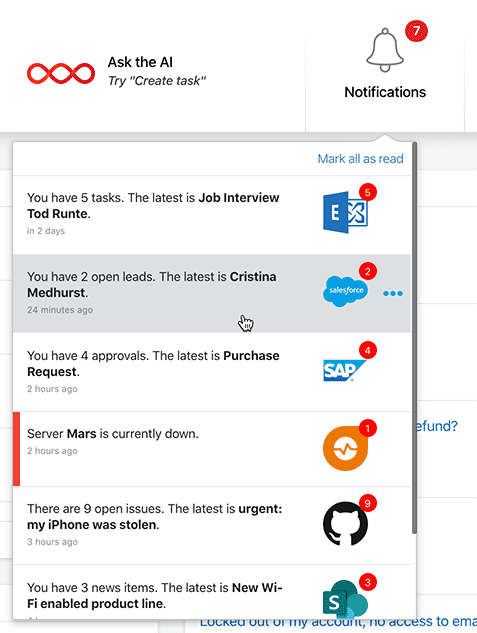 Notifications are so prolific in your private life that you almost wish they were never invented...until you get to work and literally nothing even has a notification feature. (Other than flooding your inbox, of course.)
Over half of all employees switch between 10 different work apps every hour. This leads to loss of concentration and can be a huge productivity killer (and source of frustration 🤯) for employees.
A digital assistant's primary goal is to be your eyes and ears within all the applications you normally have to jump in-between all day.
It puts everything you need to know at your fingertips, and is super easy to set up with most enterprise apps. Whenever something new is found in a source app, you'll be sent a real-time notification. That could be edits to a document you're working on, reminders about upcoming meetings, new tickets assigned to you or pending approvals.
But it gets even cooler than this: Most notifications are actionable, meaning they allow to you take popular actions (i.e. approving) in-line without leaving the assistant. Unlike emails they're also "live", which means if a ticket is no longer unassigned as it may have been taken up by a colleague, then the notification goes away; whereas emails don't. (Read more about this under 5. Push notification)
2. Easy-peasey enterprise search
Employees frequently loose ⅓ of their time looking for stuff, despite the industry tring it's best to get companies to bust their information silos for the past two decades.
So let's try something new: instead of busting the silos, just connect them. With APIs you can securely access data of almost every business application in use today. Fed into a centralized data hub your digital assistant can easily query real-time data for the user.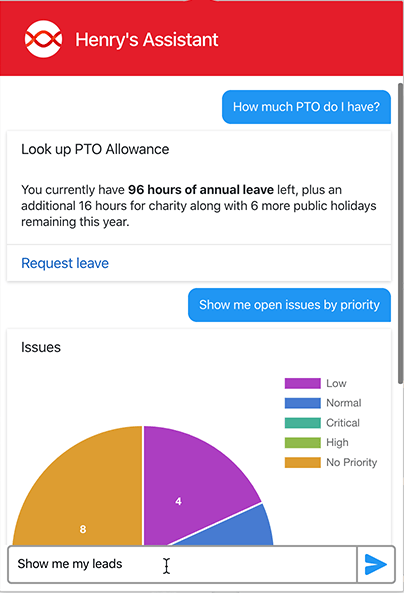 But we don't want to just "search" like we did in 1998. To take it to the next level, your personal assistant can actually understand full-length sentences, thanks to a built-in NLP engine that administrators can train and improve with ease.
Employees can ask this smart workplace chatbot anything they want; to find documents, answer questions or start workflows – drawing data in real-time from any application that's connected to the Assistant.
But there is one more feature (and some might find this to be the real surprise)! You can enrich the results your existing enterprise or Intranet search offer with results delivered by the Assistant.
This could take the shape of a user searching SharePoint for "PTO" and getting their balance right there in the results – they might not have even realized that it's their digital assistant that's delivered this to them.
3. Submit requests
For better or worse, most people have accepted that every single thing they want to do requires them to "hop" to the respective application. If you wanted to accomplish three simple tasks, say request leave, submit expenses and create a sales deal, then no one would expect these to be doable from the same application. But why the heck not?
Most applications we use every day have APIs that let developers both read from and write information into the host app.
Couldn't we just make a central "thing" that lets you fill out any form and it takes care of submitting it to the correct app?
We could, we can, and we have!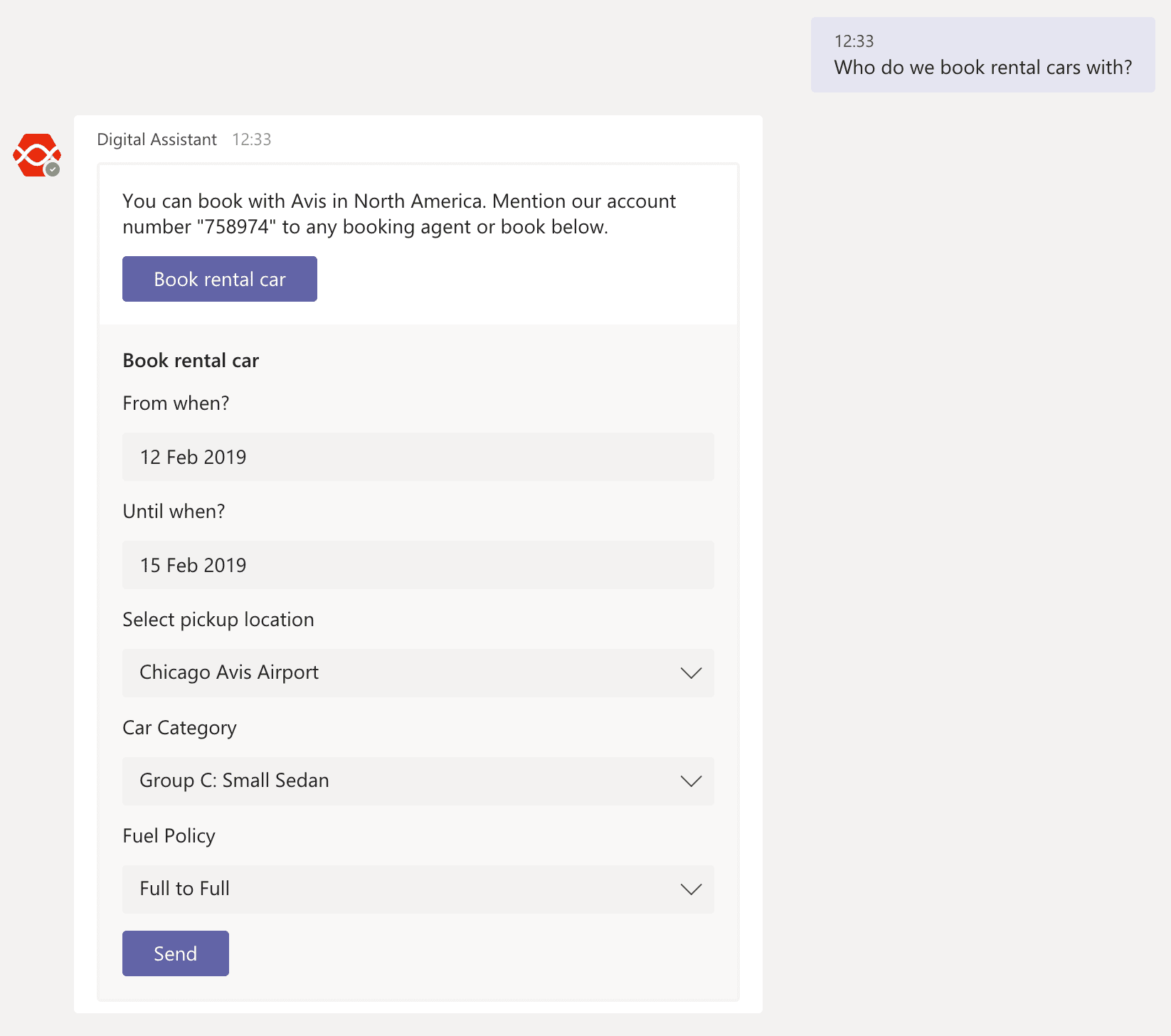 By using a digital assistant in your digital workplace your users can literally just ask their Assistant chatbot buddy for any form, in their natural language, and fill it out right from within the same interface.
4. All apps with you
There aren't actually that many work apps you can access from your phone. Most people access mails, online meetings and a few dedicated apps for things like SharePoint.
However, of the sometimes up to 500 applications organizations use, only a minority offer anything other than desktop access. Even frequently accessed tools, like PTO bookings, ERP or HR self-services, are often requiring employees to return to their desks before they can use them.
This is however completely a thing of the past with a company virtual assistant. Any connected app comes with its own Cards, little snippets of data, and AI utterances that help the chatbot show the right card depending on the question.
The connection made to each source app is securely done for each individual user, thus making access on the go as safe as from the desktop but far more portable.
5. Push notifications
This may not sound that big of a deal, after all we had notifications on our phones forever. But let me tell you, it is a complete game-changer!
How often have you gotten a notification from your bank, Amazon or a home security device letting you instantly know something of interest has happened.
Compare that to the business world where you get a new Helpdesk ticket, a new request for you to approve, or a confirmation some expenses will be reimbursed via email.
In all three cases push notifications are cool:
1. Helpdesk tickets: only shows unassigned tickets, so the second a ticket gets taken up by a colleague the notification self-recalls itself and you won't have to manually delete it like you do in your inbox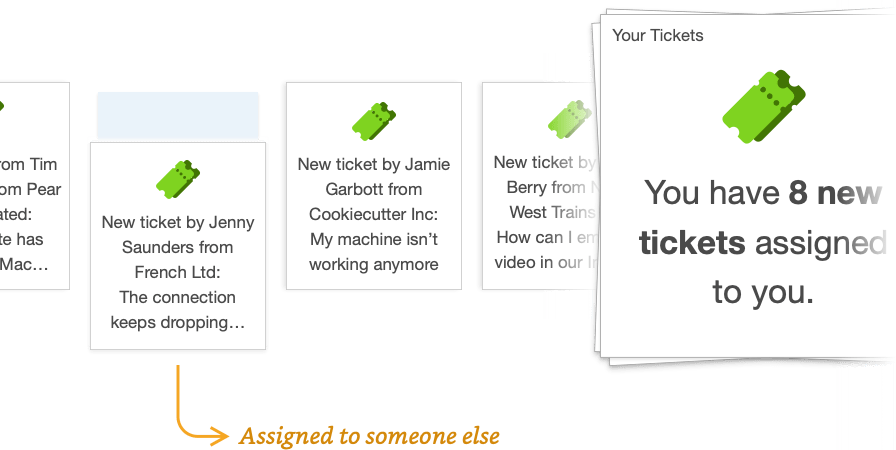 2. Requests and approvals: some people get dozens of these everyday and fret the moment in the week where they have to work through their pile of approvals. Except now you get a little notification and can quick approve stuff (which accounts for 98% of workflows) all while waiting in line for your Starbucks or sitting in the train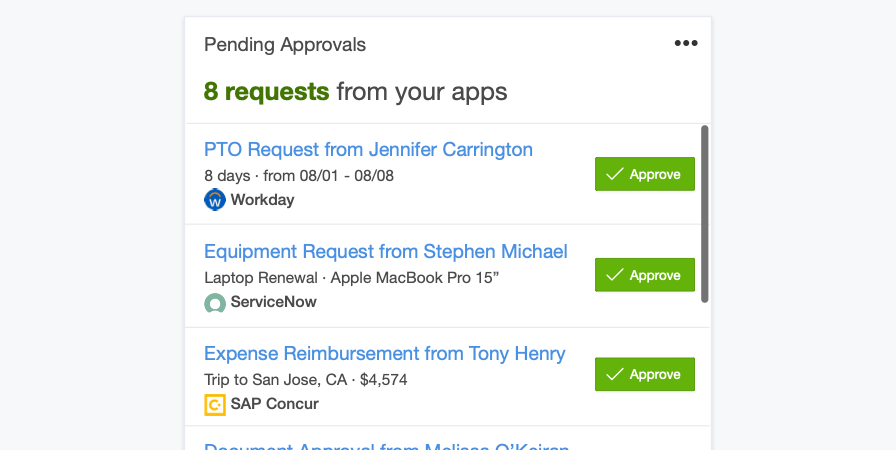 3. Expense reimbursements: that's one of those "good to know" moments where you get a little nudge to let you know something you're waiting on is still being processed, there's no need to check your account, you needn't follow up manually or be puzzled over the status of your reimbursement. Just blissful knowing it's being taken care of...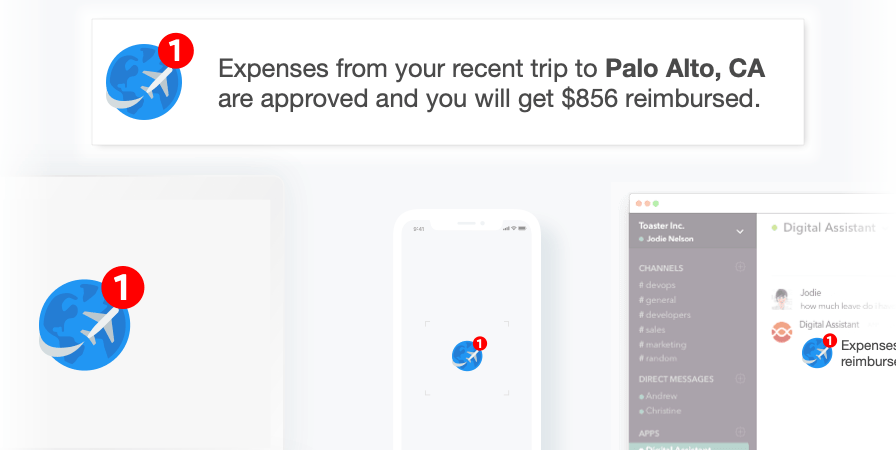 6. Access it from your browser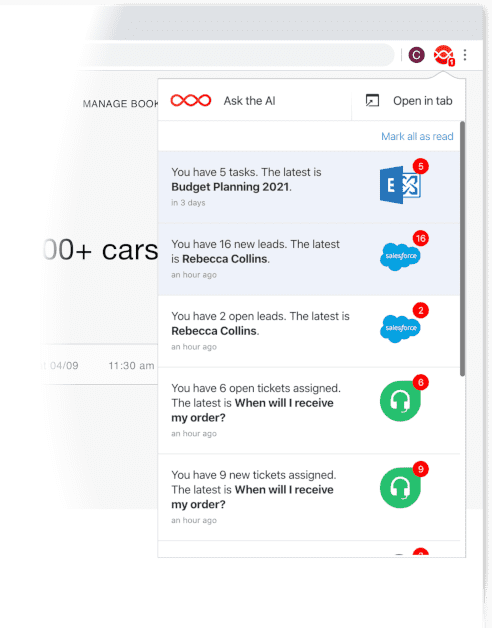 Chrome extensions are little applets run by your browser. You may or may not use these, but if you haven't tried one yet – then make your assistant your newest extension immediately!
You will then get a little icon for your digital workplace assistant that shows you the number of new notifications and you can click to see them or start a session with your chatbot.
Next just go flex on your colleagues in the next meeting 💪🤓
7. Embed Cards into your SharePoint or Intranet
One of the reasons YouTube has gotten popular because it's so easy to share; you can send links to friends or even embed videos into blog posts, websites or news articles.
Now your digital assistant can be a viral sensation, too. Just spice up your boring intranet homepage by placing Cards directly from your virtual assistant on it. Or create new Cards for specific SharePoint team sites that show news or lists of real-time data that you want; and then embed those.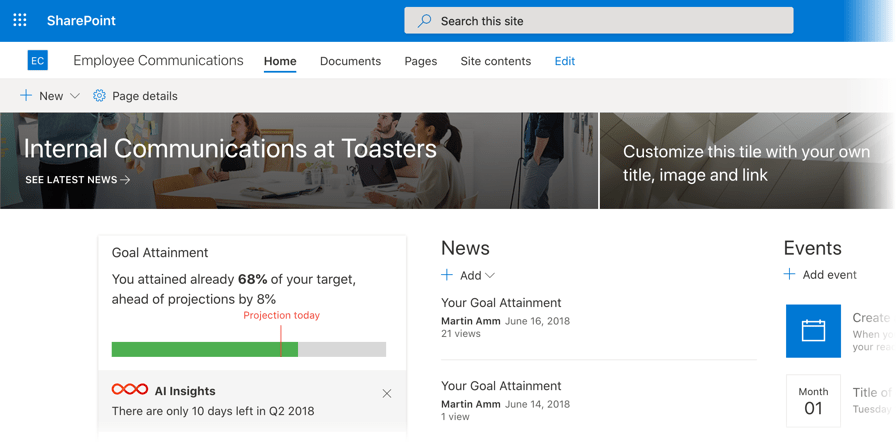 Or why not go back to 2. and connect your intranet search up to the Assistant, thus transforming your intranet into a real digital workplace that's connected with everything.
8. Personalized board
We have homescreens on our phones, desktops on our computers, but there isn't an equivalent at work. There is Outlook or your corporate intranet homepage, but those aren't spaces you can arrange freely to your taste.
Meanwhile the digital workplace assistant is all about you. It knows who you are, knows what data you can access, and also lets you place your cards on your board in any way you want. Boom. 🖐🎤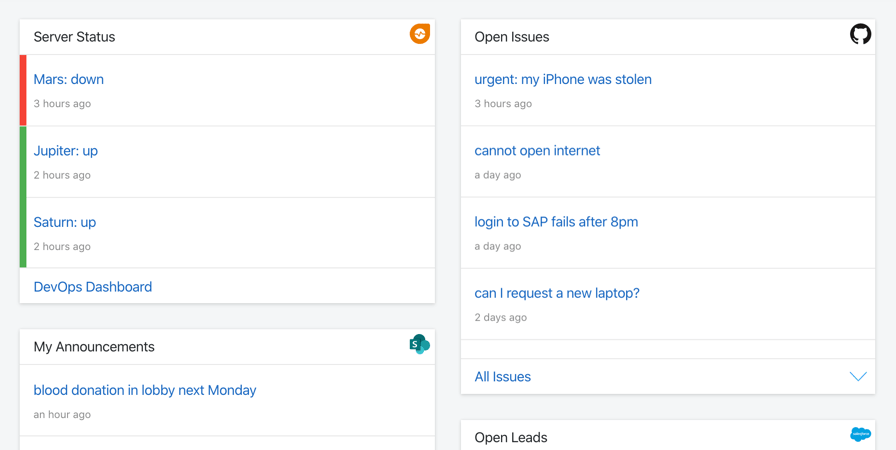 9. Use it in the car or the kitchen
With integrations into Google Assistant or Alexa it's super easy to just remotely ask your assistant anything you need, while you're driving, in the gym or whilst you're making your morning cup of coffee.
Think using it in the car is something you'd like to try?

I hope you found this to be an interesting angle as to why you should definitely consider adding a virtual assistant to your digital workplace. Some of the above innovations are so simple to use, it's really a no-brainer to test whether your workforce can unlock new productivity with them. Did we miss anything? Comment below.