Building an employee experience that facilitates collaboration and empowers staff is a challenge. Not only that, it's a process unique to every organization; so whether you're underpinning your digital workplace with SharePoint or creating a bespoke solution, it's vital to look towards holistic solutions that work for your employees and company culture.
As a smart assistant for the Digital Workplace, Digital Assistant gives employees control of their time back, so they can focus on what's important to them. Here are 10 ways Digital Assistant can give your digital workplace strategy an easy boost - and how it can directly benefit your employees.
1. Actionable notifications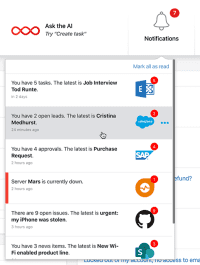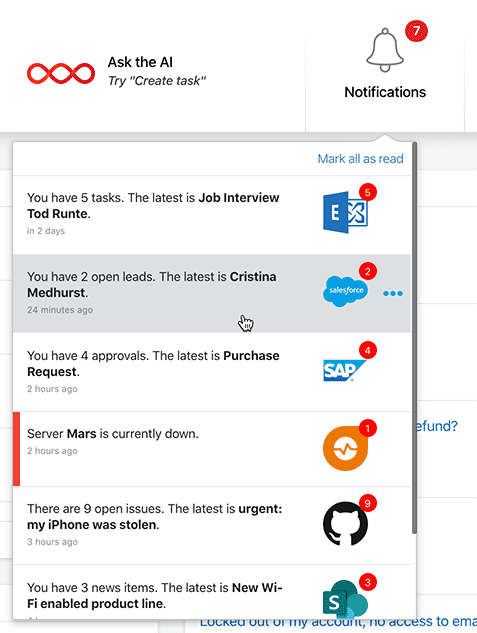 In a report from RingCentral, 68% of workers interviewed were navigating between 10 different apps every hour at work. Not only is that lost productivity, but it's frustrating for your employees; important tasks can slip their notice, whilst they're struggling to complete one.
Digital Assistant puts everything employees need to work productively at their fingertips, with out-of-the-box integrations for over 50 cloud and on-premise enterprise apps. Their Assistant sends smart notifications when it detects something important to them - whether that's changes to a document they're working on, reminders about upcoming meetings or new tickets assigned to them - and even lets them take action directly from the notification.
Most importantly, Digital Assistant works wherever your employees do - in the browser, via the Chrome extension, on mobile devices or even in the car.
2. Enterprise-wide search
It's well known that workers frequently can't find the information they need to do their jobs without expending significant time and effort. Whether it's information silos, mediocre enterprise search or simply poor knowledge management practices, getting answers to questions can be much harder than you'd think at first glance.
Digital Assistant makes getting answers as simple as asking a question. As a smart workplace chatbot, employees can ask Digital Assistant anything - to find a document, answer a question about a workplace policy or start a workflow - and it scours all connected enterprise apps near instantly, returning the result directly to them. Not only that, but Digital Assistant can integrate with your existing enterprise search tools and SharePoint sites to enrich search results with Assistant Cards.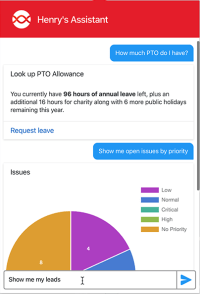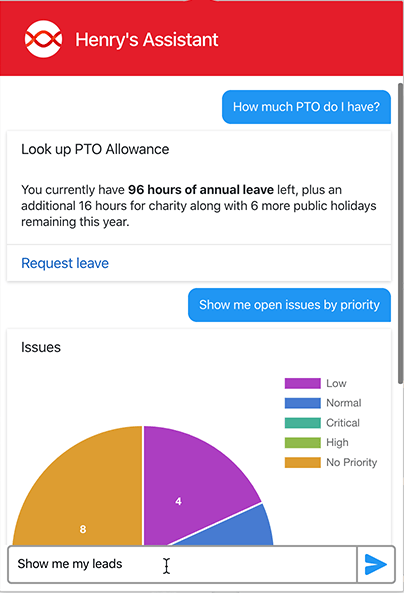 3. Submit requests
Common tasks like requesting PTO, submitting travel expenses and booking hotels frequently rely on systems that are disparate from other enterprise apps, are difficult to navigate and can take a disproportionate amount of time to complete. If employees work remotely or use a mobile device for work, they probably wouldn't consider trying to complete such a task - or they may not even be able to.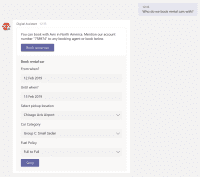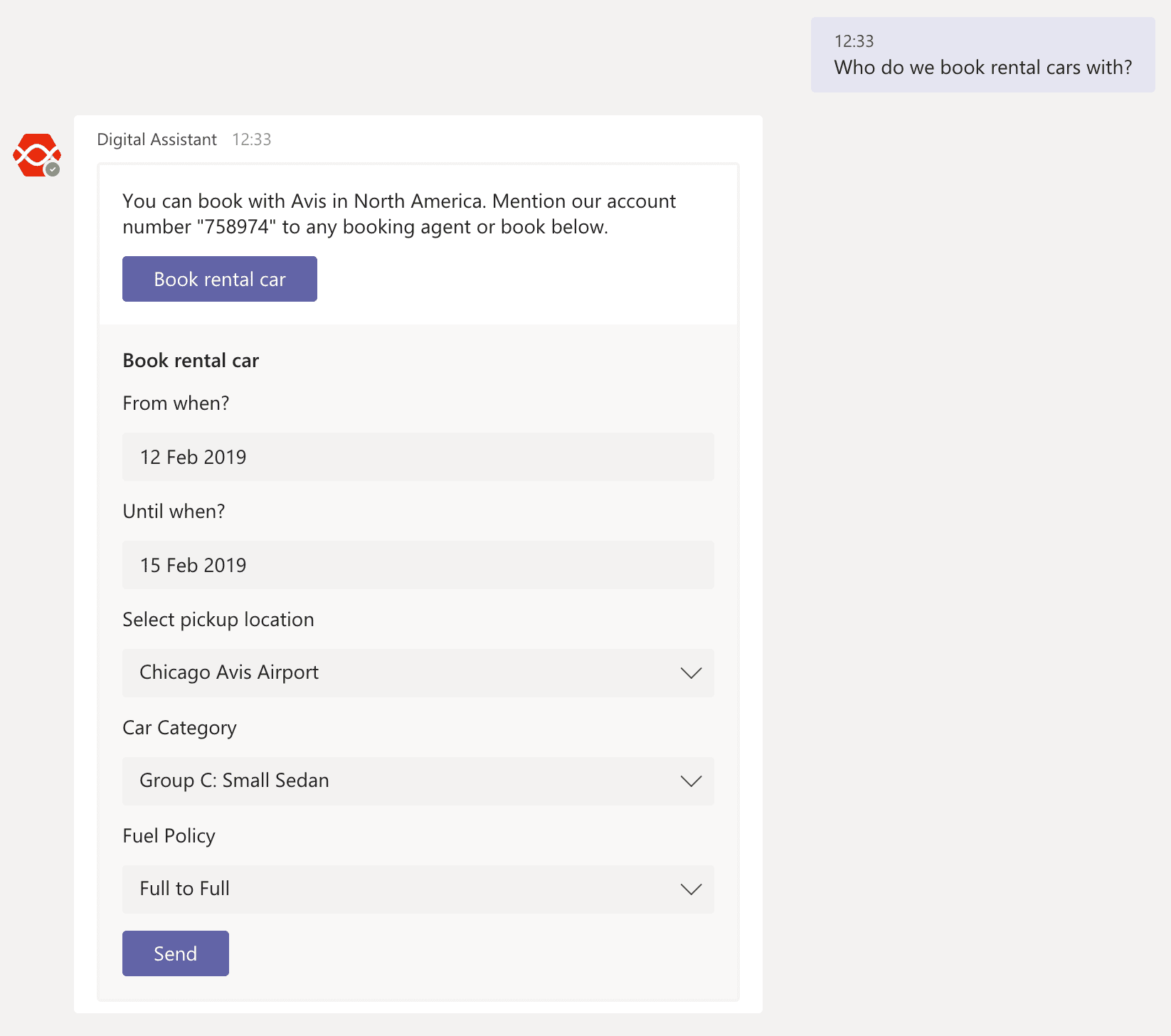 Digital Assistant makes this effortless. By securely integrating with your existing business apps, you can make requests directly from within your Assistant; just ask your Assistant to start a new request. And because Digital Assistant natively supports all devices, employees can make requests and complete forms anywhere: in the office, at home, on their commute or at a client site.
4. Enhance collaboration apps
69% of workers waste up to 32 days of productivity per year navigating through their communication apps.

RingCentral, 2018
Employees spend more time than ever before on collaboration apps, at the cost of productivity. Although communication is abundant, employees can spend a lot of time in chat apps without being able to get on with meaningful work; the tools they need are frequently inaccessible, and even more time is lost to switching between apps to perform even simple tasks.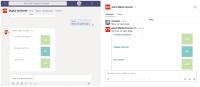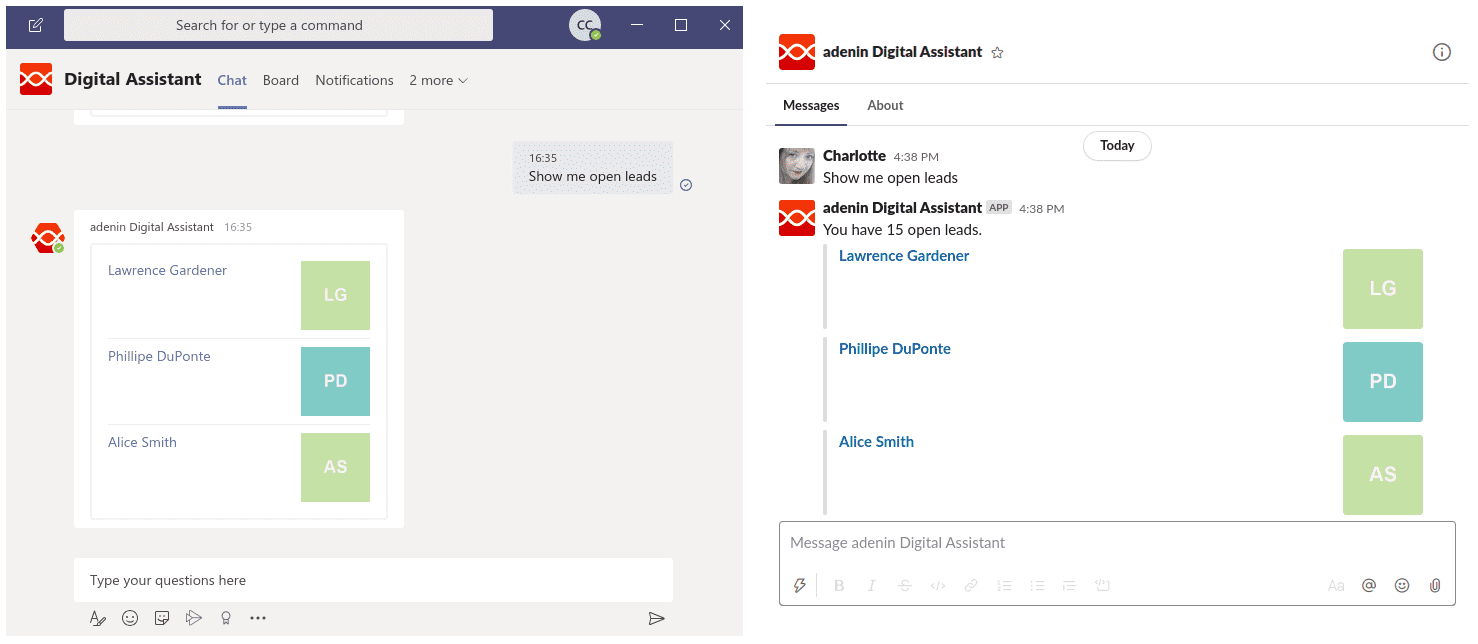 Digital Assistant works seamlessly as a chatbot in Slack, Microsoft Teams and a host of other collaboration apps, so employees can access all of their business apps and data without having to break their flow. Workers can save the time, effort and frustration of constantly switching between apps to find what they need to do great work; instead, they can simply ask Digital Assistant a question and receive AI-powered answers and results. Employees can even manage requests, workflows, approvals and more for connected apps through Digital Assistant's enterprise chatbot platform.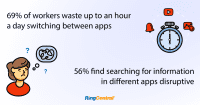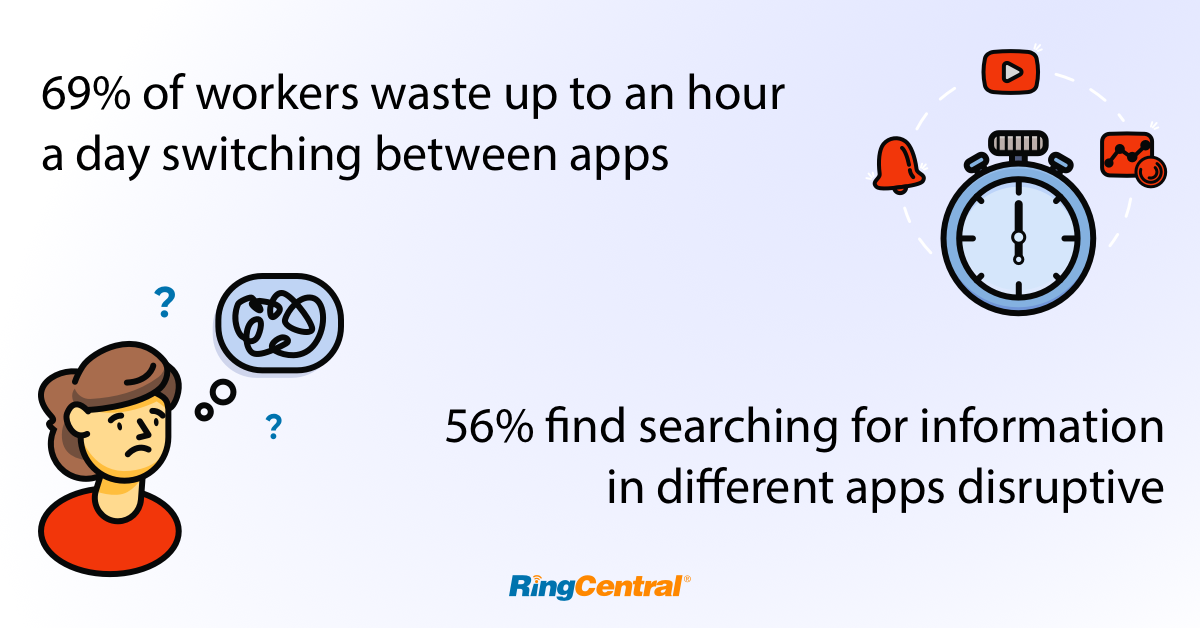 5. Ask voice assistants
Smart offices are an important, but often overlooked, aspect of a successful digital transformation strategy. British Land and Worktech Academy's 2017 survey revealed that 90% of decision-makers saw a business reason for working in a smart office, expecting benefits to employees in the areas of productivity, wellbeing, increased appeal to new talent, and employee loyalty; all key tenants of a positive employee experience.
To help businesses make the most of their smart office devices (as well as smart home office devices), Digital Assistant is available as an Amazon Alexa skill and a Google Assistant action; so employees can access their Digital Assistant from office or personal Amazon Alexa and Google Home devices.


Users can ask their Echo Show or Google Assistant device questions you'd normally need to be at your desk for; to get information about available travel options, find out when their next meeting is or start a leave request. Employees can access all of their enterprise apps and data sources with only their voice, whether they're in the office, working from home or on the go.
6. Chrome Extension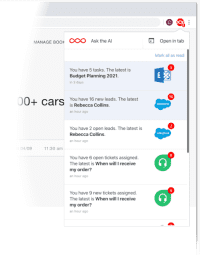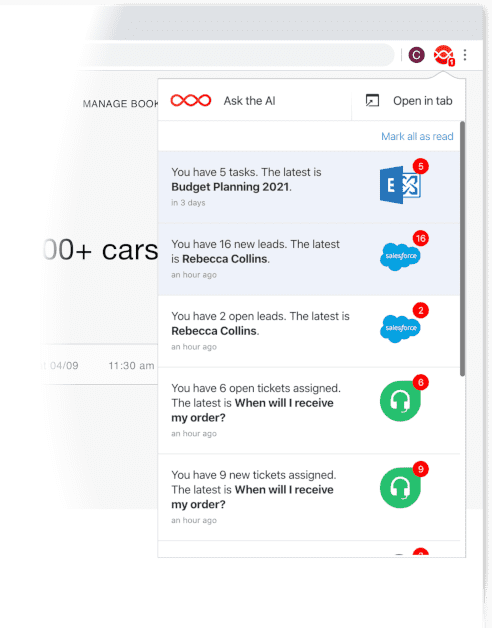 It takes an average of about 25 minutes to refocus on a task after an interruption. All of this wasted time adds up in terms of lost productivity, and can cost a company with 70,000 users as much as $50M a year. Between constant emails, messages on collaboration apps, meeting reminders, file update notifications and more, employees are positively drowning in distractions - and this can lead to can lead to higher stress, a poor moods and lower productivity.
Digital Assistant helps employees to stay focused and minimise disruptions to their workflow. By consolidating notifications from all business applications into a single, universally accessible Assistant, employees can take back control of the time they would otherwise spend managing multiple disparate applications.
With the Digital Assistant Chrome Extension, employees can access what matters most to them from anywhere in their browser and receive all of their notifications in one place. Users can even query their smart Assistant from the Chrome Extension, so they can get instant answers without having to switch between apps. Desktop notifications are also supported, so workers can concentrate on a task and be confident that they won't miss important updates.
7. Embed Cards
Intranet solutions like SharePoint are at the heart of a lot of businesses, and are critical to managing internal communications, HR and individual teams. But intranets are frequently static, can be difficult to navigate, and often fall foul of the problem of business data silos. Such issues pose huge challenges for internal comms teams who rely on the intranet to communicate effectively, and makes effective knowledge management - a cornerstone of the employee experience - all the more difficult.
Digital Assistant helps to mitigate these issues by connecting your Intranet to the rest of your enterprise ecosystem. By integrating personalized cards into your SharePoint sites, employees can see key information at a glance; whether that's company wide, like a policy update or buildings alert; team based, such as a sales goal or finance target; or individual, like a task reminder.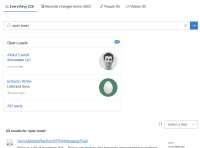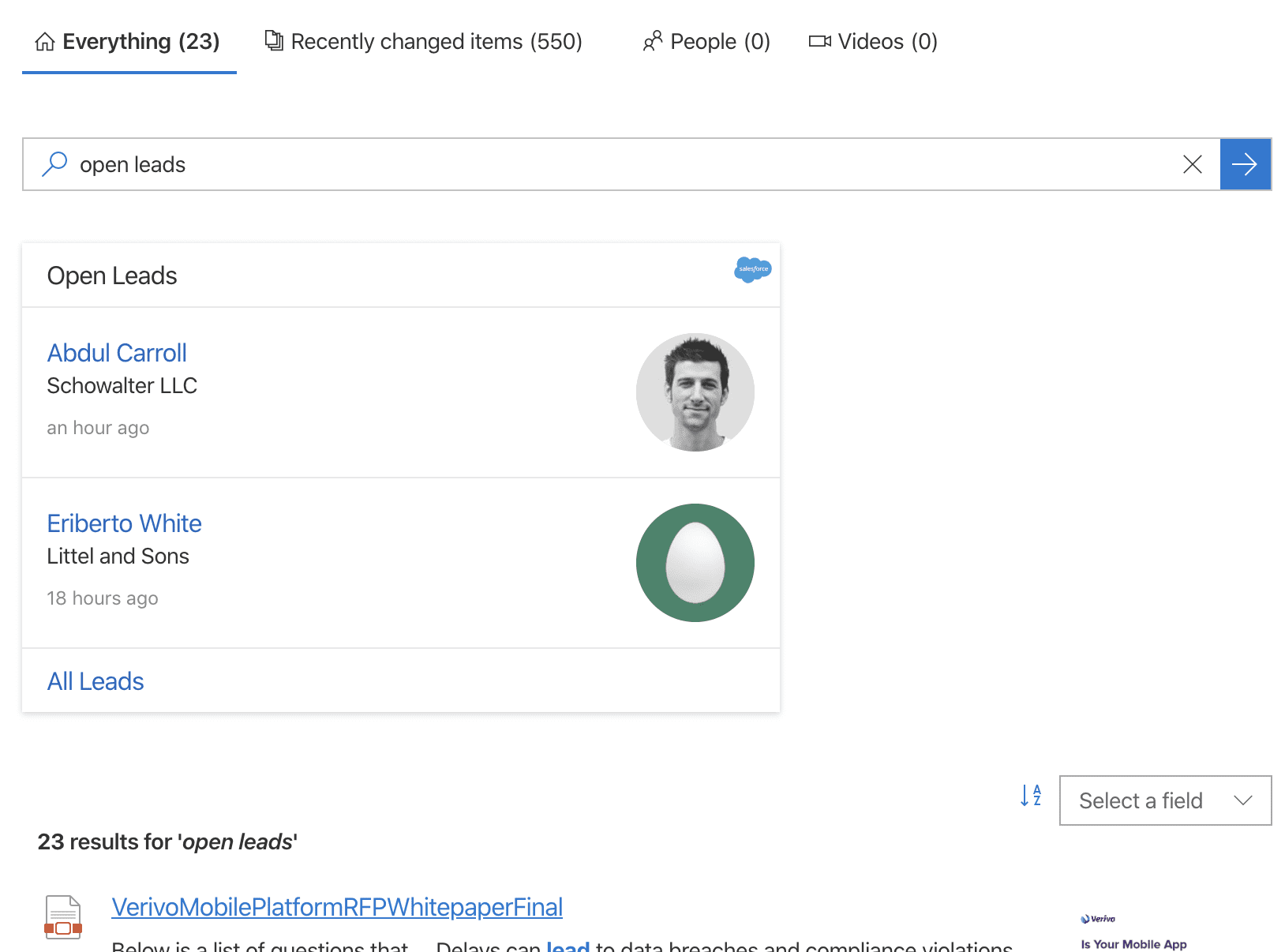 Update 2020: Embedding Digital Assistant into SharePoint sites is better than ever, and you can even create custom enterprise search pages that display Assistant Cards in the search results! Read the blog to find out more.
8. Personalized Board
Personalized, contextual experiences are key to a constructive employee experience. Every employee is unique in their needs and wants, so it's important that they can mould their working environment to suit.
Digital Assistant makes it easy to keep all of the enterprise tools and information a worker needs at their fingertips. If they see something a Card that they find useful, they can pin it to their personal Digital Assistant Board. In this way, employees can keep everything they need always only a click away; whether that's by creating a personal dashboard of files, figures, tasks and business insights, or making a quick overview of company news, today's meetings and their email inbox.
9. Manage workflows
For managers, IT and HR departments, and even many employees, keeping on top of approvals is yet another task added to the daily routine.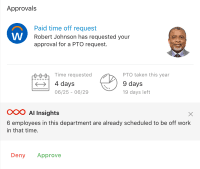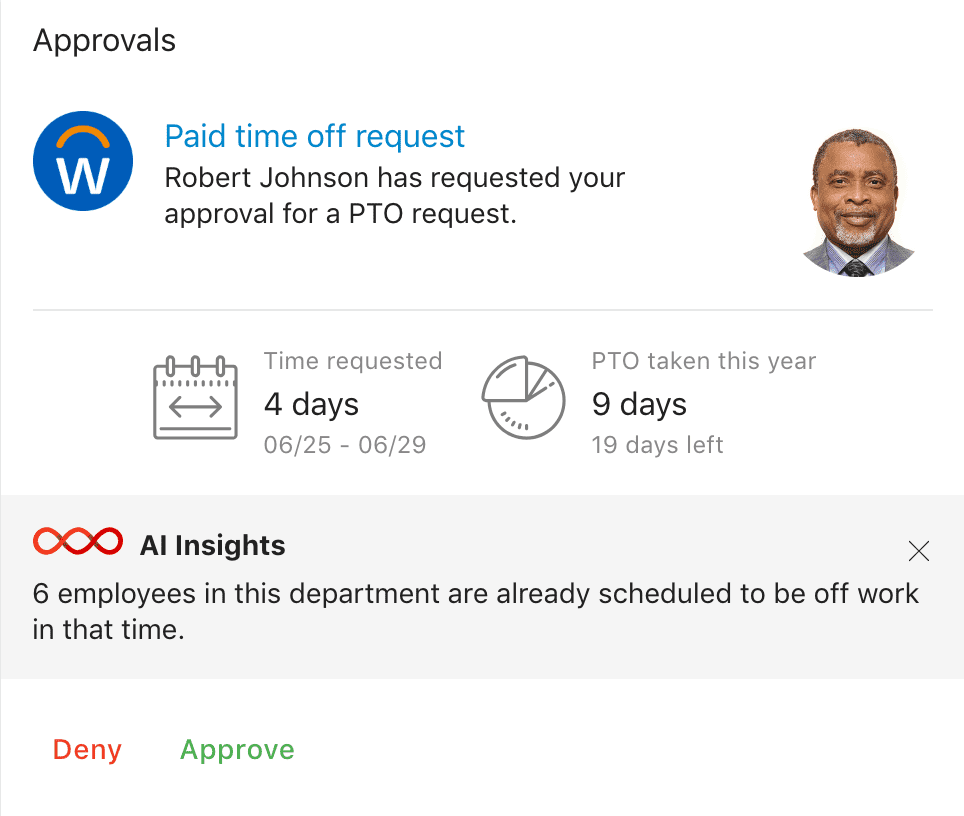 Depending on which enterprise applications your organization uses, employees might even have to check four or five apps regularly to stay up to date with their approvals. Even then, extra work is required to make an informed decision; how easily can you decide whether to approve one team member's PTO request, without knowing what the rest of your team is doing?
Digital Assistant makes managing workflows and approvals significantly easier. By integrating all your organization's enterprise apps into one platform, users can see aggregated approval notifications as actionable Cards. In this way, employees can quickly see what approvals need their attention, and accept, decline or refer requests directly from the Card. To help employees make more informed decisions, Digital Assistant's AI insights ensure that they get all the relevant information they need.
Summary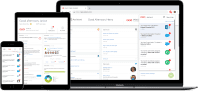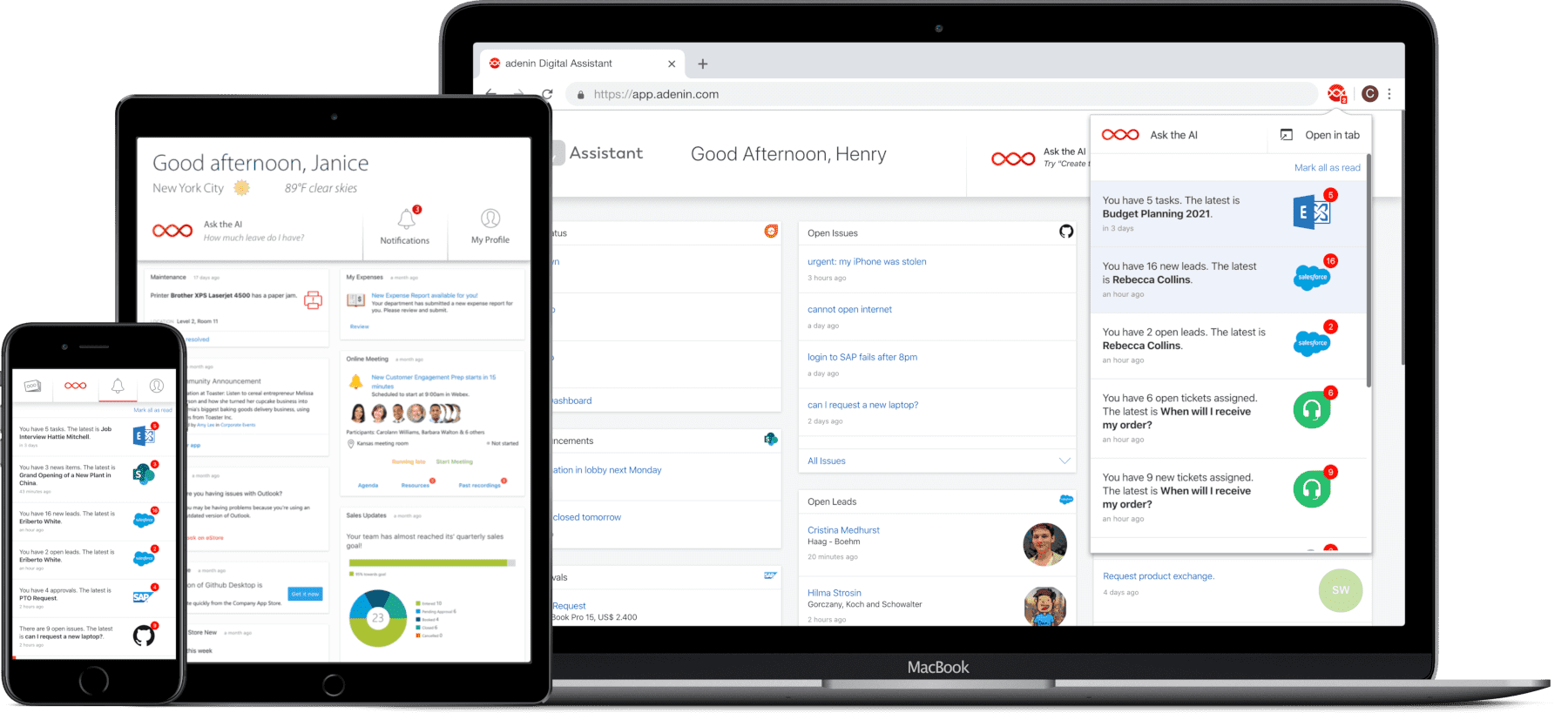 Platforms like Digital Assistant can give a much needed boost to your employee experience. By connecting Digital Assistant to all of your existing business apps, employees can ask their smart Assistant anything, from anywhere, and receive a relevant, personalized response; simple, quick and frustration-free.
If you're looking for ways to provide greater value to your own employees, why not give Digital Assistant a try? The small plan is free forever, and you can be up-and-running with your own personal AI assistant in minutes - click here to register. If you'd like to discuss your digital transformation strategy and how a smart Assistant could be a part of it, get in touch with one of our strategic advisors - we love to chat!