Browse Apps
SAP integration
Add to Digital Assistant
Last updated May 13 2020
SAP integration
Integrate SAP with the rest of your business. ECC 6.0 or newer
Digital Assistant frees your ERP system from data silos, so you can access business-critical information when you need it, wherever you need it.
Get financial reporting updates and alerts, supply chain notifications, customer insights and more, or query any of your SAP applications directly from your Digital Assistant.

AI Trending Documents
The AI Trending Documents Card shows suggestions for documents you might find useful from the adenin AI engine in Digital Assistant. Suggestions are based on a variety of factors including your location, timezone, role, responsibilities, assigned tasks, and more.
This Card will suggest popular and frequently accessed documents from your connected data sources, as well as content such as Cisco Spark rooms, Whitepapers, training courses and videos to help you achieve more at work.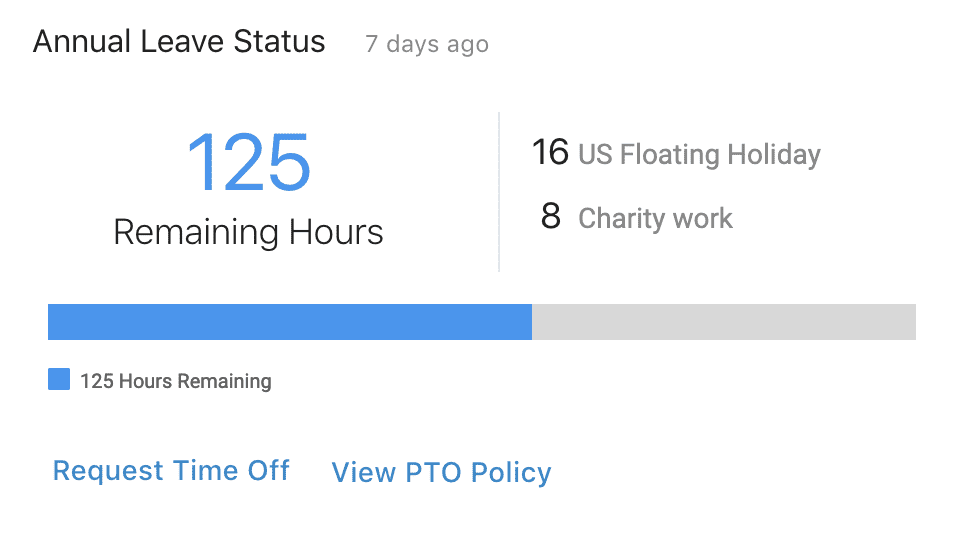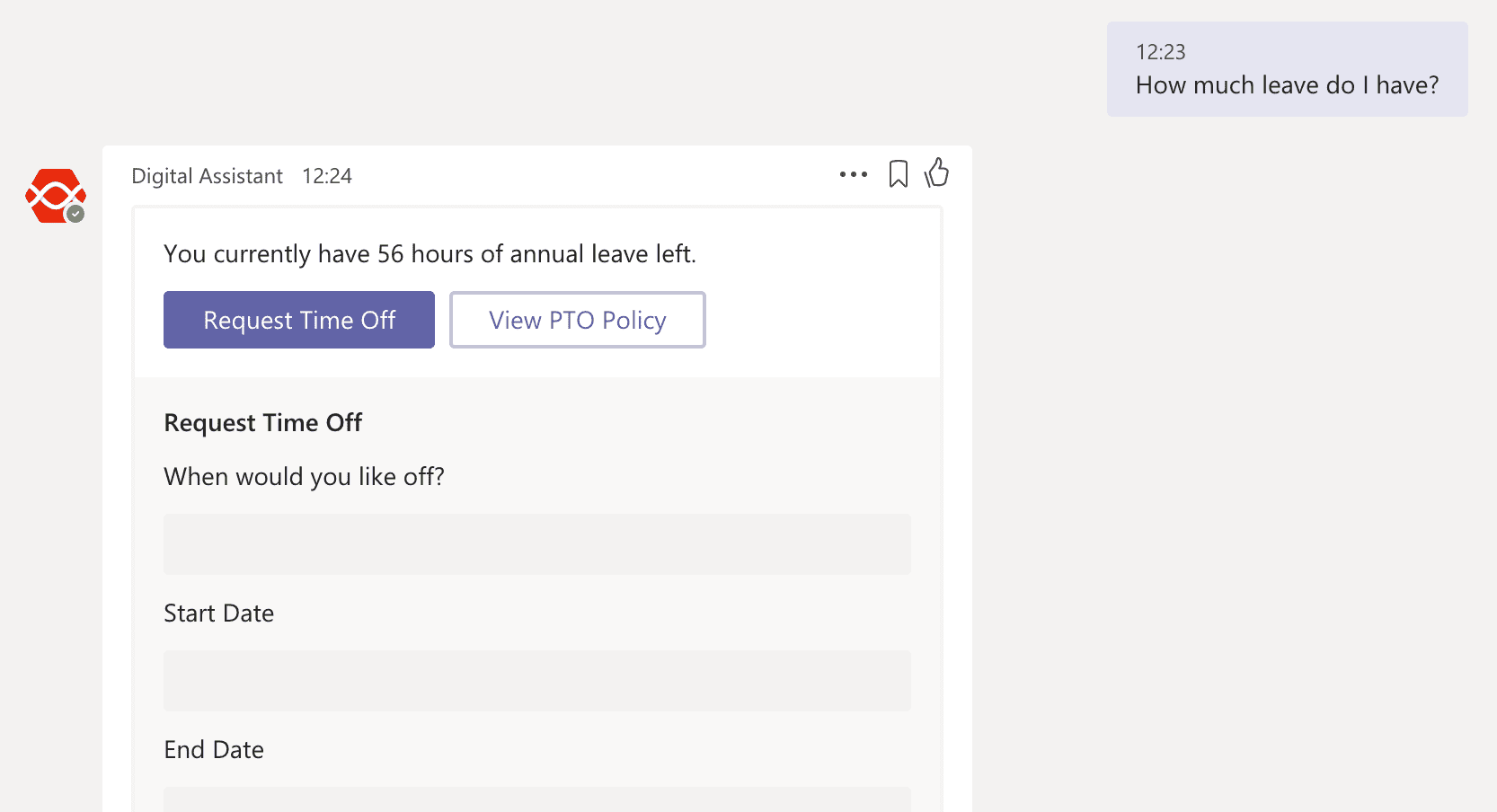 Annual Leave Status
The Annual Leave Status Card shows you how much of your annual time off allowance you have remaining, including charitable leave.
Want to book some time off? You can create a leave request directly from the Annual Leave Status Card, or just ask your Assistant to start a new leave request.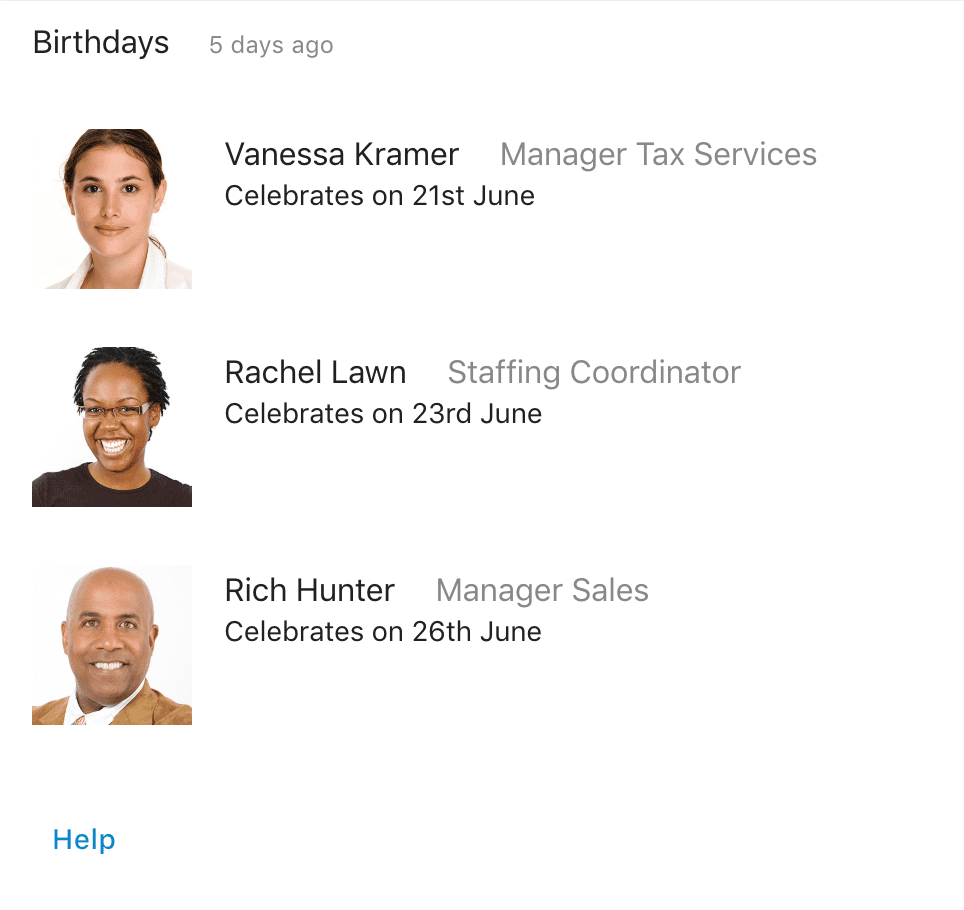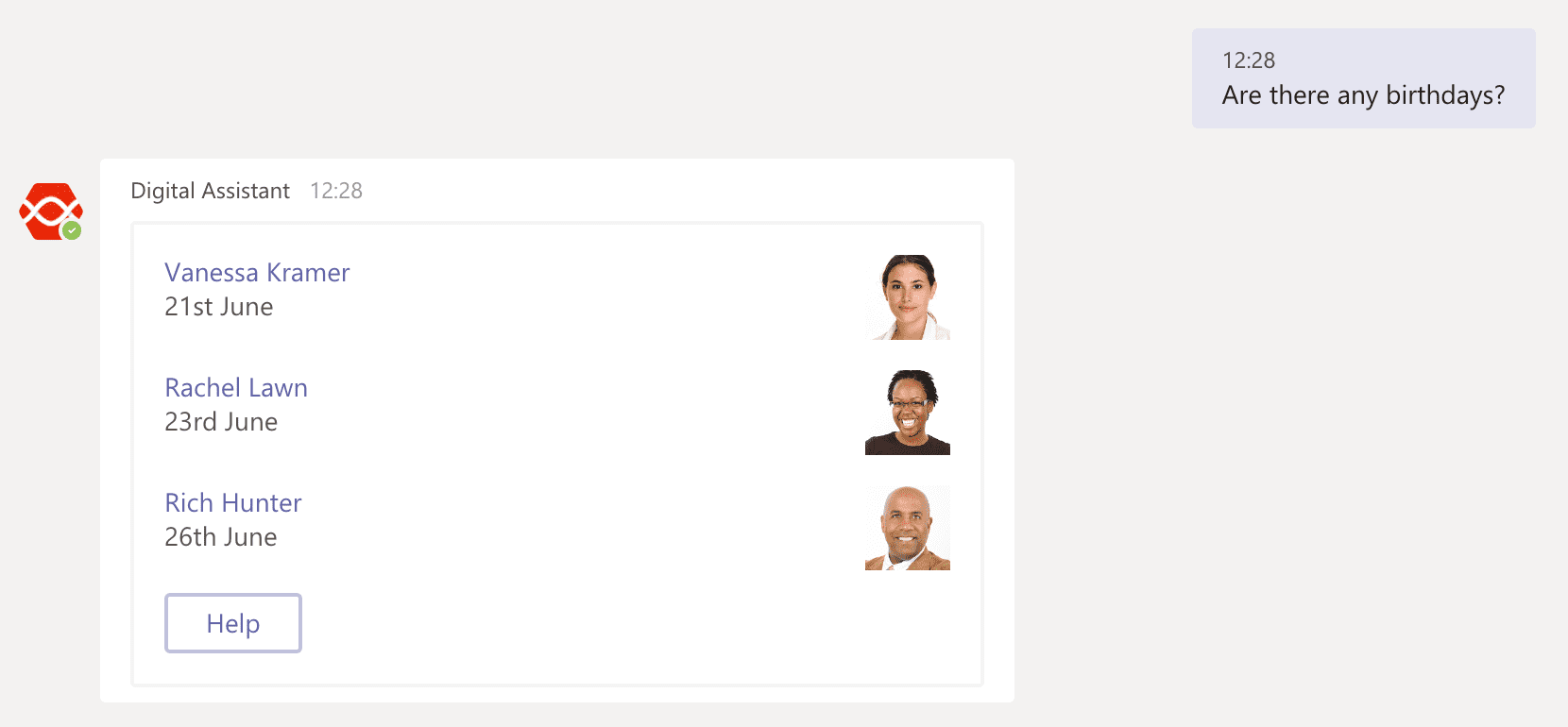 Birthday
The Birthday Card shows any employees in your team or department who have a birthday today. You can easily send your congratulations to your colleague from within the Card.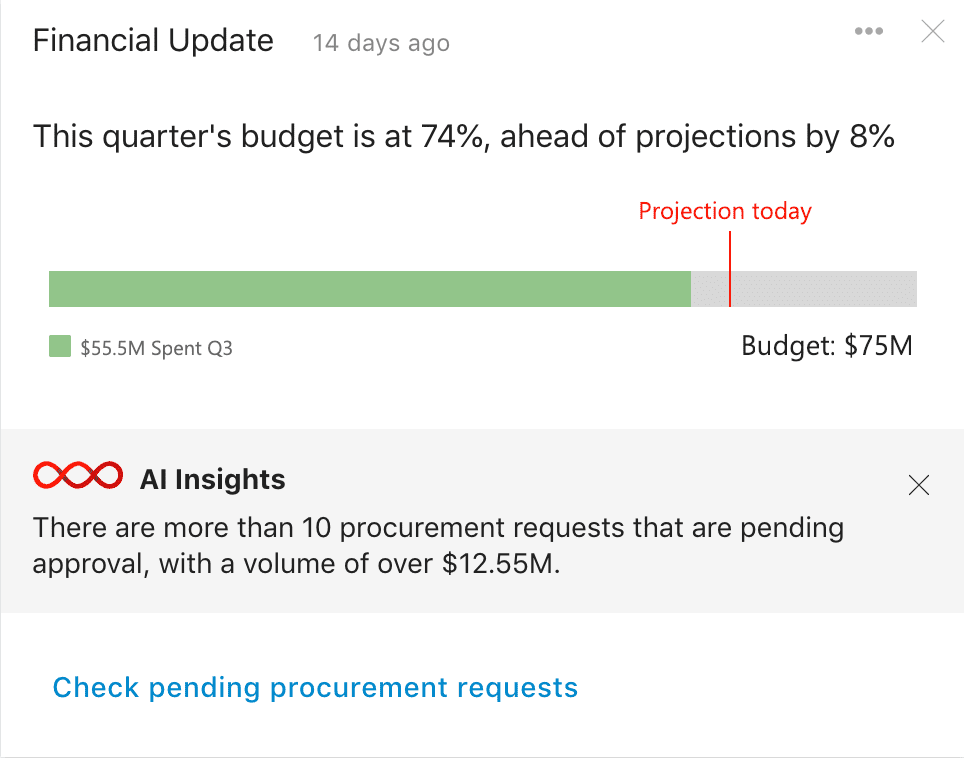 Budget Update
The Budget Update Card shows you the remaining budget for the quarter, including the projected and actual spend. Below you can see AI insights, for instance if there are pending procurement approvals in case the actual spend leaves some room for more expenses.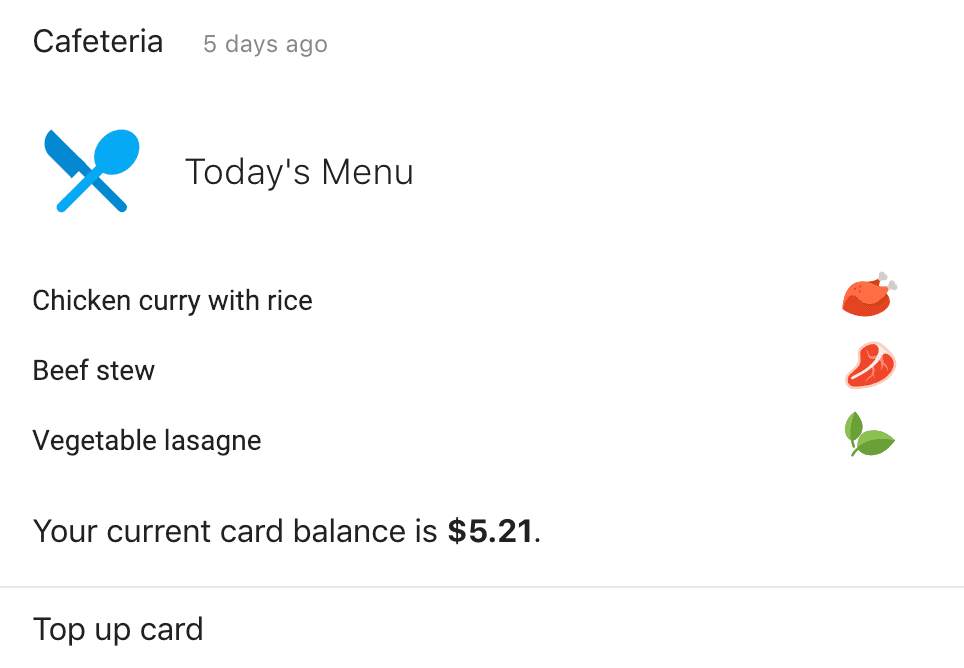 Cafeteria
The Cafeteria Card shows you what meals are available in your office cafeteria today, including vegetarian and vegan options.
If your organization uses swipe cards for cafeteria credit, this Card will also display your current card balance and allows you to add credit to your card.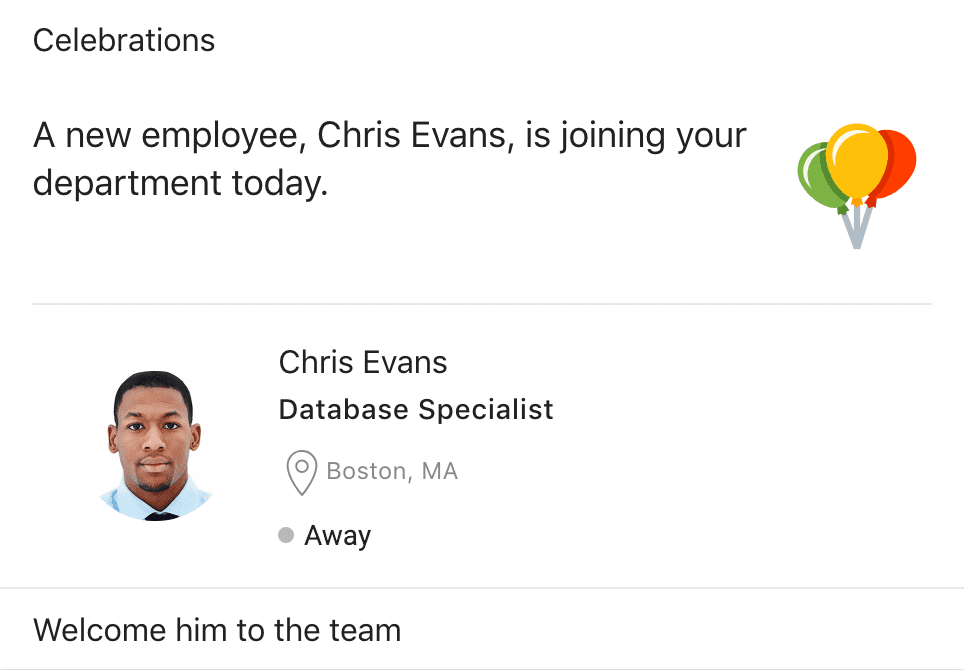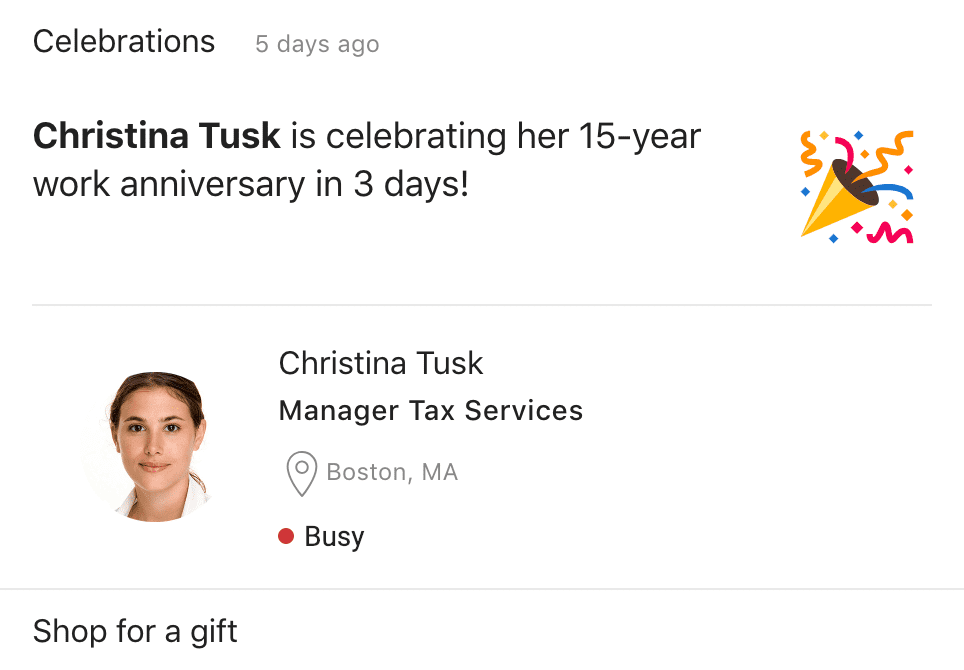 Celebrations
Foster employee engagement and create a social working environment with the Celebrations card. Your Digital Assistant notifies you about current and upcoming events, including work anniversaries, recognition awards or a new employee joining the team.
You'll get all the information you need to prepare for your colleague's work anniversary or welcome a new member to your team at a glance. And you can even take action from the Card with smart AI suggestions, so you can send a congratulations message without ever having to click 'New Email'.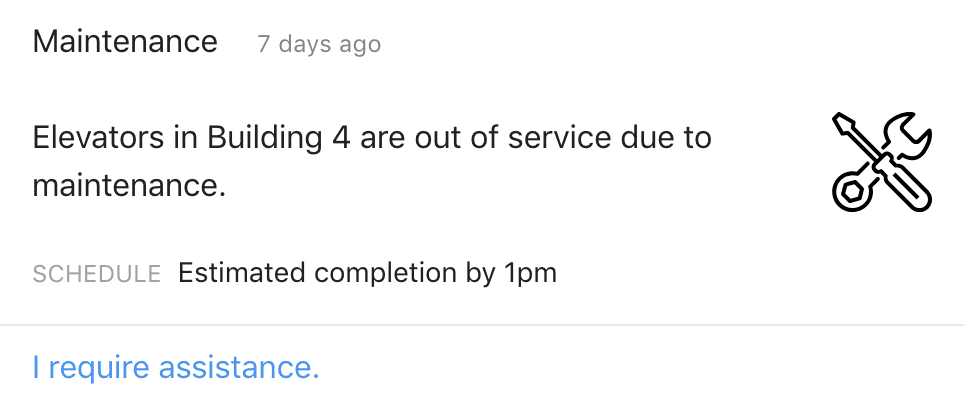 Facilities
The Facilities card shows you important information about your office, including alerts about upcoming fire drills and building maintenance.
The Facilities card can also answer questions about what facilities are available in different meeting rooms, as well as accessible routes and facilities in any of your company offices.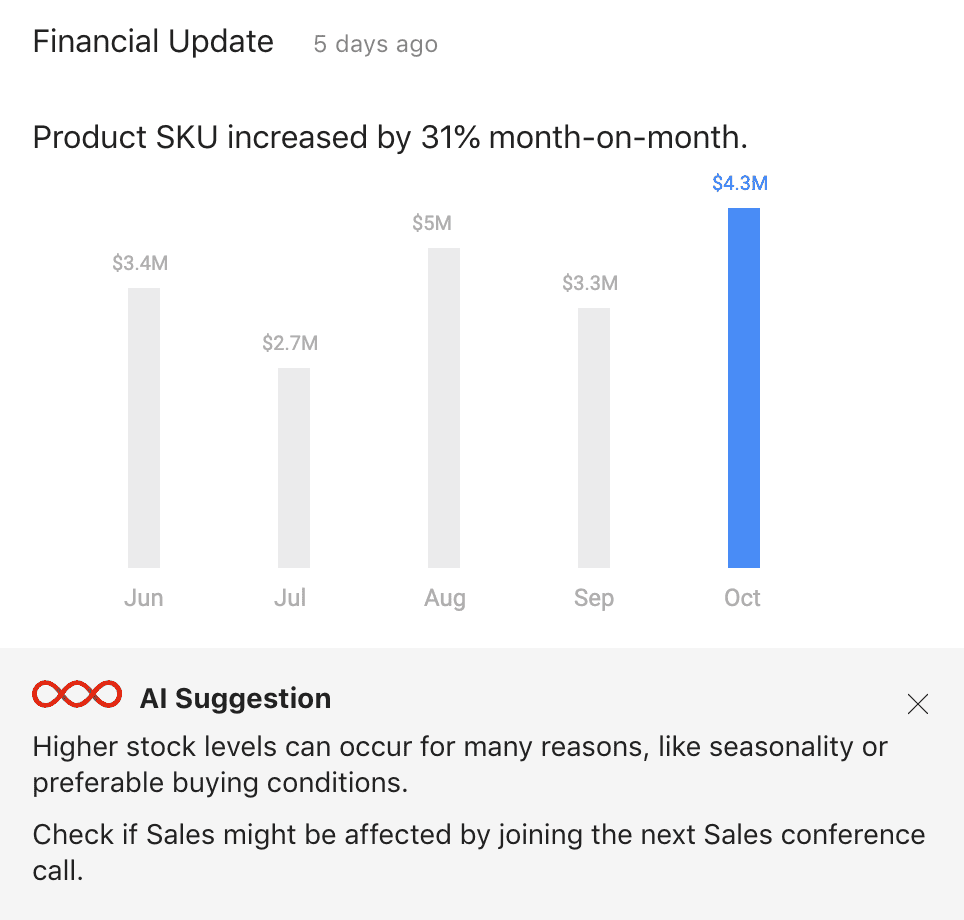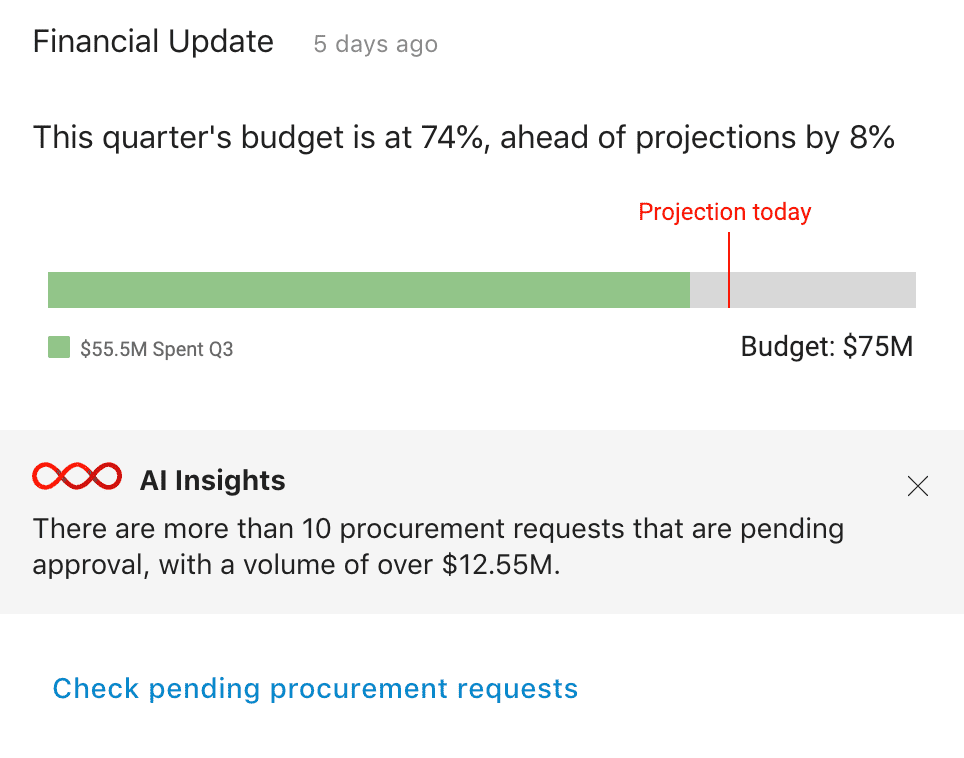 Finance
Get tailored financial updates relevant to your role with the Finance Card. Digital Assistant will show you exactly what you need to know to perform your role and make better business decisions - make sure your team is on target with your allotted spend, see how your stock sales are performing and more, and get AI-powered insights to help you meet your goals.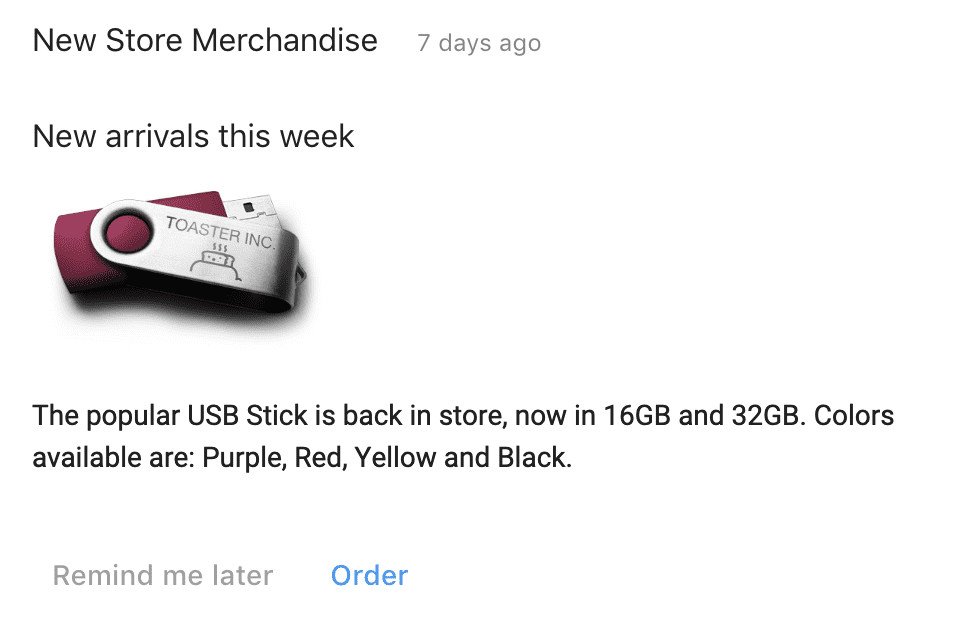 Merchandise
The Merchandise Card shows you new arrivals to your company merchandise store. See details of what's available and order items directly from the Card, or tell your Assistant what you want to order and the Card will display options for you.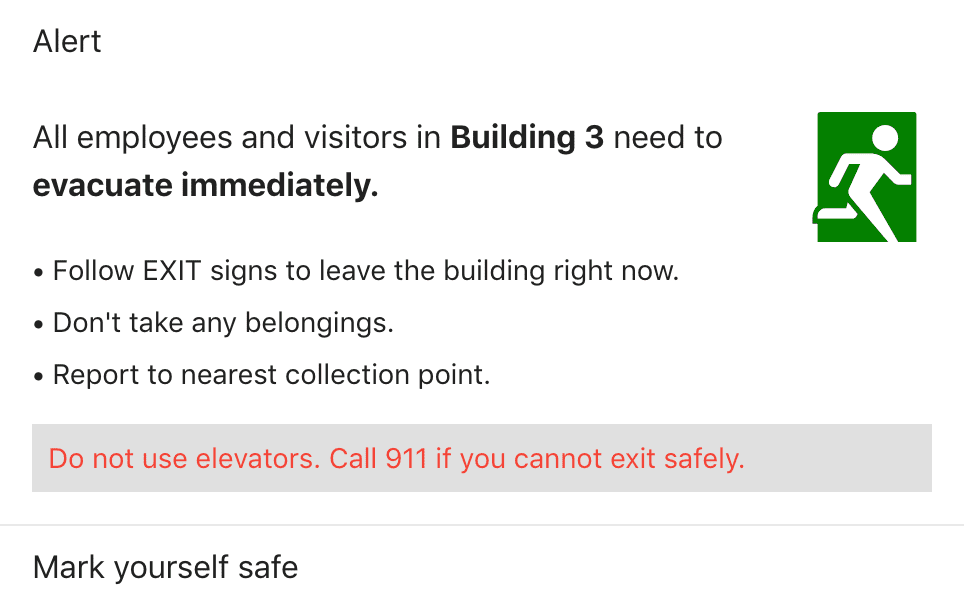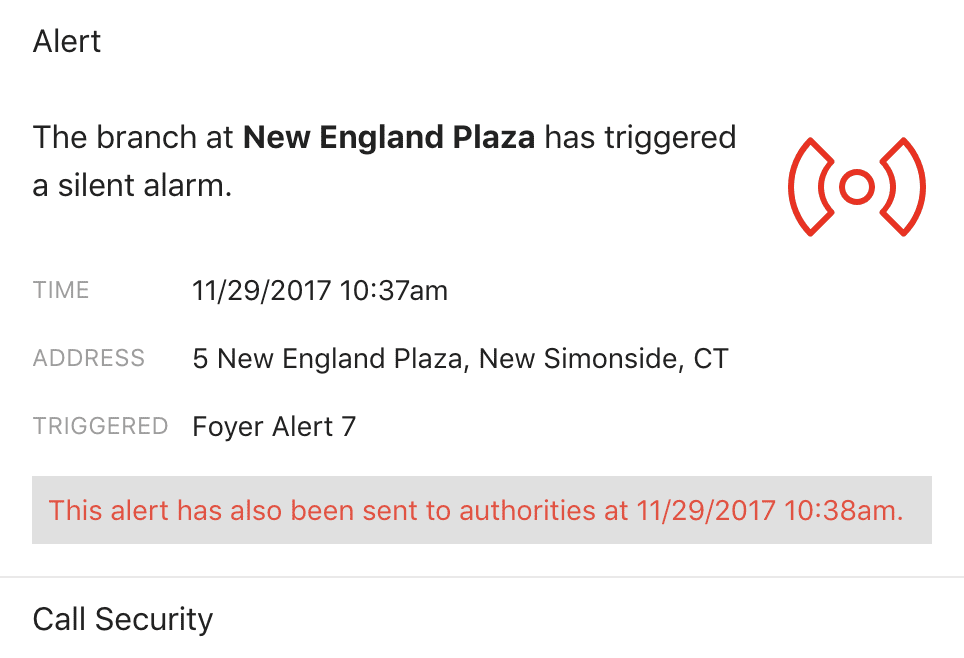 Occupational Safety
Occupational safety is hugely important, and the Occupational Safety Card is designed to ensure you see important alerts relating to health and safety in the workplace in a timely manner.
You'll receive Occupational Safety alerts at the top of your notification card feed, as well as push notifications on all your devices, to ensure you see important messages when you need to. Alerts contain detail about potential hazards, where they are, when they occurred and most importantly, what action you need to take to keep yourself safe.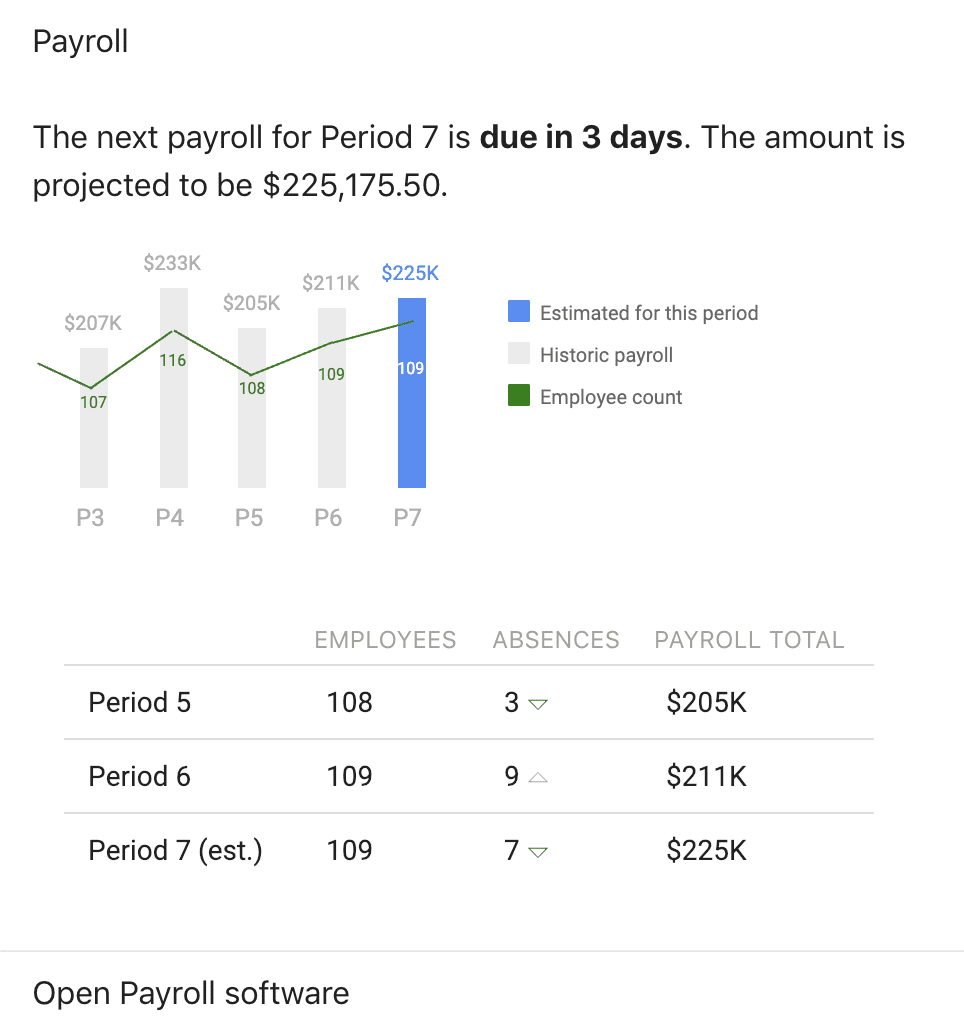 Payroll
See up-to-date Payroll information inside Digital Assistant with the Payroll Card.
Connect Digital Assistant to your HR applications to get detailed Payroll information, including projections, employee absences, historical data and AI insights directly in your feed.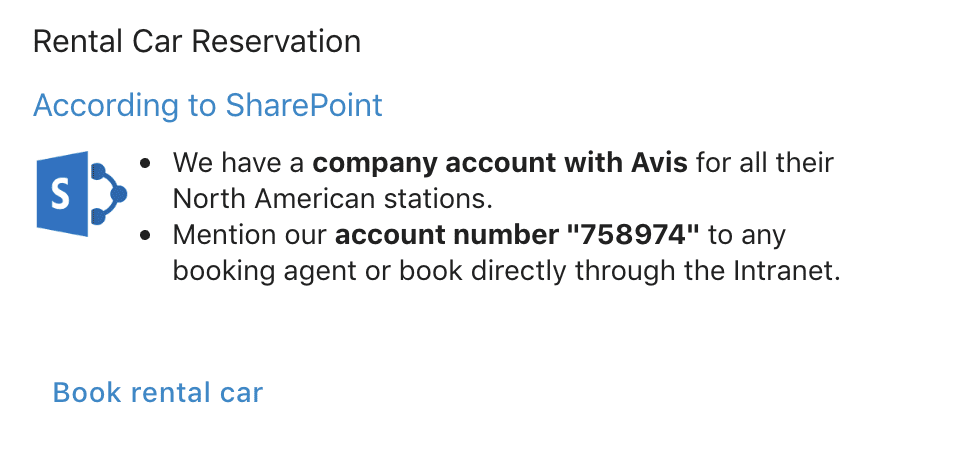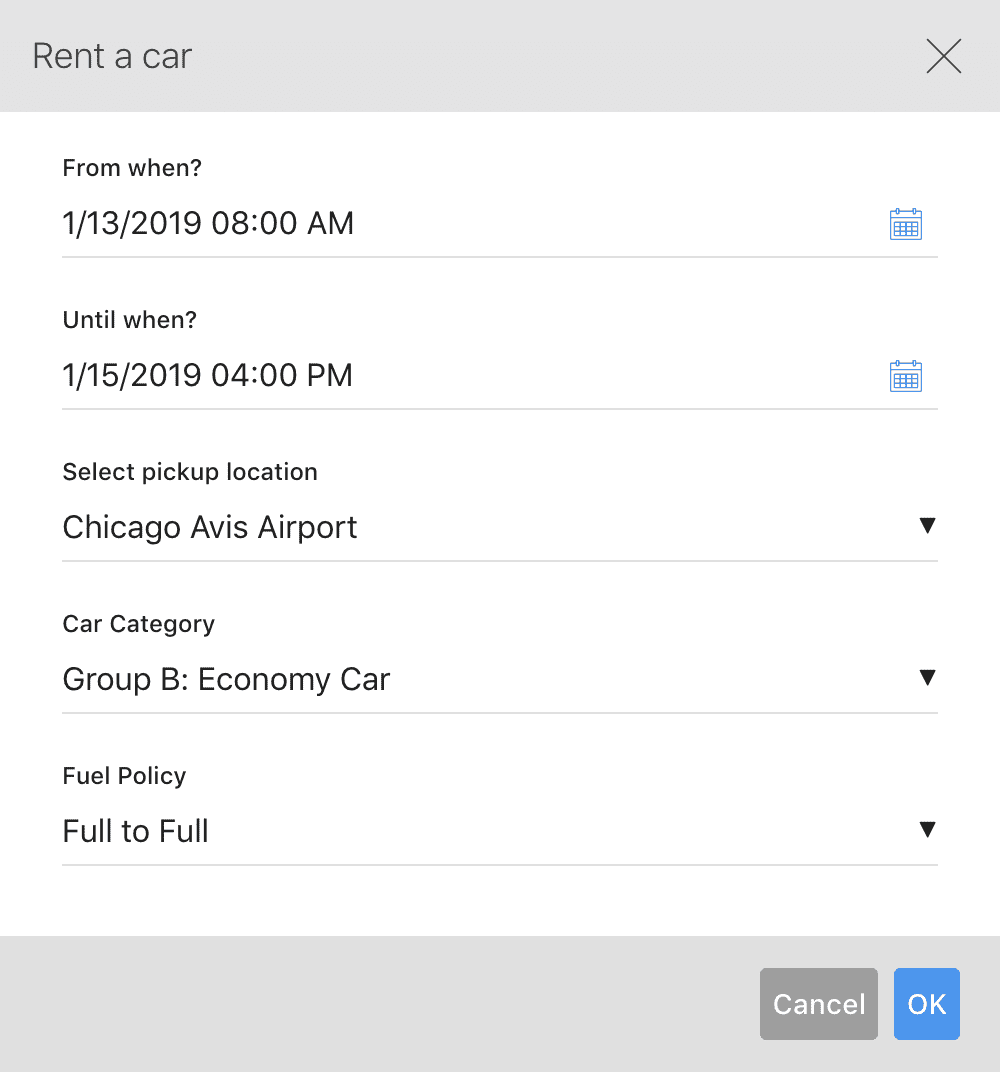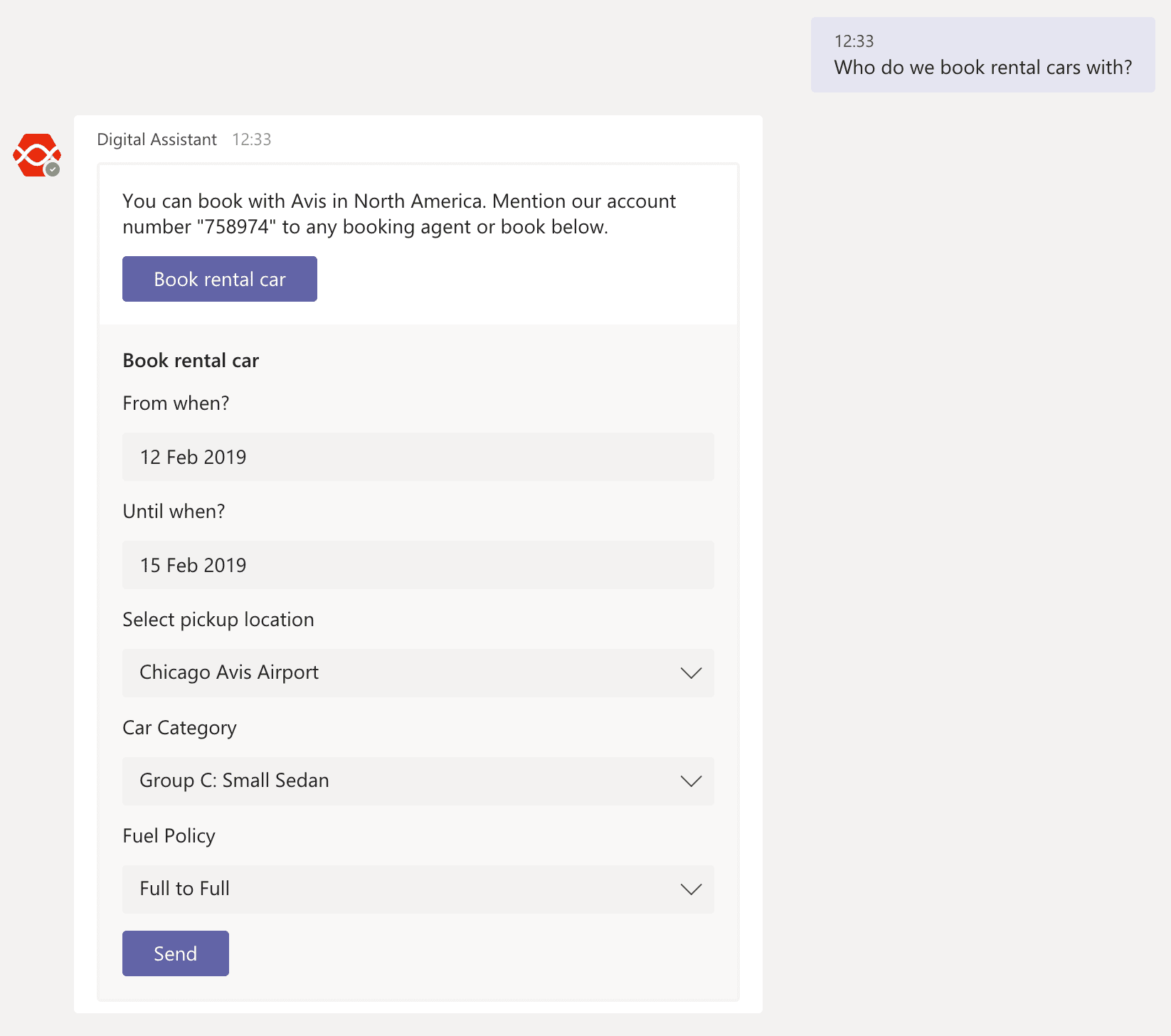 Rental Car
The Rental Car Card makes booking rental cars via company-approved providers extremely simple. Get company names, phone numbers and account numbers from the Card, or even book a rental car directly through Digital Assistant via this Card.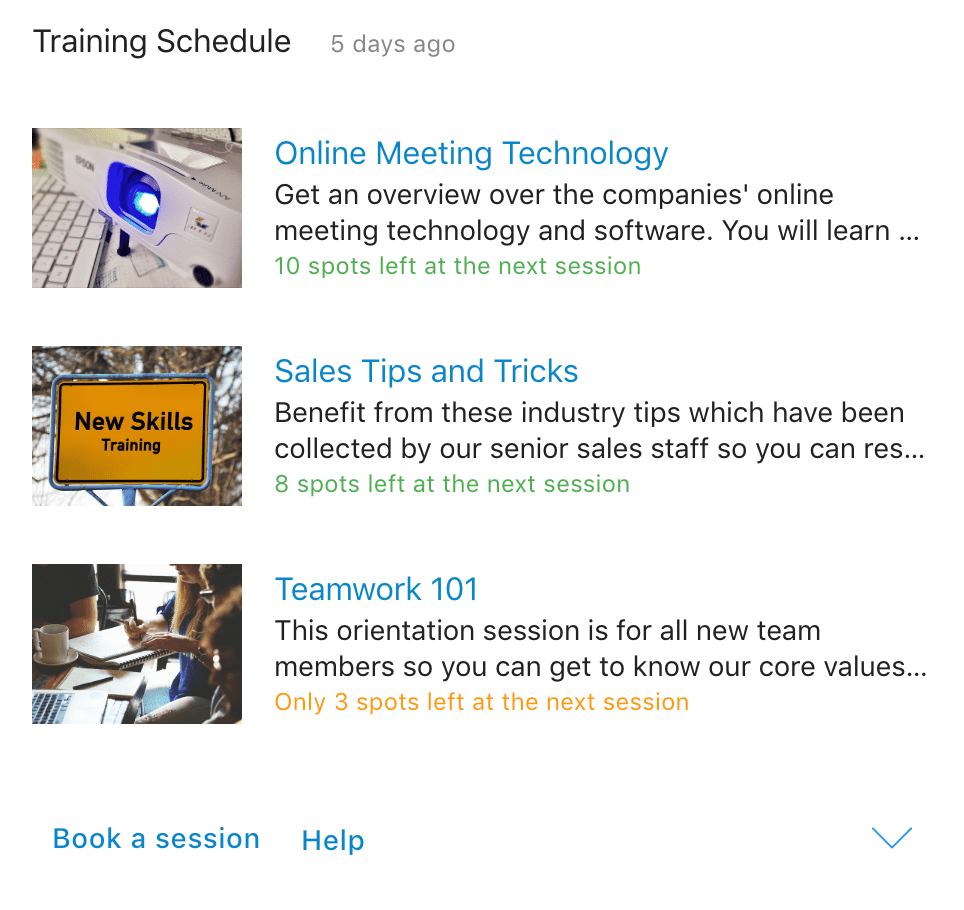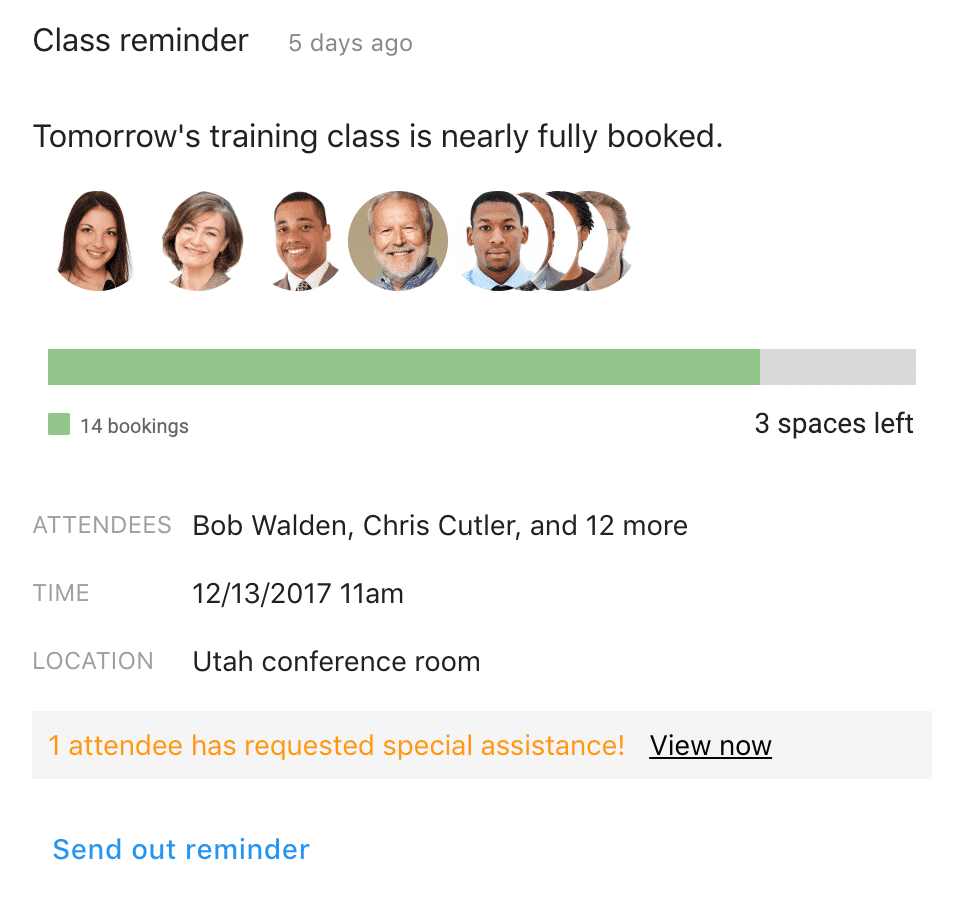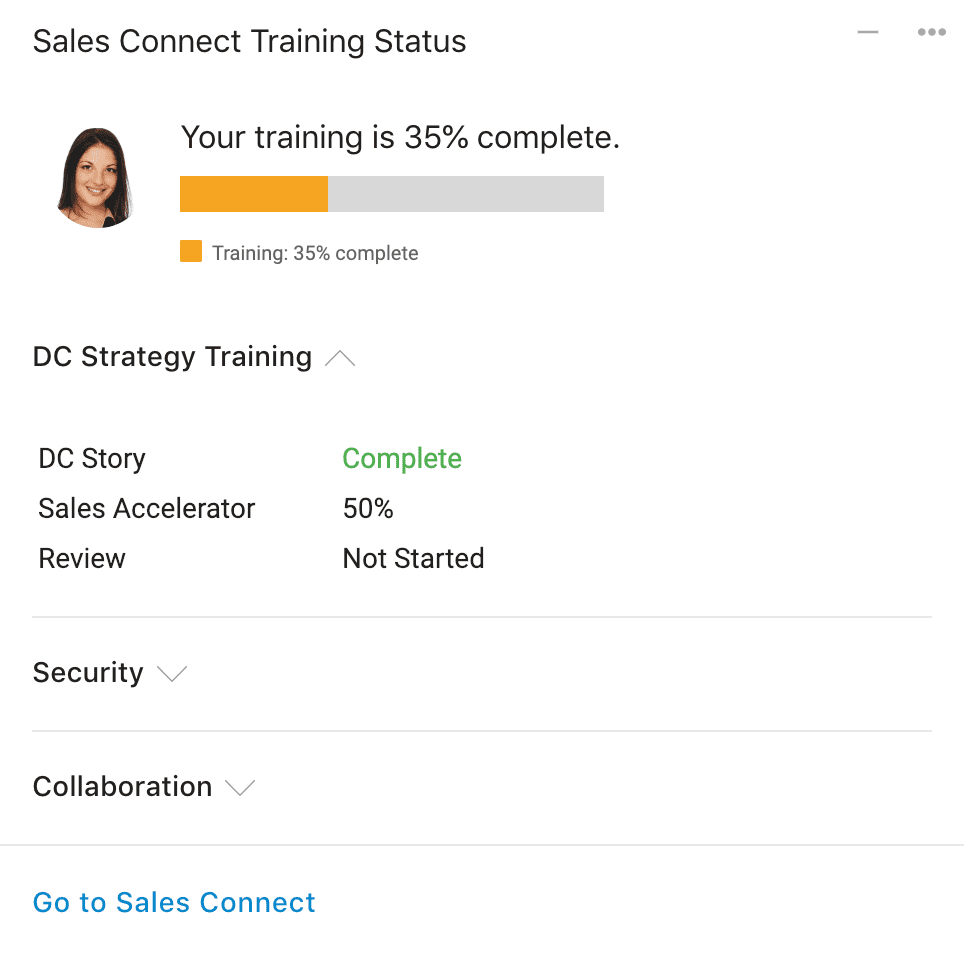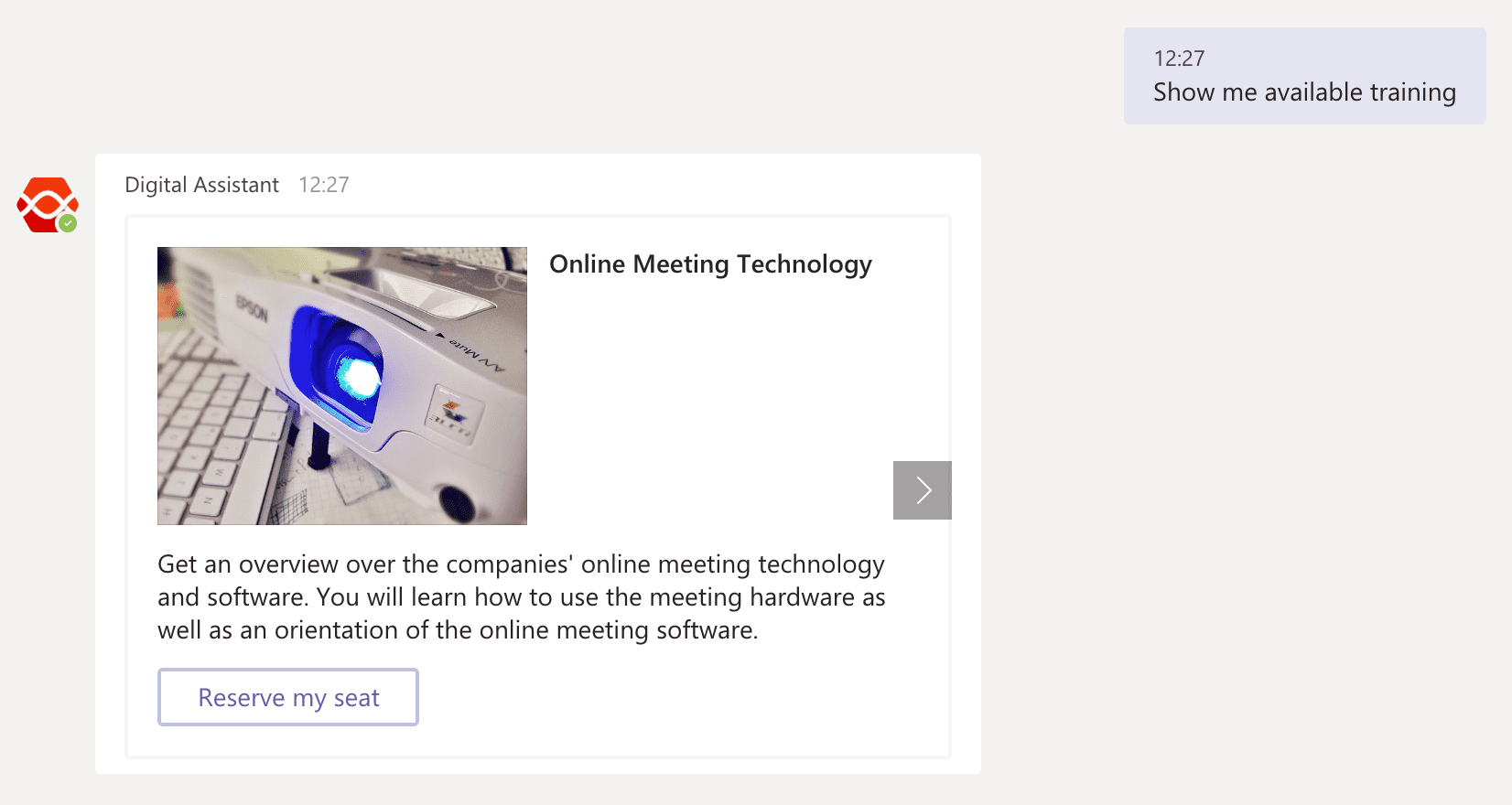 Training
Stay on top of the classes you teach and your own personal development with the Training Card. Learn what courses are available for you to take, get reminded on when and where your next class is, see personalized status updates on how you're progressing with in-person and online training courses and more.
The Training Card makes it simple to keep track of all aspects of professional development. Book your place on new training courses with your Digital Assistant on any device, and get notifications and motivational reminders about classes you are currently enrolled in.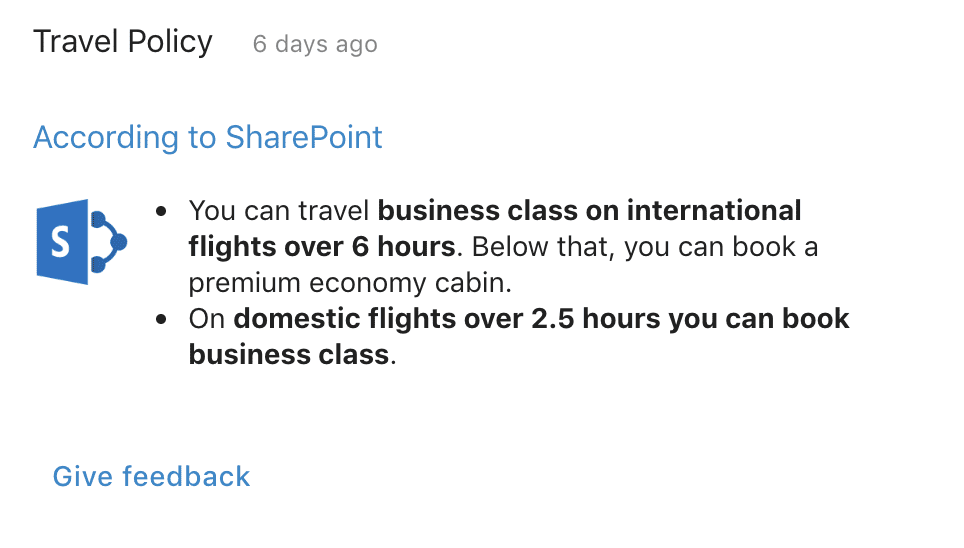 Travel Policy
The Travel Policy card lets you ask questions and receive answers about your company travel policy. This Card is tailored to your role and seniority, and will assist you in booking business travel via rail or air.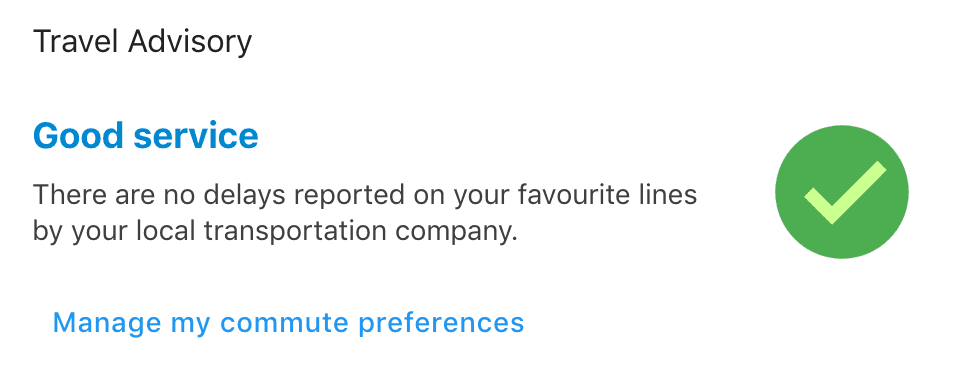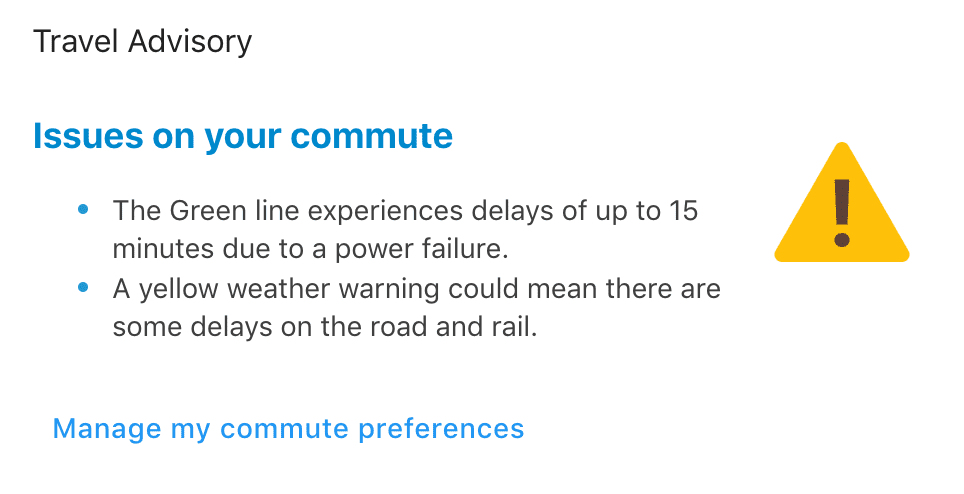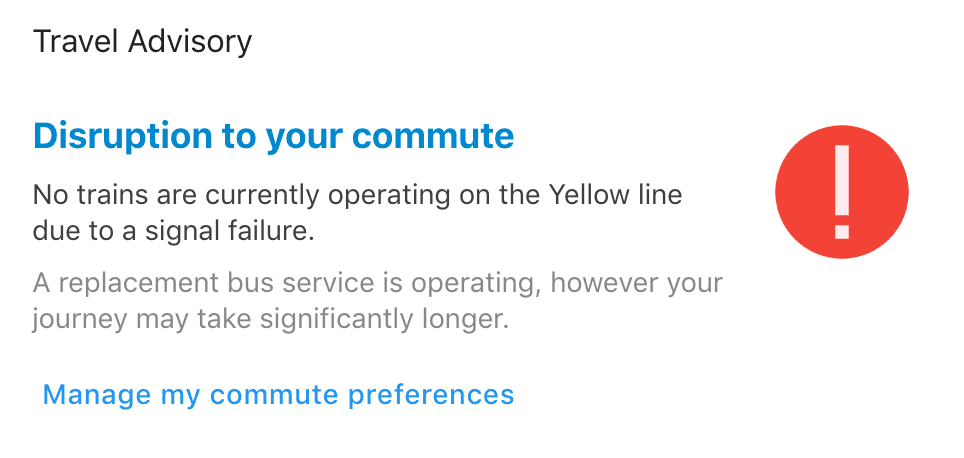 Your Commute
Whether you drive, cycle or take public transport, the Your Commute Card shows you up-to-date information tailored to you and your commute every day, so you can stay informed about potential travel disruptions and explore alternative routes if necessary.