Browse Apps
Freshping integration
Add to Digital Assistant
Last updated Jul 15 2020
Freshping integration
Easily monitor the status of web sites and servers by getting real-time notifications when your website goes down.
Every minute of downtime can hurt your business, causing lost revenue and damaging customer trust. But with the Freshping integration for Digital Assistant, you can keep a watchful eye on the status of your web servers from any device, anywhere.
Just ask your Digital Assistant about the status of your websites for an instant answer, get status change notifications on any of your devices, or pin a Card to your Board to create an always-available dashboard - so you can react quickly to issues, and resolve them before they can impact your organization.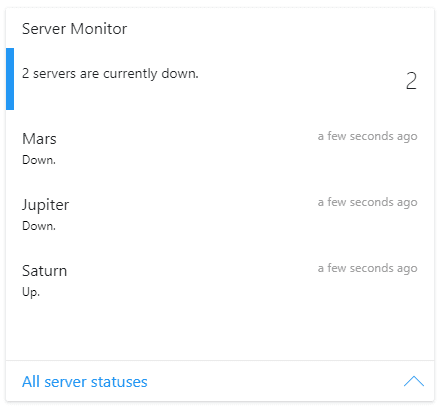 Server Status
Get a quick overview over IT infrastructure with this list of available servers along with their current status. By subscribing, users will receive notifications when the status of a server changes, so they can take immediate remedial action.
Are all Freshping servers up ? Are any Freshping servers down?