You're nearly there with embedding this Card into Viva Connections
Only needs to be done once:
Click the below Install now button to add the Card Maker add-in to SharePoint
2
Add a new Card maker Card to your dashboard. Then enter it's configuration pane
Paste your unique Card Share URL into the configuration pane
Amazon Alexa integration
Combine the power of an enterprise Digital Assistant with the convenience of Alexa
Updated Nov 11 2022
Jump to screenshots 
Using Alexa at work can make both easy tasks and complex processes faster and easier than ever. Amazon Alexa Skills allow you to extend the functionality of your Amazon Echo, Dot or Show devices. Add the Digital Assistant Alexa skill to access to the power of your smart workplace assistant from anywhere in your office - with only your voice!
The Digital Assistant Alexa skill is designed for enterprise use. Easily connect all of your cloud and on-premise corporate data sources, and create a single point of access to all your documents, information and apps.
With the Digital Assistant Alexa skill, use cases like managing workflows and approvals or getting customer information when you need it are as simple as giving a voice command to Alexa. Ask Alexa to perform any day-to-day business task: "create a new helpdesk ticket", "request PTO", or "show me my next online meeting". Your smart assistant will make it happen in seconds!
With a voice controlled smart assistant, your organization can drastically improve its employee experience by putting your enterprise data at your fingertips. Simplify daily tasks, save valuable time and improve productivity with a voice controlled smart assistant, accessible via any of your Amazon Echo devices.
Access your business applications and data from any Alexa device
Ask your smart assistant to perform actions or find information and get an instant response
Receive notifications from applications when notable events occur
Ready to bring the power of Alexa for Business to your organization? It's quick and easy to add the Digital Assistant Alexa skill to your workplace Alexa devices. Get started today and see the difference Digital Assistant can make.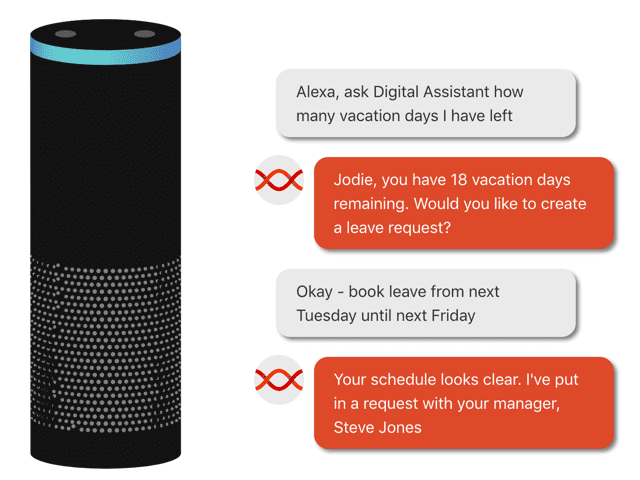 Using Alexa for Business in your workplace? With the Alexa workplace skill, you can ask Digital Assistant a question via an Alexa device, and get an instant response. Give Alexa voice commands to perform simple tasks, or carry out extended conversations to tackle more complex tasks.
The Digital Assistant enterprise Alexa skill can display answers as well as Adaptive Cards on Alexa devices with a display, such as the Echo Spot or Echo Show.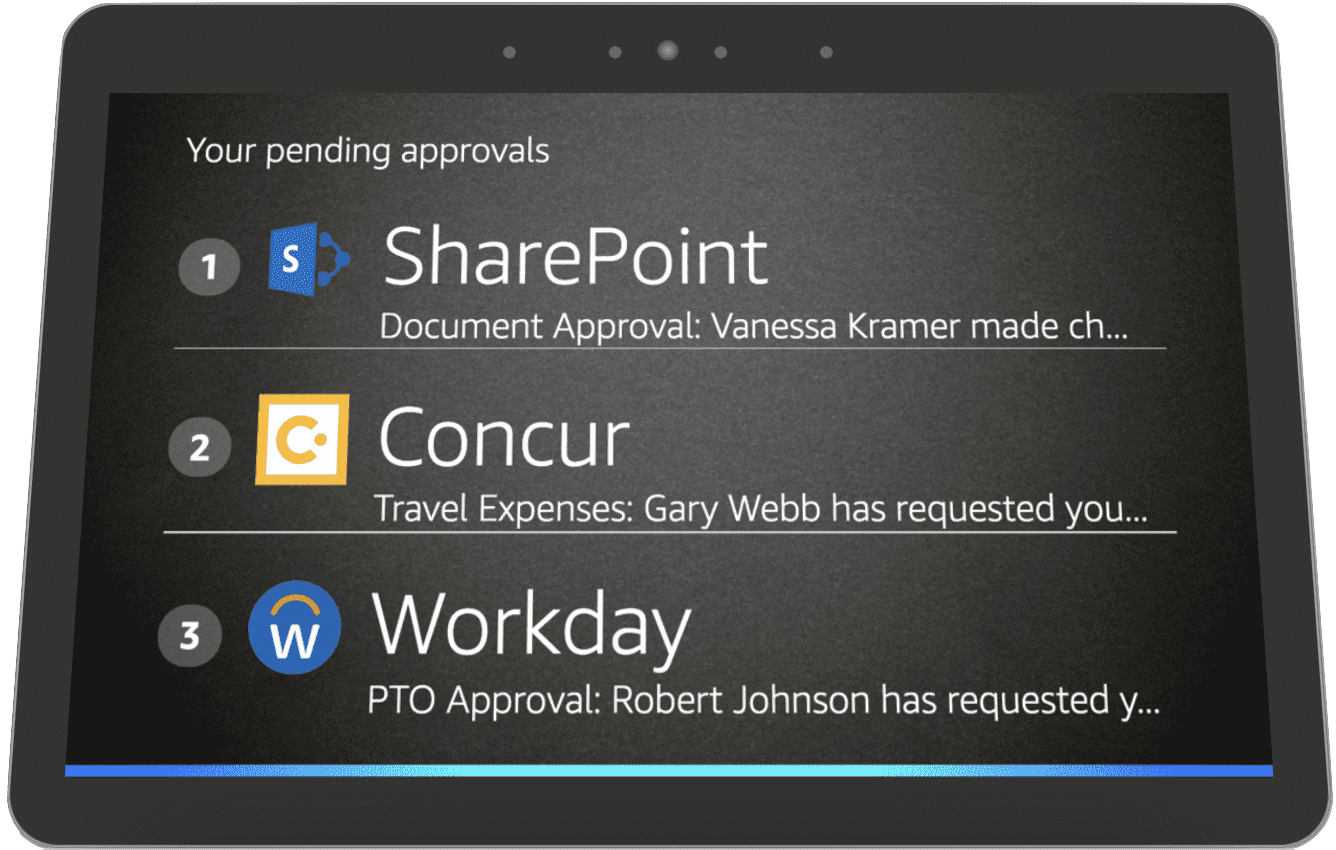 Managing approvals and workflows can be done with only your voice, with the Digital Assistant Business skill for Amazon Alexa. Digital Assistant works with any Alexa-enabled devices, including the Amazon Echo Show.
All product names, logos, and brands are property of their respective owners. All company, product and service names used on this website are for identification purposes only. Use of these names, logos, and brands does not imply endorsement.