You're nearly there with embedding this Card into Viva Connections
Only needs to be done once:
Click the below Enable now button to add the Card Maker add-in to SharePoint
2
Add a new Card maker Card to your dashboard. Then open it's configuration pane
Paste your unique Card Share URL into the configuration pane
Slack integration
Accomplish more and stay focused in Slack chats with the Digital Assistant Slack app
Updated Nov 11 2022
Jump to screenshots 
Cut down on distractions and empower your employees to focus on what's important with the Digital Assistant Slack chatbot. Your smart assistant works seamlessly with Slack as a chatbot app. It's always available to answer questions, perform tasks and send real-time updates to users.
The Digital Assistant Slack integration is designed for enterprise use. Easily connect all of your cloud and on-premise corporate data sources, and create a single point of access to all your documents, information and apps. Then simply send a query or command to the Digital Assistant bot and watch it happen in real-time!
Adding the Digital Assistant AI chatbot to your workspace allows users in the workspace to access Digital Assistant, so you can send queries and receive personalized real-time notifications from your favorite business applications.
Access your business applications and data directly from within Slack, and take immediate action. Manage workflows, fill out request forms and more with Slack's message buttons
Subscribe to your favourite Cards; Digital Assistant can send messages with real-time updates directly to your Slack workspace and channels
Add the Digital Assistant Slack app to a channel and ask for files or information. Your smart assistant can respond to queries in seconds, making getting things done easier than ever
Fill out forms, manage workflows and accept requests through Assistant Cards, without having to leave Slack
Ready to transform Slack into a fully-featured collaboration tool, and give your organization a productivity boost? It's quick and easy to add the Digital Assistant Slack app to your workplace. Get started today and see the difference Digital Assistant can make.
The Digital Assistant Slack app and integration are not created by, affiliated with, or supported by Slack Technologies, Inc.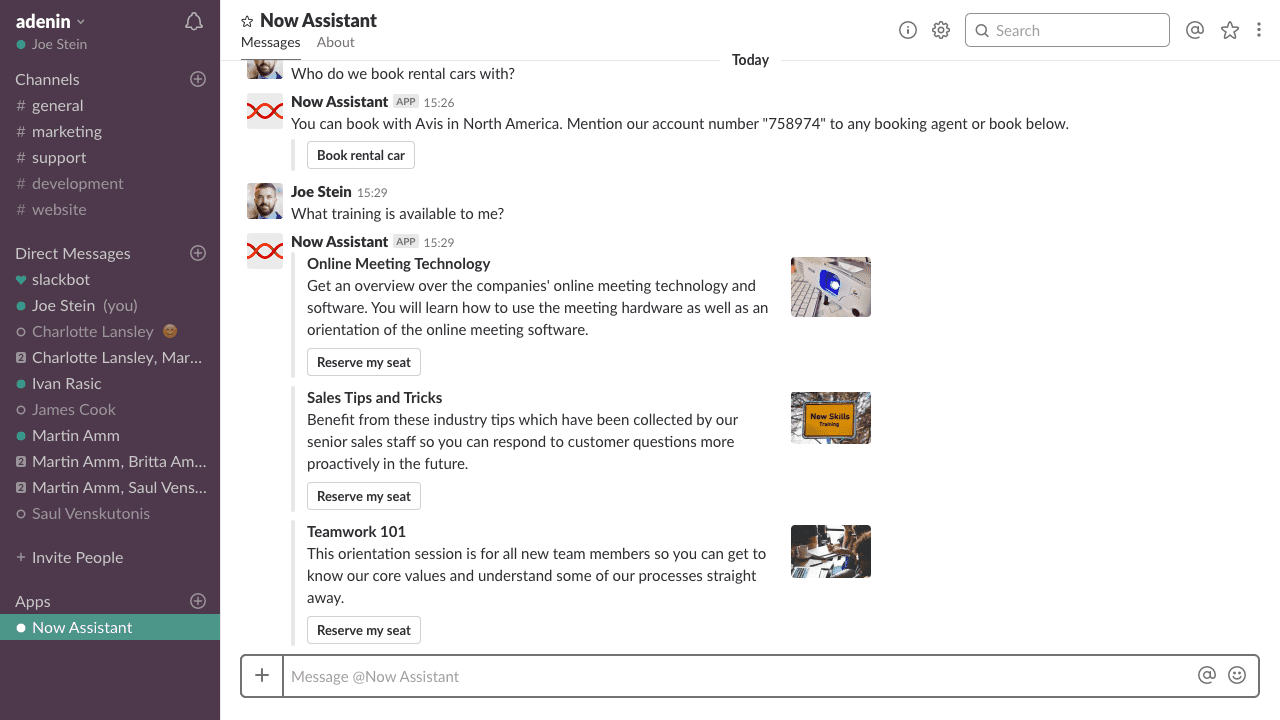 Digital Assistant can send lists as individual items in Slack. Message buttons make it easy for the user to take action in business applications directly from Slack; approve requests, choose options, submit forms and more.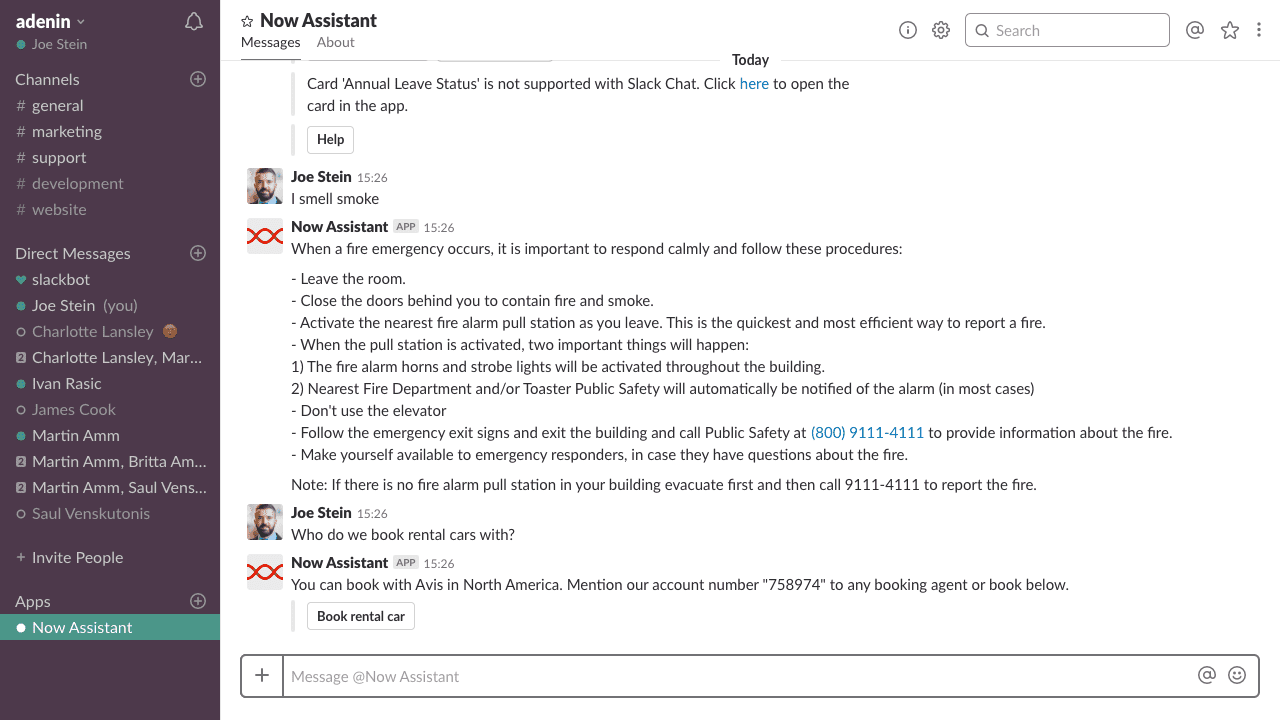 Ask the Digital Assistant Slack bot anything and receive a rich-text reply. Slack supports Adaptive Cards, so Digital Assistant responses can include buttons and forms to perform actions in related business applications. Approving or submitting requests is as simple as clicking a button or filling out a form - all from within Slack.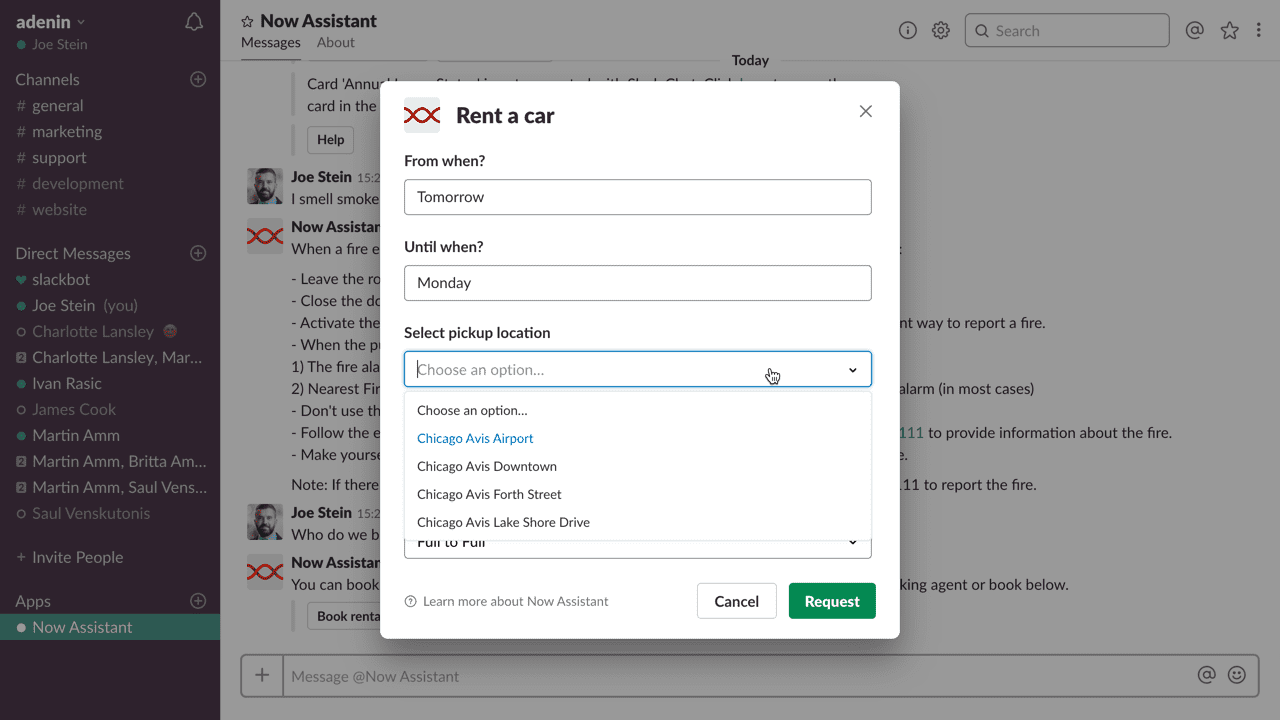 Submitting requests and forms has never been so quick and easy. The Digital Assistant Slack integration allows you to create and submit requests from inside Slack, and submit them directly to the relevant business application.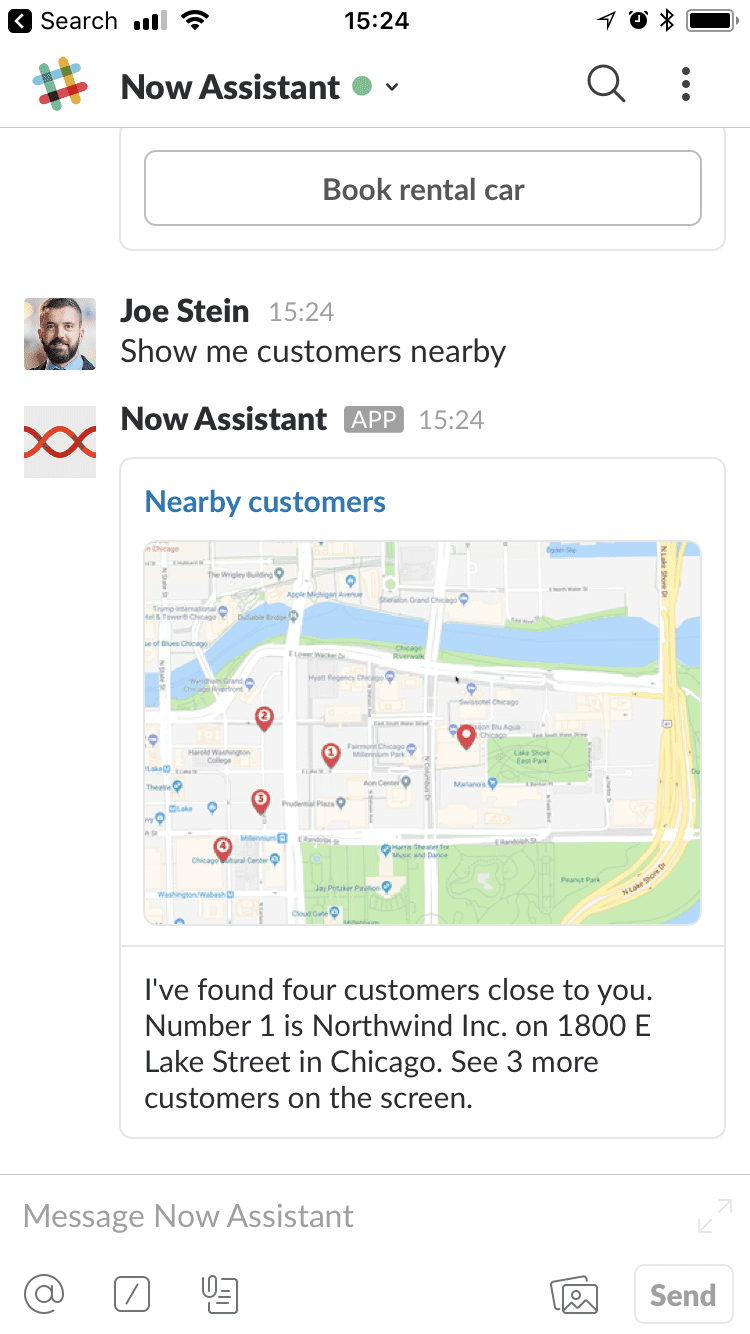 Wherever you have the Slack app installed, you can access the same great functionality of your smart Assistant. Just open a conversation with the Digital Assistant chatbot and ask away.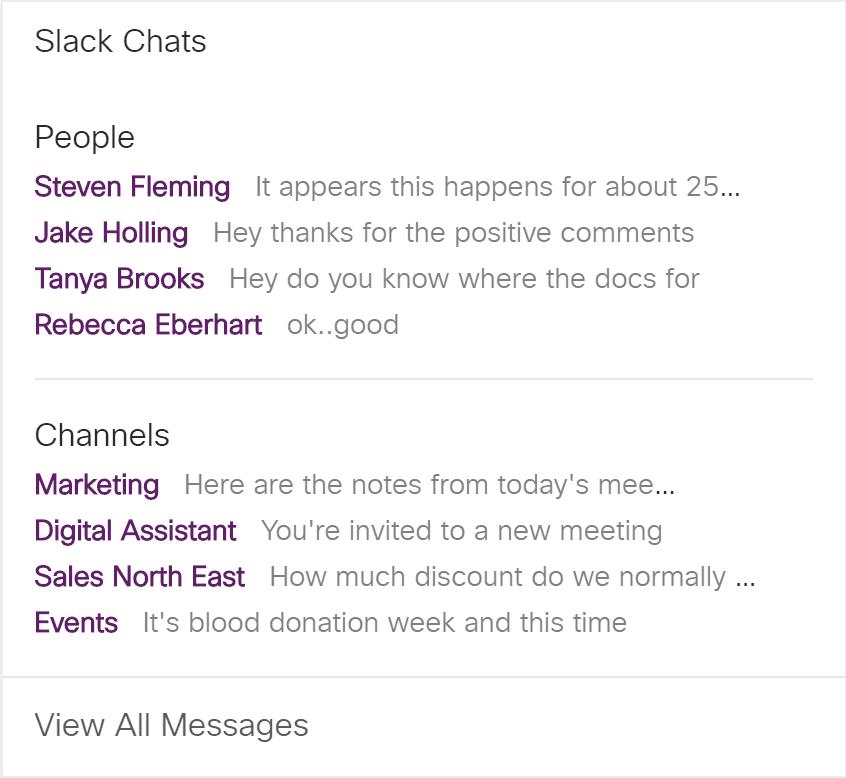 See messages from your latest Slack conversations within the Digital Assistant app, and get notified if someone @mentions you - so you never miss a thing.
All product names, logos, and brands are property of their respective owners. All company, product and service names used on this website are for identification purposes only. Use of these names, logos, and brands does not imply endorsement.