Back to overview
Digital Workplace
To make a Digital Workplace stick, an organization must really transform their employees day-to-day experience. As a platform for digitally-inclined enterprises, Digital Assistant is an ideal partner for creating a Digital Workplace portal.
Personalized Board
Users can pin Cards they want to keep tabs on to their personalized Board. The Board is a personal space to the user where they can freely, arrange and rearrange what applications' data they would like to see at a glance. Cards pinned to the Board can show data, lists, graphs and can be actionable, i.e. to allow for one touch Approve/Decline buttons.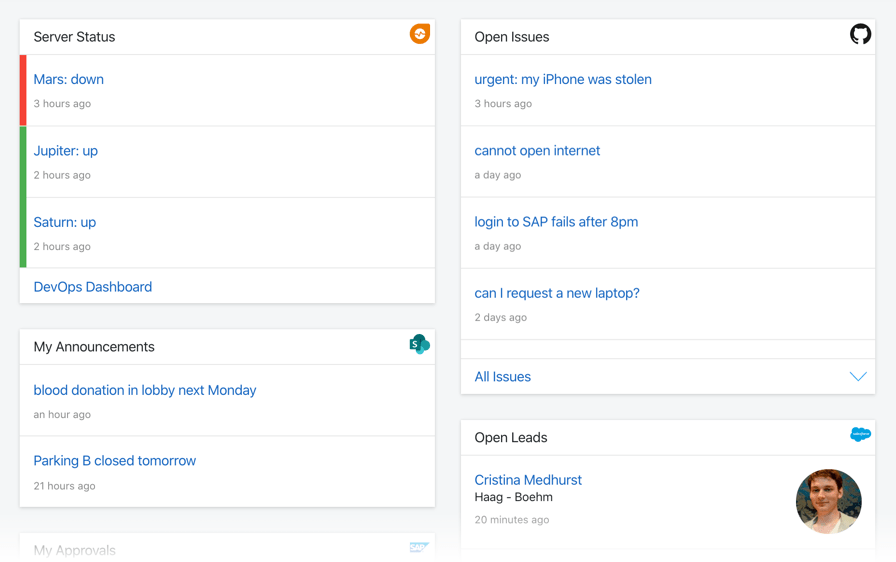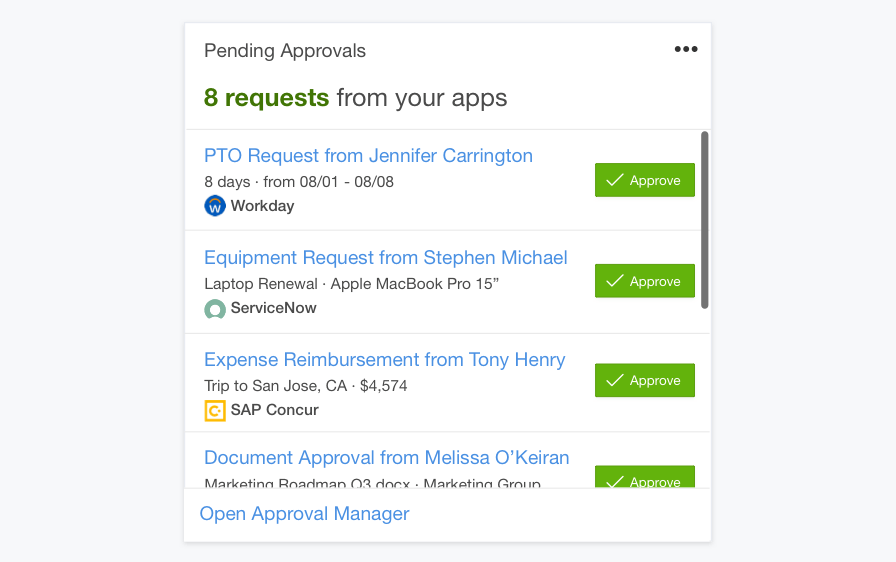 Central Approval Management
Many applications inundate managers with different usage patterns to work through their workflow requests. But in Digital Assistant all these applications can be read out via their API to give a centralized, simple-to-follow Card with one touch buttons for frequent actions, like Approve/Decline. This makes processing your approvals, quick and fun while reducing emails overflowing users' inboxes.
Fill out forms on the go
With a rules-based Forms designer it easy to create Forms for the Assistant web app, or chatbots like Slack. Form submissions users make can be directly submitted to an applications' API, eliminating the need to leave the Assistant in order to finish ones' request.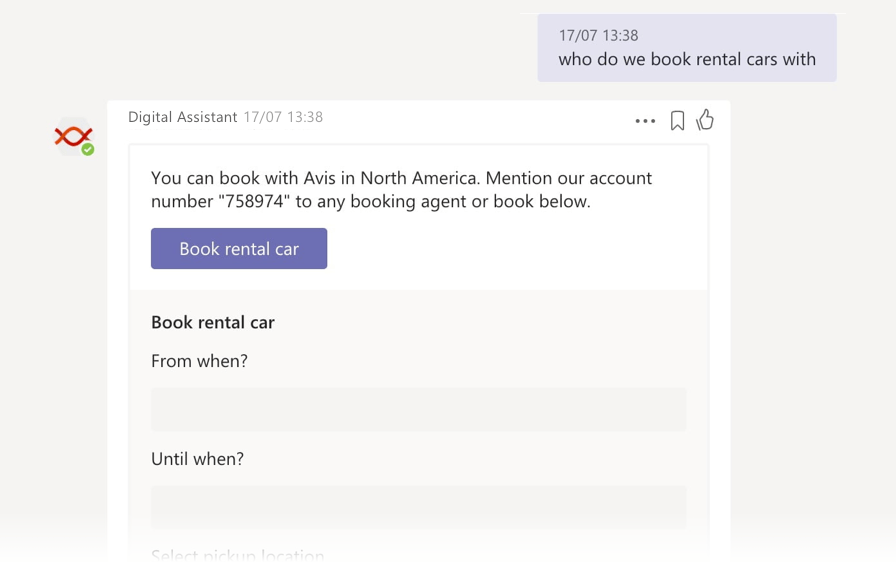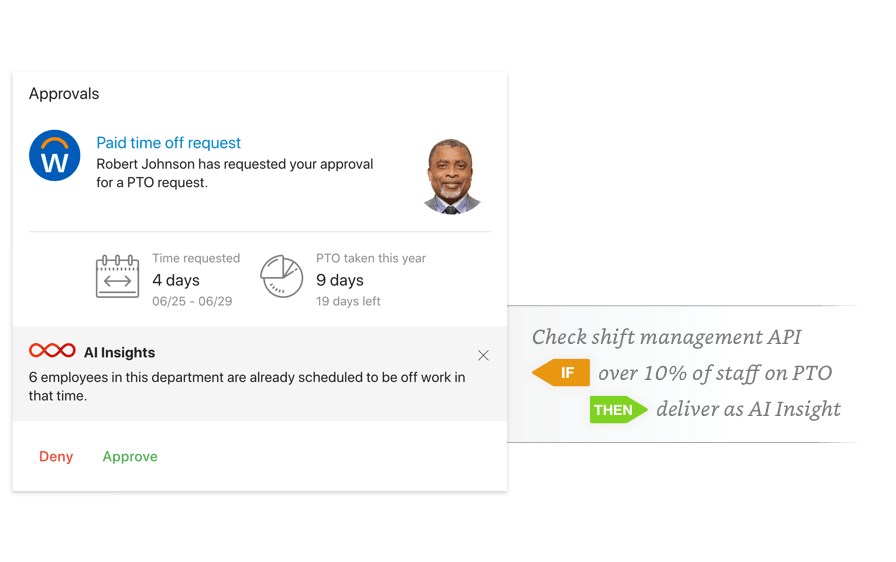 Adaptive Intelligence
Decision makers are supported through a number of dynamic features aimed at creating context and minimizing disruptions. Cards can be programmed to show sections or messages only if certain data is true or available, i.e. to draw a manager's attention to data they might not have considered otherwise.
Award-winning architecture
Digital Assistant can serve as a backbone of IT that ties all services and APIs into one common interface that users find familiar and portable to all services of the organization. It's like a glue that sticks all your apps together. But don't take it from us, as we've been awarded the coveted Best Digital Workplace award 2018 by Digital Workplace Group.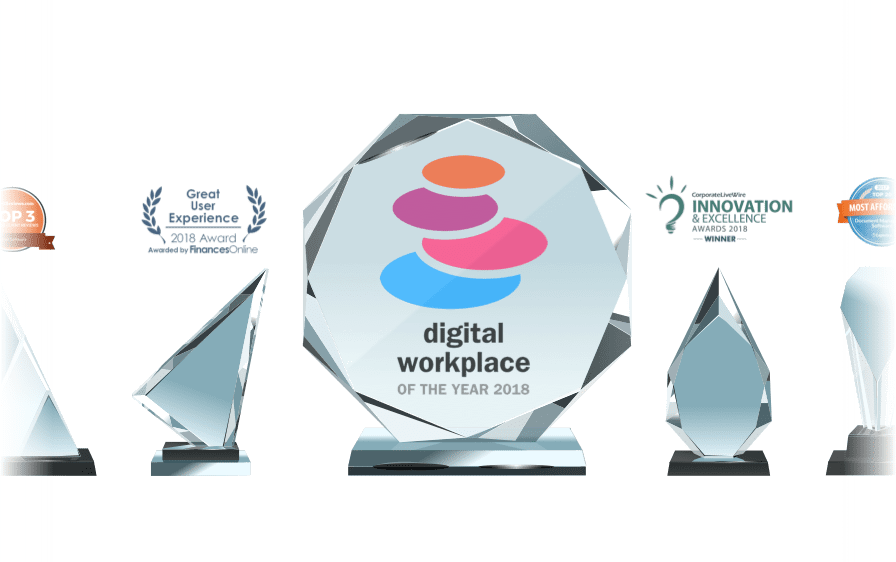 Localization
From adjusting the verbiage of the UI, to complete translations and LTR support you can completely adjust the Digital Assistant web app to your needs.
Audiences
Audiences are recommended user groups that would get preconfigured Cards and better recommendations for search and preferences.
Service Workers
To conserve bandwidth we use service workers that manage real-time updates to the user's Cards and transition between offline and online mode.
Branding
You can upload your own logo and name to the Digital Assistant web app as well as change the look and feel entirely using custom CSS.
Parallel Processing
Whether you search or poll APIs, all processes happen across all integrations simultaneously showing the first results as soon as they come in and not until the last service responds.
Continuity
The users view is always in sync between all their open sessions. Ask a question on a smart speaker, and get the visual response on an ambient display alongside the voice output from the speaker.
Assistant API
If you want to integrate Digital Assistant Cards into your own Enterprise Search or chatbot to serve the user relevant Cards then you can query the Assistant API.
Notifications Inbox
To reduce the amount of distracting Emails you can redirect notifications to a personal Email drop-box from where your Assistant aggregates them into a list of updates.
Audit logs
Every user action and data access is logged in a secure container so it can be accessed and audited anytime.
Single Sign On
You can integrate Digital Assistant into your federated identity service to allow seamless access of the app but also secure access to the data Digital Assistant integrates.
Brute Force Protection
Multiple failed login attempts lock an account and send out an Email to the administrators.
HTTPS & SSL
The entire app is naturally HTTPS and SSL encrypted.
Secure Search
Users will only ever find items that they have permission to view in the original source, too.
Secure architecture
Both as an on-premises application and a SaaS provider we comply with industry standards and we conduct our own continuous audits of our security. We share all reports on request.
Some features are not available on all plans, please see the Pricing page for more info.