Cisco Spark Bot
You can use Now Assistant from inside Cisco Spark as a chatbot. Follow the instructions below to connect your Now Assistant installation with your Cisco Spark account.
1. Server setup
This step only applies when you're running Now Assistant in a local environment. Skip this step, if your server can be reached with a public URL.
Use ngrok as a tunnel when Now Assistant is running on a server which is not publicly accessible from the internet.
Run the cmd prompt as an Administrator

Type ngrok.exe http 2014 which will expose http://localhost:2014 to the internet and give you their address.

For example:

 Web Interface                 http://127.0.0.1:4040
 Forwarding                    http://286dca02.ngrok.io -> localhost:2014
 Forwarding                    https://286dca02.ngrok.io -> localhost:2014


In the IIS Web Server under bindings for localhost:2014 app set the ngrok url.
2. Create a Spark Bot
Using your existing Spark account, navigate to https://developer.ciscospark.com/apps.html and click on the "+" icon.

On the next page click on "Create a Bot". Give your Bot a user name and then take a note of it.
<my-now-assistant-bot>@sparkbot.io

From the next page take note of your Bot's Access Token which is needed on the next page.

3. Create a Webhook
Go to https://developer.ciscospark.com/endpoint-webhooks-post.html and toggle the Test Mode switch to On.

Now carry out the following steps:
Replace the string under Authorization with your Bot's Access Token
Under name enter 'Now Assistant'
Under targetURL use https://<your-servername>/botspark where <your-servername> is the public FQDN (or ngrok FQDN if you're using a tunnel)
For resource enter 'messages'
As the event enter 'created'
The placeholders of the input fields are almost the same shade of grey as text inputs. If you find the behavior unexpected, try and type anything.
The finished result should look like this: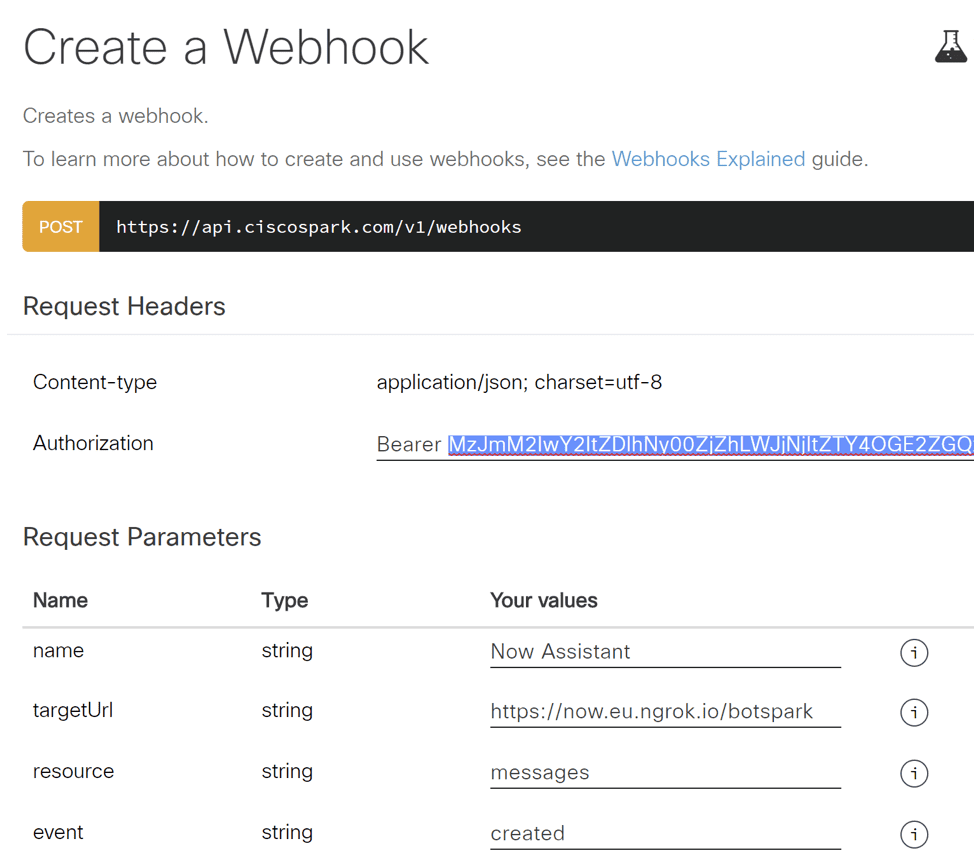 Test your inputs by clicking on the Run button. If the response code on the right is "200", we're good to go ahead.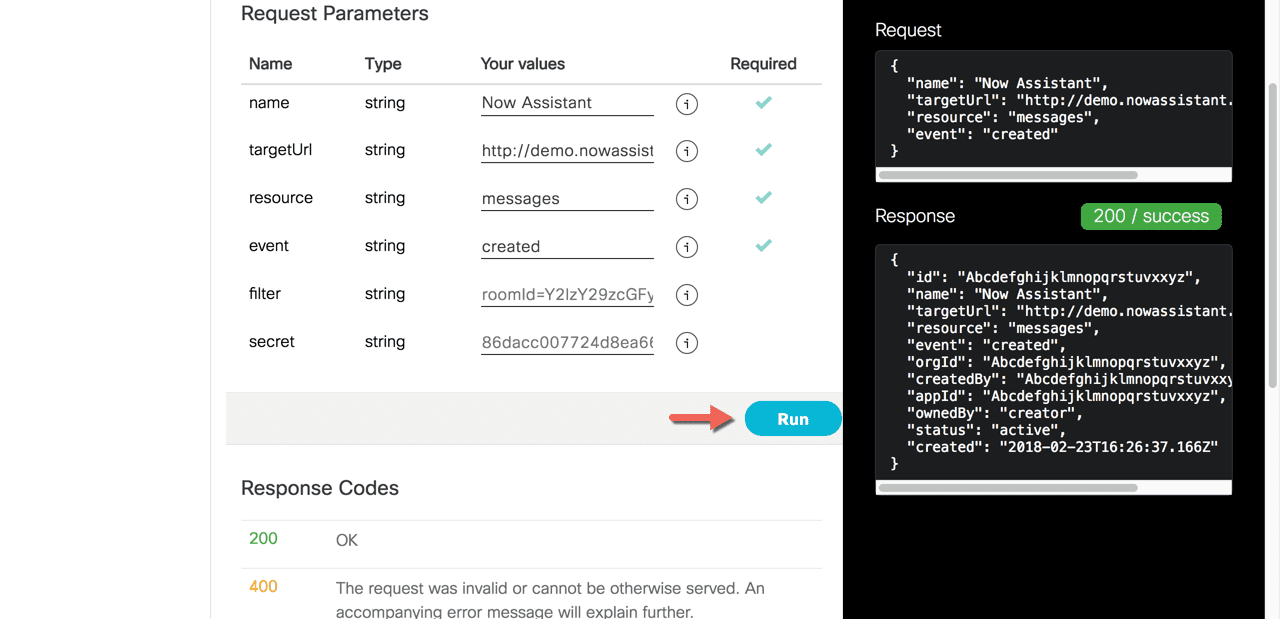 4. Configure Now Assistant bot settings
The endpoint used for Spark is protected from unauthorized use, so we will have to configure it to allow Spark bot requests, provided the correct token is present.
Open your Now Assistant in the browser and go to the following address:
http://<your-server-ip>/Admin/adenin.GateKeeper/GlobalSettings/adenin.GateKeeper.SparkBot
Taking the values from step 2, enter your Bot's Access Token and under Bot email address enter the username of your Spark Bot.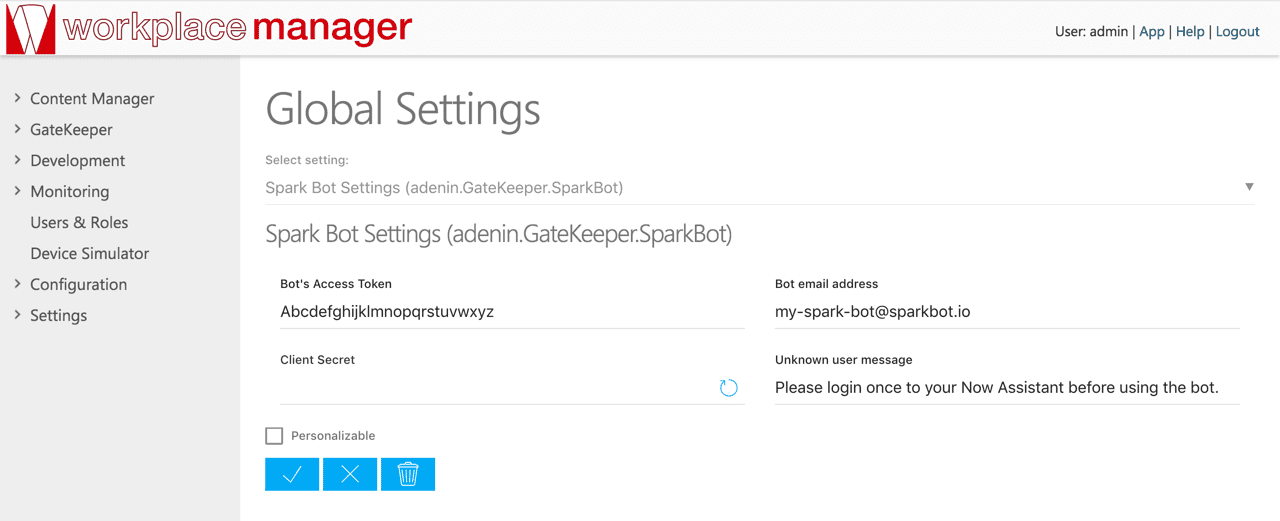 Click the checkmark button to save your changes.
5. Test functionality
Open your Cisco Spark client and click on the "+" icon and then Contact a Person.

On the next screen enter your bot's username as described under step 2, e.g. <my-now-assistant-bot>@sparkbot.io.
Now you can start a conversation with your bot. Just enter the same phrases/questions you would enter into the search field in Now Assistant directly.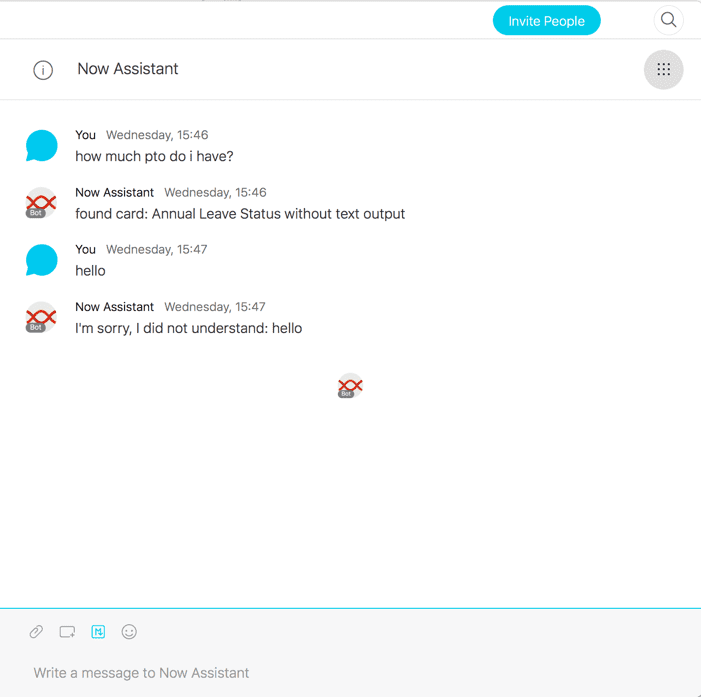 If Now Assistant finds a result the bot will show you the Card's written answer, provided the respective Card is configured to be "Adaptive" in the Card Designer.
If the bot answers with "Please login once to your Now Assistant before using the bot." then the current Spark user either wasn't matched to a Now Assistant user, or they haven't logged in previously.
Last updated: Fri 16 Mar, 2018