Digital Transformation
What is Digital Transformation?
Digital Transformation (DT) is the process of improving existing processes through the use of better applications, often borrowing on successful UX patterns from consumer-facing services and apps.
This could mean that a process that used to be paper-based some 10 years ago, say requesting annual leave, would – through multiple iterations – be replaced by HR software, which in turn could be made available to mobile devices or even be made accessible through chatbots.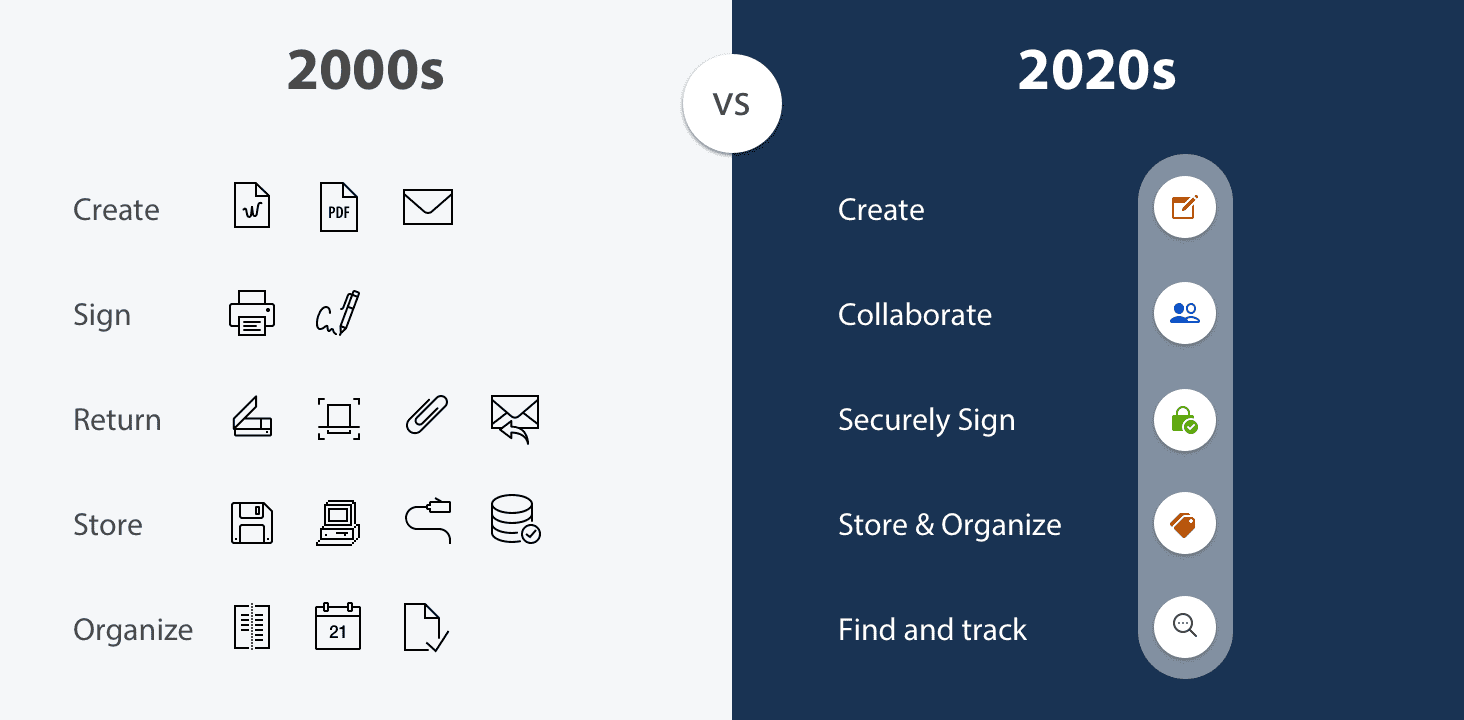 Or take sending contract to a partner or new recruit as an example. Previously there were will have been many tedious steps involved to get the content exported, printed, scanned, returned and uploaded somewhere.
But in the age of Digital Transformation you would opt for a software dedicated to integrating all steps along this vertical with the aim that not one piece of paper would require printing. So it would handle anything from the contract particulars, offering secure signatures and intelligent tagging as well as tracking of contracts.
Definition of Digital Transformation
While there are many nuanced definitions of Digital Transformation they generally share the aim to reduce wasting of resources by improving productivity on multiple fronts: make data available digitally and instantly, send it to the right person who can access it at their desk or on the go, letting them see contextual information that's again available electronically and feeding decisions back to the system faster as a consequence.
Are Digital Assistants a Digital Transformation tool?
Yes. Digital Assistants borrow on the successful UX established by Siri and Google Assistant as reliable handheld "companions" that you can query using just your voice. These smart assistants are not just easily accessible with voice recognition, they also act as a hub or gateway to other apps installed on the phone by triggering rideshare requests, money transfers or even changes to IoT devices like a smart lightbulb.
How can Smart Assistants be used for Digital Transformation within the enterprise?
This open, yet intertwined, pattern is what Digital Assistants are bringing to the enterprise context: For organizations of course it isn't limited to any one device factor as they frequently opt for a responsive design web app or "companion" widgets for other applications, like chatbots in Microsoft Teams or extensions for the Chrome browser.
And instead of triggering actions just withother apps from the App Store, they communicate with APIs available from almost any enterprise application. These API connections allow the assistant to both retrieve results the user asked for, but also trigger workflows and requests in these systems on behalf of the user.