Digital Workplace Portal
Definition of Digital Workplace Portal
A Digital Workplace is part of the Digital Employee Experience concept whereby dozens of applications user need everyday are connected to a central stream of data through which users get instant updates, can ask questions and get things done.
How is a Digital Workplace Portal different from an Intranet portal?
The Intranet has traditionally been seen as a suite of sites, documents and productivity tools (like forms) that act as the central starting point for the users' tasks and questions.
Despite many features being added over the years (knowledge management, social networks, etc.) the key idea always remained that the Intranet contains everything that is needed in one suite.
Except of course this very significant limitation never was true, with many Line-of-Business applications (like Salesforce) always being separate entities for their respective user groups within the organization.
This is what the Digital Workplace Portal aims to fix. It recognizes that most organizations have between 50-200 applications that their users use more or less frequently every day.
A significant amount of users actually never visits the Intranet in a typical week, as they don't need to ready the latest corporate news, HR policies, etc.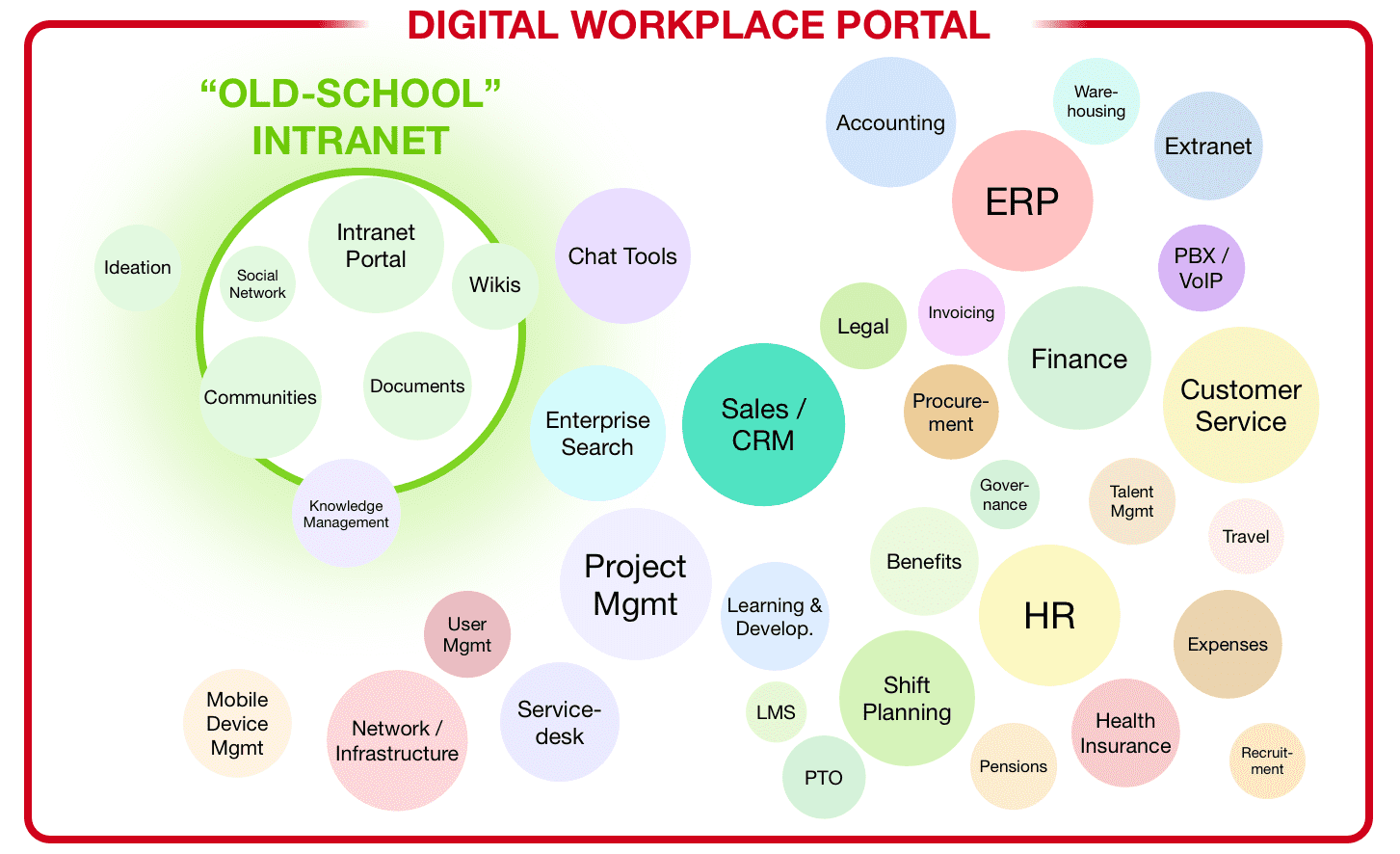 A Digital Workplace portal always has an underlying integration layer where all the applications in an organizations are inter-connected, users authenticated and their data instantly available to aggregate updates, show notifications or answer questions.
Does a Digital Workplace Portal still have one home page?
It can, yes. However the onus isn't any longer on having a central corporate home page where employees go, regardless of their function or role.
Instead the focus is the individual employee's applications, tasks, events, etc. that are all aggregated for each user personally, and displayed on the Digital Workplace portal's homepage.

However, modern portals are also an acknowledgement that user's don't start their Internet Explorer every morning like it's 2003 anymore.
You could be in your kitchen, in the gym or working on a project when you need to get an impromptu answer or update. Going out of your way by having to open the Intranet is way too much hassle.
That's why modern portals are designed not to be yet another application you need to keep open, instead they can be embedded in all the places users are already using:
Browser extension
Chatbots for MS Teams, Slack, etc.
Responsive web apps for smartphones and tablets
Skills for Voice Assistants like Alexa, Google Assistant
Embedded into Enterprise Search results
Embedded into Intranets, websites other web applications
Distributed to user devices via MDM
These so called Channels are the second big reason why the Digital Workplace Portal is a a different animal compared to an Intranet. It recognizes that the way users work best is to bring data to them, rather than have them reach out.
What's the best Digital Workplace Portal?
When you pick a Digital Workplace Portal it's important consider how your users are actually wanting to work. If they jump between many different tabs and windows to get their job done, chances are you need to build up an inventory of all these applications and check which ones have integrations or API capabilities.
There is no "suite" you can buy to create a Digital Workplace, instead you need to pick vendors that are open with their data for different LoB applications and create a central aggregation stream for users with tools like Digital Assistant.