The Employee Productivity Intranet
Spark new connections, surface knowledge and keep everyone in the loop – create a custom Intranet Social Network with just the right tools for your tasks.
---
Employee Directory
Employees have instant access to other employee contact information so they can connect with each other. The directory can locate employees by skill, position and location to help when employees don't know the name of the person they need to reach.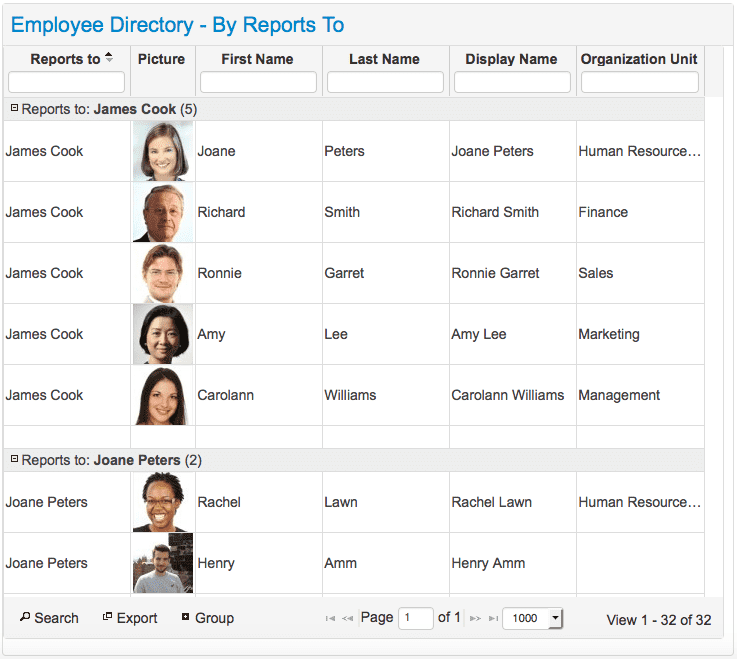 View live
People Finder
Find people and contact information by name, location or department. Especially useful for finding an expert in a different branch/location.

Org Chart
Employees can get a visual picture of the company's workforce structure. The Organization Chart is automatically updated based on information from the Directory. No work is needed to create or maintain the chart.
View live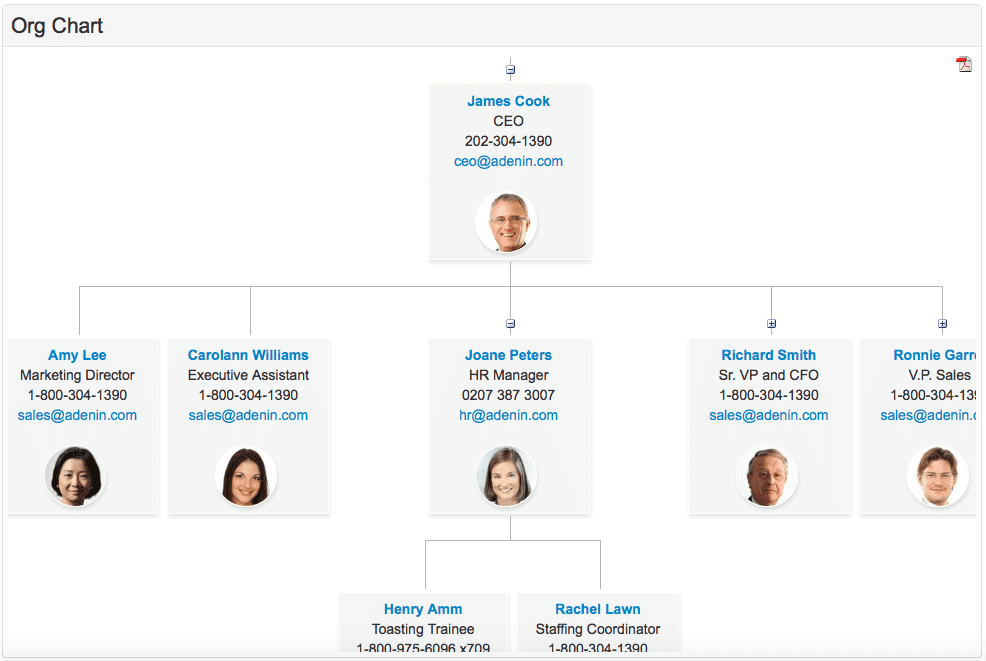 Birthdays
List recent or upcoming birthdays.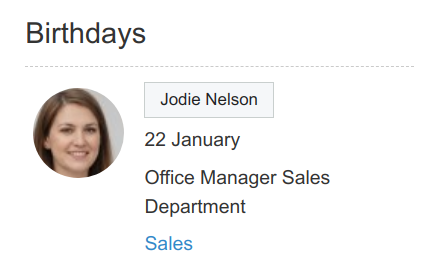 New Hires
Lists new or soon-to-be employees and when their start date is.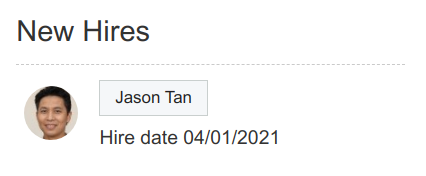 Awards
Employee Awards let you share a user's achievements with everyone else and, thus, motivate employees and increase employee productivity. Awards can be displayed on the user's profile page. A list of award winners can be included on the corporate home page.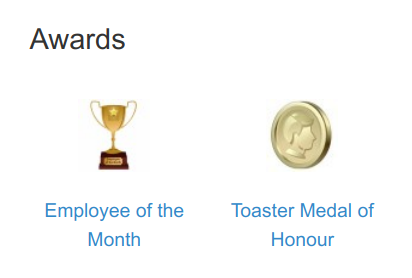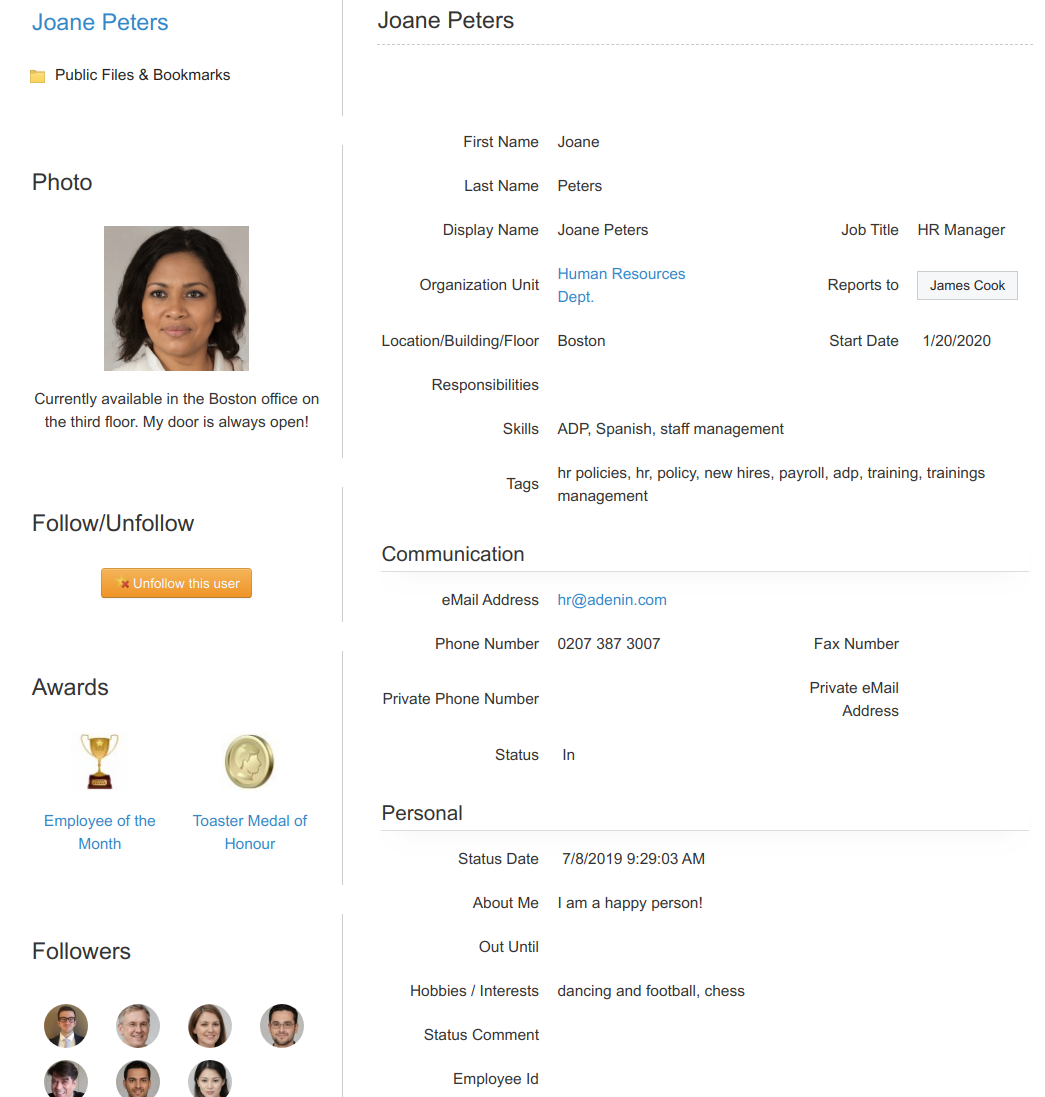 Profile Pages
As the corner stone of a Social Intranet individual profile pages display public information about an employee. It includes photo, interests, work, education history, and communities and networks joined. A profile also comes with a personal tag cloud based on the employee's knowledge work activity to help employees find experts.
You can also include these features on profile pages:
Public Timeline and Instant Messaging

Following / Followers

Organizational Network

Status Messages and Status Stream

Public files and bookmarks

Private files (Corporate Dropbox)
Activity Stream
The Activity stream shows recent employees' status messages and information about their current work, such as topics published, topics rated, tags added, communities created or communities joined.
The portlet provides a filter to show only updates from colleagues the user is connected with. It therefore can be used both in a traditional sense where users see global updates but also be filtered to just the users you have connected with, thus making the Social Intranet experience more personalized.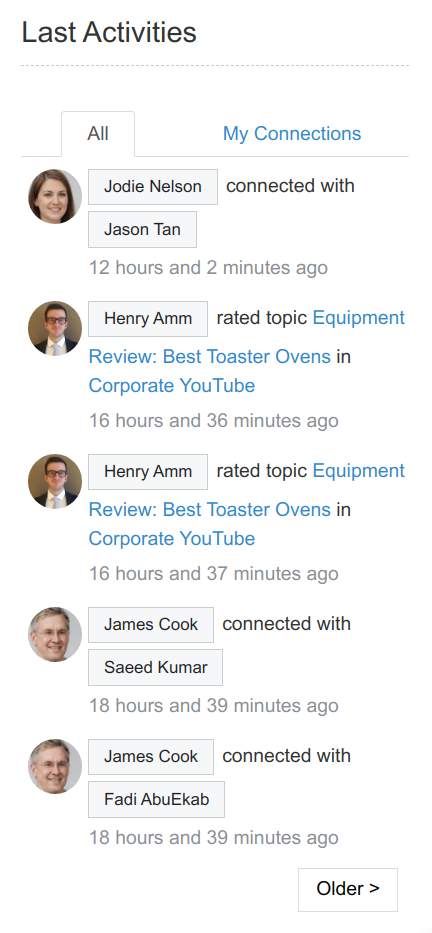 Employee Productivity & Collaboration
Inclusive environments in which employees have the right tools to collaborate and exchange ideas, producitivity and innovation benefit.
IntelliEnterprise increases employee productivity by making it easy for users to find the information they need. This is accomplished through contextual linking of related information and creating meaningful links, for by linking a document to a responsible editor. This allows people to find what they need in the way most intuitive to them, instead of having to stick to the tradtional single site hierarchy as the main means of navigation.
Blogs
A blog is an online journal where entries appear from newest to oldest. Managers use internal blogs to post events, share personal views about products, services or vision for the corporation and provide project updates.
Blogs help boost employee productivity in project teams by using them as a project journal or activity report. Employees can leave comments to lend insight, ask questions and more.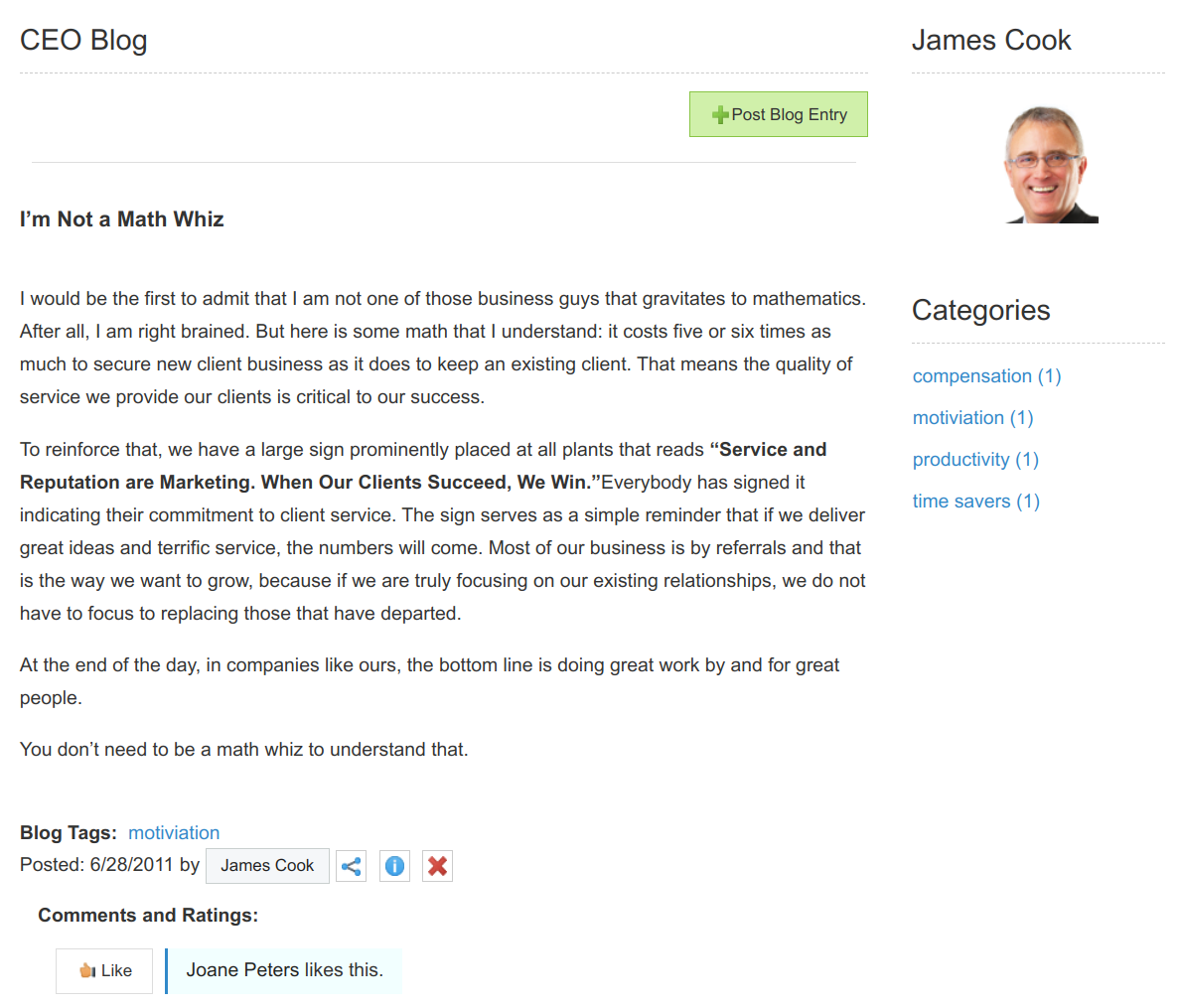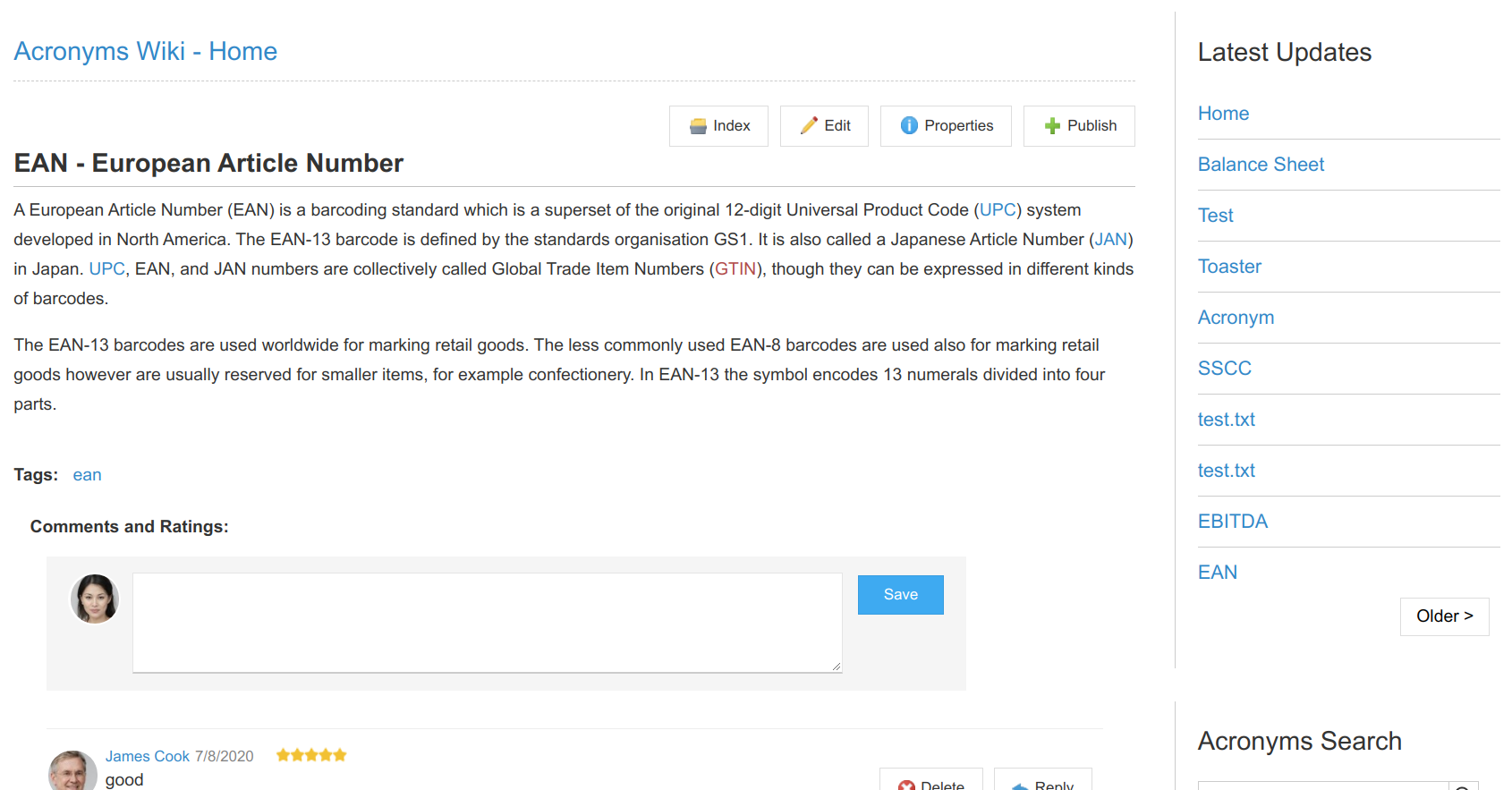 Wikis
A wiki allows users to collaborate and edit web pages covering a common subject. Employees use wikis to create glossaries that explain acronyms and other company-specific terms and share dynamic information that can act like a knowledge base.
The wiki features automatic linking of keywords which are placed in double brackets, e.g. [[Area management]]. If the linked term does not exist as a page yet, it will show in red so users can start extending the wiki by writing a new article.
The absence of a hierarchy can help increase employee productivity by offering more explorative discovery of new subjects.
Knowledge Base
Knowledge Bases are collections of HTML pages, Wikis and other documents that form a library of topics that users can access through various lists and funnels that detail relevant metadata.
Knowledge Bases are versatile repositories which increase employee producitivty by offering an easy retrieval of relevant information through metadata or contextually relevant links.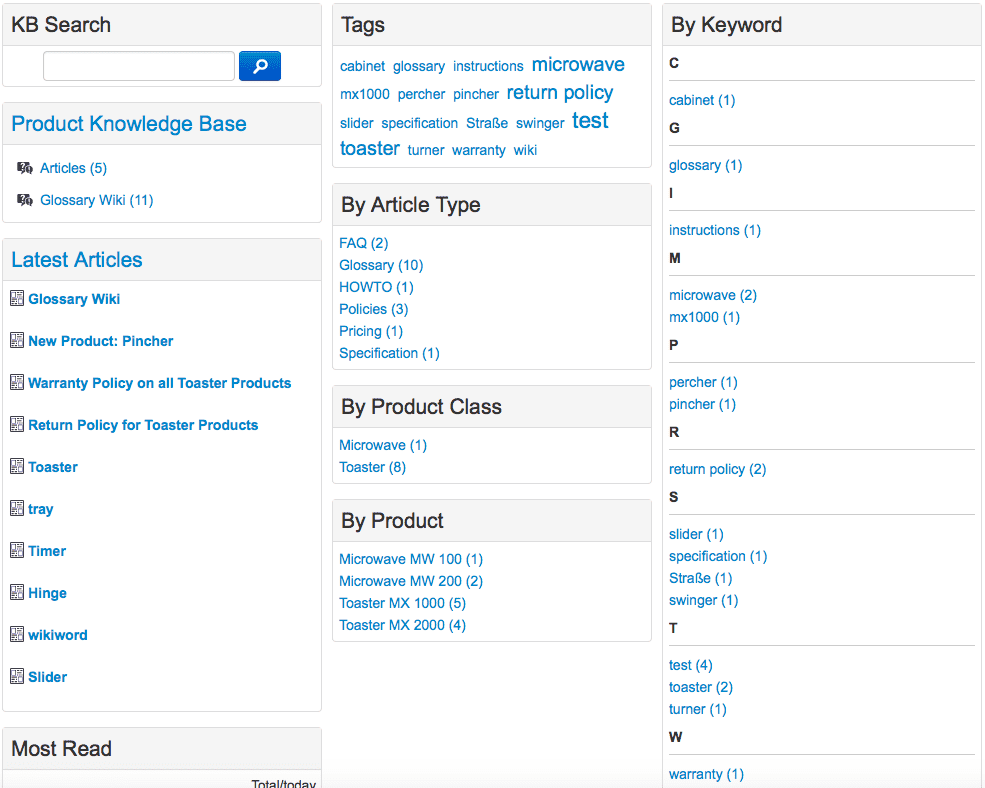 Idea Management
Vote on ideas or suggestions. Users can rate the whole idea with a "thumbs up/down," and add comments so the author of the idea gets more useful feedback.

User ratings and reviews
Star ratings and user comments have long been found on public websites — from Amazon to weblogs. But they are much more useful on intranets, where they're from colleagues instead of anonymous or unknown readers. This feature allows readers to communicate with both other users and the information publishers.

Communities
Unleash the power of the crowd and let imaginations run wild. Or create spaces for your business partners to come and work with you. Or just share pictures of cute cats. Communities — the lifeblood of a lively intranet.
Community Management
Help bolster employee productivity by letting users create virtual collaboration spaces where they can exchange on a common subject or topic.
Admin users can manage the audience by inviting new members, promote members to admins or change the community settings. Communities may be either public, registration required or invitation only.
Even external users may be invited to access and edit content in communities, offering a convenient way to turn the Intranet into an Extranet.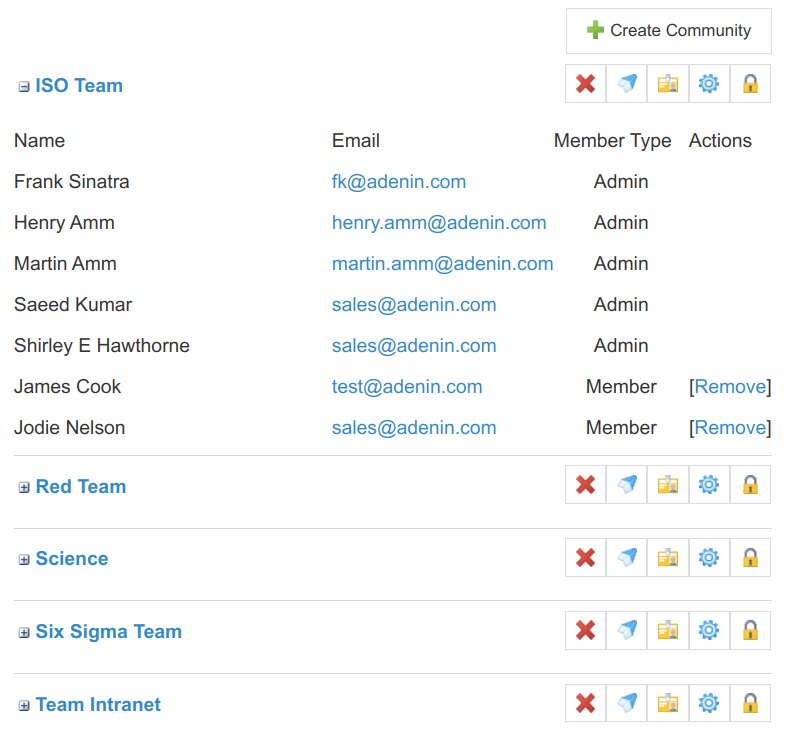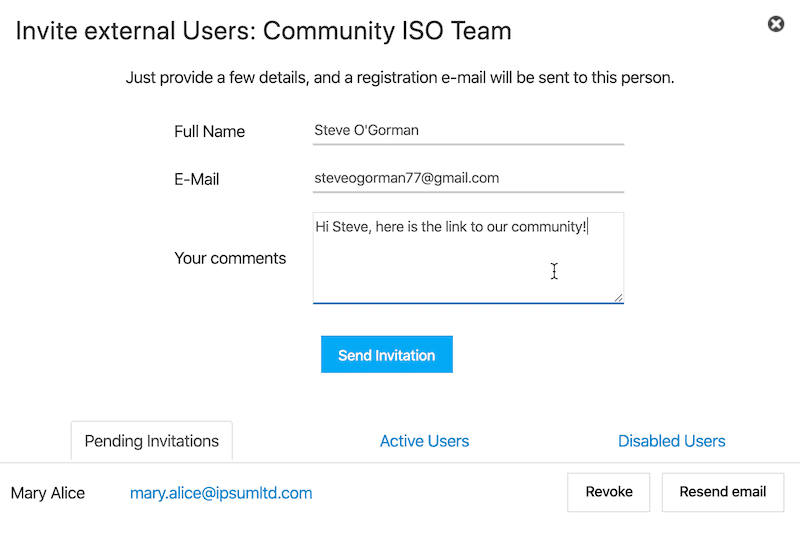 External invitations / Extranet
Organizations can extend their reach beyond their company by inviting external users to join community sites. This increases collaboration and strengthens business relationships with partners, suppliers, vendors, customers and other businesses by sharing parts of the organization's content. Existing users can invite external users and revoke their access if needed.