Intranet Design Modeler
Prototype your future Intranet Design online.
Discuss and design your Intranet's structure with your team. Install inside IntelliEnterprise with one click.
The Modeler includes all 100+ components from IntelliEnterprise, which you simply drag and drop into your structure. It is just a matter of clicks to create a visual representation of your intranet strategy.
These pre-defined components cover every capability that any organization needs on its Intranet. Just select the ones your company needs as you build the model.
The Modeler lets intranet users get involved in the building of the intranet from the beginning, while speeding up the process. The first step in creating an efficient content management strategy is to build the information architecture that later organizes and structures your intranet. The Modeler has a site map that includes a prototype of the content, applications and layout, giving you a blueprint unique to your organization's needs.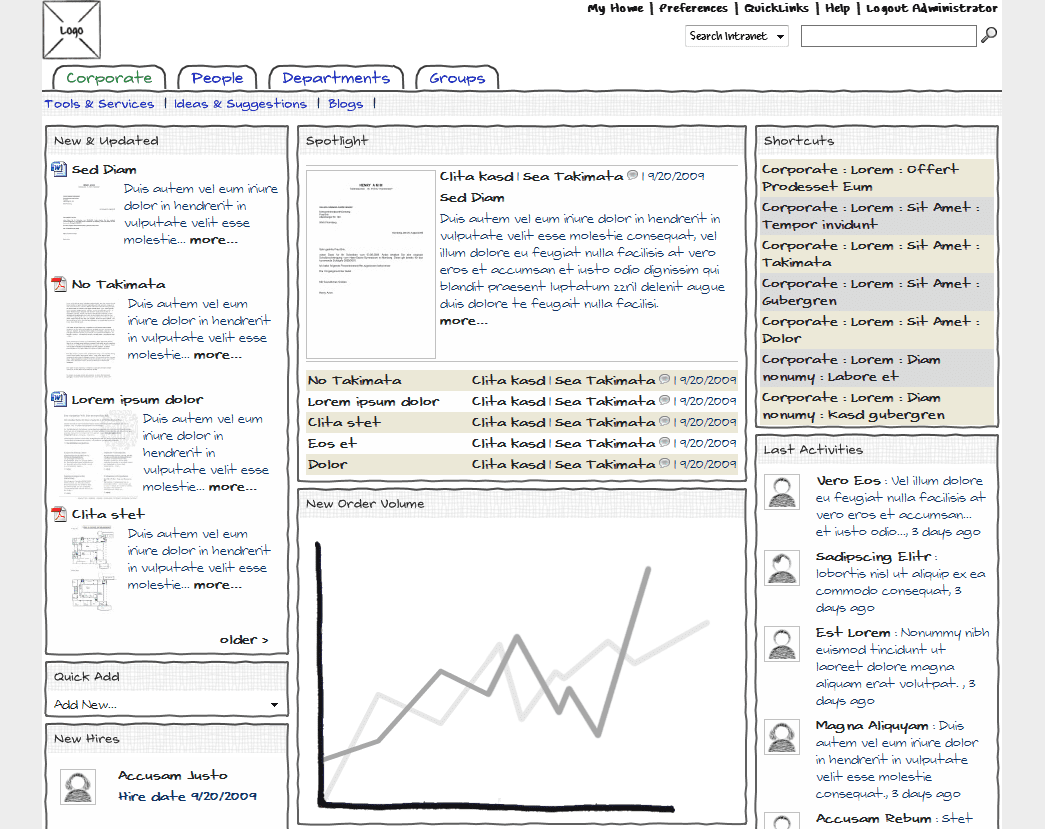 Features & Benefits
A revolutionary tool needs one ingredient: A simply refreshing approach to what was previously a complicated mess.
Drag-and-Drop
Simply drag and drop our pre-defined components into your intranet design model, where you can rename and customize them. Or start with one of the sample models and rearrange its structure to fit your needs.
Auto Save
Your Model is constantly being saved into your account and can be revisited from any machine. That's great if you want to present it to your colleagues on one machine and make changes to it on another.
Install with one click
Your model can be implemented on your local IntelliEnterprise server with one click. If you change the structure of your model, just rerun the implementation process.
See how
Share with colleagues easily
Everyone can view and interact with the draft until you find the right layout for your company. Improves user acceptance through clear visuals showing how the intranet will look and behave.
Fastest way from 0 to Intranet
Saves hours of implementation time, collecting feedback and revising drafts. With the built-in Factory tool all pages, layouts and portlets are installed within minutes, instead of doing it manually for hours.
Deploy over and over
Architect and experience your Intranet, Extranet or Portal in a matter of clicks. Whenever you have made changes to your Model you can simply push them to IntelliEnterprise over and over again, until you have found the perfect solution.
Visualize, discuss, implement.
The quickest way from 0 to Intranet.
How Intranet Modeler works for you.
The Modeler's wireframes are visual mock-ups of the architecture you have set up. They represent all the site-specific information, such as its navigation, structure and content. Wireframes look like sketches, however they are fully clickable and let you navigate from site to site. Thus, you can let people you are discussing the solution with, navigate through the wireframes as they would in a fully normal webpage.
Wireframes are very valuable to help an organization with getting user feedback in an early stage to save time and boost implementation success that meets users' needs. The interactive Modeler makes it easier to see and use an almost identical representation of the intranet, extranet or portal. Because of this, users find it easier to provide feedback.
Super-fast implementation.
Once you create the architecture that you want, you can implement it for a test run in a matter of seconds.
If you want to change just the tiniest bit, simply go back to your model, make the changes and re-implement it. A complex process behind this feature makes sure none of the information inside your IntelliEnterprise installation (i.e. documents, users, permissions, styles, etc.) gets lost.
---
Next steps
Take advantage of this free tool today by signing up now or select Start Modeler.