The democratization of information.
Encourage users to share and exchange ideas, knowledge and feedback–good and bad–to ultimately foster innovation.
The Social Intranet is focused on sharing information and helping people engage with each other. Shared information includes official policies as well as user-generated content (i.e., blogs). It empowers people inside and outside the organization to connect with one another, making business more efficient.
The goal is to provide social features that encourage users to interact and share their knowledge with others.
But it is not just social in a way social networks are: Features like blogs, wikis and the expert finder will help you bring corporate knowledge into one central place, making it easier for everyone to keep up with the latest developments in your organization.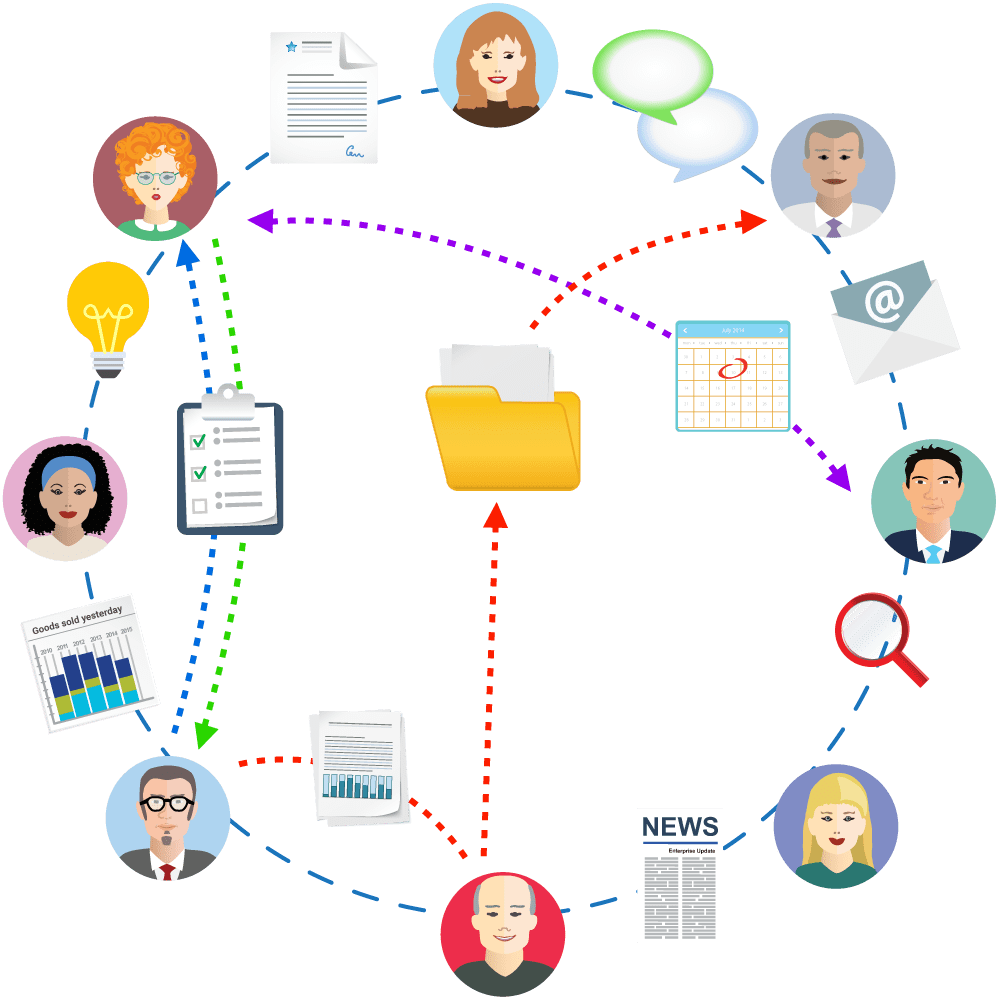 Make it yours.
Use this best-practice solution as the blueprint for your own modern Intranet.
You can use this best-practice solution as a free template with the Intranet Modeler, the revolutionary architect that let's you prototype and install an Intranet site in just a few steps.
Learn more about Intranet Modeler
Break down information silos.

By delegating administration to departments who own and manage information on their own. This reduces the number of steps involved in gathering information and completing projects, and minimizes the involvement of IT.

Connect people with information—in contextually relevant ways.

By filtering the information that is relevant to users at a specific point in time. It emphasizes the importance of sharing knowledge and the interaction of users, making both official and user-generated information transparent and available.

Collect and leverage knowledge.

By providing a space where knowledge is extracted, posted and built upon. As a result, your organization becomes more efficient and employees accelerate deliverables through creating best practices and eliminating double efforts.

Increase the relevance and value of information.

By personalizing the delivery of content. The advanced search capabilities save users time and the Intranet ensures that the users' experience is always up-to-date. This accelerates updates to all users and makes sure they work with current data.

Adapt to the new ways people communicate.

By integrating today's social media platforms, including YouTube, WebEx and Facebook. You can integrate today's culture of communication with the way your organization does business.

Enable the creation of communities to share and collaborate.

By giving users the ability to form a destination that is focused on a specific topic, function or task, users can come together in an informal space outside of deparmental or hierachical boundaries. Users can see what communities other users belong to, and decide to join, if allowed.

Invite external partners to join the community.

By inviting external business partners to access and contribute to specific communities and projects you can leverage their knowledge while increasing customer satisfaction.
Social Intranets with IntelliEnterprise Intranet Software
IntelliEnterprise intranet software was created for enterprise, by enterprise from the ground up. Enable knowledge sharing and break down information silos, and increase the relevance of your intranet with IntelliEnterprise's social intranet features.
IntelliEnterprise helps organizations to boost their employees productivity, create a social platform for collaboration and build a digital workplace for the modern enterprise.
With over 15 years of experience in creating Intranets, adenin has put all its efforts towards creating an Intranet software that has innovative and smart features that will never hinder but always inform your decisions and accelerate your performance.
Related Searches
What is IntelliEnterprise?: Learn all about the intranet software for the modern workplace
Intranet CMS: Create, manage and distribute content with IntelliEnterprise CMS
Social Intranet: Create a social intranet with tools to faciliate collaboration and employee productivity.
How much is IntelliEnterprise?: Learn more about IntelliEnterprise intranet software pricing
MEAP: Create micro apps with data from over 50+ sources that work seamlessly across devices.
Sales Portal: A secure and efficient CRM from inside your enterprise portal.
More
Less