Questions? Call us on 1 (800) 975-6096
From Intranet to Digital Workplace
Learn how you can empower your workforce to work smarter, not harder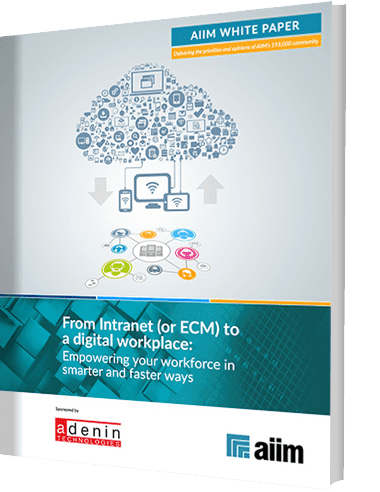 Created in partnership with

See how you can transform your tired, ineffective intranet into a modern digital workplace with our free whitepaper, created in partnership with AIIM. In this must-read download, discover:
What a digital workplace is and how your business can benefit from one
How cross-device data and application access can streamline your business processes
How effective information management can reduce your business expenses.
How remote working is transforming the landscape of industry
Download this free whitepaper to learn how you can support a modern workforce to work smarter, not harder. Shine a light on your operational challenges and find out how unifying your data sources into a single point of access can increase operational effciency, responsiveness and employee happiness.
Download your free whitepaper today
Ready to take the next step towards a digital workplace?