Questions? Call us on 1 (617) 977-6746
IntelliEnterprise Intranet Software
Discover the modern intranet software designed from the ground up for enterprise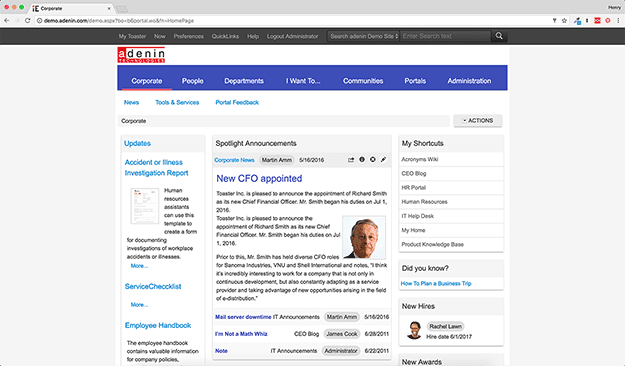 Ready to bring your intranet into the 21st century?
IntelliEnterprise intranet software combines the functionality of an intranet CMS, a social intranet, an enterprise portal and more into one easy to use package. With IntelliEnterprise, you can:
Integrate data sources from across your organization into one point of access
Create an environment that promotes collaboration and knowledge sharing
Customize your intranet with enterprise branding, custom modules and more
Get up and running in minutes with inbuilt best-practice solutions
Check out the IntelliEnterprise data sheet and see how you can transform your business today. You'll see how easy it is to implement a digital-transformation ready intranet in your workplace, and learn how IntelliEnterprise can support your employees with their content and knowledge management, workflows and more.
Download the data sheet now
Want to experience IntelliEnterprise hands-on?