Build your first Card
2. Add a new Card
This article will walk you through the steps to add a new Card to Digital Assistant. Click on the '3 dots' icon in the top right-hand corner and click the Administration link from the Digital Assistant start page.

Navigate to 'Components'.
Using the navigation menu on the left hand side, go to Development → Manage Spaces.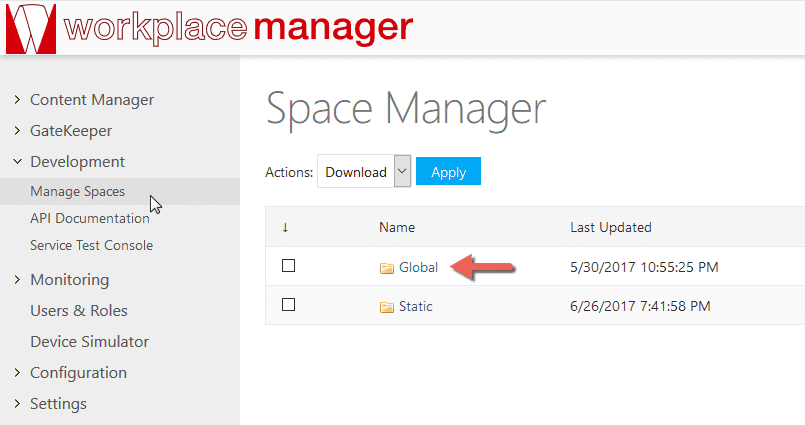 If you want to import an existing Card, for example when using a template, you can import it from Git.
In the space Manager please navigate to Global → Components. From here click on 'New Component' in the top right hand corner of the page to open the Create Component Wizard.
Create Component Wizard
When you first open the wizard you will see the 'Template type' as the first option. Select 'Card' to create a new Card.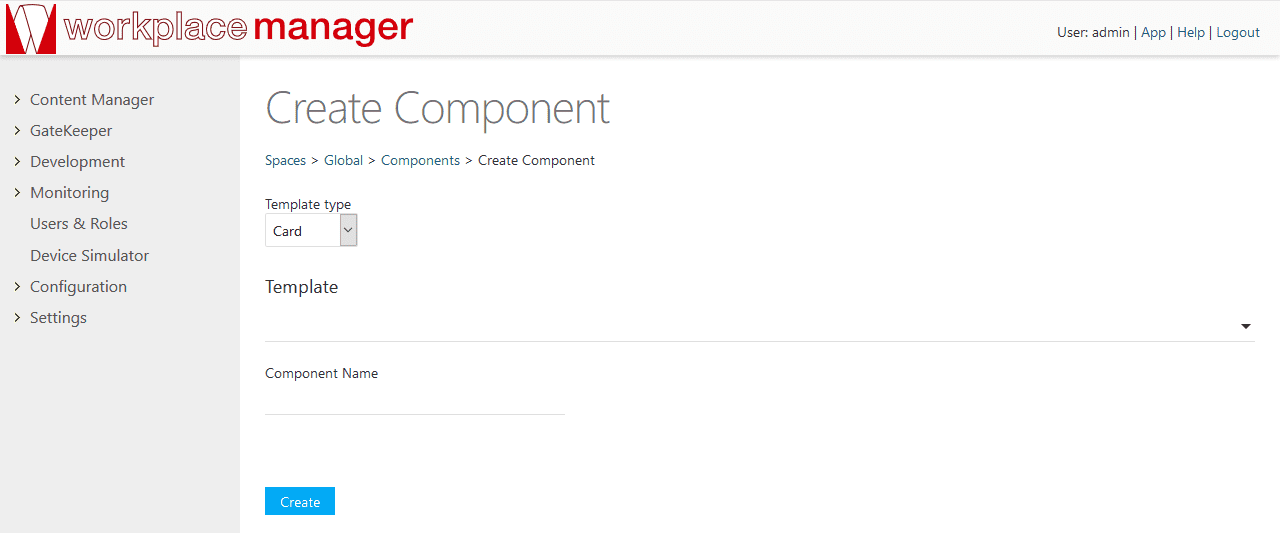 In the "Template" dropdown you will then see several Card templates you can choose to base your card on. For the purposes of this tutorial, we will choose "Basic Card (with test data)".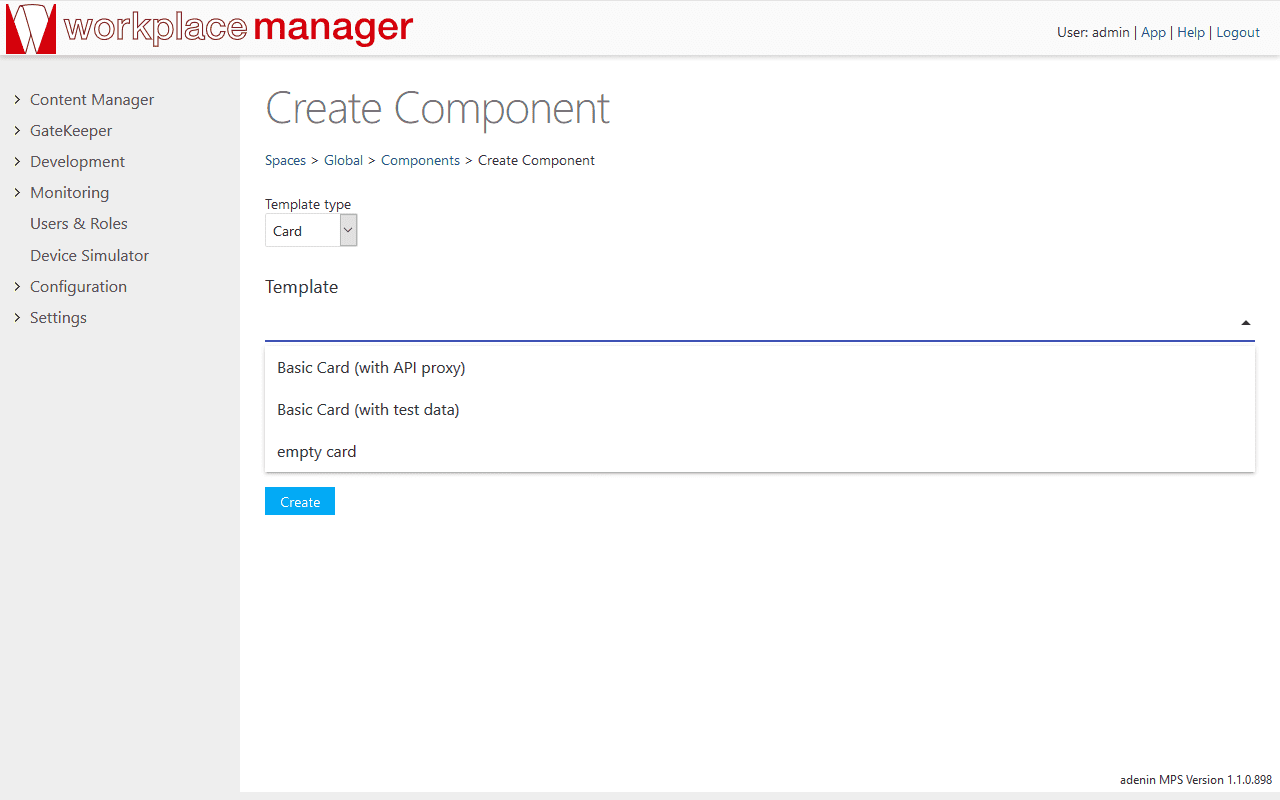 Under 'Component Name' you should give your component a unique name. For this example, we will use my-first-card.
Please note, you cannot use spaces in the name, use hyphens ("-") instead.
Configuring your new Card
Under 'Title' we will define the name that will be shown at the top of the Card and in the Card Store. For this example, we shall call it "My First Card".
Service
In this section, we define the options for the data service worker.
Service Type
Here you can choose from
Internal
Service Connecters
Database Connecters
As we are showing a static video, we want to use "Internal", as in data that belongs to the Card and is not grabbed from an external source.
Service
Here we choose Test Data Response .test.json (proxy)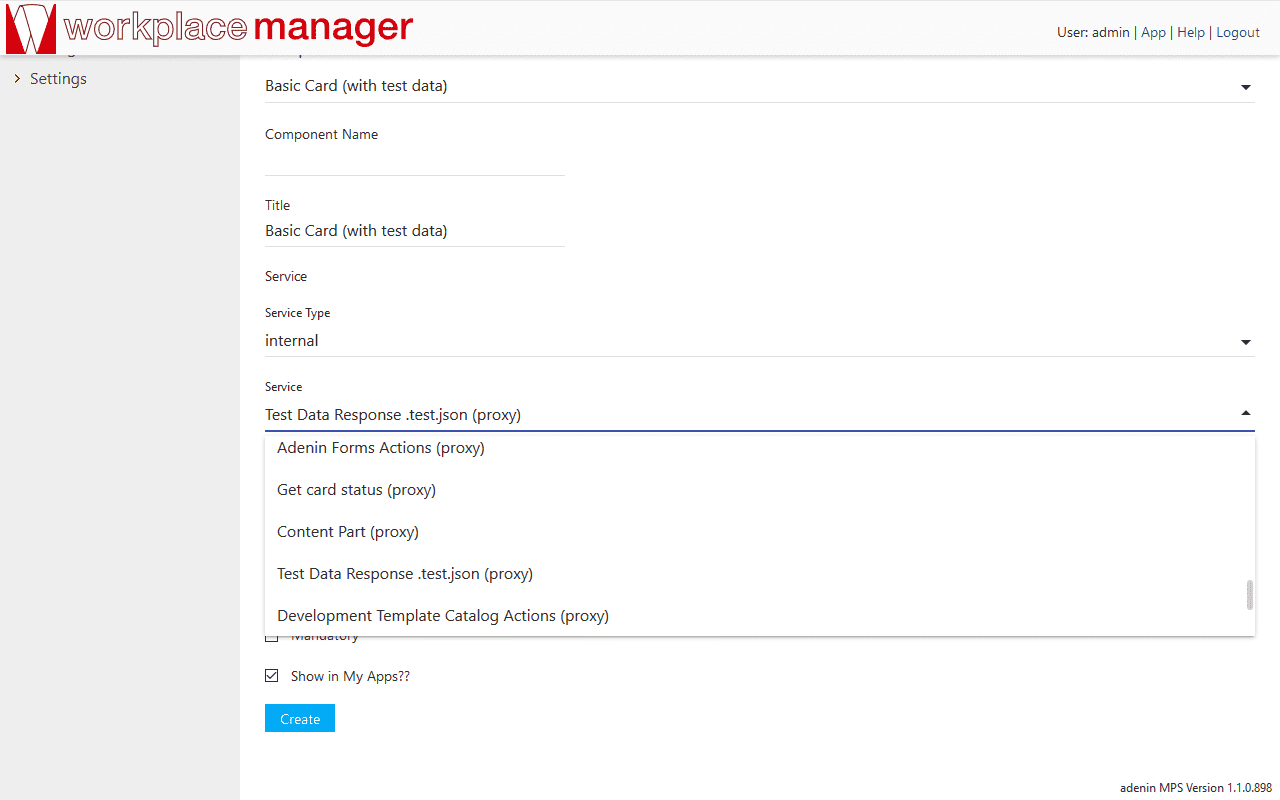 Roles
Here you can select the roles that are allowed to view this card and its content. By default, any authenticated user is able to see it in the Card Store.
Audiences
Here you can specify groups that will have this card enabled, and viewable on their dashboard, by default.
For our example, we will add "Authenticated", so that all logged in users could see our video card.
Additional Options
At the bottom there are also two additional options.
Mandatory
If this option is enabled, all users specified in "Roles" will have this Card enabled by default and visible on their dashboard. Also, it won't be visible in their Card Store.
Show in 'My Apps'
Enabled by default, this option shows or hides the Card in the Card Store.
To save the new Card, click Create.