Microsoft Teams integration
 Browse Channels
Microsoft Teams integration
Add to Digital Assistant
Microsoft Teams integration
Turn Microsoft Teams into a powerful collaboration hub with the Digital Assistant chatbot
Make working together better with the Digital Assistant app for Microsoft Teams. Your smart assistant works seamlessly with Microsoft Teams as a bot. It's always available to answer questions, perform tasks and send real-time notifications.
The Digital Assistant Microsoft Teams integration is designed for enterprise use. Easily connect it to any of your cloud and on-premise corporate data sources, and create a single point of access to all your documents, information and apps. Then simply send a query or command to the Digital Assistant bot and watch it happen in real-time!
Digital Assistant integrates fully with Microsoft Teams, so your smart assistant goes wherever you do. Access the Digital Assistant Microsoft Teams chatbot in meetings and channels, and get real-time personalized desktop notifications from all of your other business apps.
Using the Adaptive Cards standard, the Digital Assistant bot sends responses in the form of interactive Cards. See rich media responses including images, charts and graphs, fill out forms on-the go, and take actions with Adaptive Card buttons directly from within Microsoft Teams.
Access all your other business applications and data directly from Microsoft Teams, and take immediate action with Digital Assistant's AI-powered universal search
Get real-time, personalized notifications from your AI Assistant delivered directly to your Microsoft Teams
Fill out forms, manage workflows and accept requests through Assistant Cards, without having to leave Microsoft Teams
Ready to enhance Microsoft Teams and give your organization a productivity boost? It's quick and easy to add the Digital Assistant Microsoft Teams integration to your workplace. Get started today and see the difference Digital Assistant can make.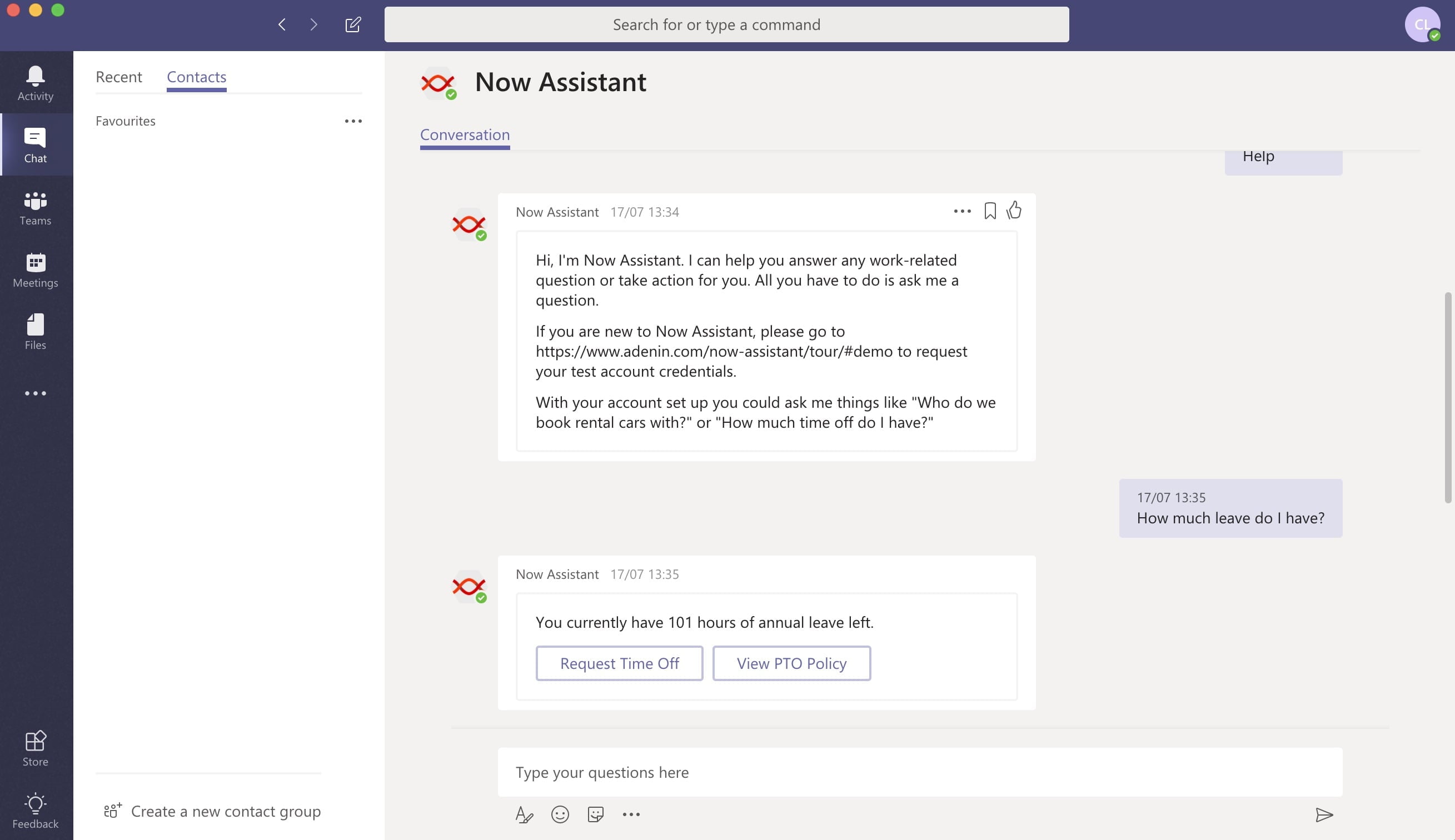 Microsoft Teams Bot Conversation
Getting things done has never been easier with the Digital Assistant integration for Microsoft Teams. Ask your smart assistant anything and get interactive responses from the AI chatbot in Adaptive Card format.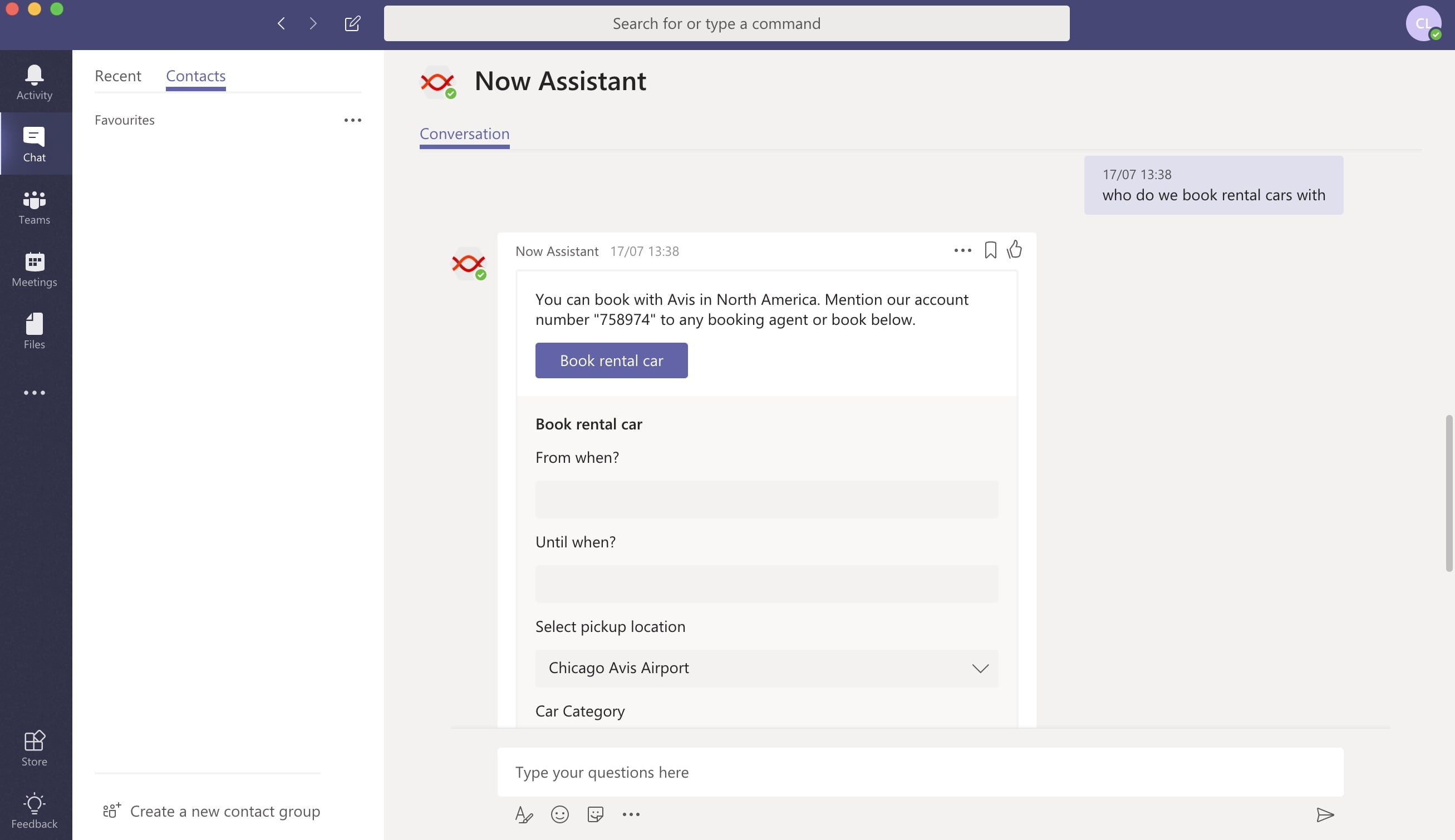 Microsoft Teams Adaptive Card Submission
The Digital Assistant integration for Microsoft Teams can send interactive forms and buttons to the chat in Adaptive Card format. You can take action directly from within Microsoft Teams without having to switch to other applications, saving you valuable time in your day.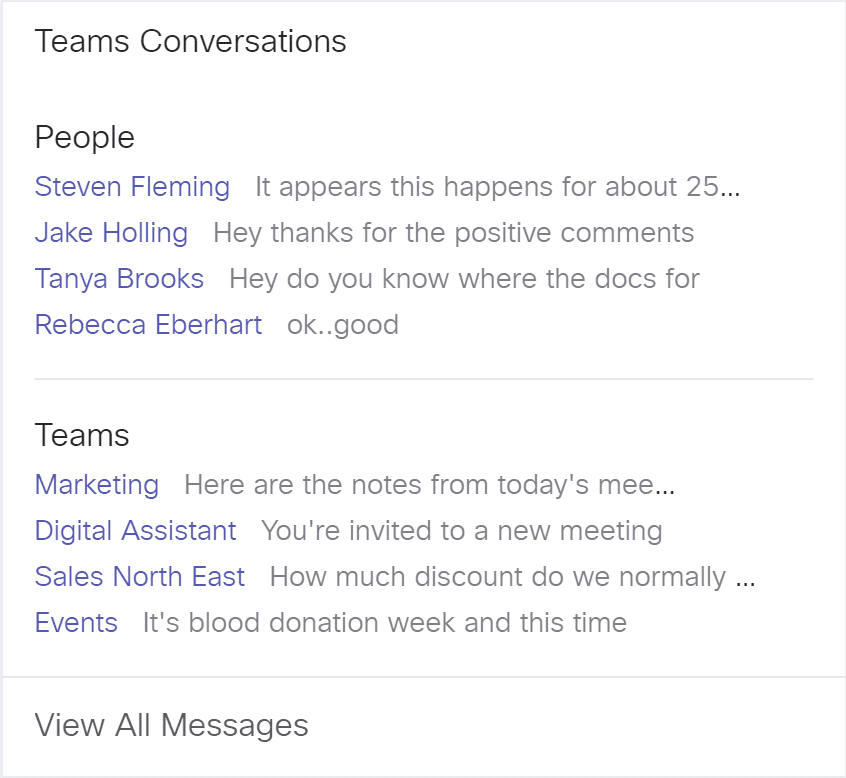 MS Teams Conversations
See recent conversations from Microsoft Teams on your Board, with direct links to Microsoft Teams. The Microsoft Teams integration for Digital Assistant makes it easy to see a quick overview of your chat messages and saves time navigating through other applications - so it's easier than ever to make the most of your time.