Browse Apps
Weekdone integration
Add to Digital Assistant
Last updated May 13 2020
Weekdone integration
Achieve more with the Digital Assistant Weekdone integration
See what tasks you need to tackle this week and visualize your progress towards your goals with the Weekdone integration for Digital Assistant.
See your weekly tasks and quarterly goals in Card format, get scheduled reminders as Card notifications, create dashboards with lists of your weekly to-dos and see your goal progress with charts and graphs on your Board. Digital Assistant can also send you reminders for your your upcoming 1:1s, and lets you provide team and individual feedback directly from within your smart assistant - or on the go from within collaboration tools like Slack or Microsoft Teams. It's never been this easy to stay organized, wherever you are.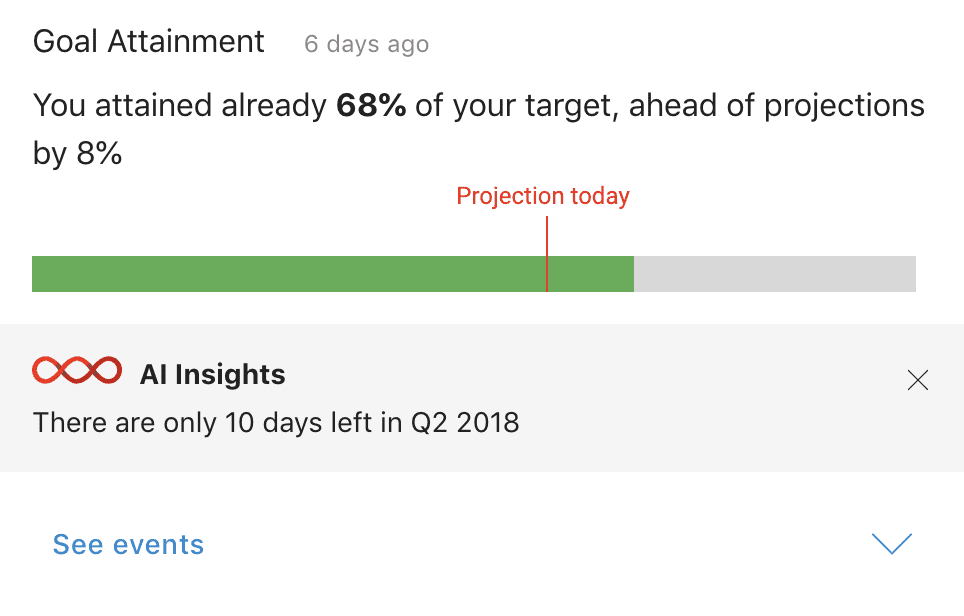 Goal Attainment
With the Goal Attainment card, you can see how close you are to achieving your weekly, monthly and quarterly goals, with AI insights to help you meet your target.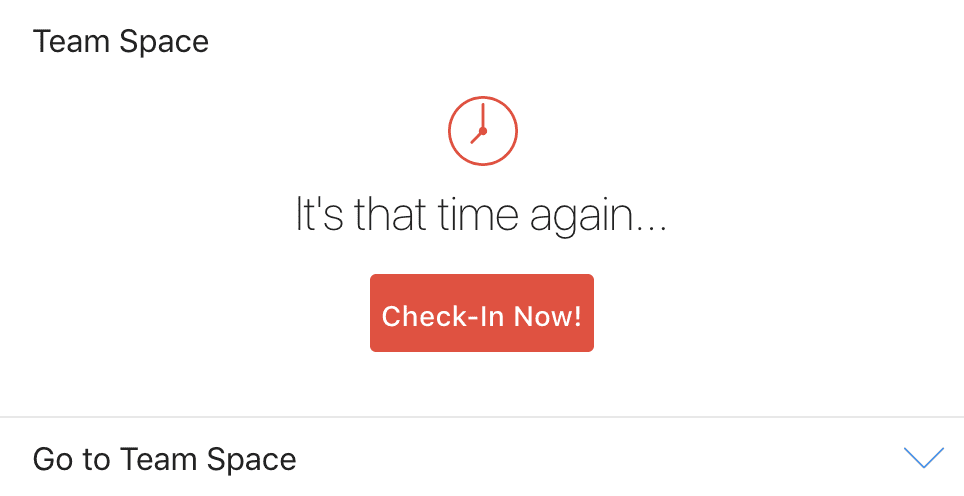 Project Tracker
The Project Tracker card helps you keep on top of your day. With task deadline notifications, check-in reminders and project update alerts, Digital Assistant helps you stay organized and focus on your work.
Check in to your team meetings directly from Digital Assistant with this Card, access task pages in connected applications for more detailed information and pin project status boards to your Workplace for at-a-glance updates.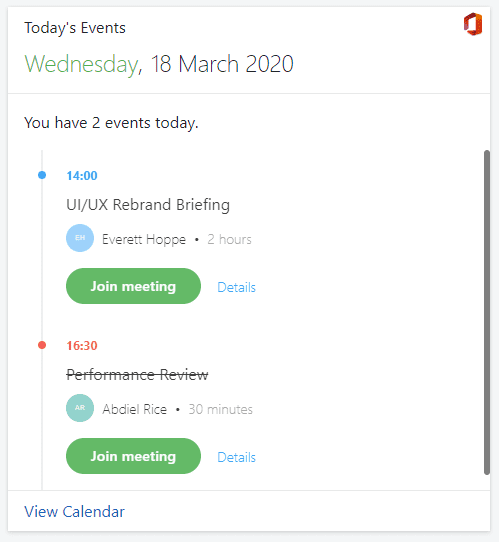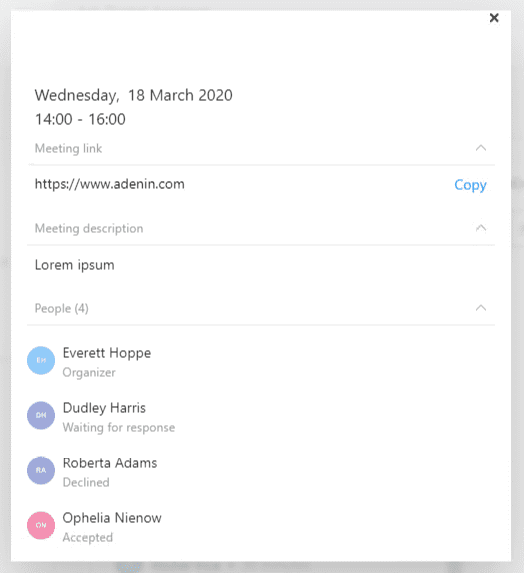 Upcoming Meetings
The Upcoming Meetings Card makes it simple to see an at-a-glance overview of your day. Any online or face-to-face meetings which are scheduled in your calendar will be shown along their details like the time, location, attendees and more.
Having an online meeting? adenin AI automatically extracts join links for all major online meeting providers, e.g. GoToMeeting, Zoom, Webex, Microsoft Teams, and more.
Without having to hunt for links and access codes, you can just click the "Join Meeting" button on the Card and you're in.
You can pin the Events Card to your Board to put a quick overview of your daily schedule at your fingertips. Additionally, you can subscribe to notifications from the Events Card to get real-time notifications when changes to your calendar happen, such as new meeting invites or a change in the start time of an existing meeting.
Updated 10/31/2019
This update brings in a number of improvements:
- Avatars now have a coloured background when there is no photo
- We're now hiding the events that have already occurred
- Improved tracking for the "Join meeting" button
- Cancelled events are shown in red and attendees that cancelled are also shown in red