Browse Apps
Zapier integration
Add to Digital Assistant
Last updated May 13 2020
Zapier integration
Let hundreds of enterprise applications trigger notifications in Digital Assistant
With Zapier integration for Digital Assistant, you can connect the apps you use everyday to automate your work and be more productive.
Set up triggers between Digital Assistant and Zapier to carry out specific tasks in connected applications, letting you finish routine tasks automatically and saving you valuable time in your day.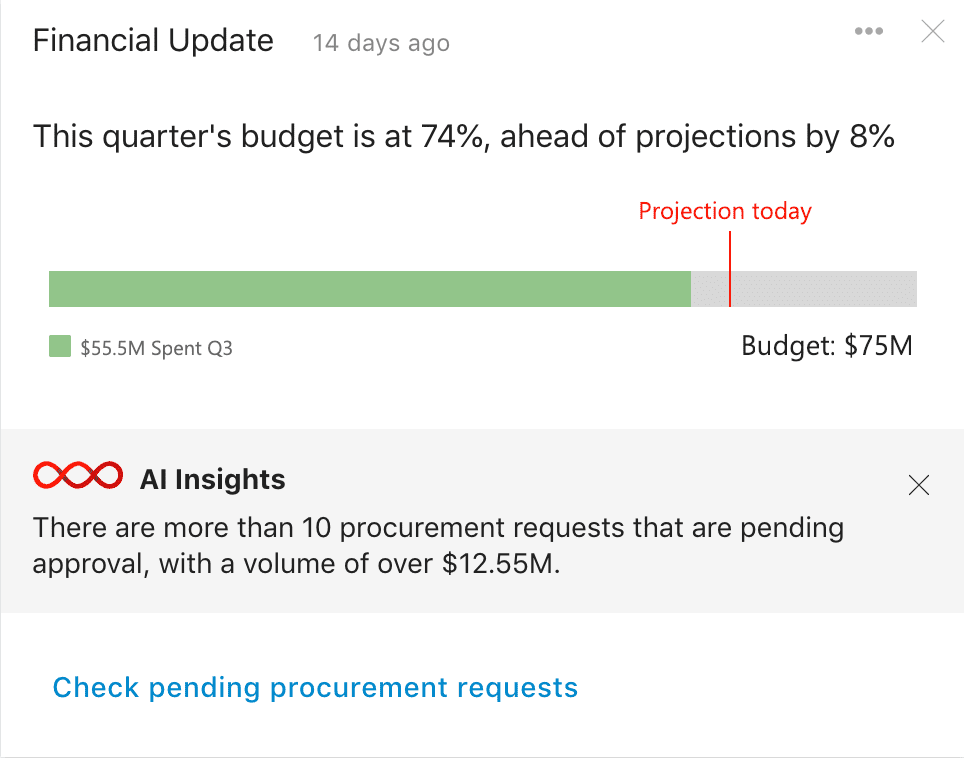 Budget Update
The Budget Update Card shows you the remaining budget for the quarter, including the projected and actual spend. Below you can see AI insights, for instance if there are pending procurement approvals in case the actual spend leaves some room for more expenses.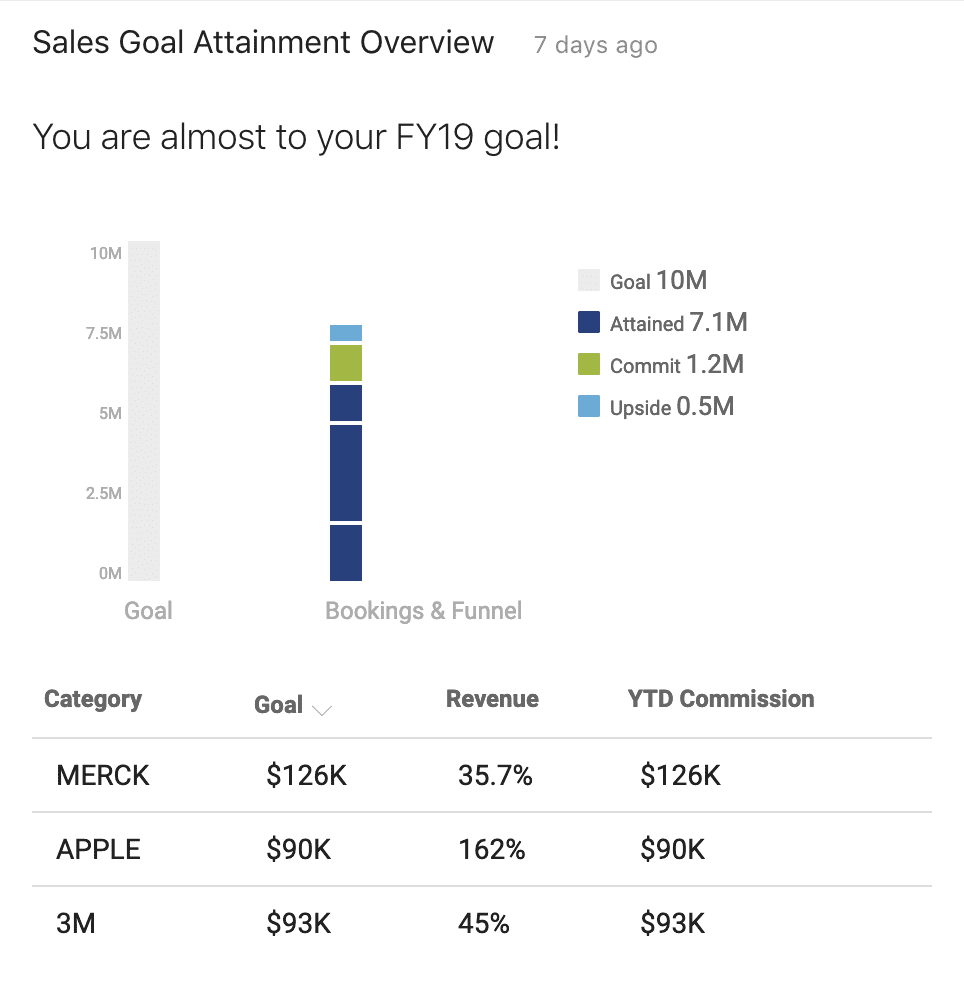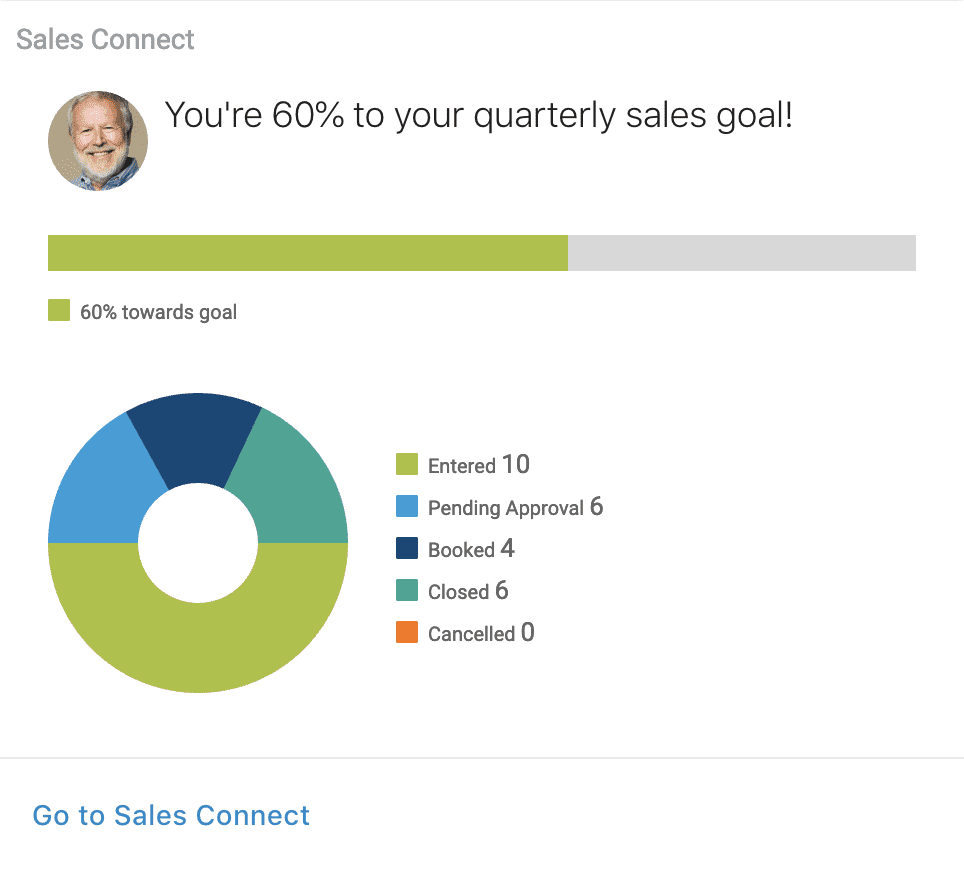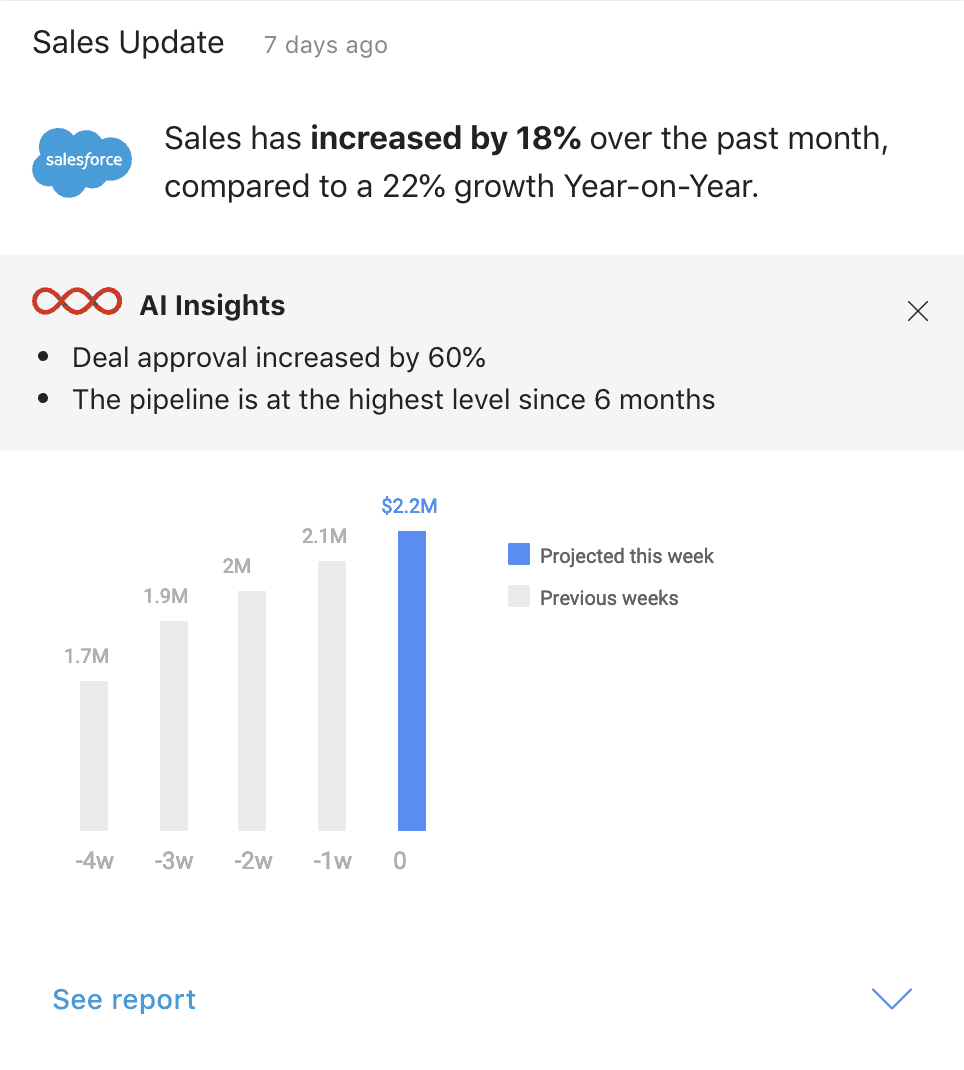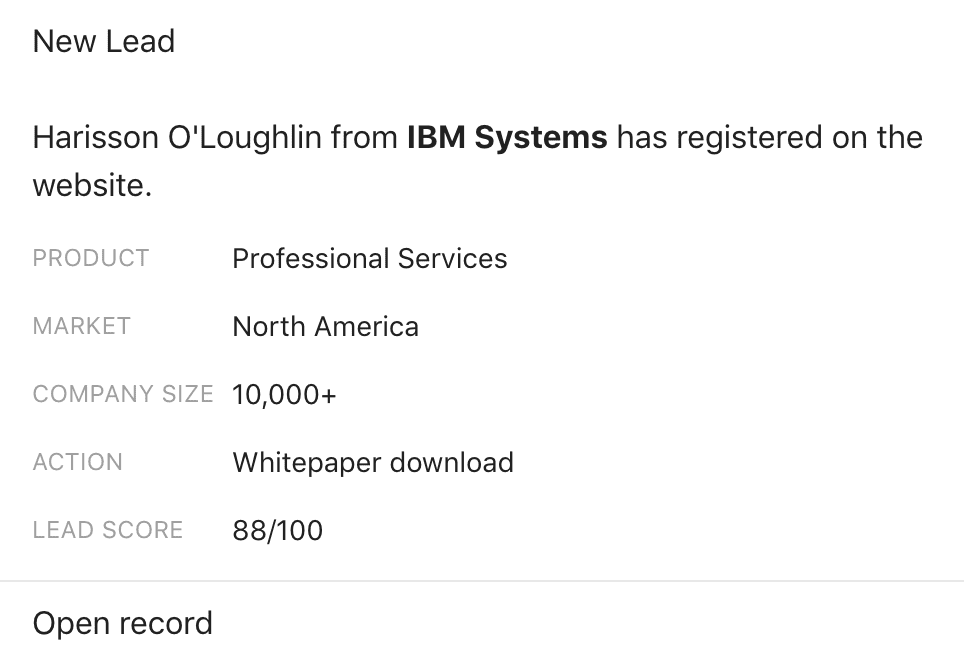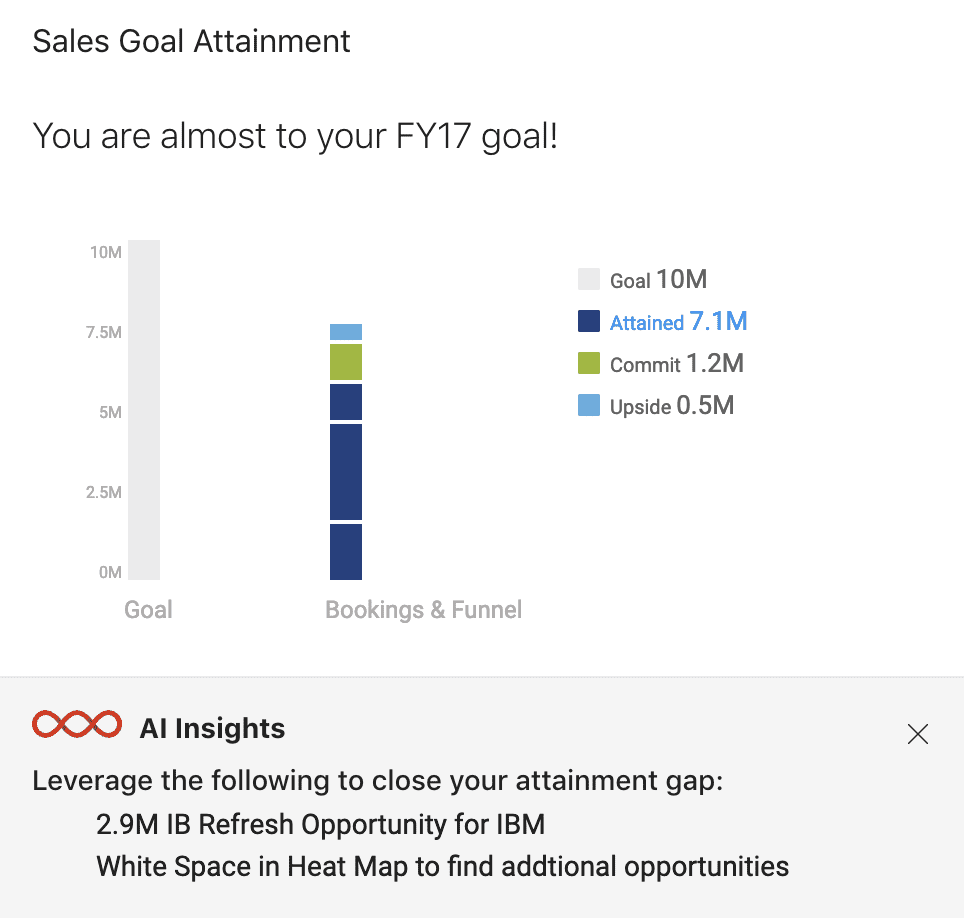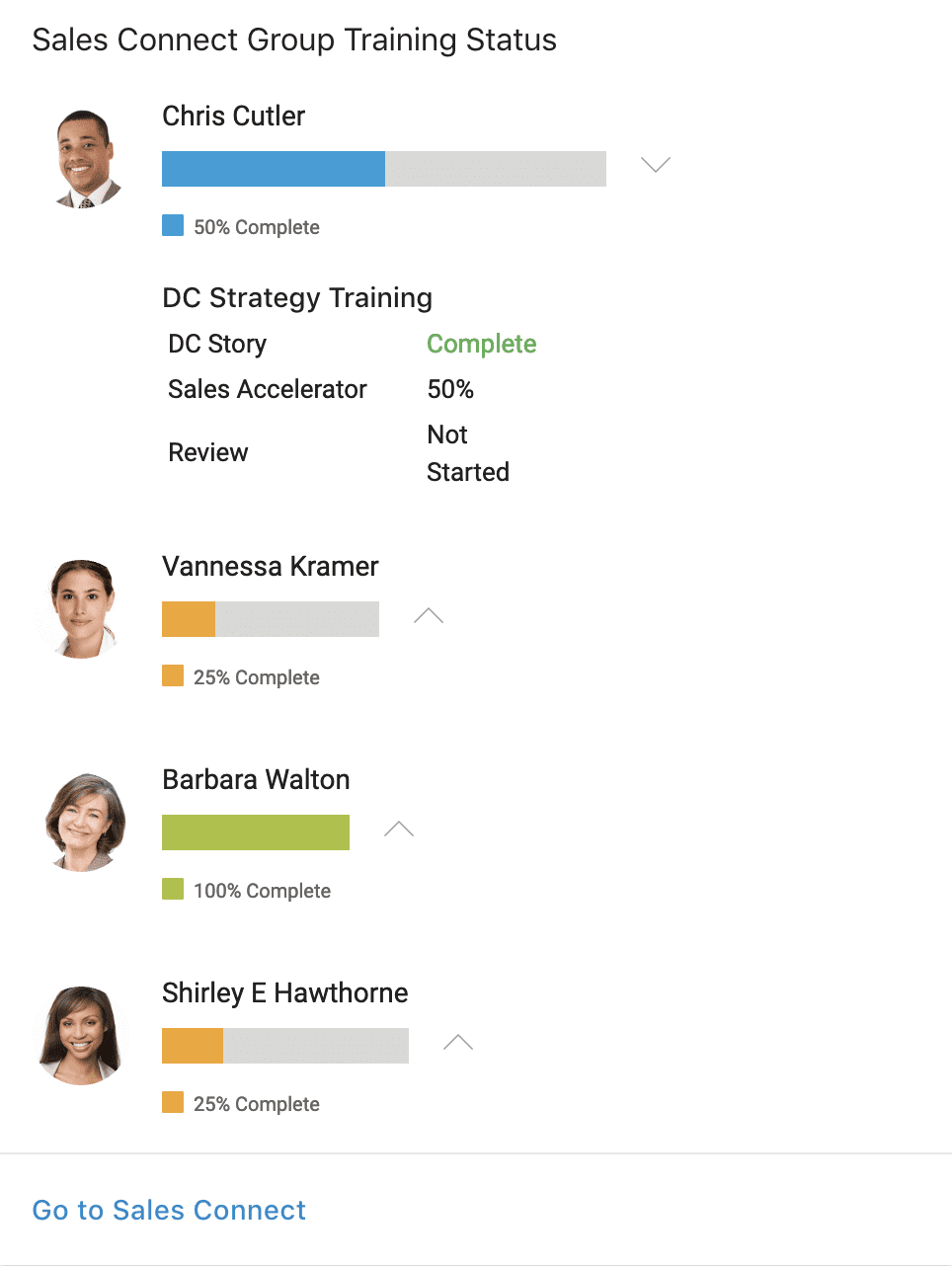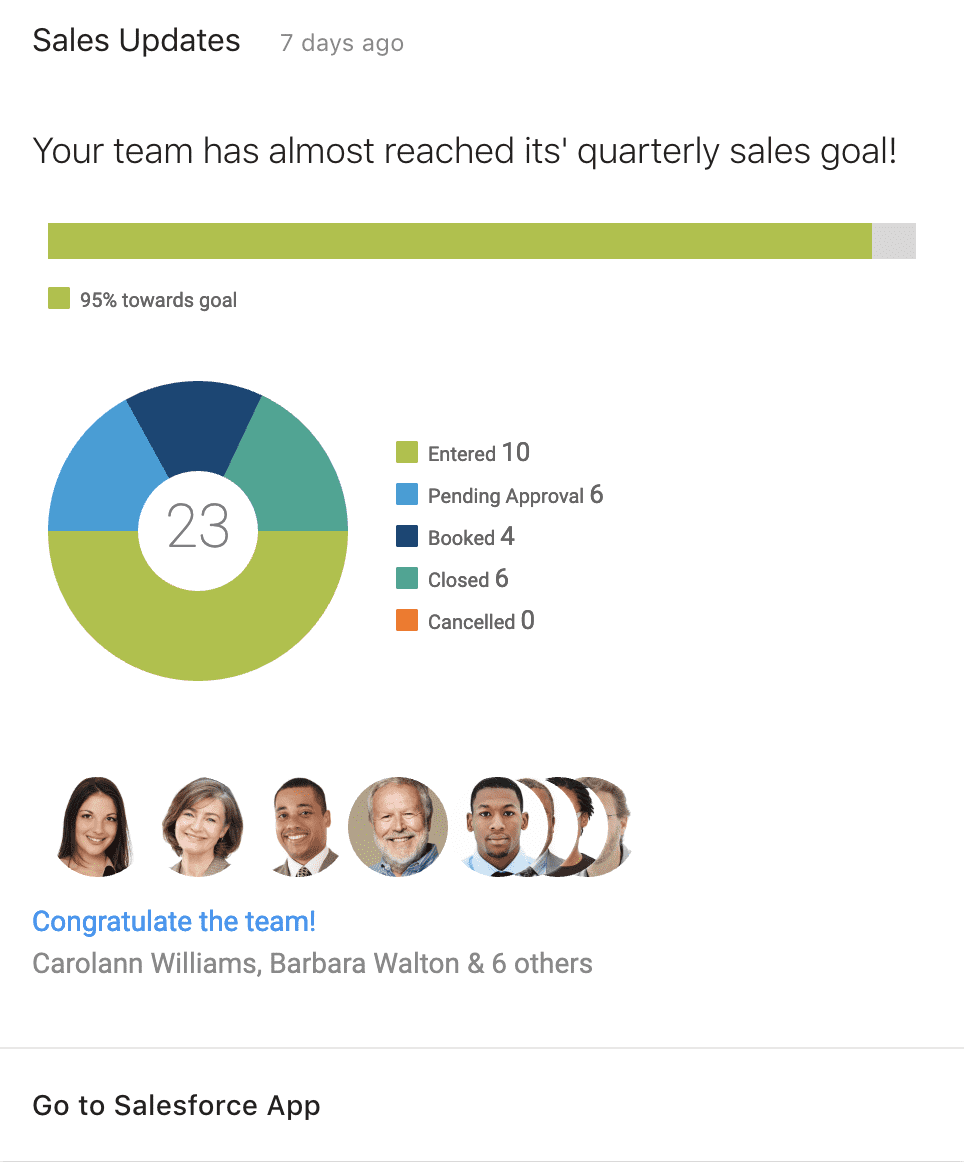 CRM
The CRM Card helps you track your and your teams progress towards weekly, quarterly and yearly sales goals. Keep an eye on your performance and see historical data and detailed financials in this Card, with beautiful graphics, charts and tables to help visualize your progress.
This Card will also notify you about interesting Sales events, such as new leads in your CRM, interesting Whitepapers and available training courses for you and your team.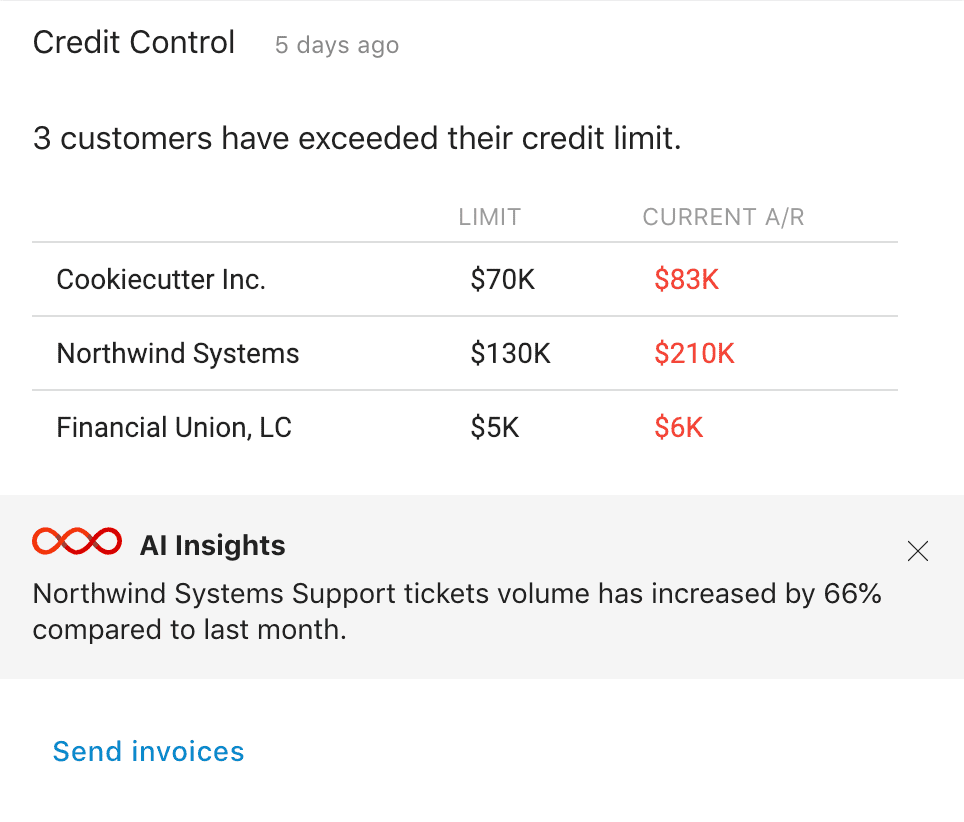 Credit Control
Maintaining customer relationships can be difficult, especially when you look after a lot of different customers - and already have enough on your plate! The Credit Control card alerts you if any of your customers are close to or have exceeded their arranged credit limit, making it easy for you to know when to reach out.
The Credit Control card allows you to take action on the go, by automatically triggering an invoice issuance to your customers. This Card also provides AI insights, giving you contextual business information to help support your decisions and actions moving forward.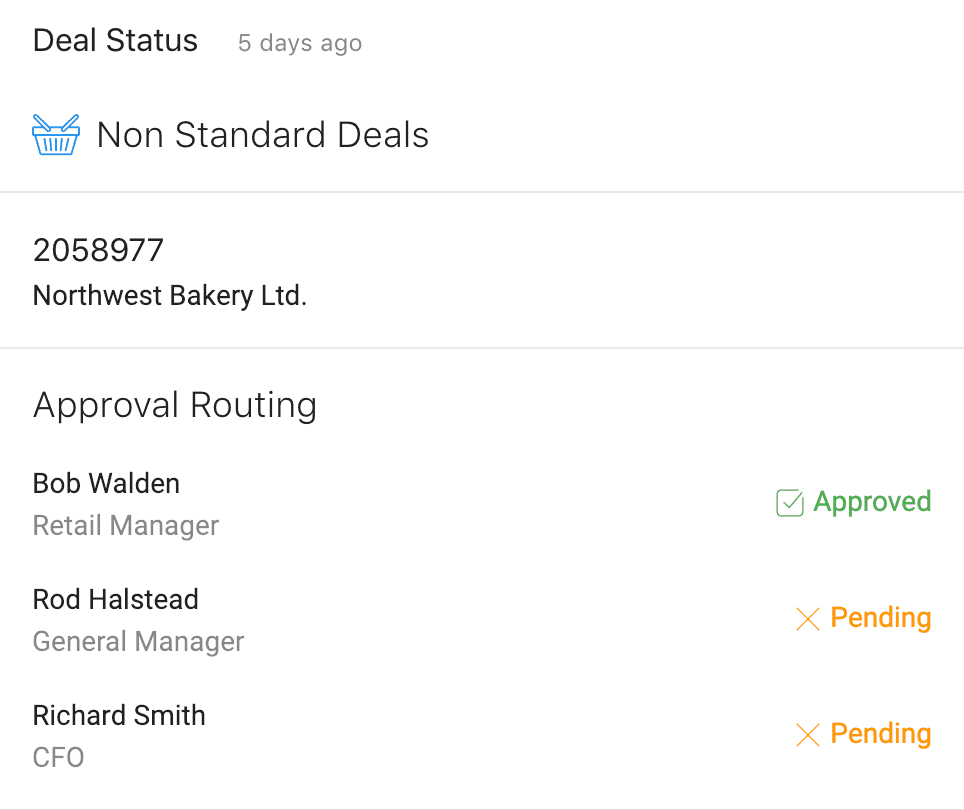 Deal Status
See how your current and pending customer deals are progressing with the Deal Status Card. Stay on top of your customer deals and see where pending deals require approval, so you can take action exactly when you need to.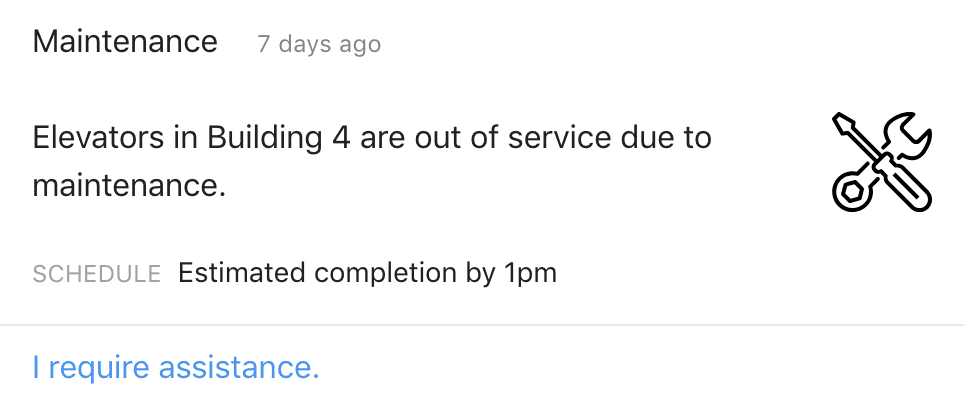 Facilities
The Facilities card shows you important information about your office, including alerts about upcoming fire drills and building maintenance.
The Facilities card can also answer questions about what facilities are available in different meeting rooms, as well as accessible routes and facilities in any of your company offices.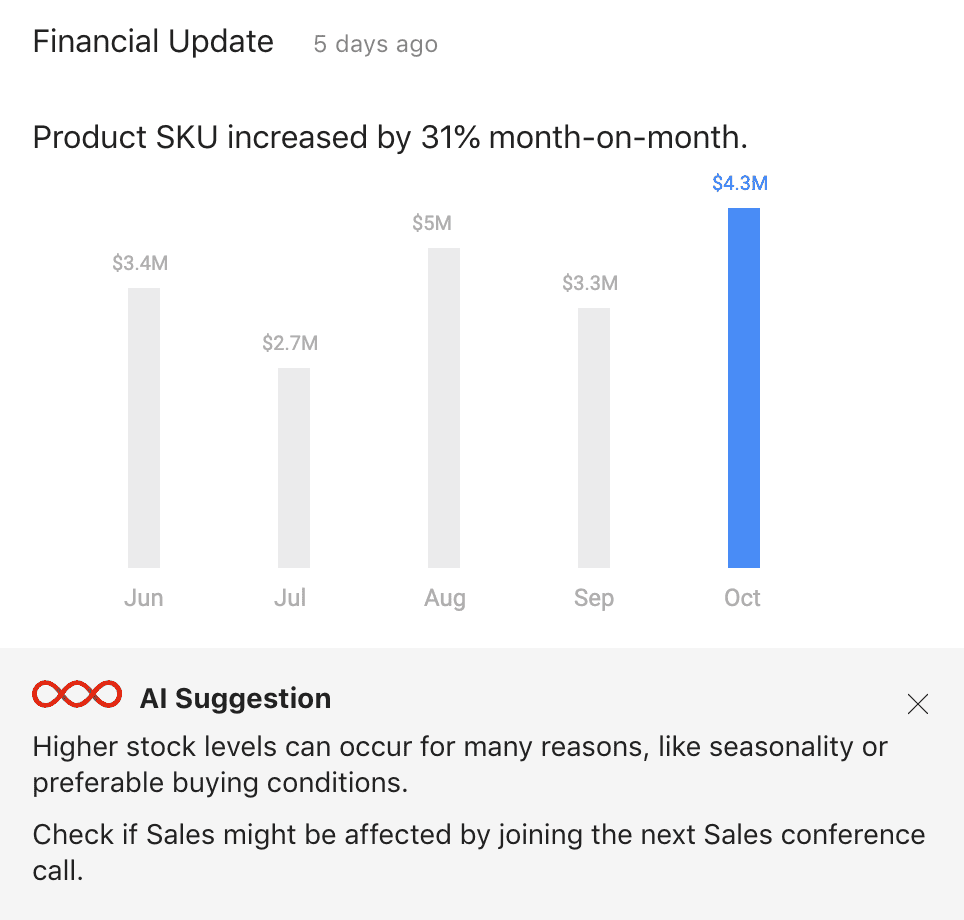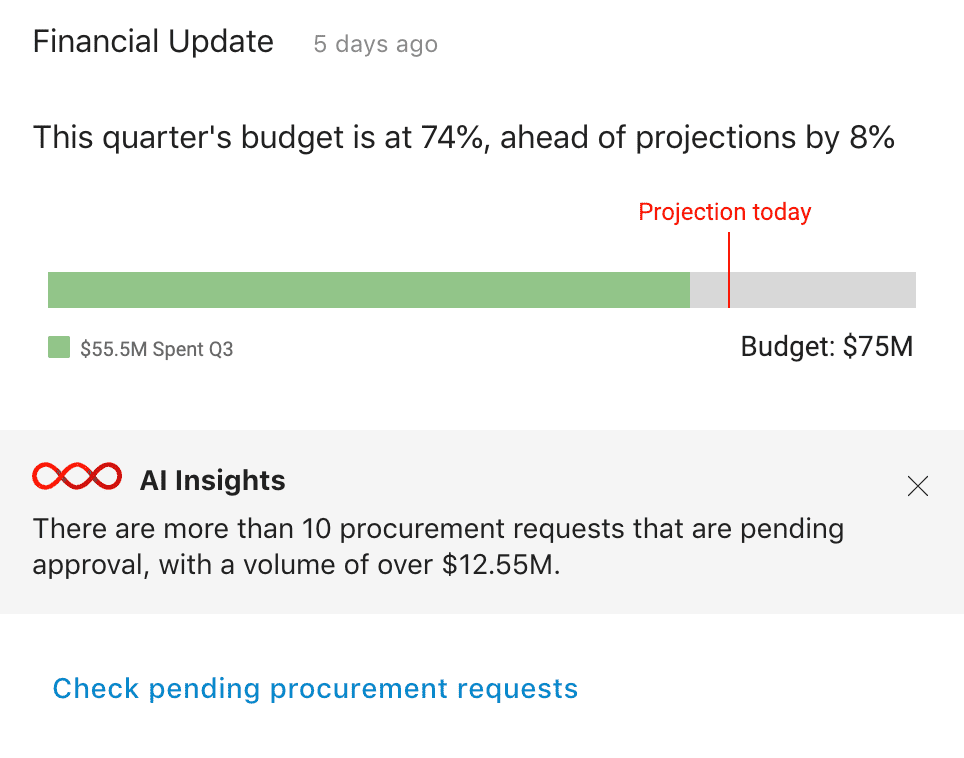 Finance
Get tailored financial updates relevant to your role with the Finance Card. Digital Assistant will show you exactly what you need to know to perform your role and make better business decisions - make sure your team is on target with your allotted spend, see how your stock sales are performing and more, and get AI-powered insights to help you meet your goals.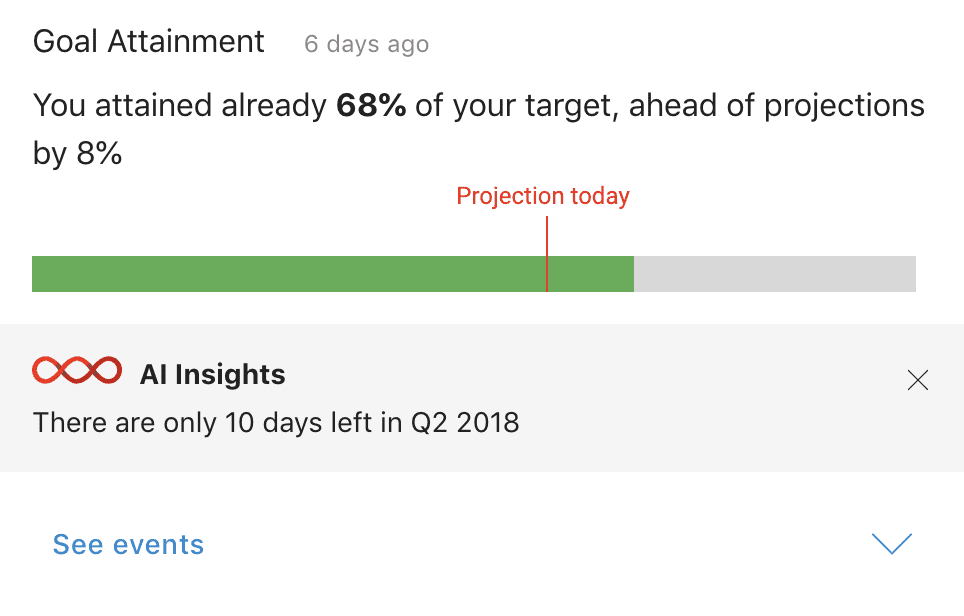 Goal Attainment
With the Goal Attainment card, you can see how close you are to achieving your weekly, monthly and quarterly goals, with AI insights to help you meet your target.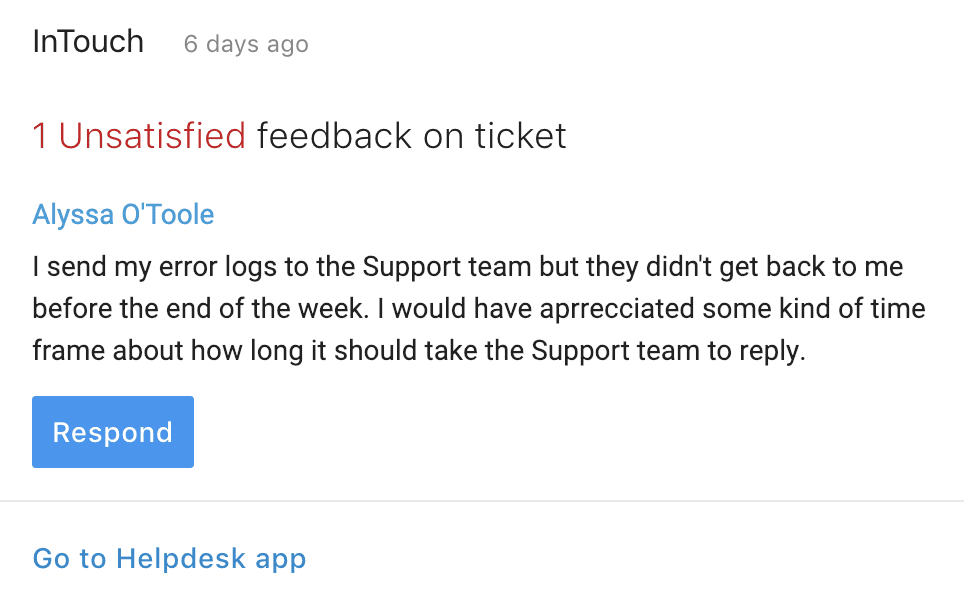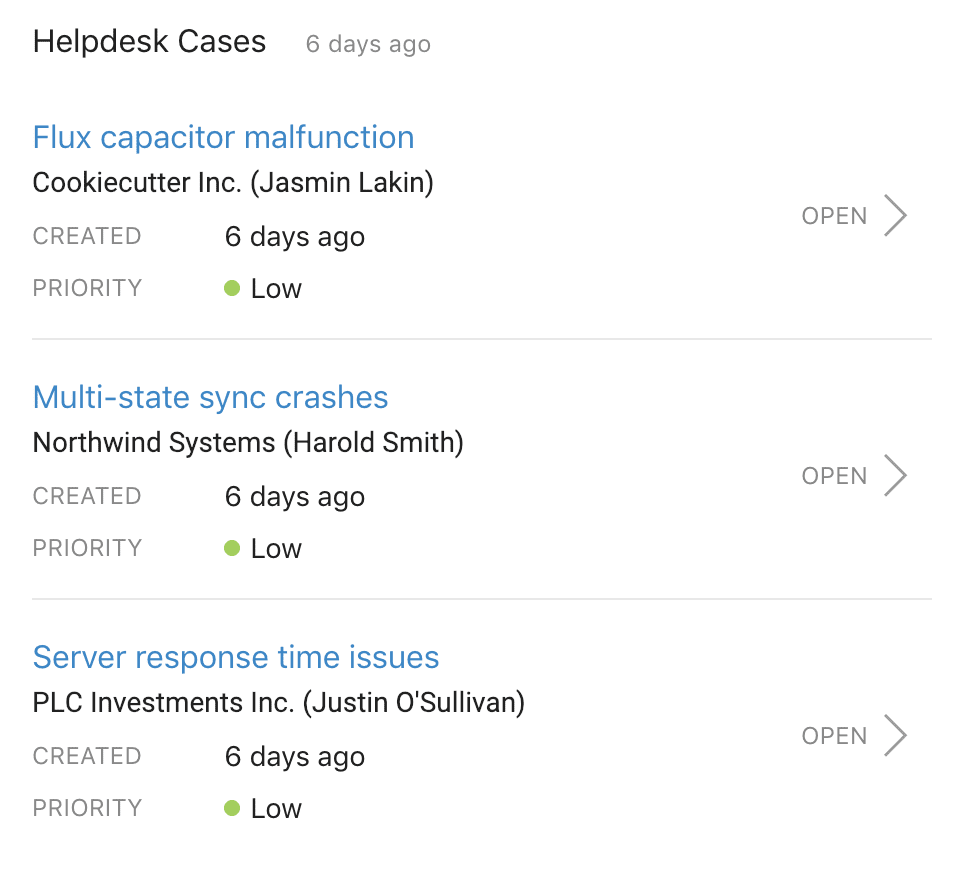 Helpdesk
Struggling to stay on top of your Helpdesk assignments? Digital Assistant's Helpdesk Card makes it simple to see tickets that are assigned to you, with valuable information like ticket priority and target due date, all in one place.
Pin the Helpdesk Card to your dashboard to keep track of your latest tickets and feedback, or get live notifications as and when tickets are assigned to you. Digital Assistant makes it easy to keep track of your tasks, on any device.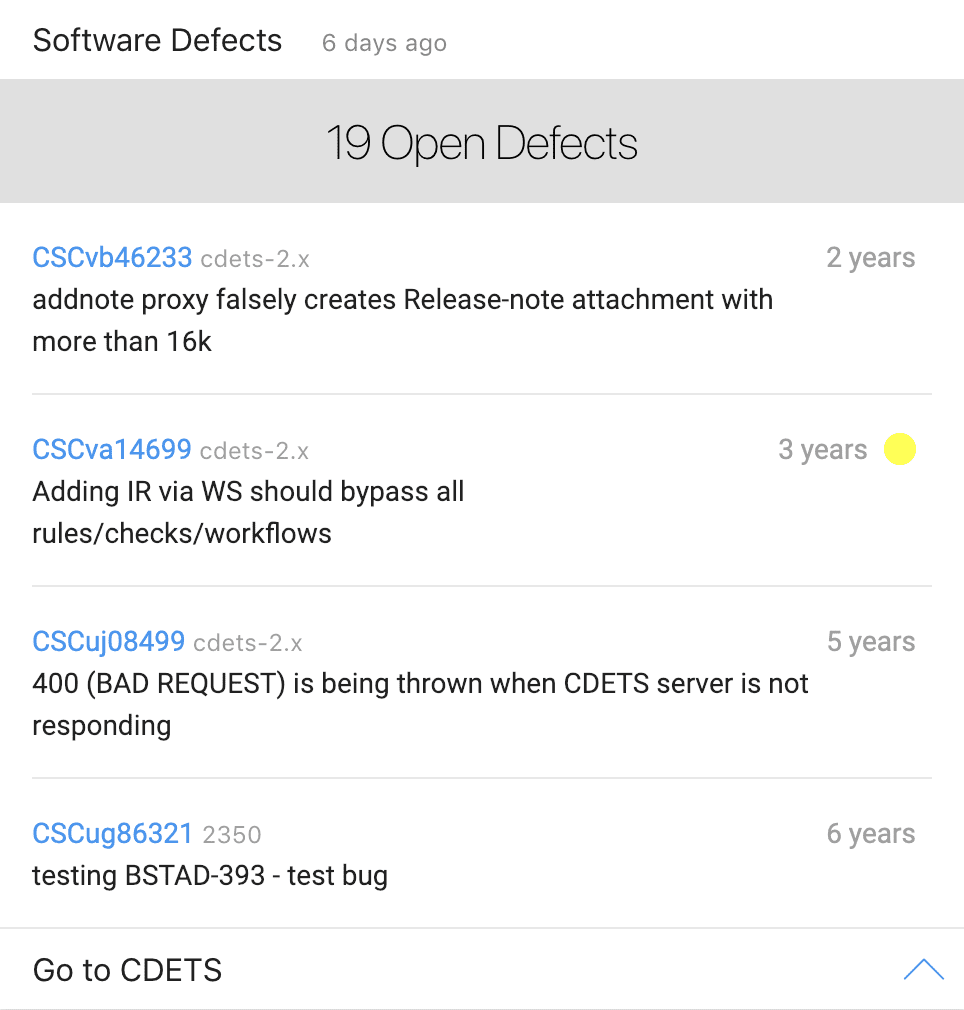 Issues and Defects Tracker
See open and assigned issues and defects with the Issues and Defects Tracker Card. This Card shows you any assigned tickets that you own, their priority and status and any other relevant information. You can quickly access tickets by clicking on them in the Card to open them in your issue tracking tool.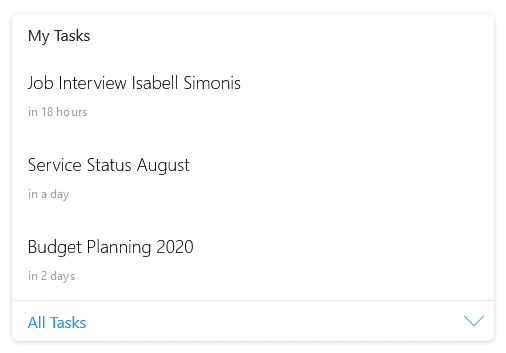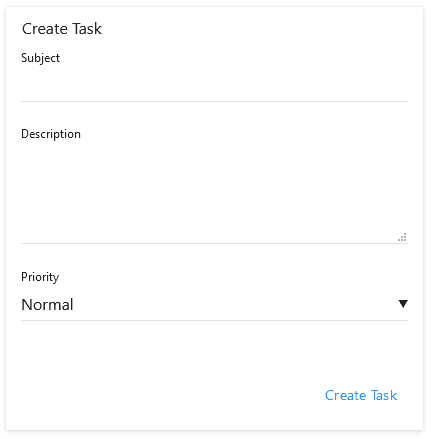 My Tasks
No matter which task management tool you use, keep an eye on your to-do list and get cracking with the My Tasks Card. See an at-a-glance overview of your current tasks with valuable information like due dates and priorities, and create new tasks in seconds - just ask your Assistant.
Managing a project for your team? With the My Tasks Card, you can view the status of your team member's task lists, as well as create and assign new tasks for them.
Never worry about forgetting things again. If you're assigned a new task, or one of your open tasks is getting close to its due date, Digital Assistant will send you a notification to let you know; helping you to keep track of your day, and focus on achieving more.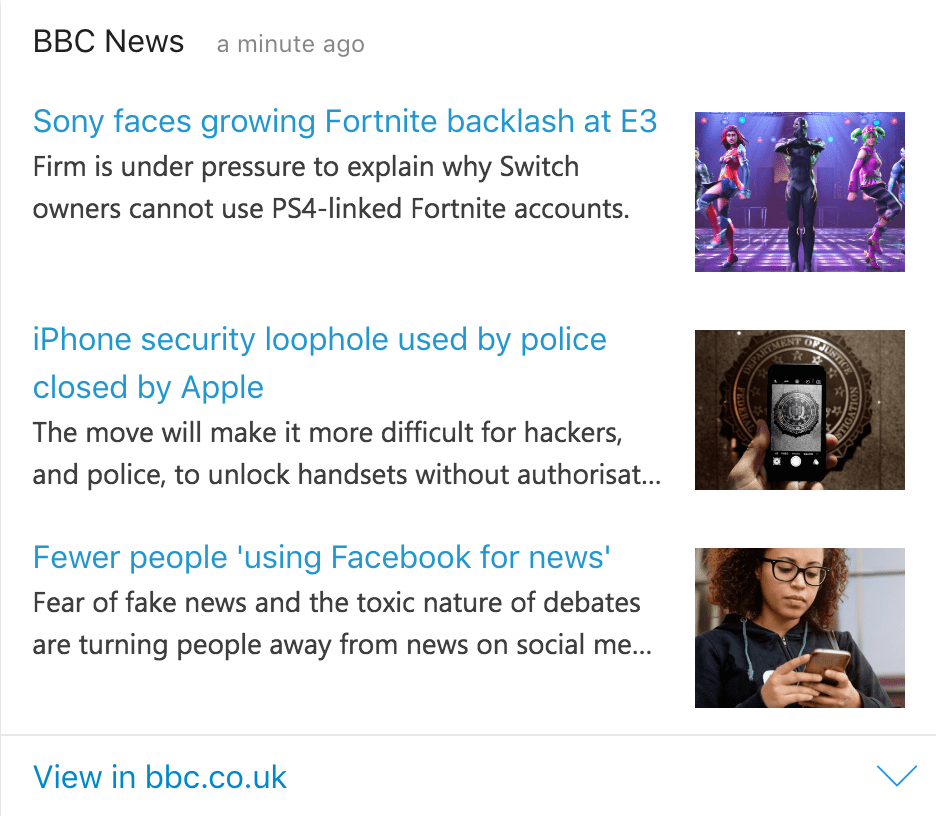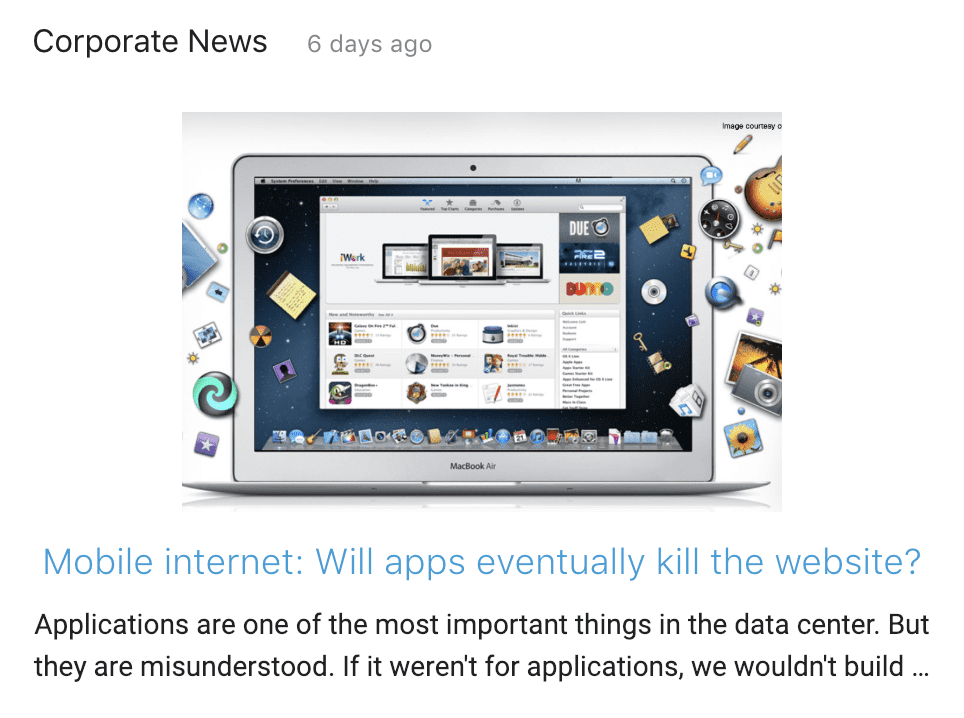 News
The News Card shows the user a list of the most recent news items the Connector received. The list shows 3 items by default and the user can click the expand icon to make the list larger.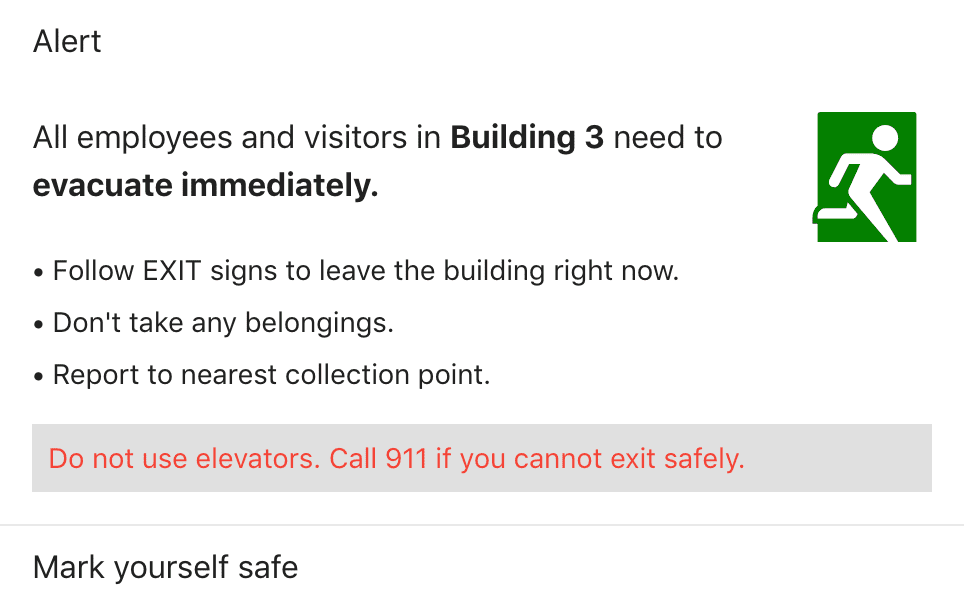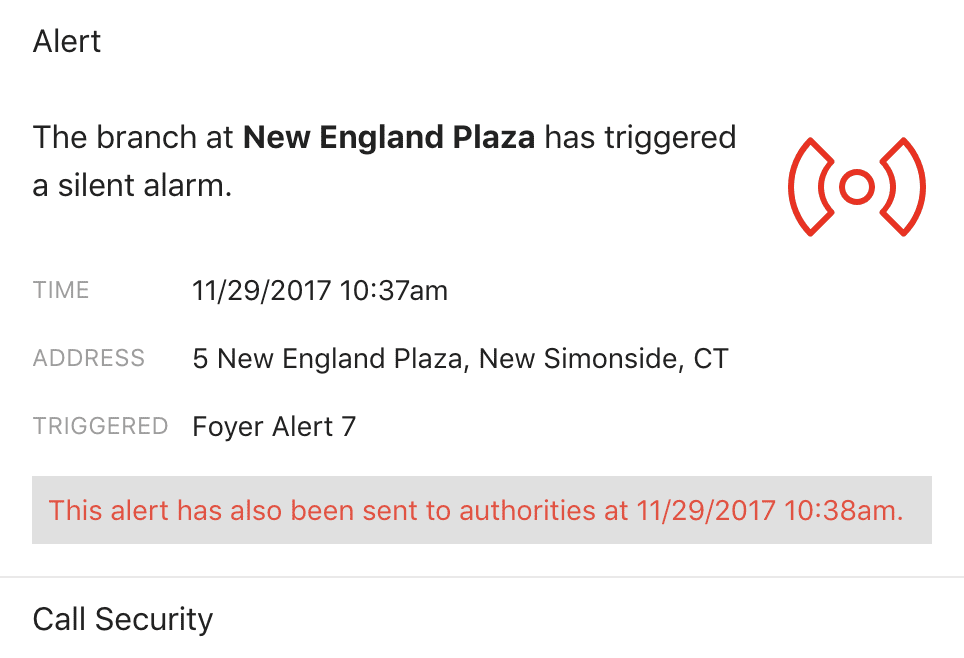 Occupational Safety
Occupational safety is hugely important, and the Occupational Safety Card is designed to ensure you see important alerts relating to health and safety in the workplace in a timely manner.
You'll receive Occupational Safety alerts at the top of your notification card feed, as well as push notifications on all your devices, to ensure you see important messages when you need to. Alerts contain detail about potential hazards, where they are, when they occurred and most importantly, what action you need to take to keep yourself safe.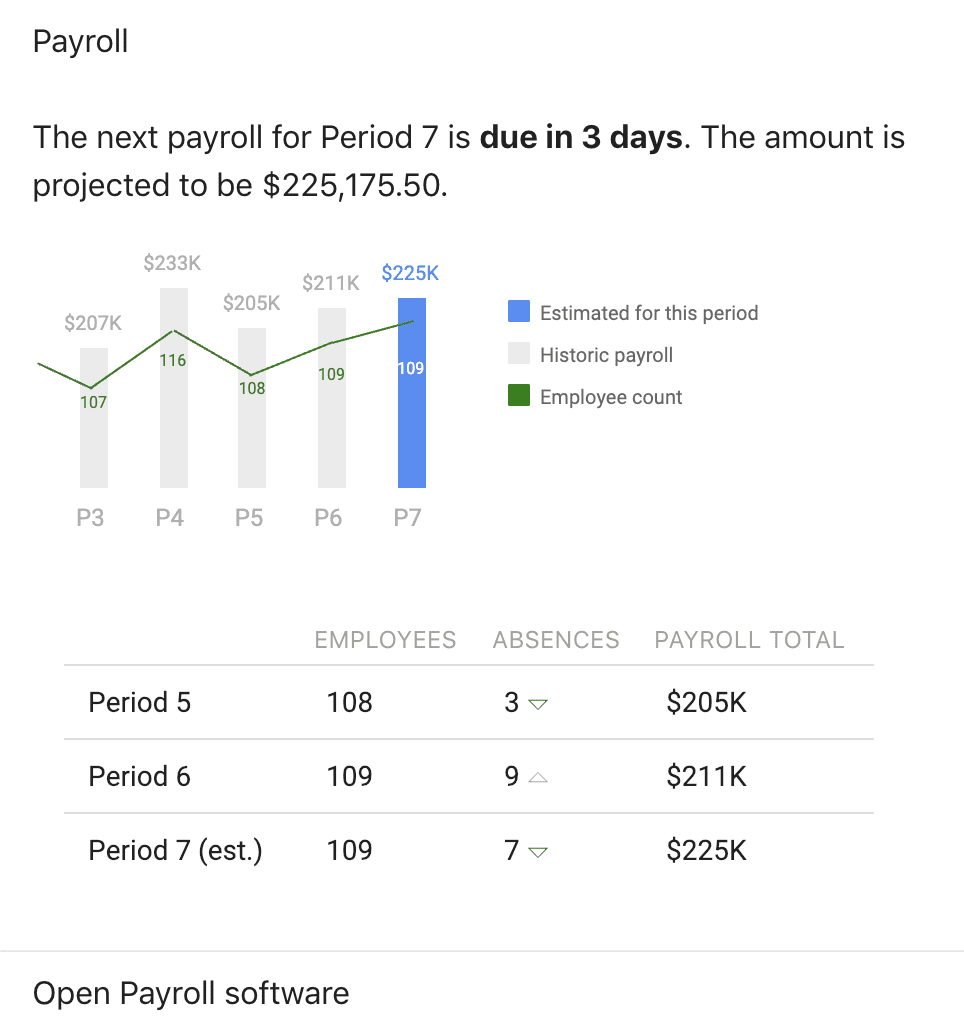 Payroll
See up-to-date Payroll information inside Digital Assistant with the Payroll Card.
Connect Digital Assistant to your HR applications to get detailed Payroll information, including projections, employee absences, historical data and AI insights directly in your feed.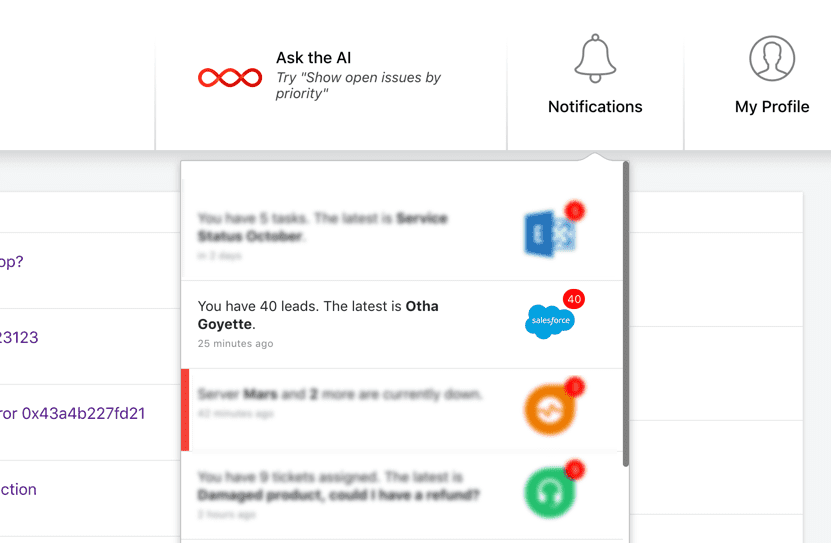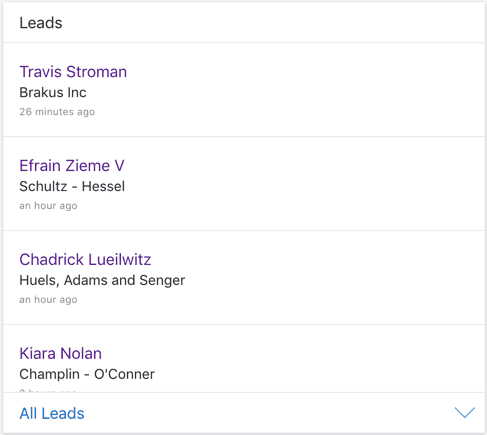 Sales Leads
With the Leads Card you can see various views of your Sales contacts taken directly from your CRM applications. Views include new leads, today's leads, unread leads, all leads and my leads.
This puts new sales leads and contacts directly at your fingertip on your Digital Assistant. As a sales manager you can see what new business came in, and which leads you are owning all with just a few simple utterances or by pinning the Card to your board.
Get instant notifications whenever new leads come in, or have been assigned to you
Directly open your contacts within your CRM application
Ask your Assistant whenever you want for a real-time list of all the leads you've not seen before, so it's easy to to follow-up with your team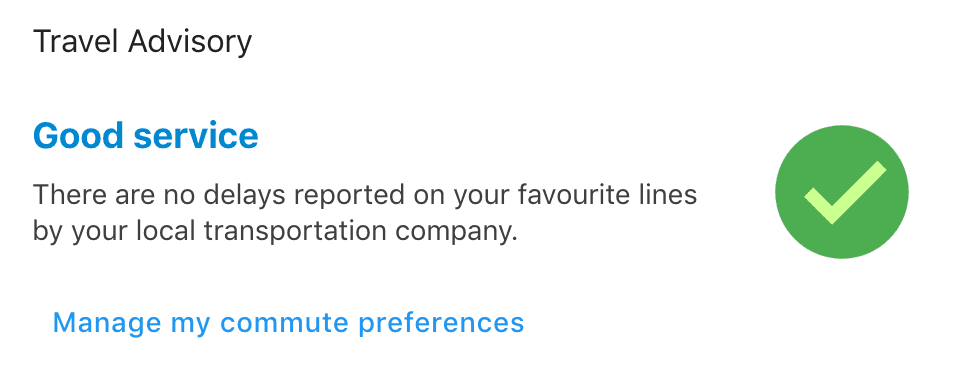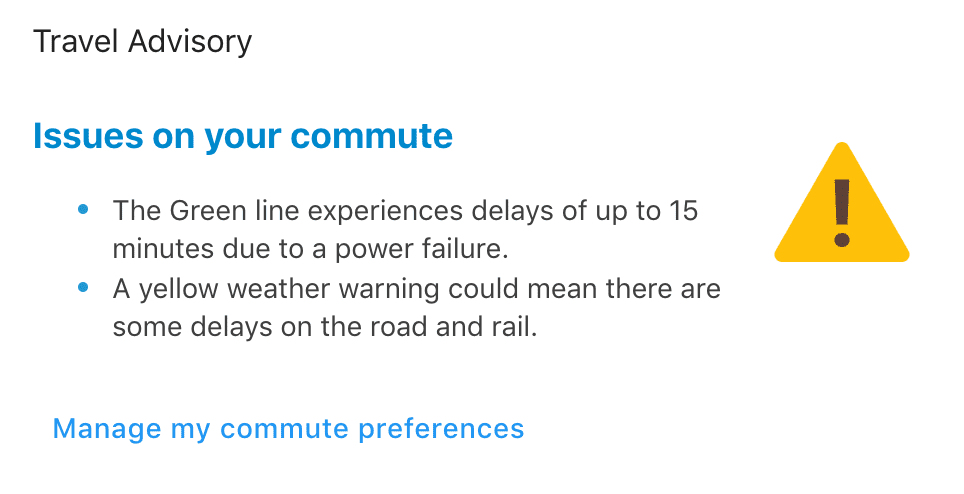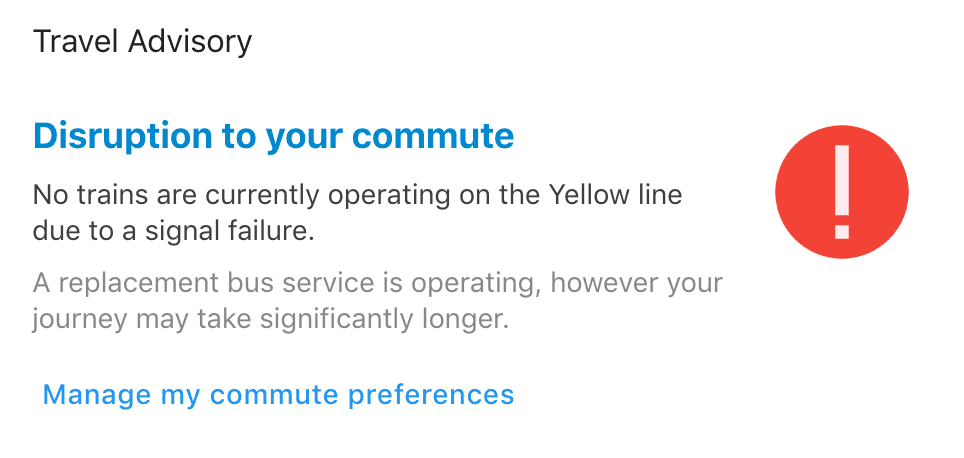 Your Commute
Whether you drive, cycle or take public transport, the Your Commute Card shows you up-to-date information tailored to you and your commute every day, so you can stay informed about potential travel disruptions and explore alternative routes if necessary.