Back to overview
Cards
Show key information from your apps at a glance with the flexible and customizable Cards in Digital Assistant. Users can freely arrange Cards on their Boards or ask their chatbot to pull up a certain Card, making them an ideal UX pattern for a modern Digital Workplace.
Adaptive Cards
Designer
New
Display external data on your own Cards and offer users in-line actions to quickly approve, decline or respond to their daily tasks and approvals. Cards can be quickly designed from scratch or modified from one of the built-in templates for HR, IT, Internal comms and more.
The Adaptive Cards Designer combines versatile layouts with automatic data-binding, dramatically cutting down on the time it takes to create your own Cards and push them to your Digital Workplace.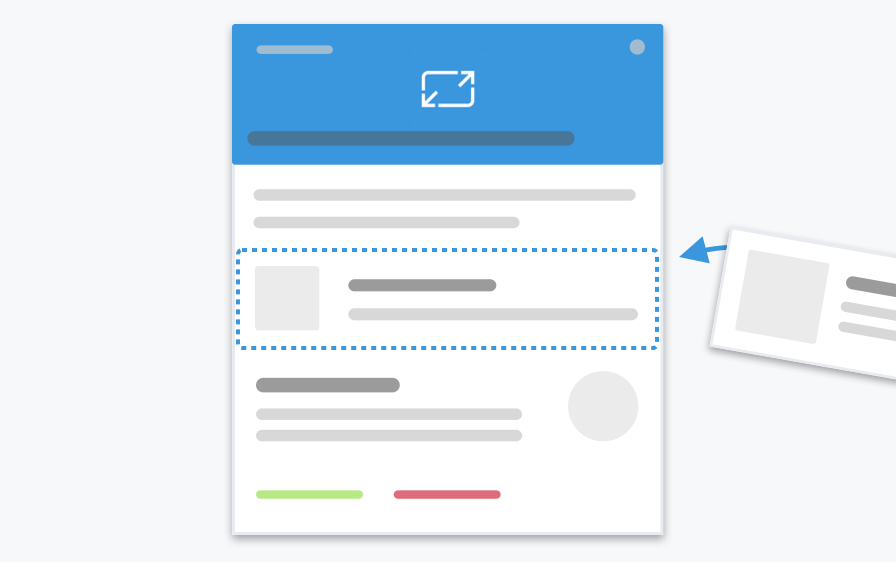 Explore how versatile Cards can be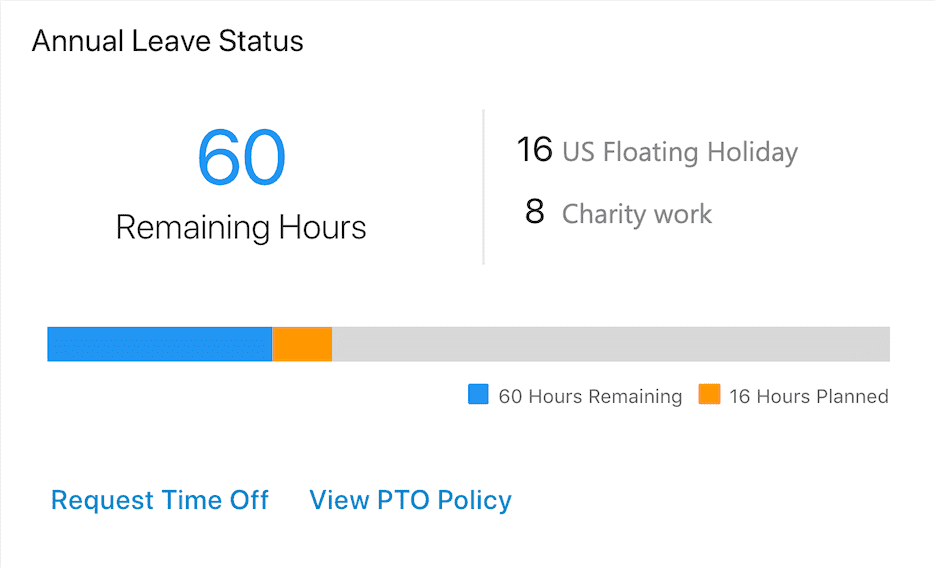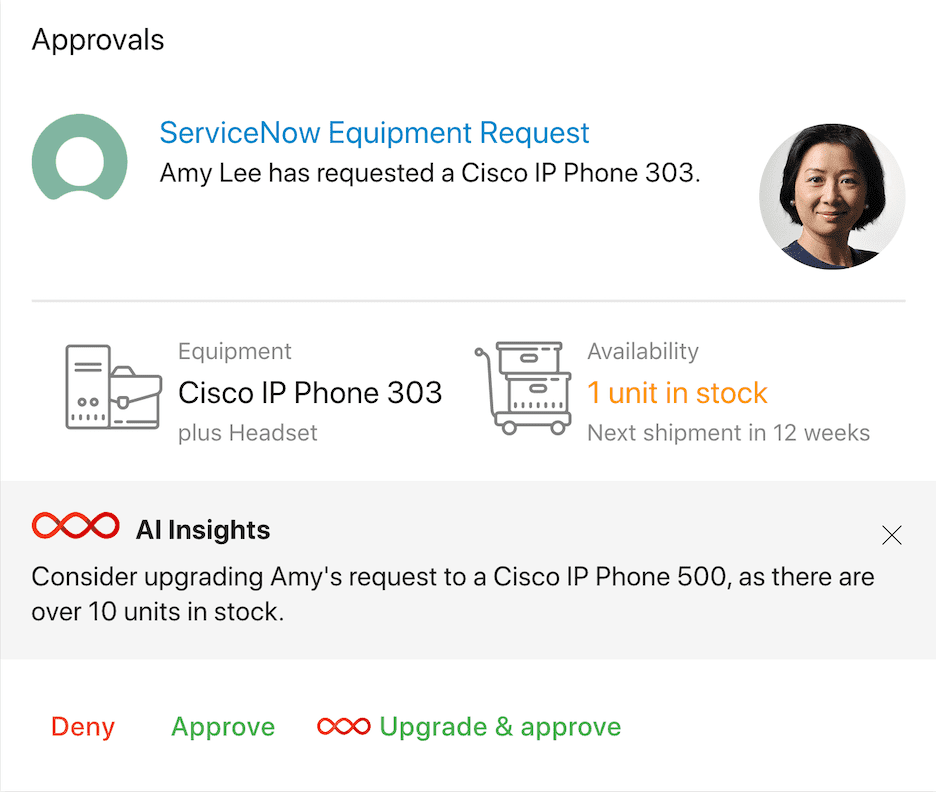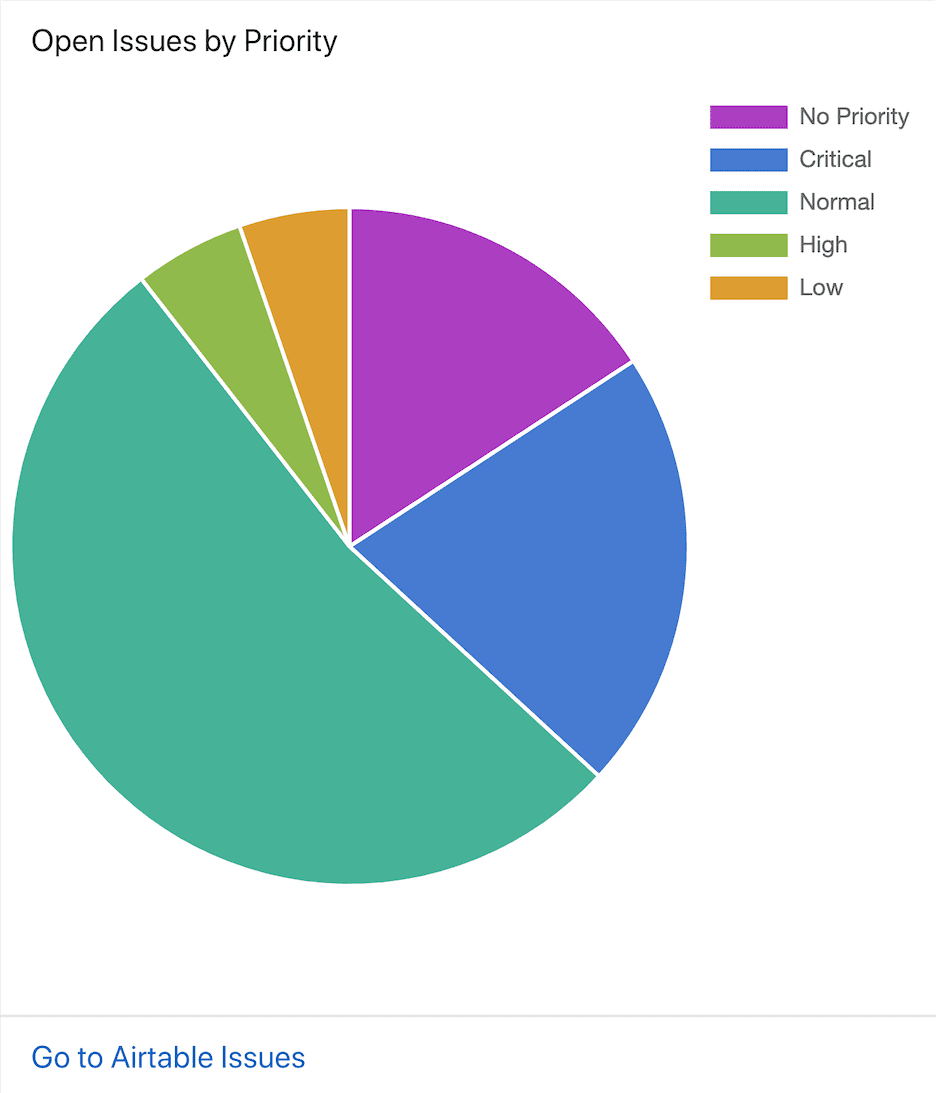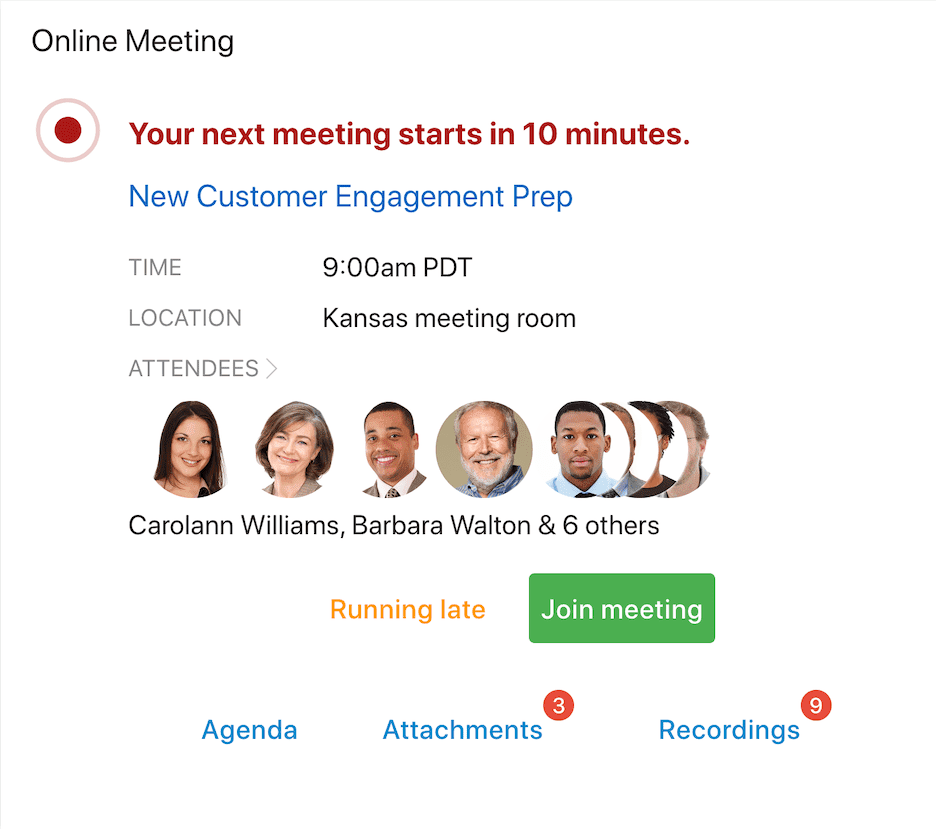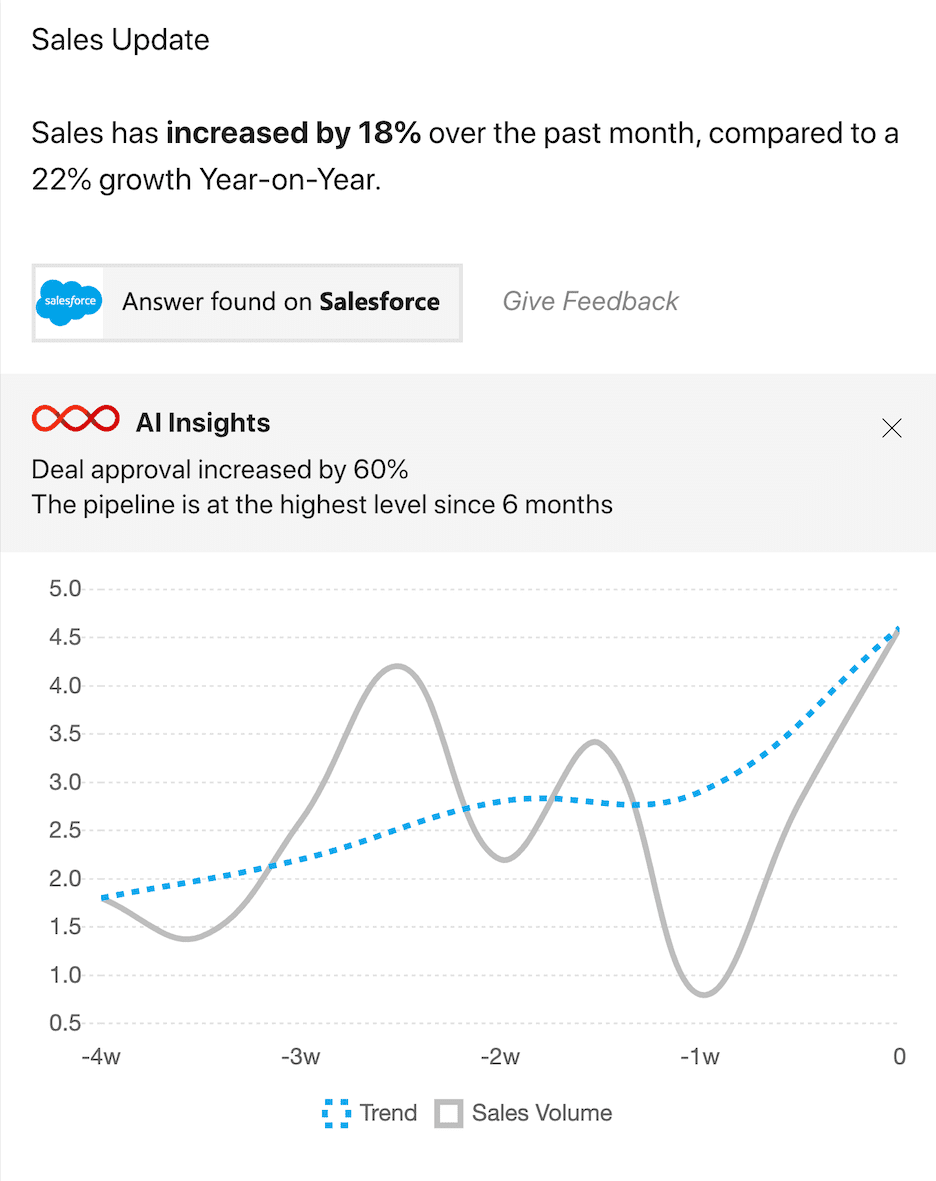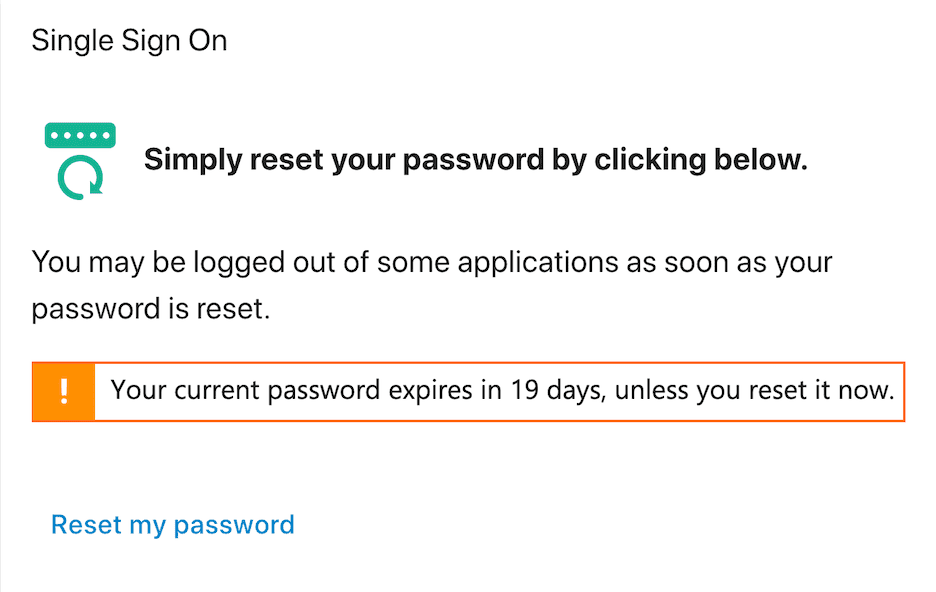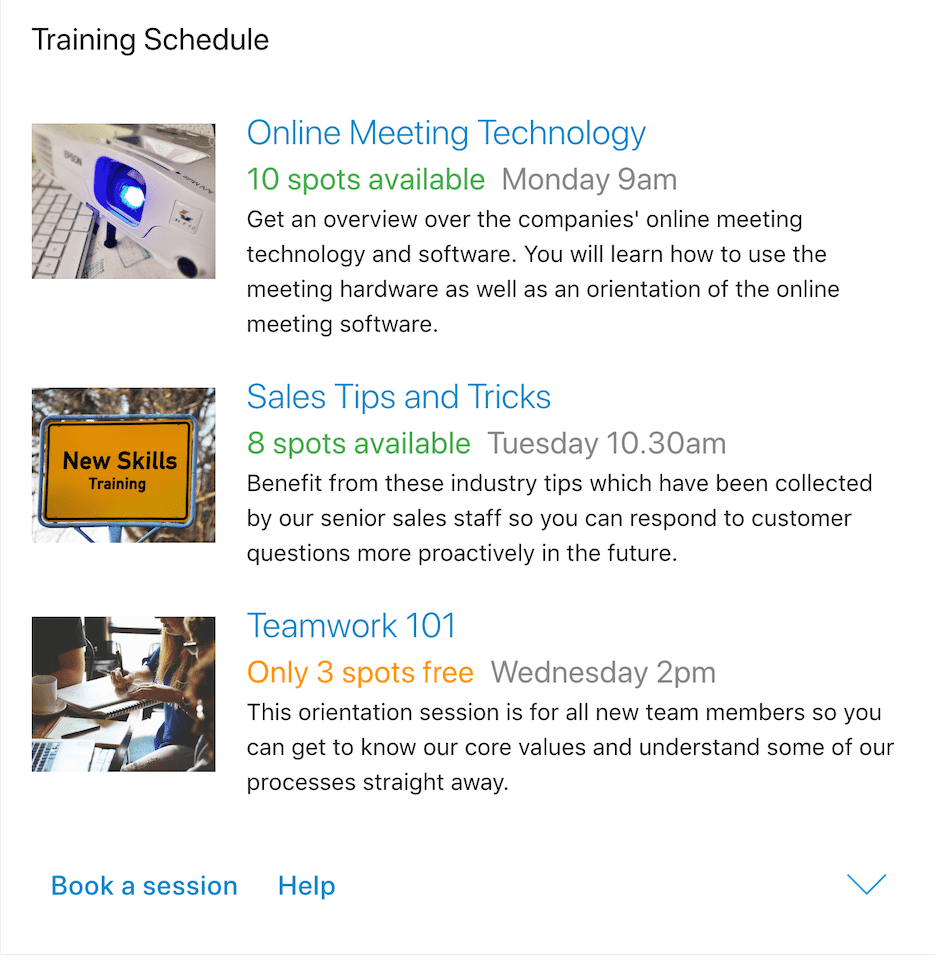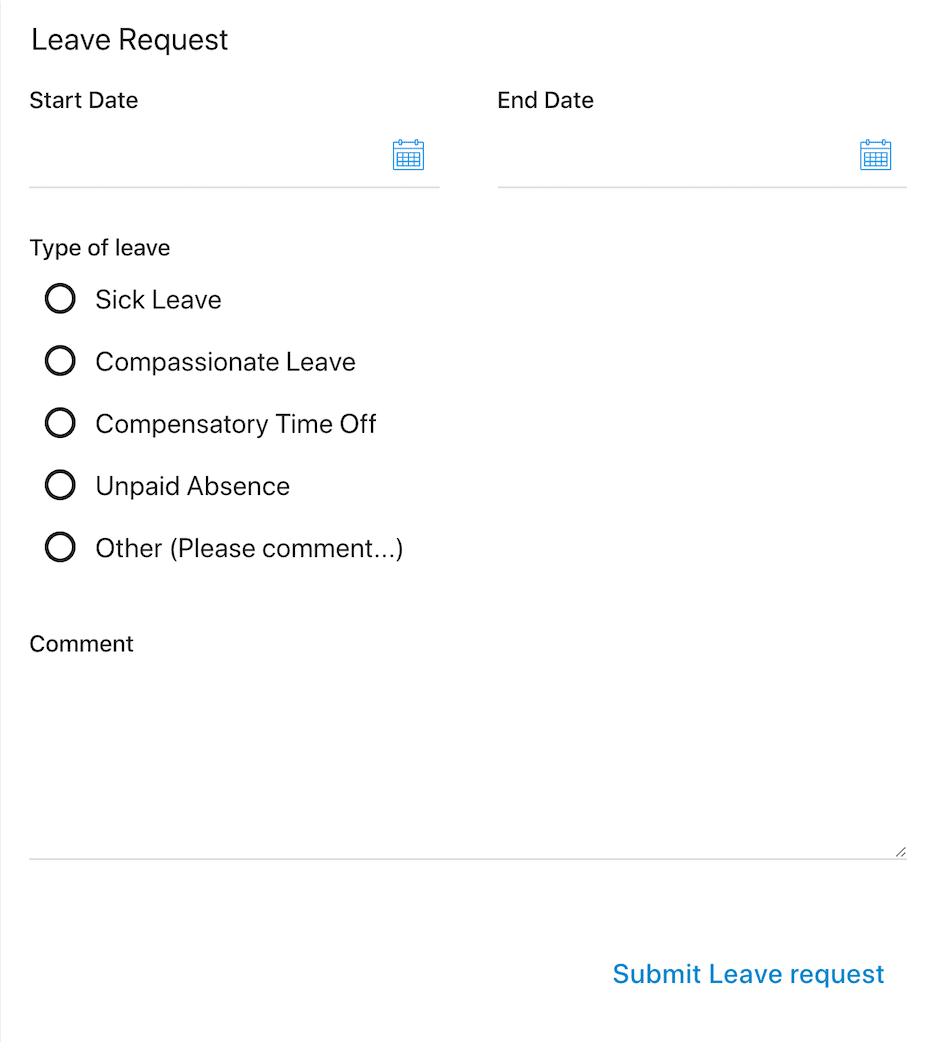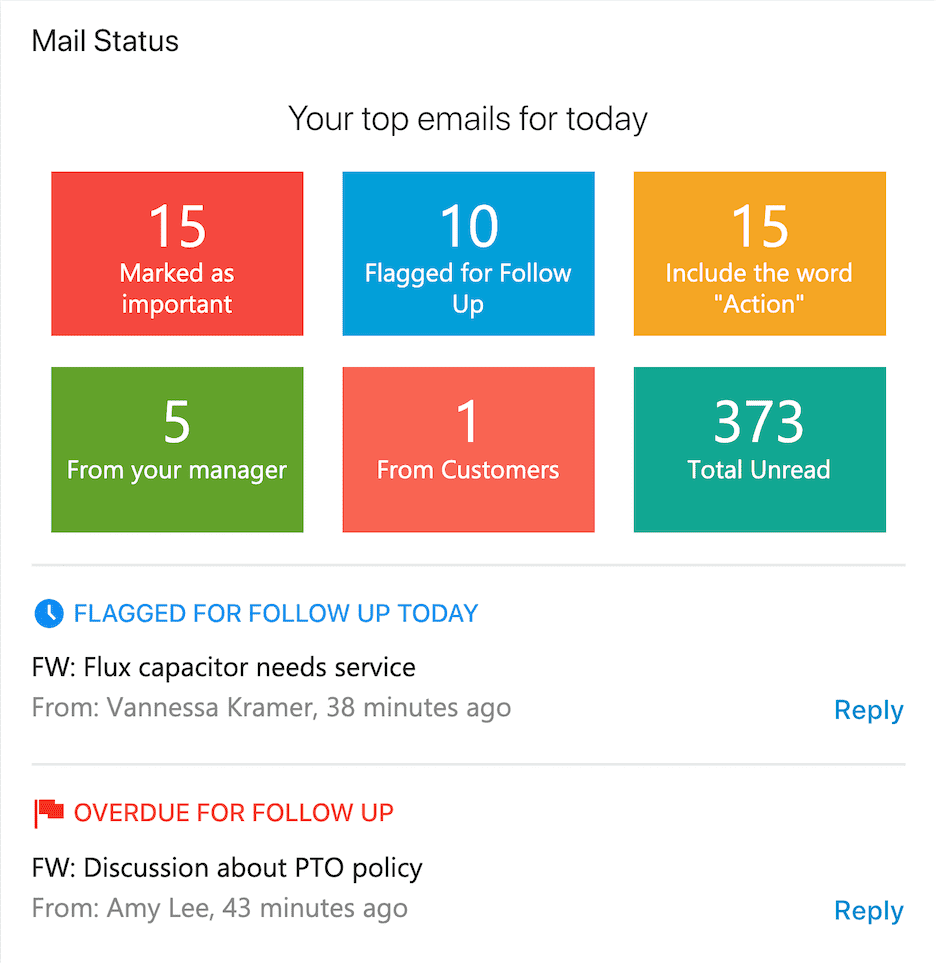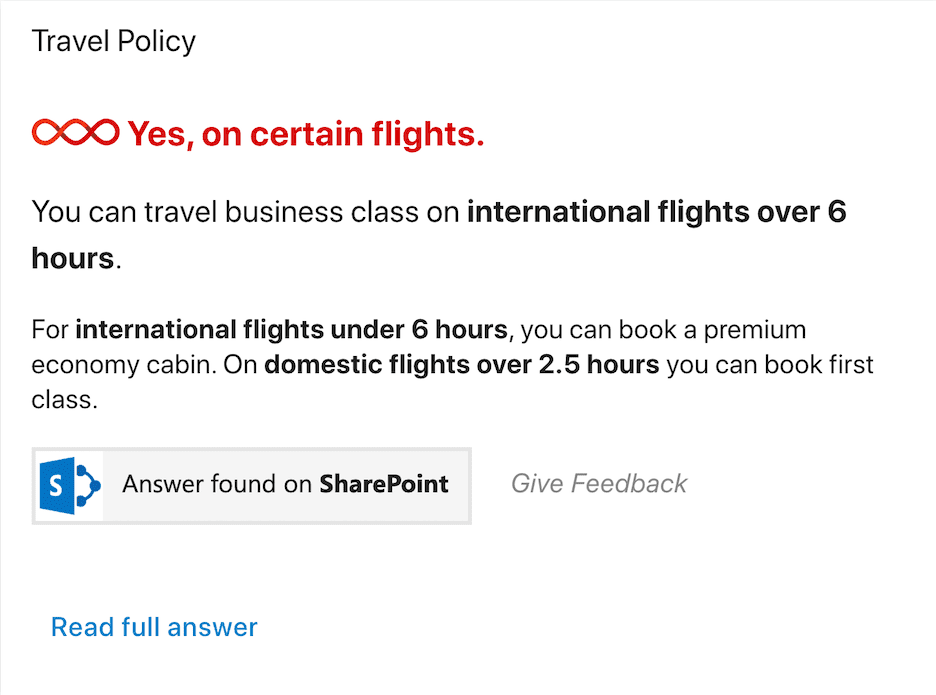 PTO Status Card
Get a quick overview over your PTO allowance, and other leave allowances if available. Data can be visualized as a chart for at-a-glance information. The Card also allows linking to relevant policies, and directly revealing a form that submits to the application via its API.
Approvals Card
Any system with workflows can trigger Approval Cards in Digital Assistant, making it very easy and transparent for managers to work through their approvals centrally, and irrespective of the source app that triggered the Card.
Digital Assistant's AI can further cross-scan each approval against other queries and inform the user when it detects something of notice.
Charts Card
API data can be visualized with a chart.js engine in Digital Assistant. This allows users to see their data as line, bar or pie charts that they can build their own dashboard with.
Segments of data can be toggled on or off by the user, and charts even work in Channels where the Assistant will deliver them as an image.
Meeting Reminder
Showcasing how much more informative Cards can be than just a simple Outlook reminder, the user can easily see attendees or access ancillary information like the agenda or recordings.
With one-touch buttons to start the meeting or send a note to attendees you're running late, the Card reduces the friction of having to manually open an event and search for the link to join.
Sales Updates
Either in periodic intervals, or when a new report is generated, the Assistant can send a summary from the CRM to the user, along with charts generated by the built-in chart engine.
Built-in AI can further cross-check data against other data sources to enrich the information based on pre-defined conditions. This increases transparency and helps the user make more informed decisions.
IT Messages
It's easy for users to forget to update their passwords, request a new laptop or update their apps. With Digital Assistant such notifications can now be delivered via Cards, which can also offer in-line tools to resolve issues right then and there, for instance with a password reset form.
Training Schedule
Users use training portals infrequently which can add to their frustration navigating their UI. But in Digital Assistant training schedules, expired certificates, and more, can be clearly and easily displayed or requested by the user.
This offers an easy entrance into the booking process resulting in quicker bookings and better trained staff.
Leave Request form
Users can easily fill out request forms via the Digital Assistant app or Channels which will be submitted to any 3rd party application via it's API.
Offering a seamless user experience that doesn't require users to have to leave the Assistant, reduce friction and lets them return to their main tasks quicker.
Mail Status Card
Chasing the constant barrage of incoming emails can be stressful. This Card offers an antidote by giving the user dynamic counters for emails from their manager, that contain action words or are marked as due or important.
Users can click to bring up a list of those emails or glance at the Card, and decide that maybe they can "safely" ignore their inbox for another hour since none of their counters spark their curiosity.
Policy Questions
Building on the AI Knowledge the Assistant can easily understand user's questions and answer them for them, along with links to full text versions of relevant policies.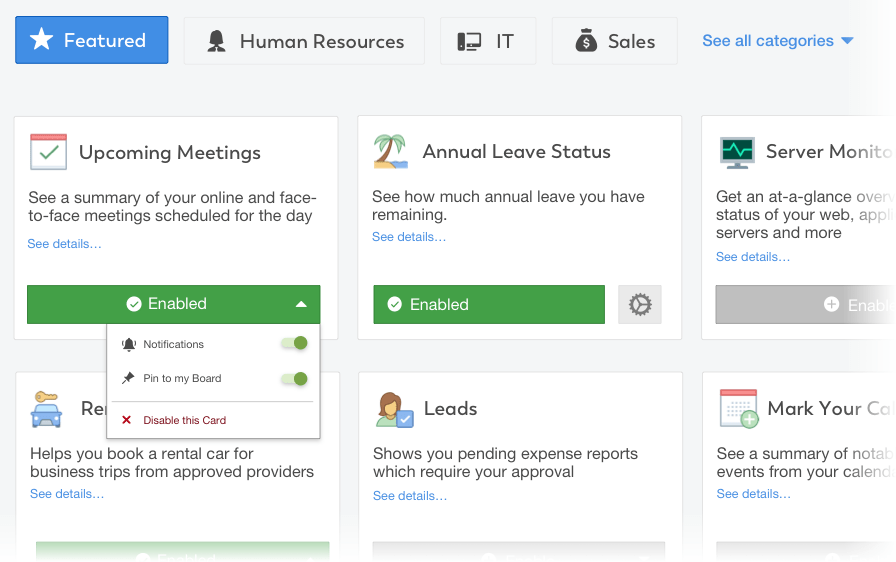 Manage Cards
Organizations quickly amass dozens of Cards for each user despite defining broader audiences and permissions. So users have the possibility to refine which Cards and Notifications they see from their Manage Cards screen. Some Cards are enabled by default and the user can unsubscribe, while others can be made mandatory by the organization.
Compatible with chat platforms
Digital Assistant seamlessly transforms Card layouts into other layouts used within Channels, for example Adaptive Card for MS Teams, APL for Alexa, Block Kit for Slack, etc. This way you only need to configure a Card once, and can deploy it across all channels.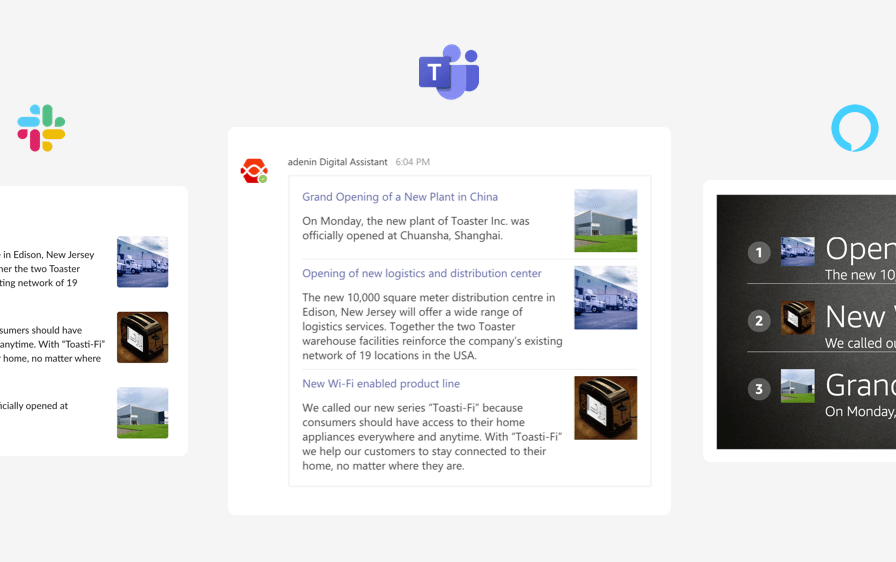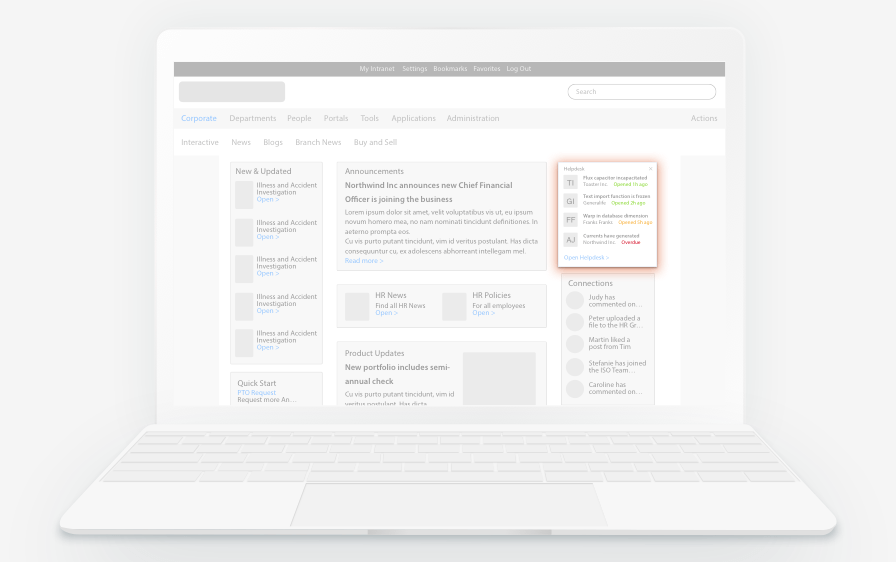 Embeddable
Cards can be shown anywhere outside of the Assistant, too. For example in your Intranet or SharePoint, within Enterprise Search results, in mobile apps or any other browser based application. This makes Cards a portable service you can implement anywhere where it is needed.
Custom integrations
You can connect Digital Assistant to dozens of integrations out-of-the-box but you are not limited to those as virtually any API can easily be integrated into the Assistant and used to show Cards, charts or forms to users. Digital Assistant can either transform incoming Webhooks into Cards or can directly display custom Cards where the API connector is made with Postman.
Actionable
90% of the time when you look at a piece of information you do the same thing with it: Leads frequently get sorted into a qualification stage, requests get frequently approved, messages frequently responded to. So with Digital Assistant the action you do frequently can be directly shown on the Card, reducing the cognitive load for the user and taking unnecessary clicks out of their workflows.
Charts
You can use chart.js to visualize incoming data with various line, bar or pie charts. Each data set in the chart can be interactively disabled by the user. On Channels without HTML support, the Assistant first generates an image of the chart and then sends that.
Some features are not available on all plans, please see the Pricing page for more info.