Back to overview
Employee App
As a modern take on the Intranet portal, Digital Assistant finally realizes the age-old dream of having one single hub for all business data. Whether you aim to unify disenfranchised silos, enhance internal comms or create an employee-centric, data-driven Intranet – Digital Assistant is the platform of choice.
Centralized communication
By embedding Assistant components (such as Cards, Notifications or the Chatbot) in Intranets, and other browser based applications you can create one standard for communication across disparate applications.
By permeating different systems with the same Digital Assistant Card users get a familiar UI and absorb communication more naturally and quicker.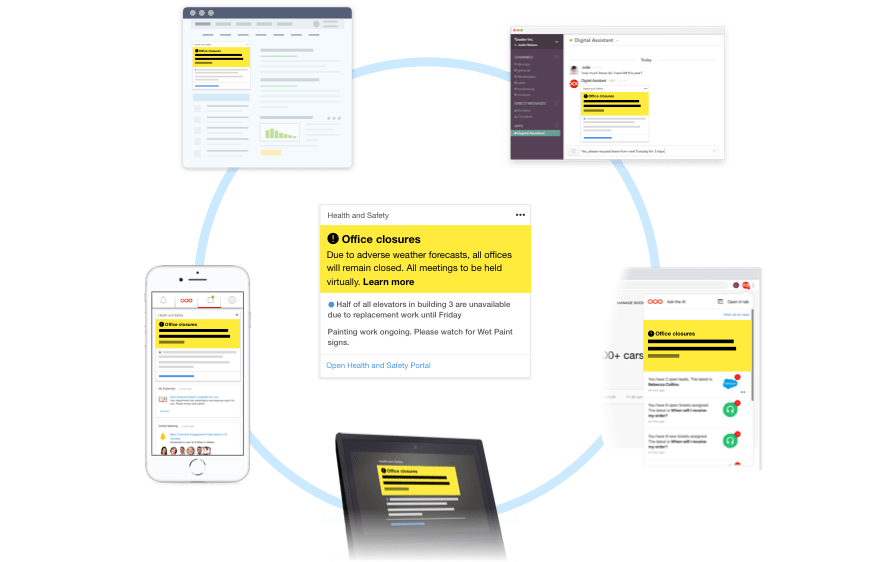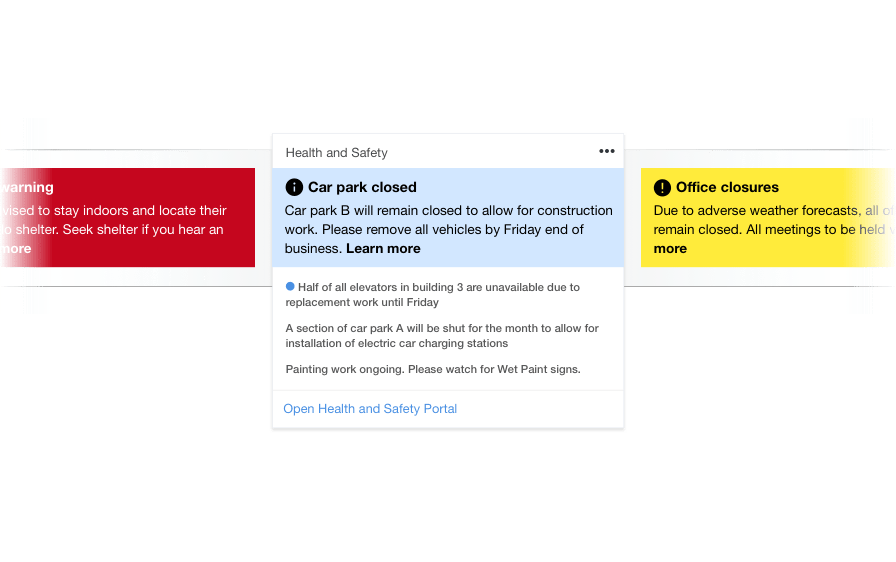 Broadcasts
In the event of a service disruption, outage or incident direct communication is key. Emails may be a good and guaranteed fallback, but Digital Assistant's broadcasts can instantly reach employees via push notifications on their desktops or phones, as Skills for Alexa, in the car, and many more.
Broadcasts can be triggered automatically or sent manually and can be targeted to certain Channels or certain employee groups.
Not another collaboration tool
Digital Assistant isn't designed to make people work better together (although we love when they do). Instead Digital Assistant is all about the individual and their data, questions and notifications.
The Digital Assistant experience is strongly personalized to fetch the user's own information from across their unique combination of apps they use on a daily basis. The Board can be arranged any way the user likes, and they can consume Digital Assistant on their favorite Channels.
It's like everybody in the organization gets their own PA, just more digital; a space all about YOU.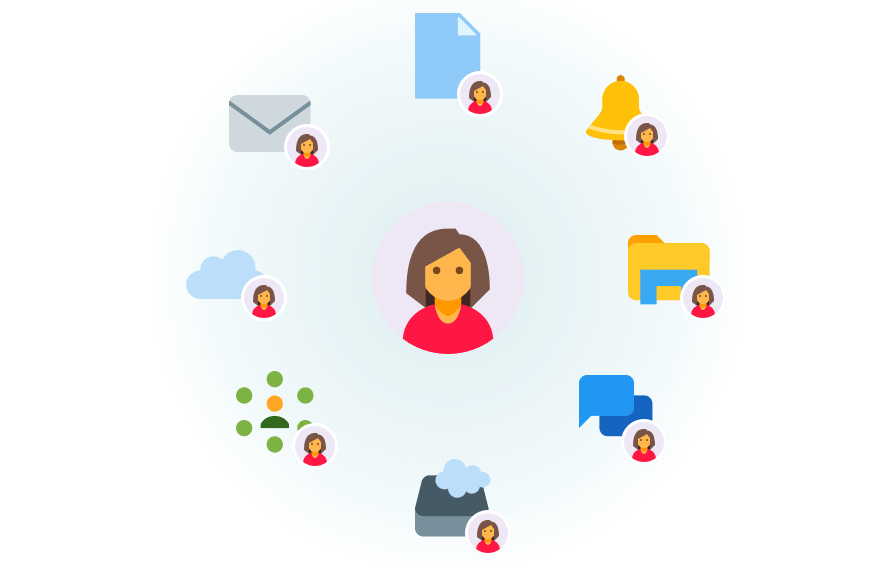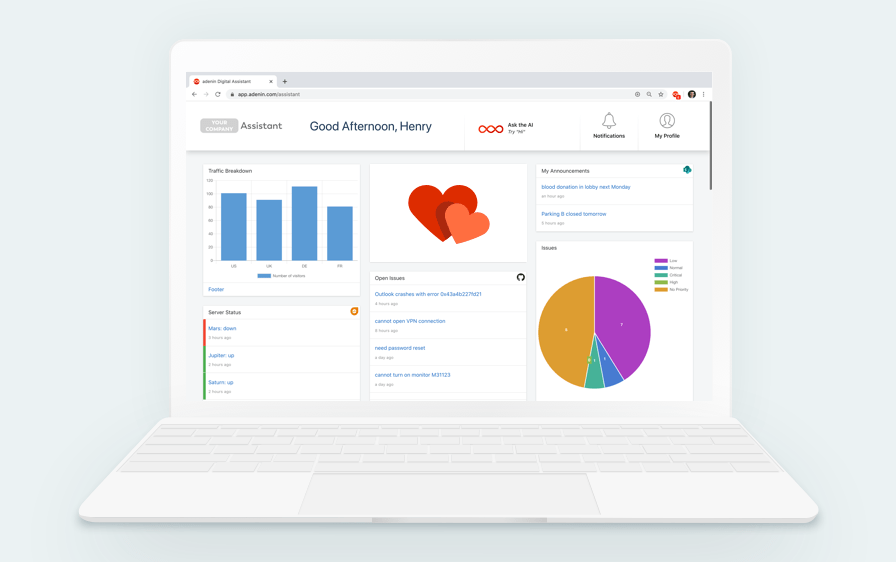 Designed for employee happiness
Organizations that deploy Digital Assistant can recover up to a third of wasted productivity. Employees will feel more valued that the everyday friction and window hopping they have to deal with is being addressed and improved.
As Digital Assistant is leveraging consumerized principles for simplicity and user-focus, it has proven to dramatically increase employee happiness and work/life balance.
Embed into your Intranet
Even though Digital Assistant has a great standalone web app, we also want it to be easily accessible from within other places users visit frequently. Therefore you can embed Cards, your entire Board and Notifications or the chatbot webchat directly into SharePoint or any other website you control.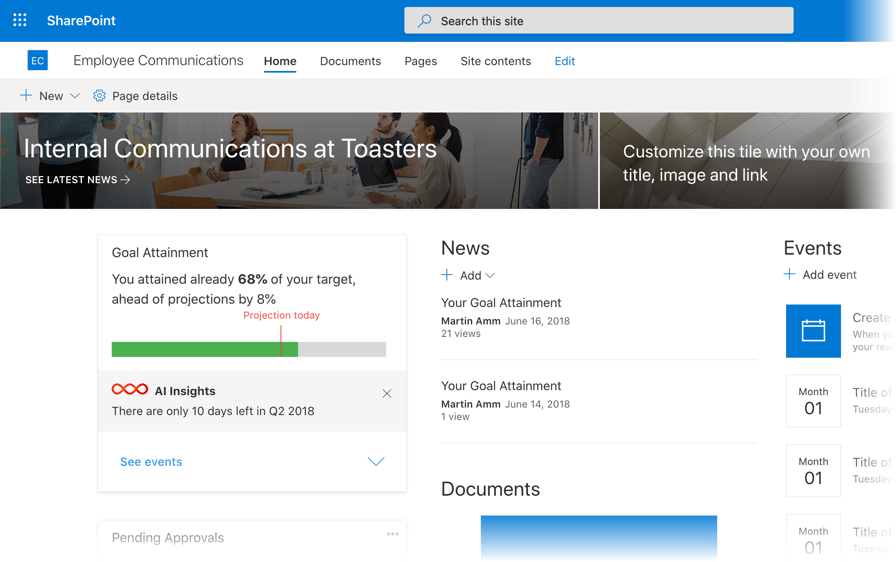 Responsive-design PWA app
Digital Assistant comes as a standalone web app you can use on desktop and mobile devices. As a so-called PWA app you can even install it on desktop computers via the browser, or add it to mobile device's home screens. This also enables Push Notifications but represents just one of many different Channels you can use your Assistant in.
Native app wrapper
Organizations with MDM solutions can deploy Digital Assistant to employee devices via a native app wrapper that offers SSO, in-app VPN, and Push notifications. Get in touch for details.
Some features are not available on all plans, please see the Pricing page for more info.