The smart chatbot that uses AI to look up your answer, not a canned response
With more data connections to all your cloud services and databases, Digital Assistant finds the answer that's right for you.
Omni-channel Natural Language Processing
Digital Assistant has it's own AI-powered NLP component that allows administrators to create an easy-to-maintain and adaptive list of entities and intents. This processor is behind requests received from any enterprise chat like Slack or Microsoft Teams, and even works alongside Alexa or Google Assistant.
Personalized answers, connected to all your data
Digital Assistant doesn't give those canned "look up here" responses that are as useful as a hole in the head.
Instead, when you ask it for your leave allowance, in the blink of an eye the Assistant speaks to your HR system and looks the information up – just for you, in real-time.
Smart assistant chatbot integrations
Select from over 50 ready-to-go Connectors that you can directly pull information from into your smart enterprise chatbot.
Native conversational interfaces
Sometimes booking a conference room or requesting annual leave can make for lengthy turn-by-turn prompts with a chatbot. When a collaboration app supports it, we instead show the user an easy-to-process form that makes submissions easy and quick.
Who do we book rental cars with?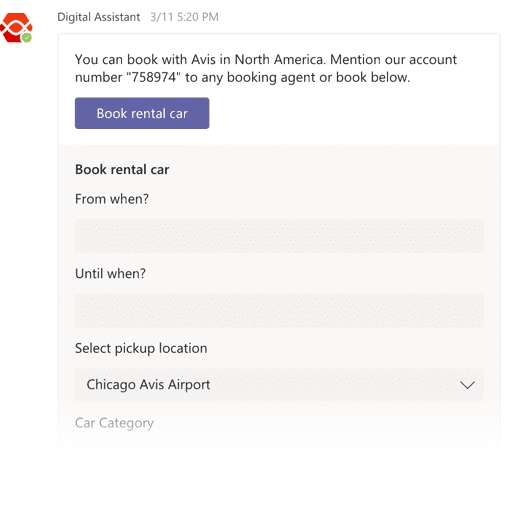 How much leave do I have left?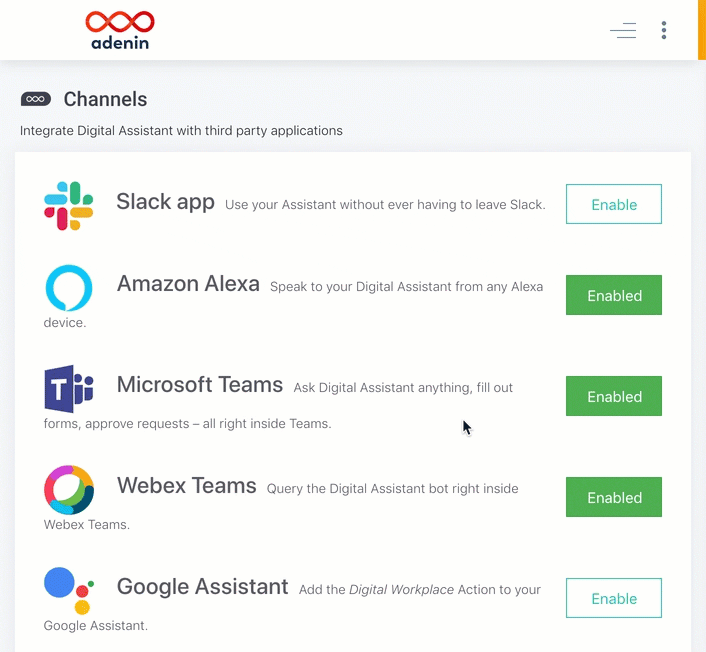 Easy to deploy enteprise chatbot
Designed to be an end-to-end platform, all you need to do to deploy your chatbot is push a button and add the chatbot to your favourite chat applications.
No messy command line tools, no awkward experimental tools – and crucially no swiping of a Credit Card required either.
Deploy your smart chatbot to all your favourite tools
As the #1 award-winning digital workplace experience, your chatbot can be handily deployed anywhere: from smart assistants over enterprise chat to workplace apps, and even your existing Intranet.
Your workplace
Speak, type, open the browser extension or even embed it into your existing Intranet. Digital Assistant goes everywhere where users already are and is not "another" app they have to go to – giving users ultimate flexibility to work however they want.
See all supported apps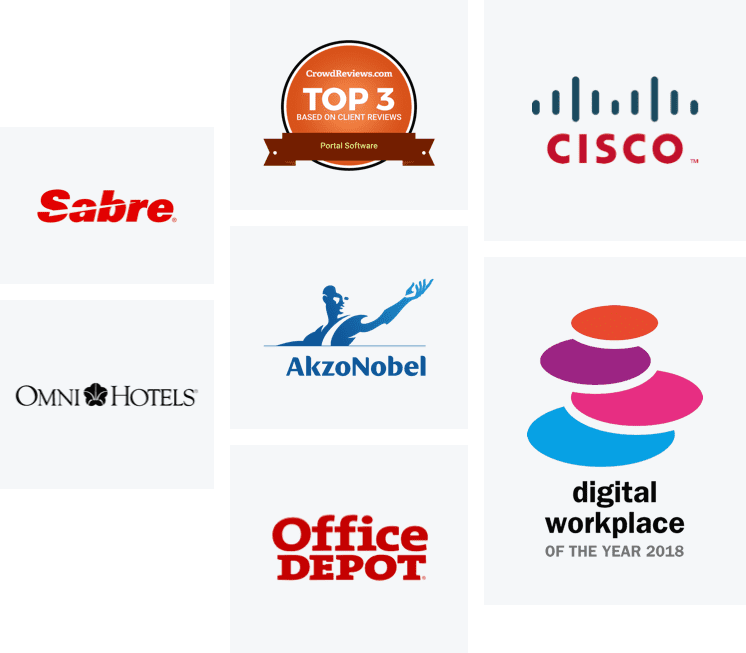 Recognized by industry and enterprises alike
Both our customers and industry experts agree that the future of work starts with Digital Assistant, creating new opportunities for organizations to get more out of the data they already have.
Get started with Enterprise Chatbots and Digital Assistant
Create your own Digital Assistant tenant right now or request one of our product experts to answer your questions.
Ask a Question