Browse Apps
Workday integration
Add to Digital Assistant
Last updated May 13 2020
Workday integration
Human Resources application with powerful use cases.
Workday Web Services allow you to access data from benefits, organization, payroll, and recruiting to use it for an array of useful use cases: From approvals, over helping answer user's questions to handle internal recruiting requisitions.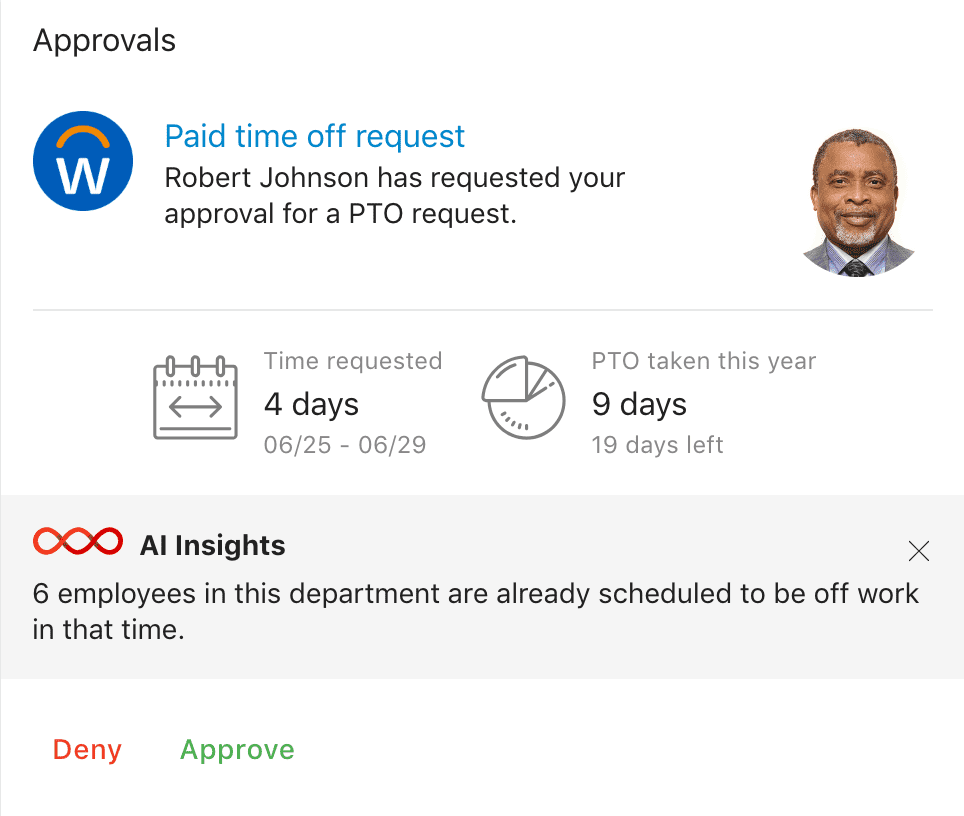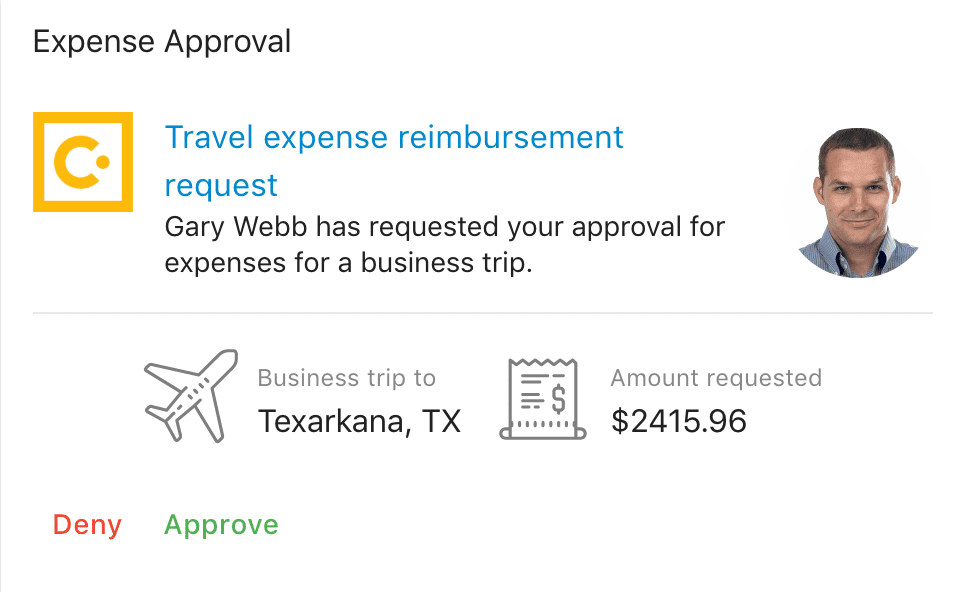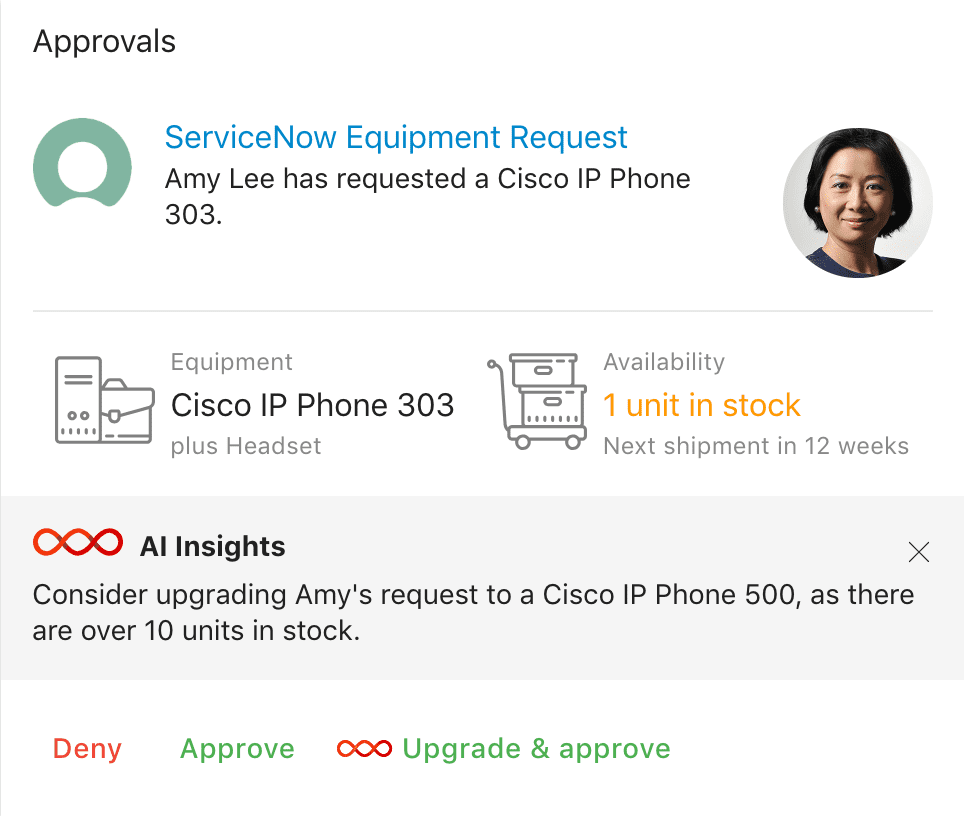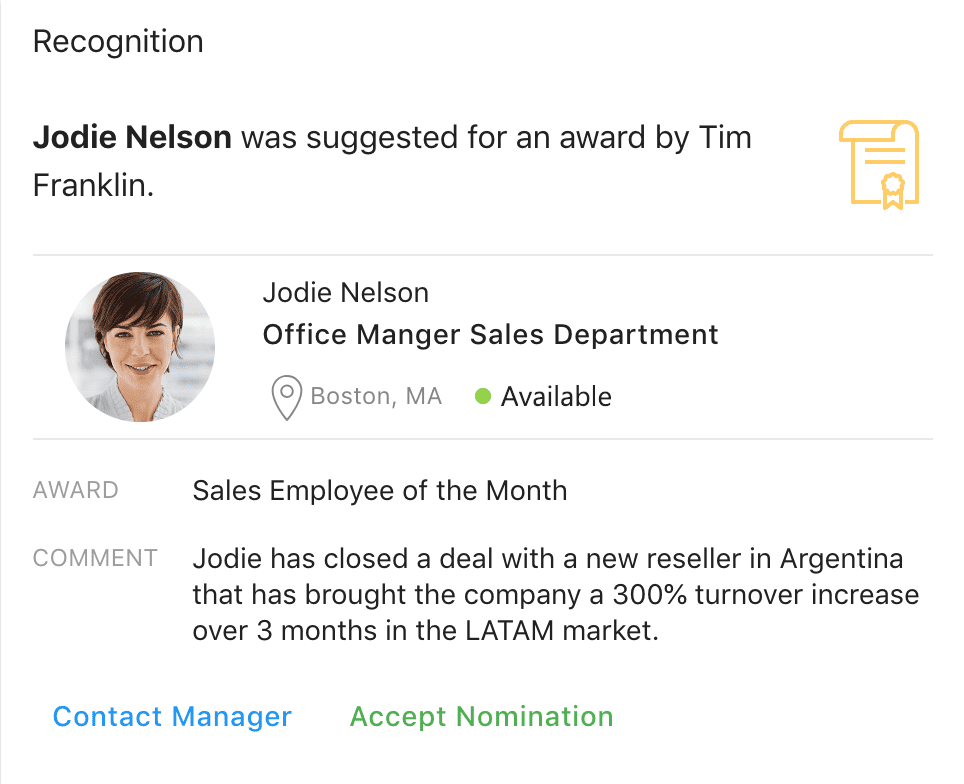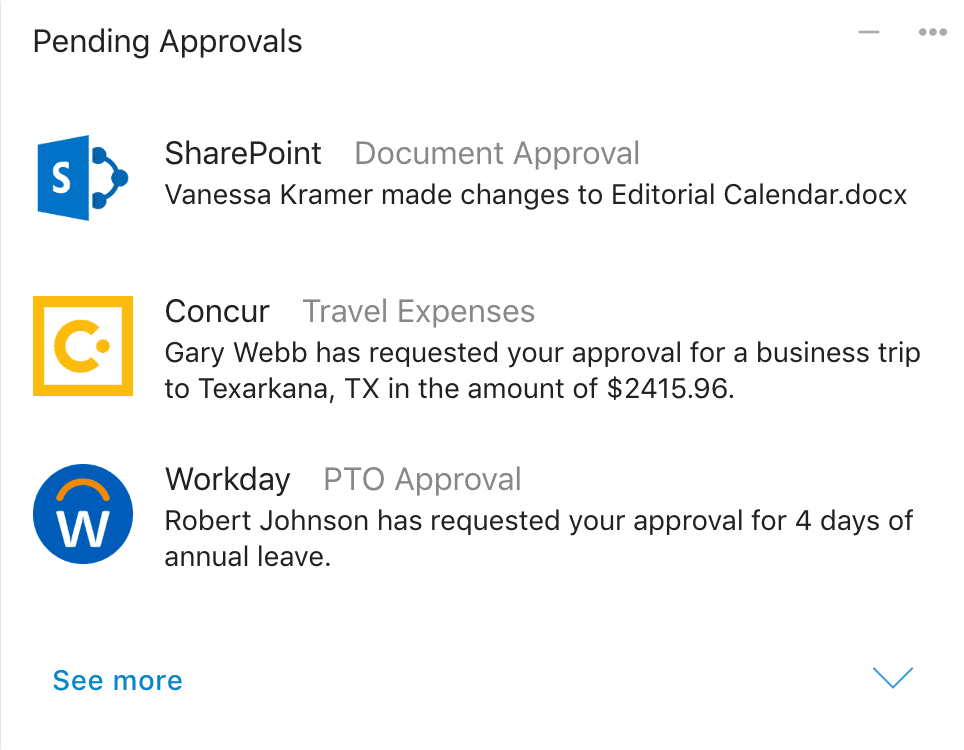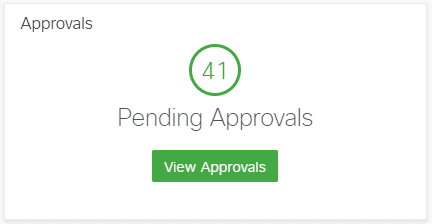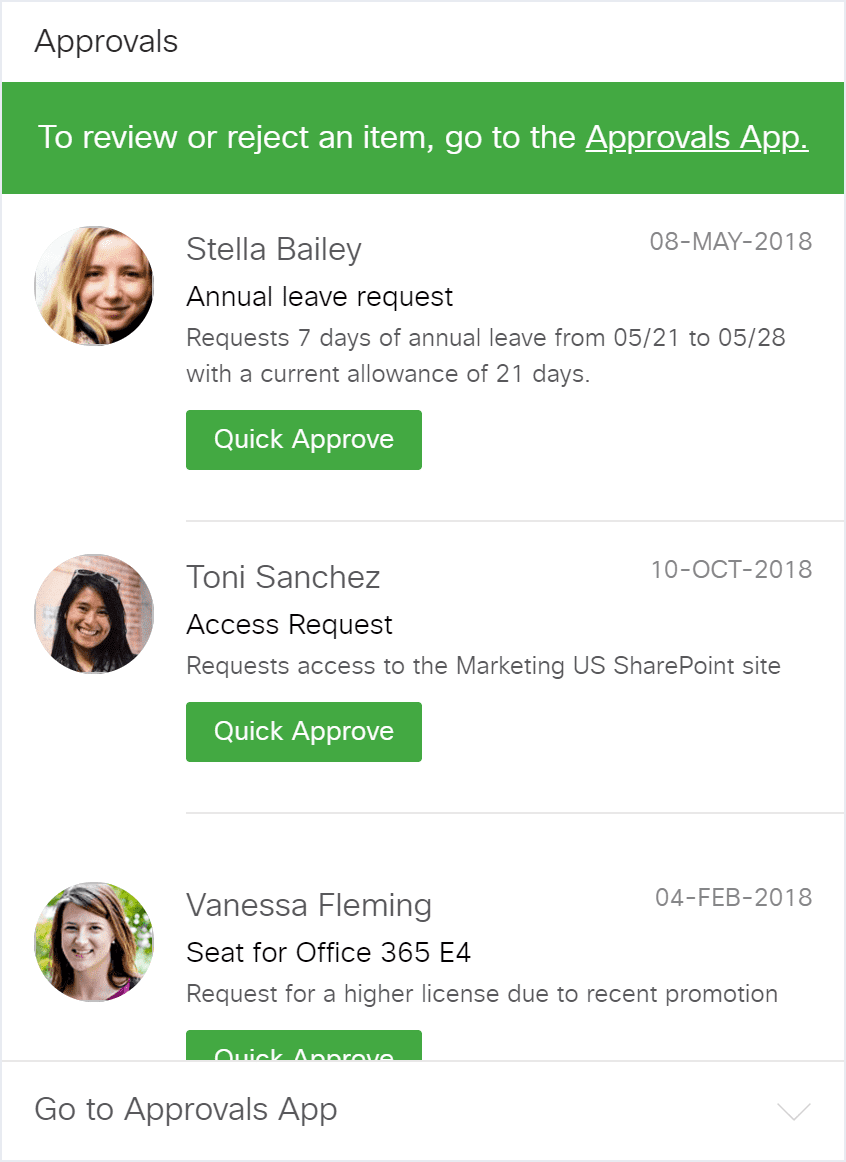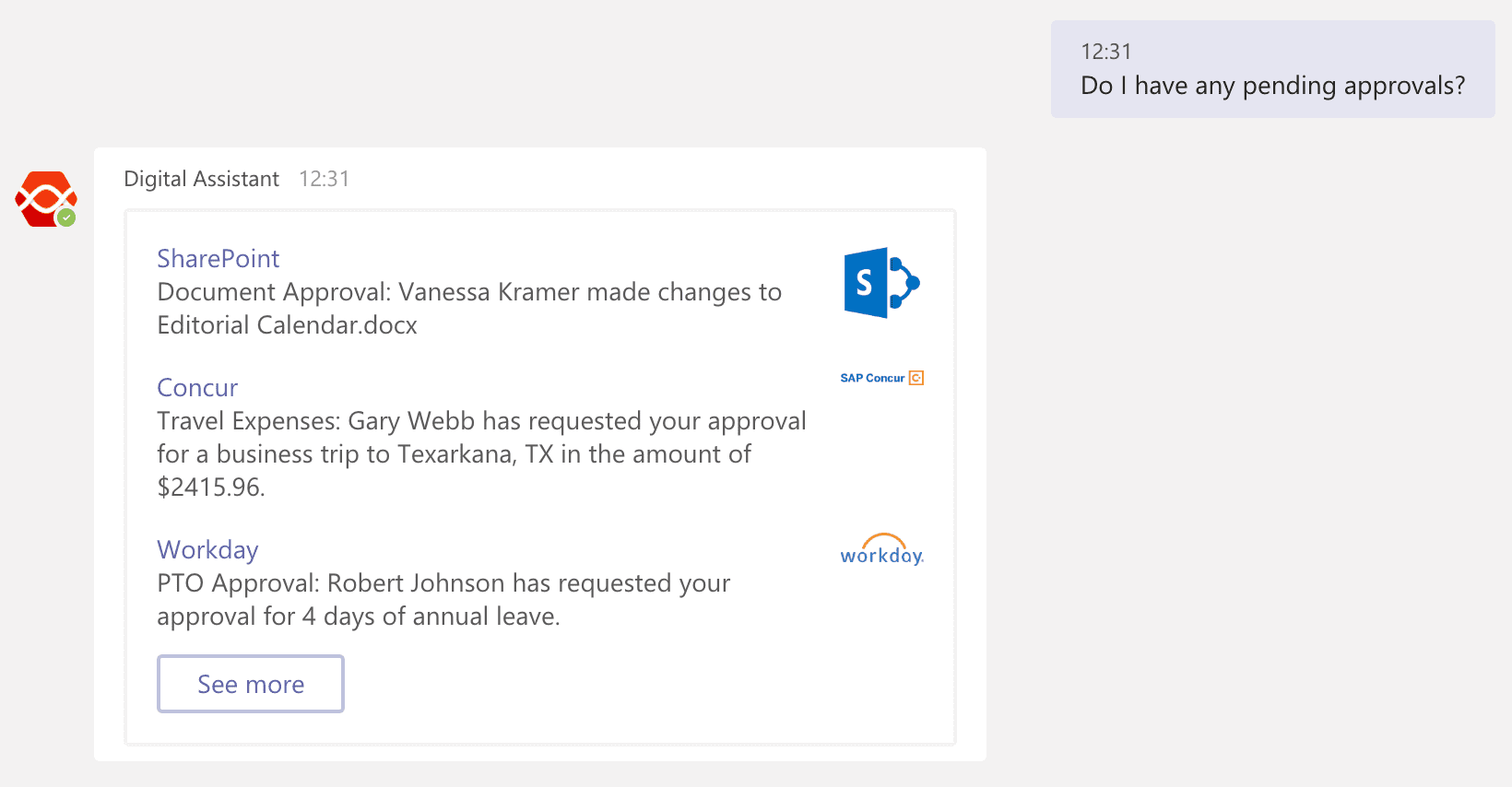 Approvals
Boost your productivity and get repetitive tasks done quickly with the Approvals Card. Managing multiple approval workflows can sap a huge amount of valuable time from your day, which is better spent focusing on your own tasks. With Digital Assistant, working through your approvals is quick, easy and accessible - and you can do it all with one Card.
The Approvals Card aggregates all of your existing apps with approval workflows - such as SAP Concur, SharePoint approvals and Workday - to show you an aggregated list or individual notifications about pending approvals. You can use this to work through all your workflows from a single convenient location, irrespective of which source created the approval.
If the approval workflow supports it, you can see additional details like reports, tables or dashboards before you approve or decline them.
If the app which generated the approval requires a decision rationale, you can fill out the relevant information in a form from inside the Card - without having to leave your Digital Assistant.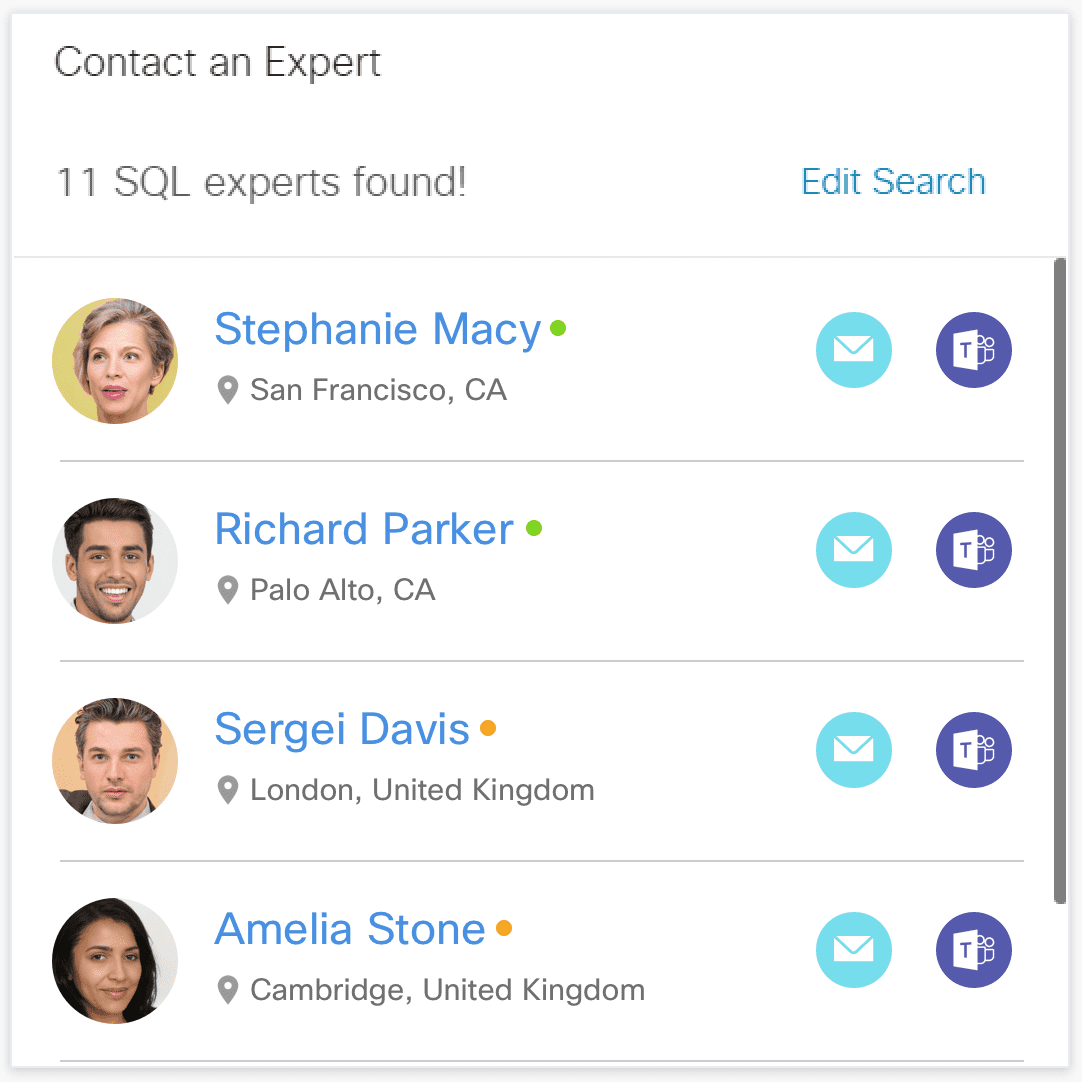 Contact an Expert
The Contact an Expert Card allows users to quickly query the employee directory for a skill/expertise, location and job title in order to quickly identify experts within the organization.
The Card pulls its information from the companies' directory and enhances it with convenient buttons to start an email or begin a chat in collaboration tools like Microsoft Teams, Slack or Webex Teams.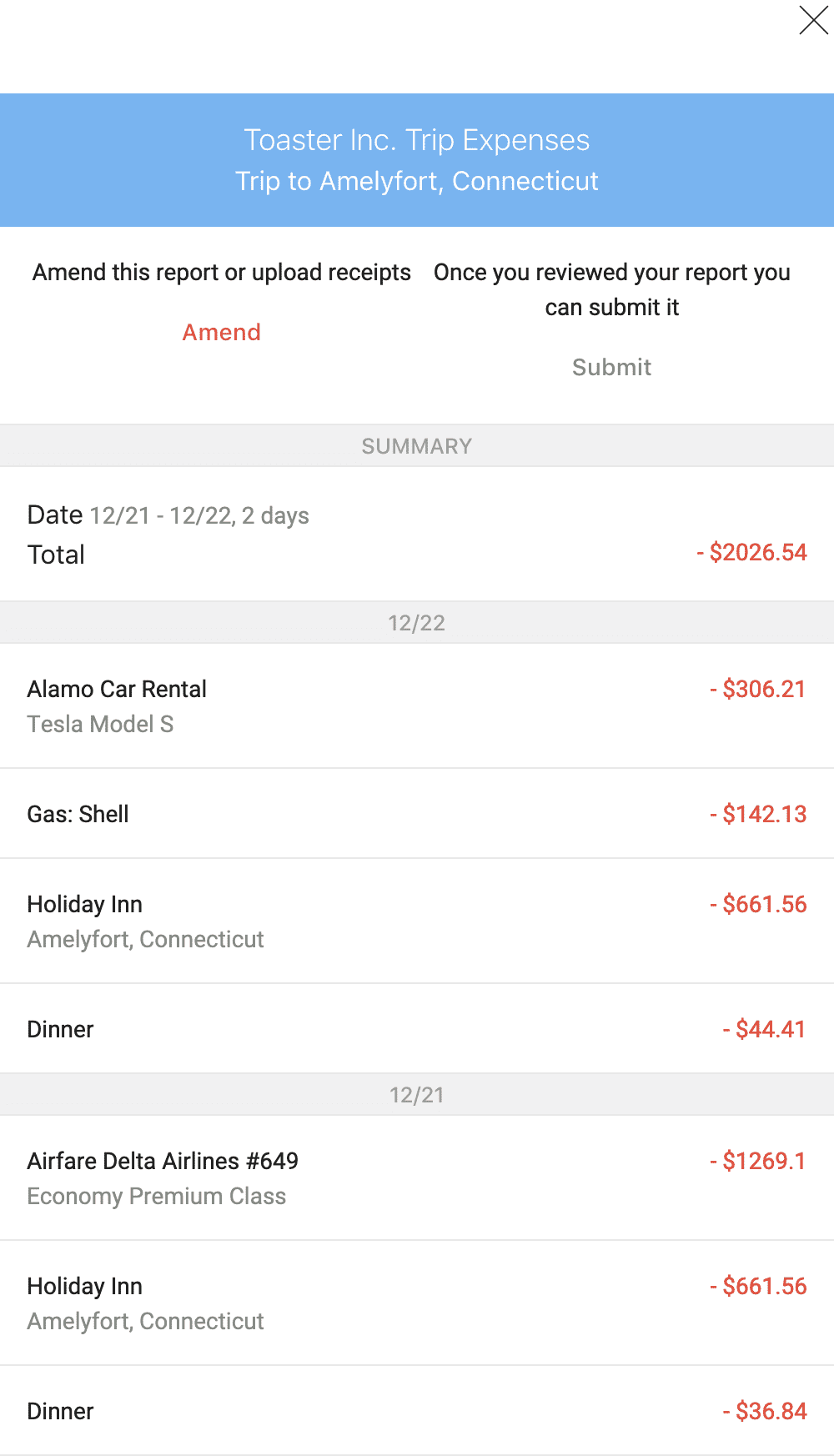 Expenses
The Expenses Card makes it easy to stay on top of your expense reports. Whether your department files an expense report for you, you've recently travelled on business and need to submit a report, or one of your submitted reports has been approved, this Card will alert you to take action or review an outcome.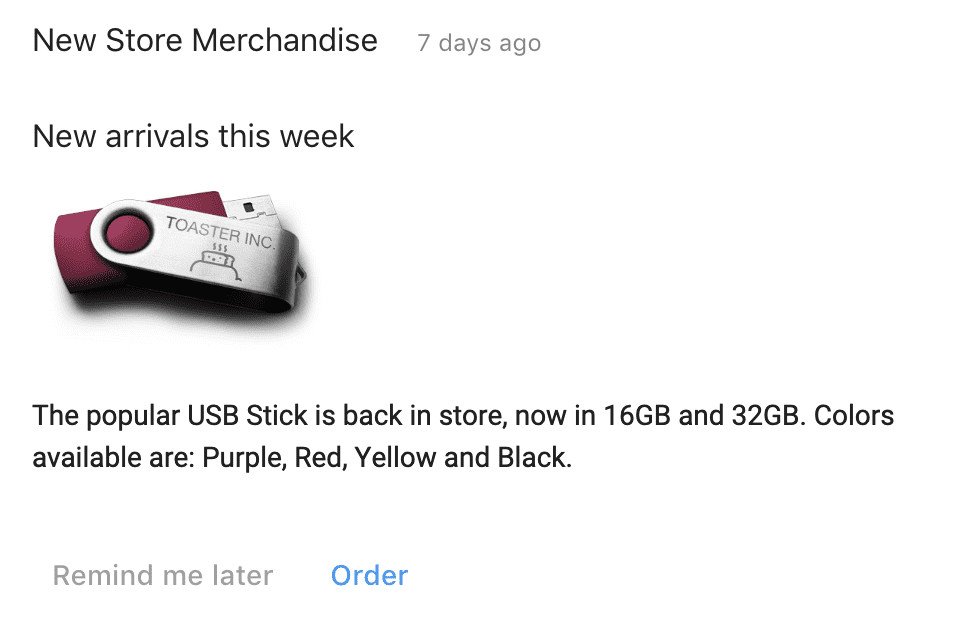 Merchandise
The Merchandise Card shows you new arrivals to your company merchandise store. See details of what's available and order items directly from the Card, or tell your Assistant what you want to order and the Card will display options for you.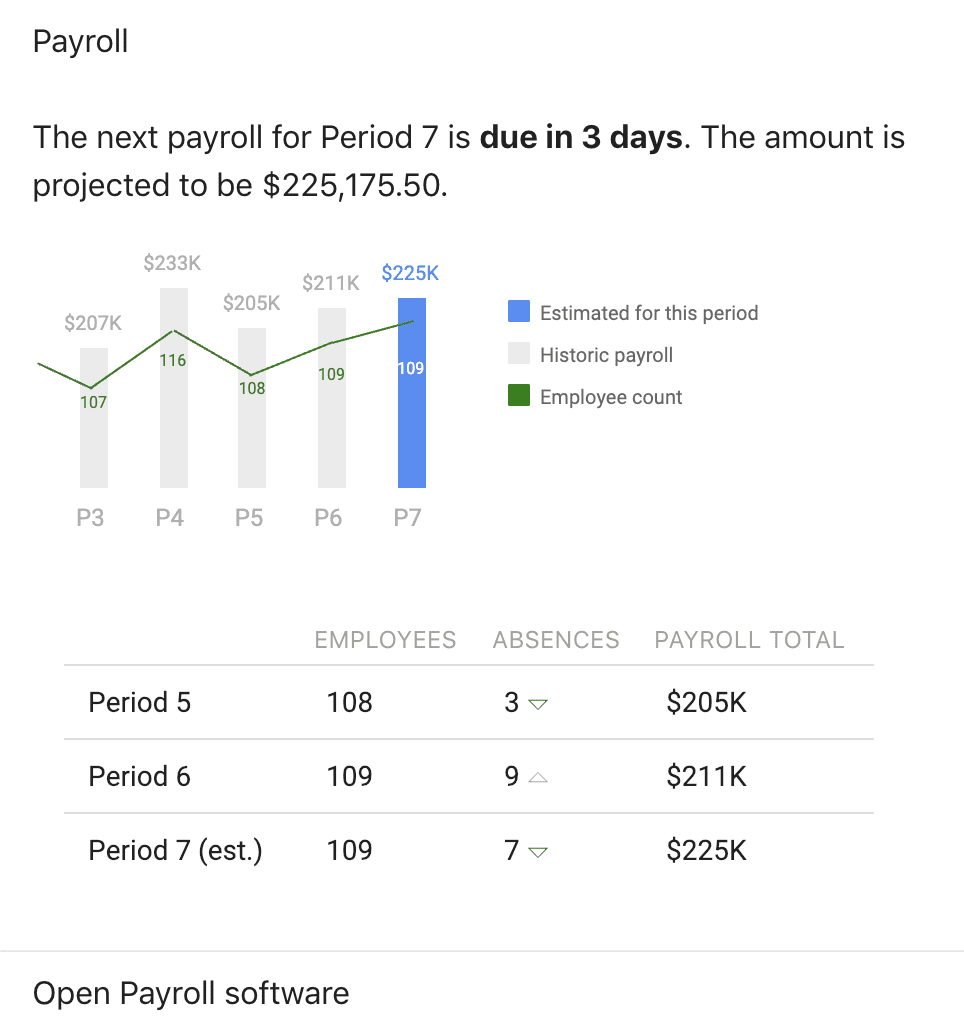 Payroll
See up-to-date Payroll information inside Digital Assistant with the Payroll Card.
Connect Digital Assistant to your HR applications to get detailed Payroll information, including projections, employee absences, historical data and AI insights directly in your feed.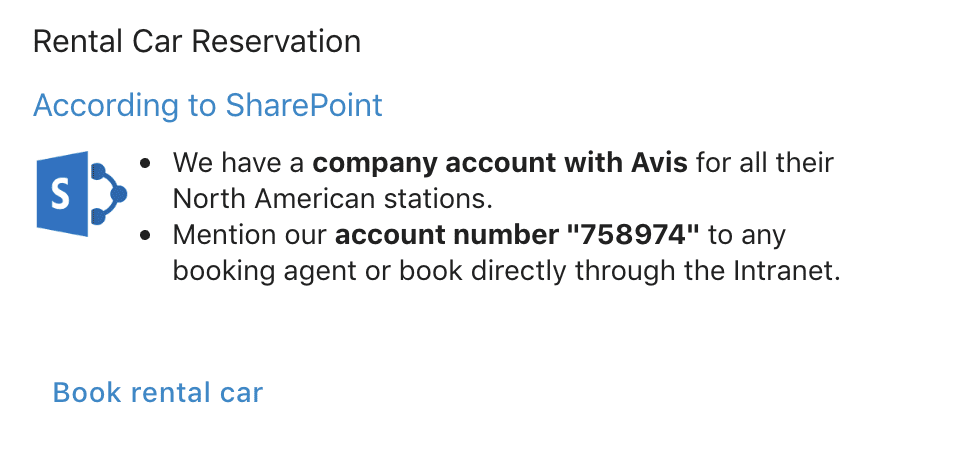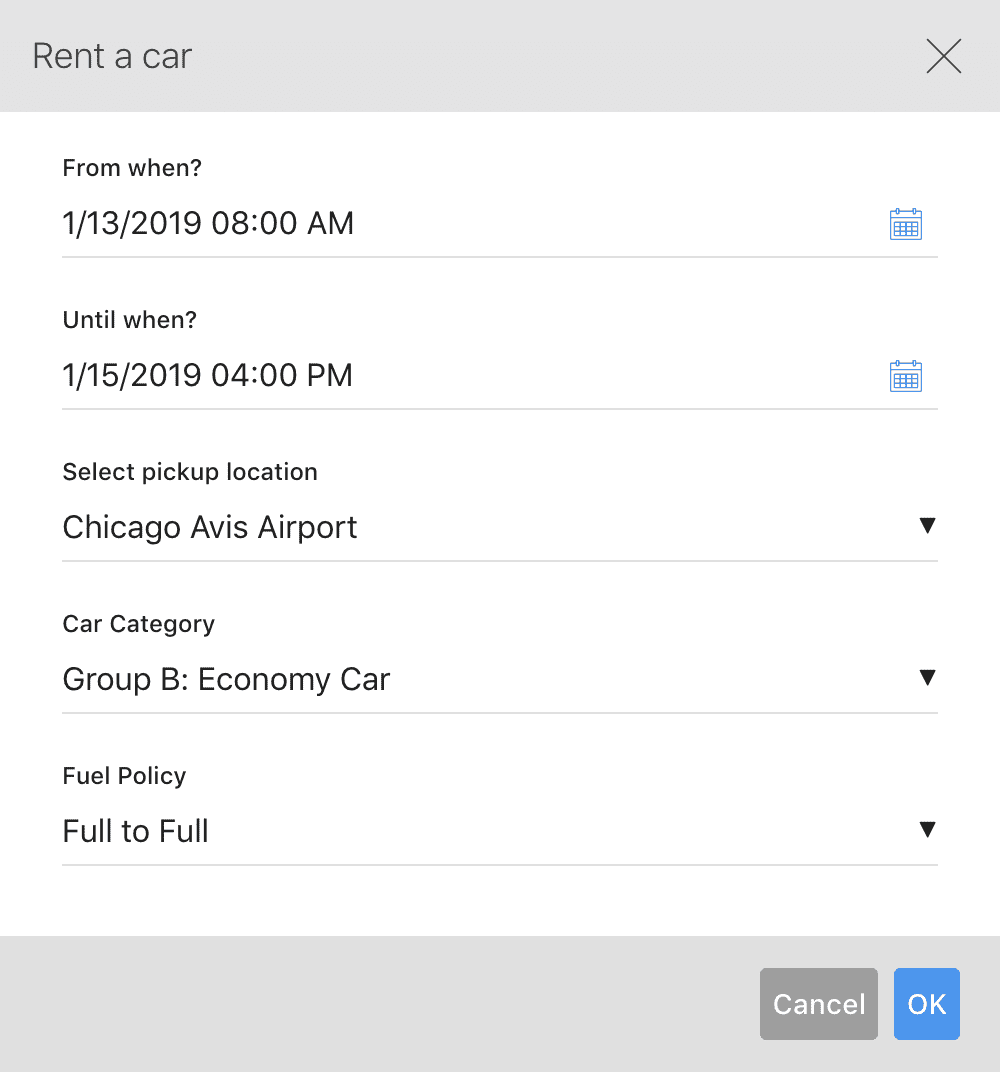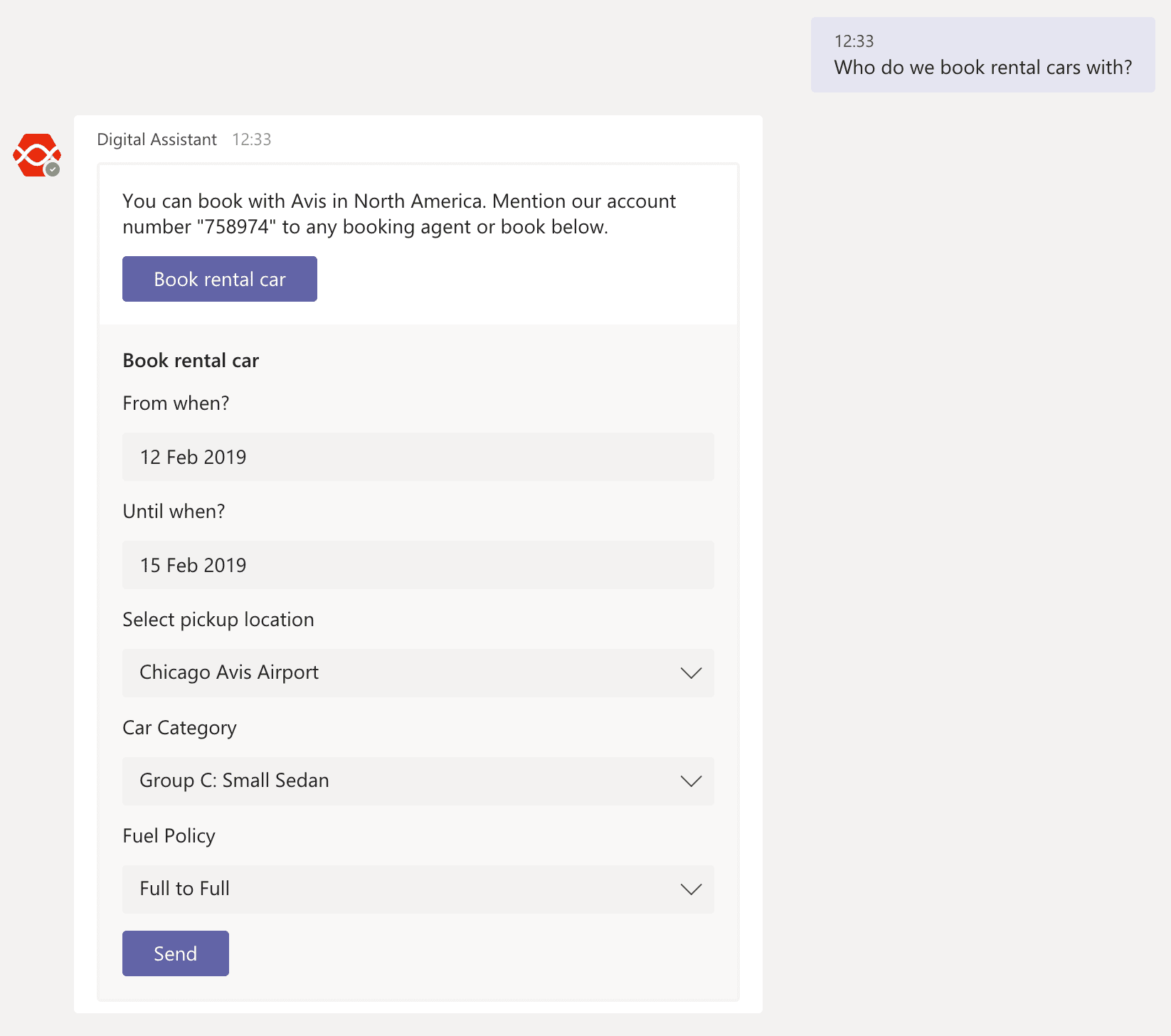 Rental Car
The Rental Car Card makes booking rental cars via company-approved providers extremely simple. Get company names, phone numbers and account numbers from the Card, or even book a rental car directly through Digital Assistant via this Card.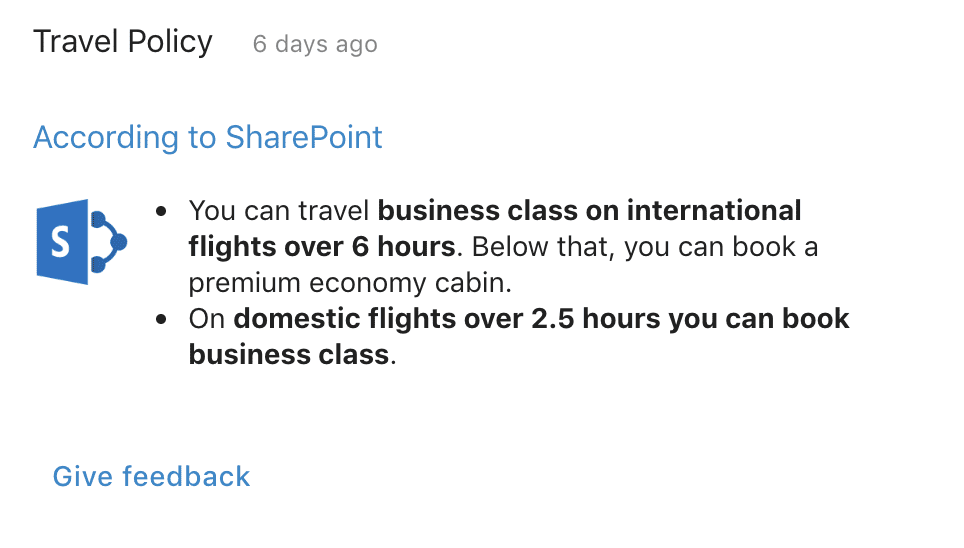 Travel Policy
The Travel Policy card lets you ask questions and receive answers about your company travel policy. This Card is tailored to your role and seniority, and will assist you in booking business travel via rail or air.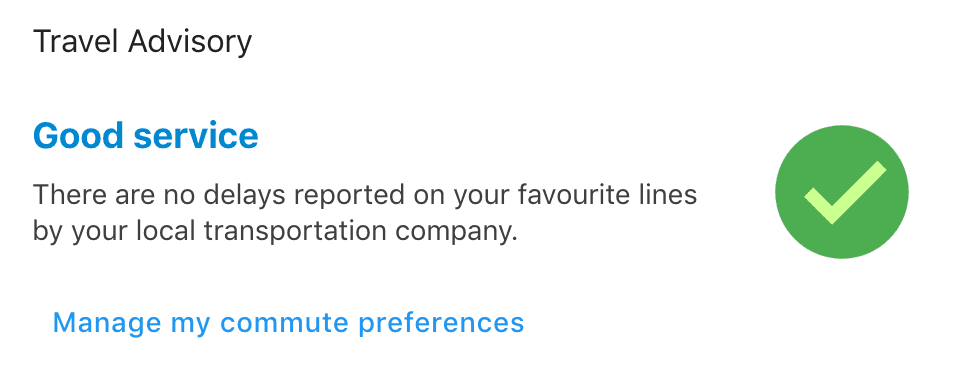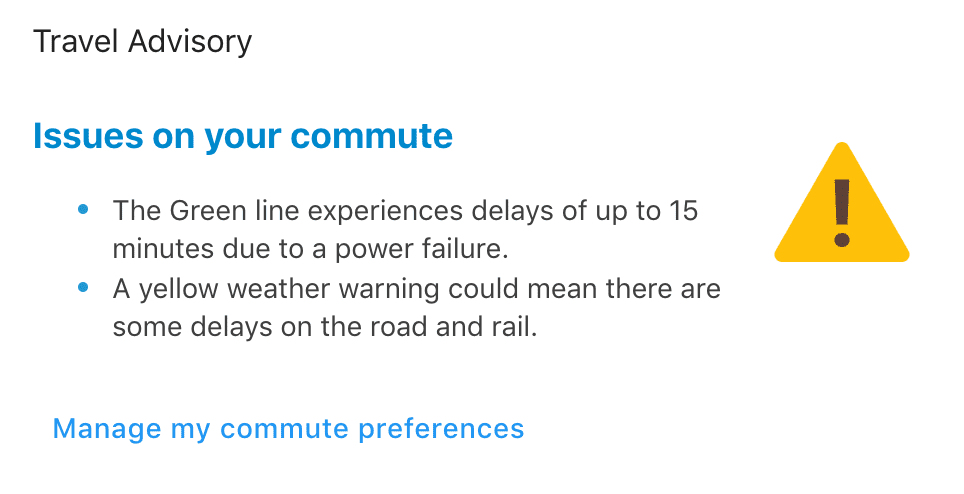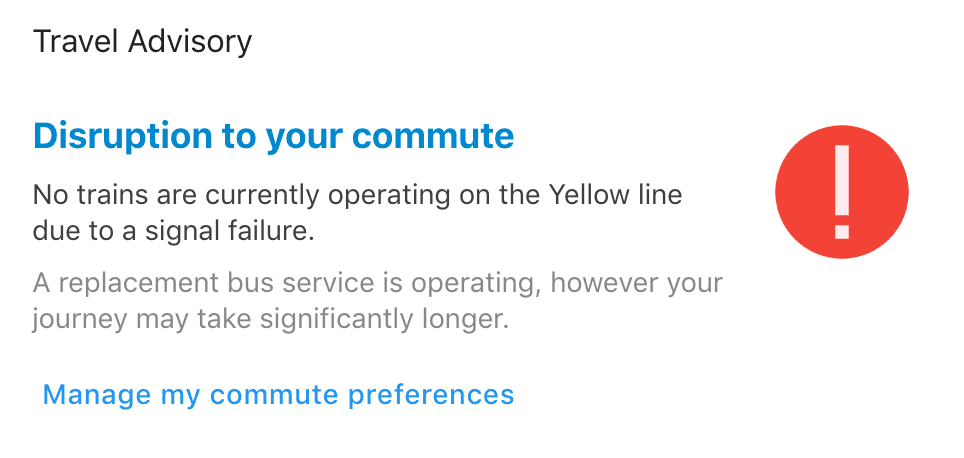 Your Commute
Whether you drive, cycle or take public transport, the Your Commute Card shows you up-to-date information tailored to you and your commute every day, so you can stay informed about potential travel disruptions and explore alternative routes if necessary.