Intranet Workflows and Process Automation
Complex, multi-level workflows for daily or highly specialist processes.
Every company has documents, information, and tasks that need to be routed along a workflow path for approval or further action.
No more paperwork.
An integrated enterprise workflow helps in joining up people and applications across an organization. This encourages collaborative working, rather than 'silo' working that can impede productivity. The Workflow module in IntelliEnterprise provides built-in workflow actions to automate, review and decide about an approval; and also handles multiple participants and diverse roles and responsibilities.
A powerful solution
Process automation in IntelliEnterprise helps you to decrease process cycle time and to make service delivery quick and consistent across departments. We paid maximum attention to error reduction while designing our Workflow builder. Therefore you can safely design processes yourself, and hence save time and cost of administration and support services. Our goal is to reduce work delays due to multiple decision points waiting for approval by providing automation for routine or repetitive tasks.
IntelliEnterprise proactively handles links within business processes, i.e. tasks to tasks, tasks to people and tasks to applications; so cycle time and efficiency can be greatly improved.
Graphical Workflow Designer
Graphical environment that allows non-technical business users to automate a process. Just drag-and-drop the different nodes into the wireframe, configure them and connect them all up. Perfect for simple processes like PTO requests but versatile enough for the most complex processes, e.g. due diligence, board decisions, etc.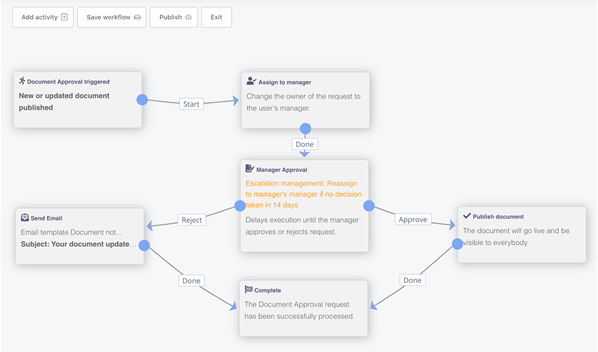 Webform workflows
The manual processing of any paper form can be automated with a form workflow by replacing the paper form with an interactive web form. The workflow engine automates the routing of the electronic form through out the organization.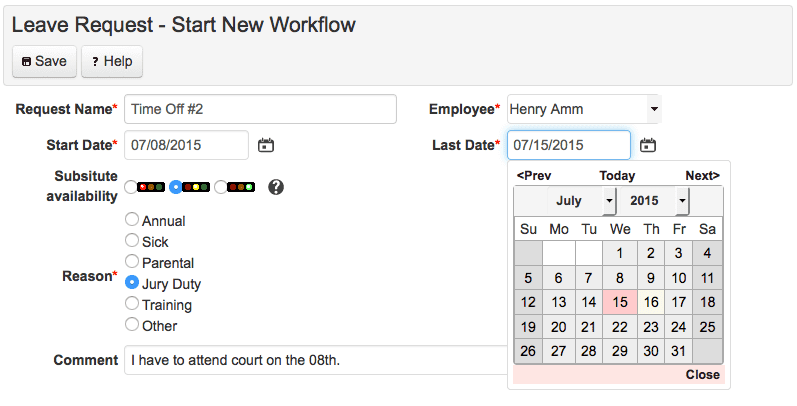 PDF workflows
You can create PDF forms that support the adenin Workflow engine by mapping fields inside the PDF with the database. Even users of the free Adobe Reader can then submit PDF forms to the Intranet and their data will be stored seperately from the PDF. A manager than can open the same PDF document and the stored data will be added to the file again so s/he can see it.