Intranet Apps and Workflows
Collect and process data that is collected in or outside the Intranet and visualize data as dashboards.
---
Built-in Intranet Applications
Best-practice applications build a solid foundation to create operational excellence across your organization.
IntelliEnterprise includes a best-practices application for nearly every type of business, from simple databases over industry-specific applications, like a CRM solution, to fully customizable solutions.
Customers can choose from our extensive application repository providing all the ready-to-run components required for an enterprise-class intranet, including: help desk, dashboards, reservation system, recruiting requisition, job candidate tracker, contract manager, CRM, change management, facility maintenance request, asset manager, and project management.
Customer Relationship Management - CRM
Complete, customizable CRM solution including: marketing campaigns, leads, accounts, contacts, opportunities, contracts, projects, tasks, help desk and management dashboards.
View live
Helpdesk
This application lets your team create, assign and manage help desk tickets. You can use the helpdesk either interally, or even create web forms that can be placed on public websites.
View live
Recruiting Manager
This application gives you a central place to track all recruiting requisitions and open jobs. You can track each job applicant, and search through their complete resume.
View live
Reservation System
The reservation system allows users to book shared resources like meeting rooms, projectors, laptops or even company cars. On the overview page users can quickly check the availability of resources they are allowed to reserve. They tick all the needed resources and make the reservation in a timeframe of their choice.
Each reservation allows additional requests, such as coffee and tea or wi-fi access for a conference. Optionally a workflow can run the reservation by a manager for approval.
View live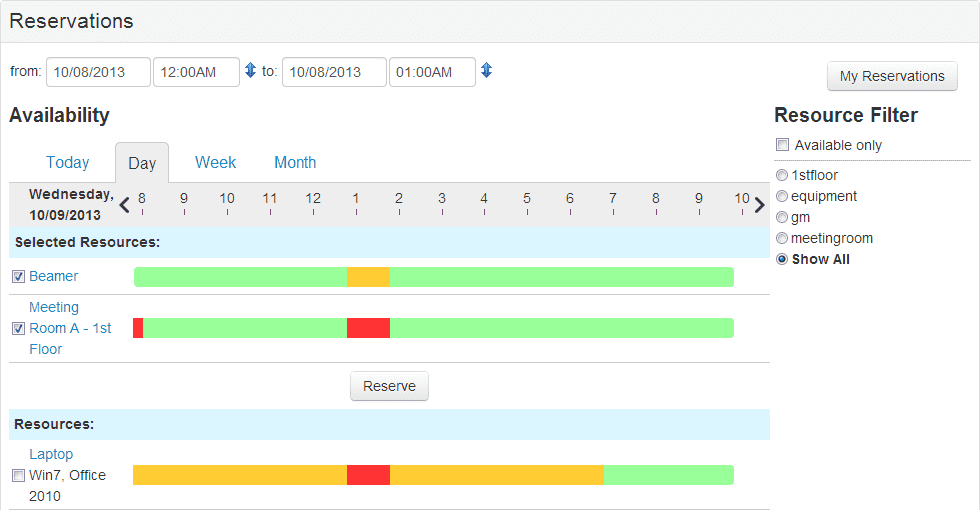 Marketing Campaign Planner
Plan and schedule marketing campaigns, and track results in one central location. Easily keep track of expenditures, approve new campaigns and see upcoming events in a database calendar view.
View live
Leave / Paid Time Off Requests
Request and track your personal paid time off. The workflow engine can be used to ask managers to approve PTO requests from their team members.
View live
Asset Tracking
Helps with the management of a company's assets by tracking asset number, vendor, value, and location.
View live
Custom Intranet Applications
Configure, don't code, your own applications so they fully match your requirements.
The integrated Application Builder is a point-and-click tool for customizing intranet applications. You can start with one of the templates and customize it or create an entirely new application in minutes, without writing any code.
With the help of our declarative wizard that steps you through the process and helps to define what you want the application to do, business experts can quickly create their own business-specific applications. Again, without a single line of code.
Application Designer
The Application Designer is an easy-to-use, browser-based tool for building new applications. You can also use the Application Designer to customize any application template. The wizard-driven interface makes it easy to add or remove fields, change field defaults, add or create filter views, and import or export data.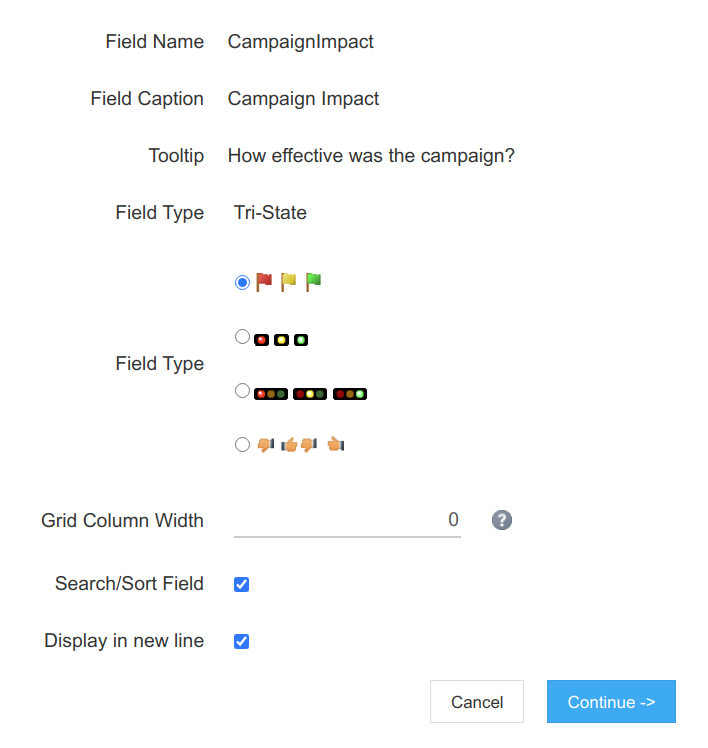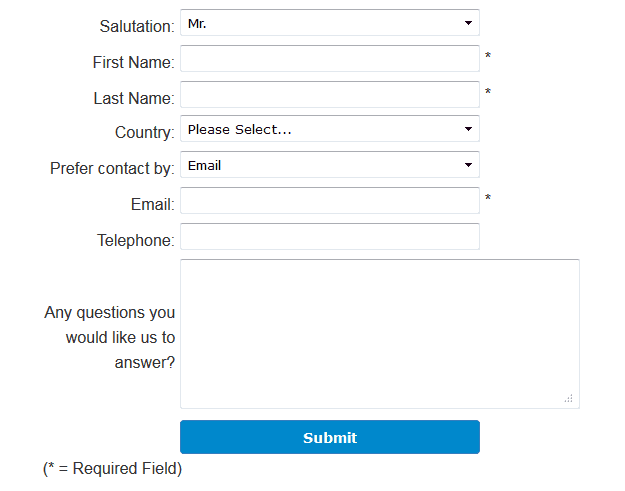 Public forms for websites
With IntelliEnterprise you can create ASP.net webpages providing a Webform which can be pasted on to your website, e.g. to allow visitors to sign up for a service. The form is dynamically generated with a Wizard interface and does not require HTML skills.
Once a user submits the form the data will be send to the Intranet and saved as a new record to the application it is linked to, starting virtually the same workflow.
Webmail Client
The Webmail client has a familiar user interface and offers everything necessary for using email inside applications, e.g. unlimited attachments, HTML and Rich text formatting, advanced message headers, Spam-filtering, personal signatures, access to POP, IMAP and SMTP mail servers.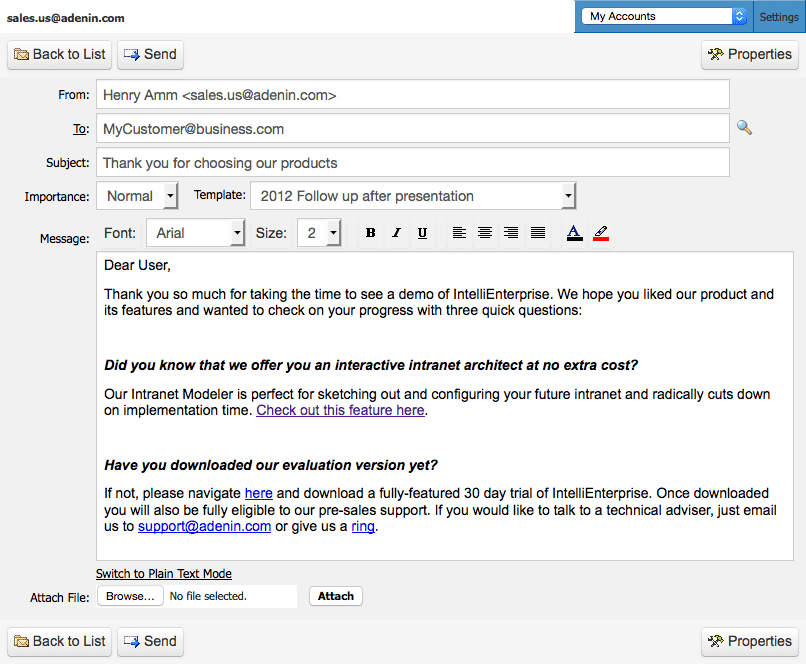 Sync with other databases
You can either pull or sync your data from any Oracle, SQL Server or ODBC-enabled database. This makes the Intranet a great central interface to unite input interfaces from different pieces of software used throughout your organization.
HTML5 Dashboards
IntelliEnterprise provides real-time dashboards to visualize key metrics to users. Business dashboards translate information from your various corporate systems and data into visually appealing presentations.
Providing real-time metrics and performance indicators – like number of new customers, new order volume, server performance, number of calls, number of new tickets – increases the intranet utilization by keeping users informed at a glance.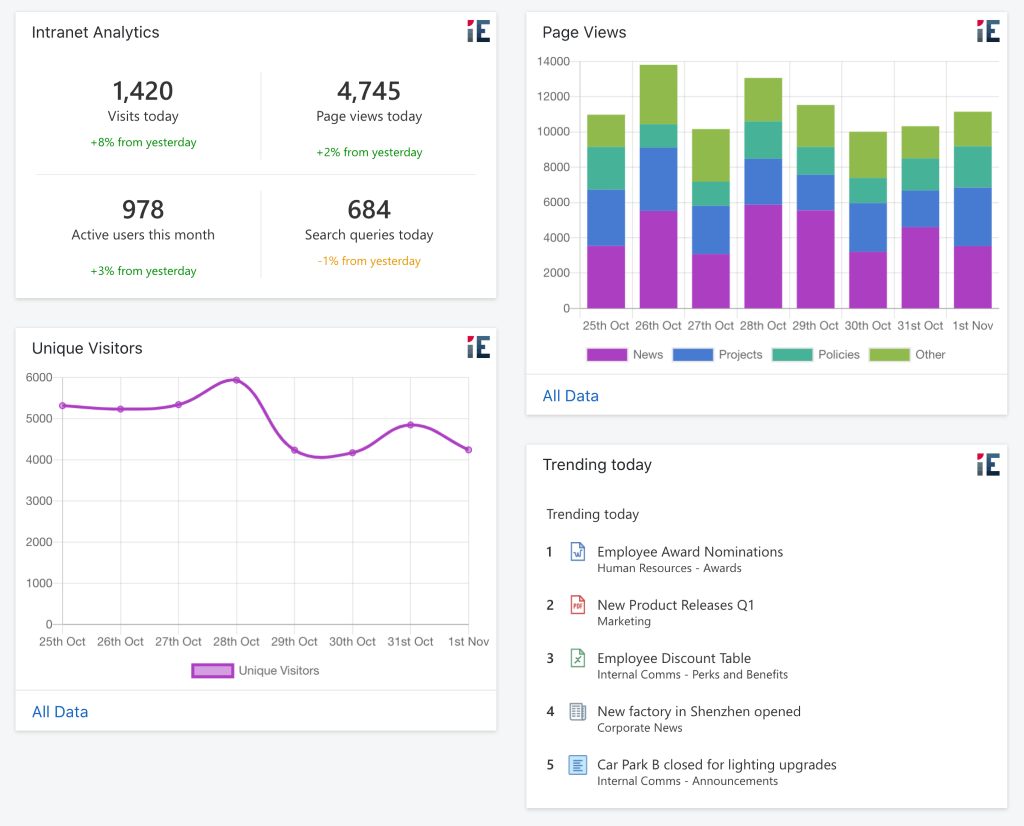 Intranet Workflows and Process Automation
Complex, multi-level workflows for daily or highly specialist processes.
Every company has documents, information, and tasks that need to be routed along a workflow path for approval or further action.
No more paperwork.
An integrated enterprise workflow helps in joining up people and applications across an organization. This encourages collaborative working, rather than 'silo' working that can impede productivity. The Workflow module in IntelliEnterprise provides built-in workflow actions to automate, review and decide about an approval; and also handles multiple participants and diverse roles and responsibilities.
A powerful solution
Process automation in IntelliEnterprise helps you to decrease process cycle time and to make service delivery quick and consistent across departments. We paid maximum attention to error reduction while designing our Workflow builder. Therefore you can safely design processes yourself, and hence save time and cost of administration and support services. Our goal is to reduce work delays due to multiple decision points waiting for approval by providing automation for routine or repetitive tasks.
IntelliEnterprise proactively handles links within business processes, i.e. tasks to tasks, tasks to people and tasks to applications; so cycle time and efficiency can be greatly improved.
Graphical Workflow Designer
Graphical environment that allows non-technical business users to automate a process. Just drag-and-drop the different nodes into the wireframe, configure them and connect them all up. Perfect for simple processes like PTO requests but versatile enough for the most complex processes, e.g. due diligence, board decisions, etc.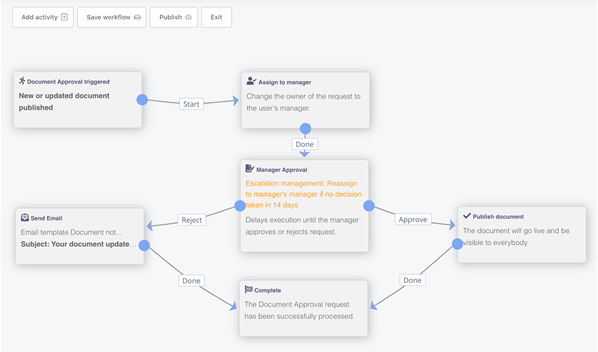 Webform workflows
The manual processing of any paper form can be automated with a form workflow by replacing the paper form with an interactive web form. The workflow engine automates the routing of the electronic form through out the organization.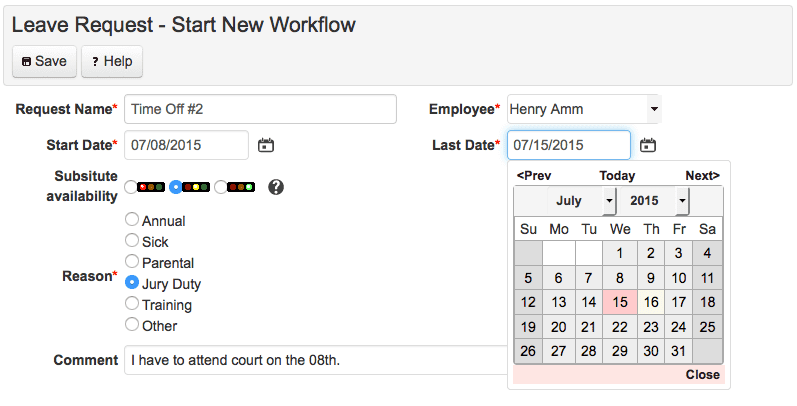 PDF workflows
You can create PDF forms that support the adenin Workflow engine by mapping fields inside the PDF with the database. Even users of the free Adobe Reader can then submit PDF forms to the Intranet and their data will be stored seperately from the PDF. A manager than can open the same PDF document and the stored data will be added to the file again so s/he can see it.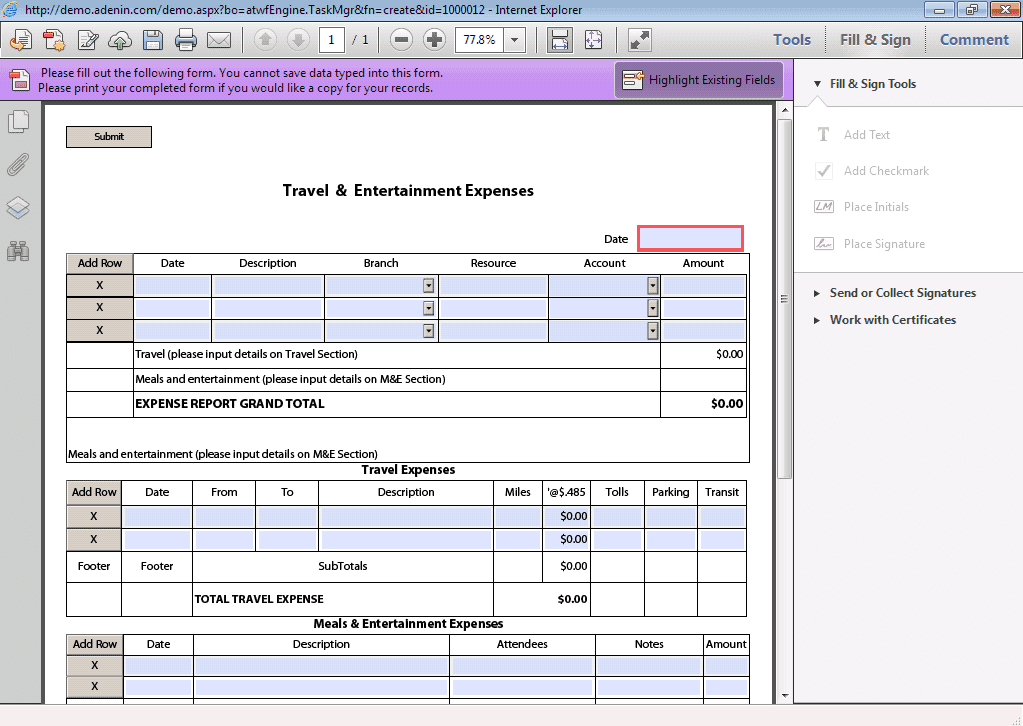 Document Approval Workflows
Document Approval workflows are part of the Content Management. This allows managers to electronically sign off new or updated topics, before they become visible on the live site.