People and Collaboration
Spark new connections, surface knowledge and keep everyone in the loop.
Create a custom Intranet Social Network with just the right tools for your tasks
IntelliEnterprise increases employee productivity by making it easy for users to find the information they need.
This is accomplished through contextual linking of related information and creating meaningful links, such as between related policies.
Employee Directory
Employees have instant access to other employee contact information so they can connect with each other. The directory can locate employees by skill, position and location to help when employees don't know the name of the person they need to reach.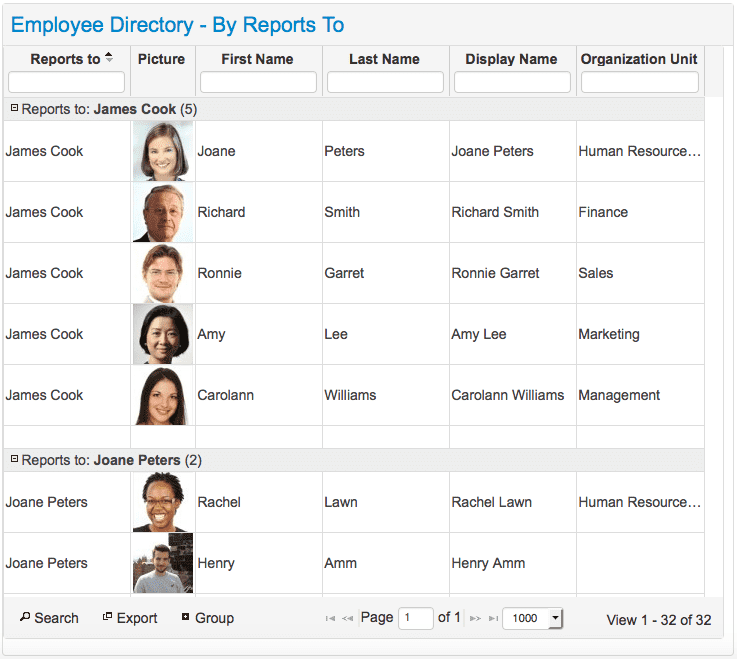 View live
People Finder
Find people and contact information by name, location or department. This is especially useful for finding an expert in a different branch/location.

Org Chart
Employees can get a visual picture of the company's workforce structure. The Organization Chart is automatically updated based on information from the Directory.
View live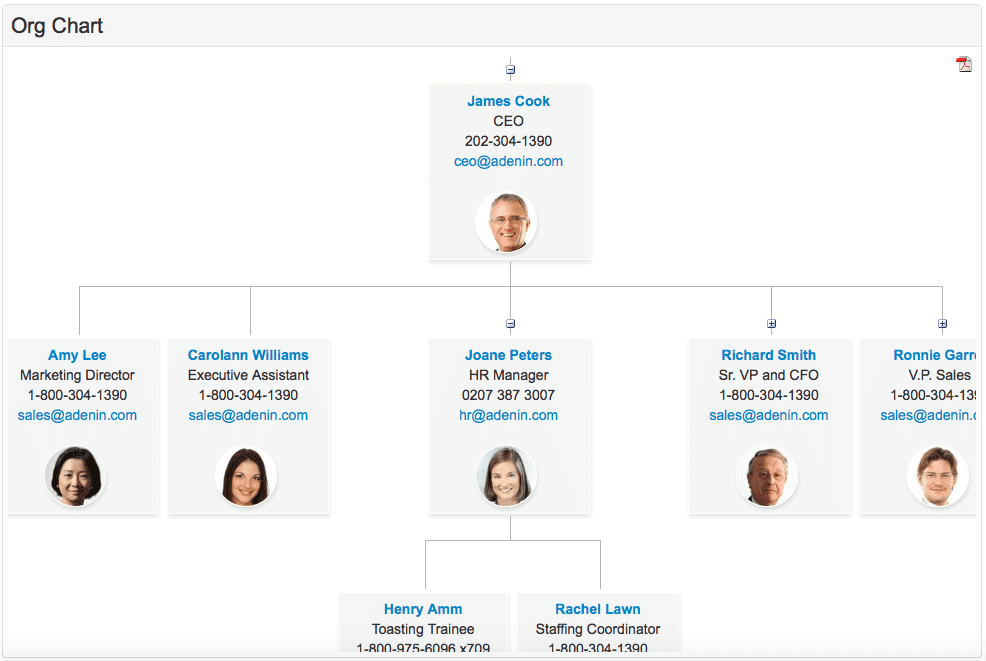 Birthdays
See a list of employees with recent or upcoming birthdays and anniversaries.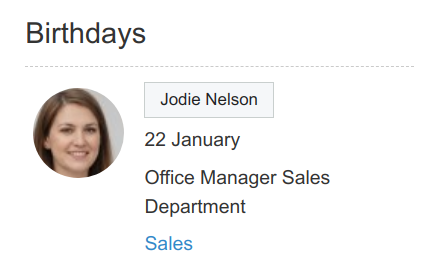 Awards
Employee Awards let users receive recognition and share their achievements on their profile page. A list of award winners can be included on the corporate home page.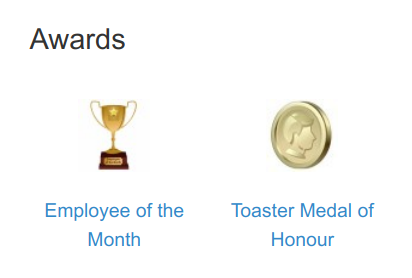 New Hires
See a list of new and soon-to-join employees, along with their start date.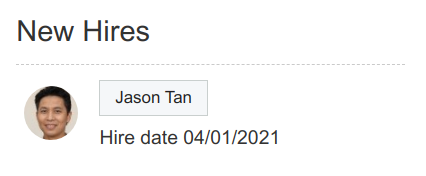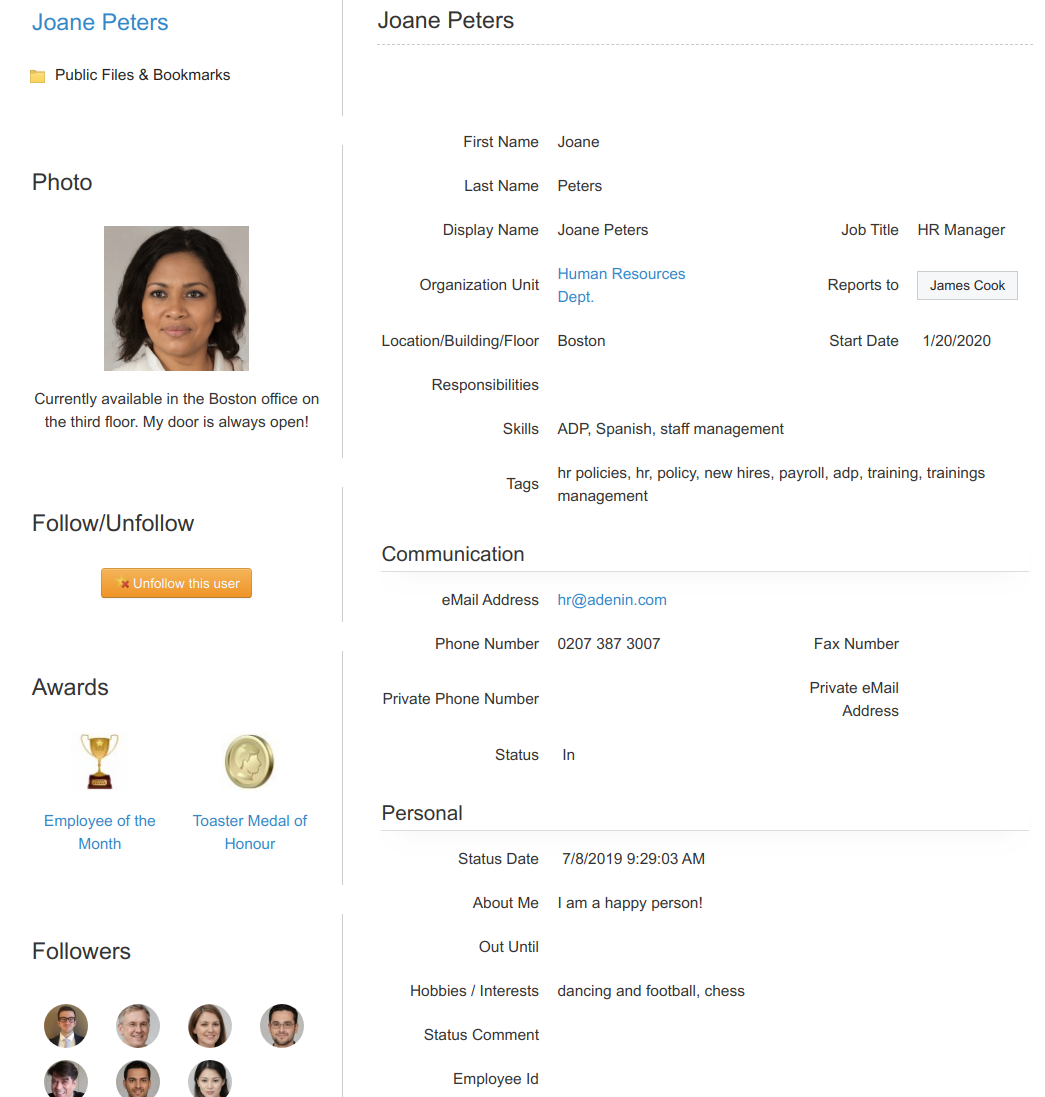 Profile Pages
As the cornerstone of a Social Intranet, individual profile pages display public information about an employee. Profiles show a photo, personal interests, organizational details, education history, and communities and networks joined. A profile also comes with a personal tag cloud based on the employee's knowledge and work activity to help others find topic experts.
The following features can optionally also be shown on profile pages:
Public Timeline and Instant Messaging
Following / Followers
Organizational Network
Status Messages and Status Stream
Public files and bookmarks
Private files (Corporate Dropbox)
My Yammer Feed
Yammer users can see either their own or a specific feed with the dedicated Yammer portlet. The feed shows all posts in order and lets users react and comment inline, as well as open the entire conversation in a new tab. You can even post updates to Yammer and select the group or people you want to send it to.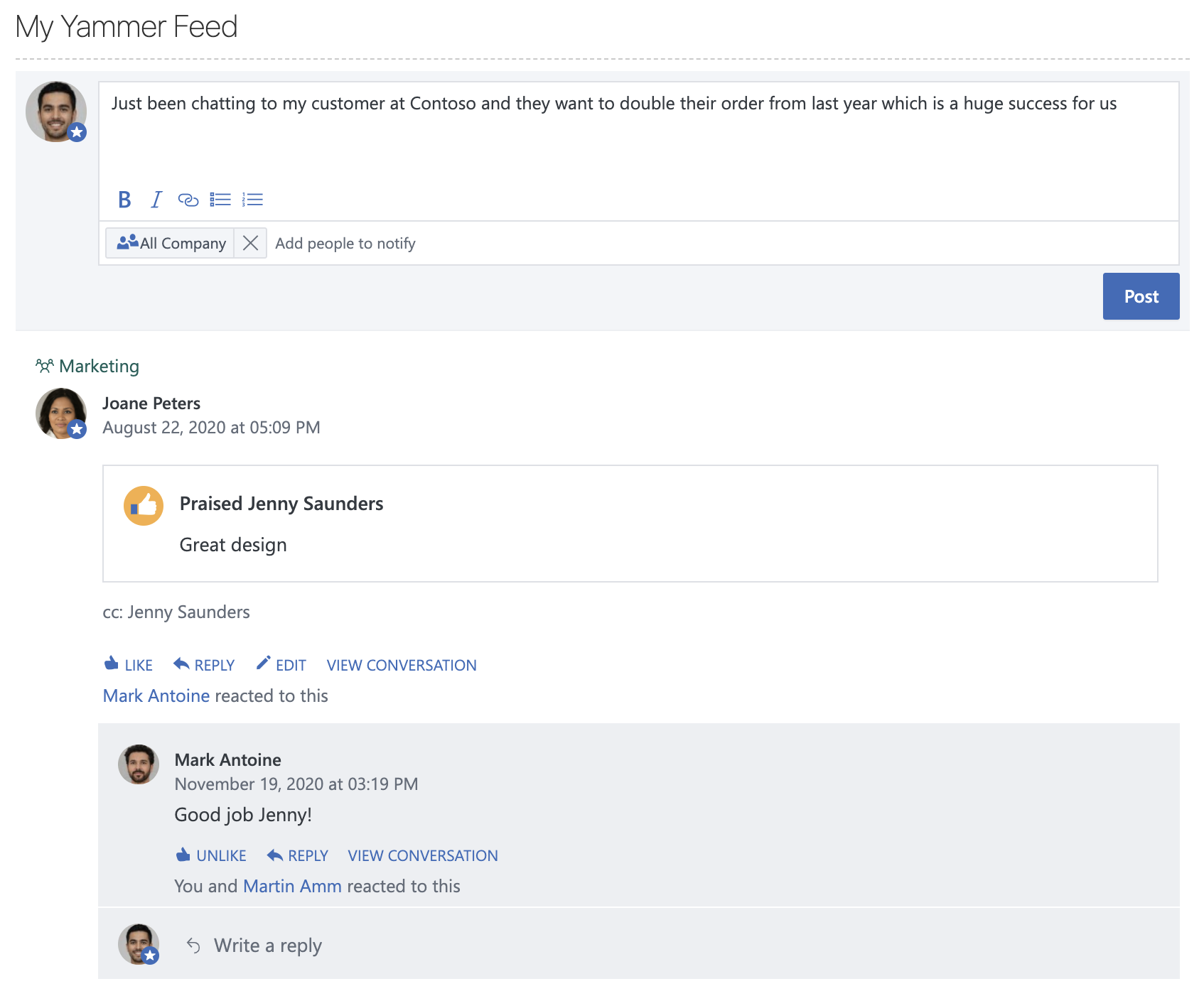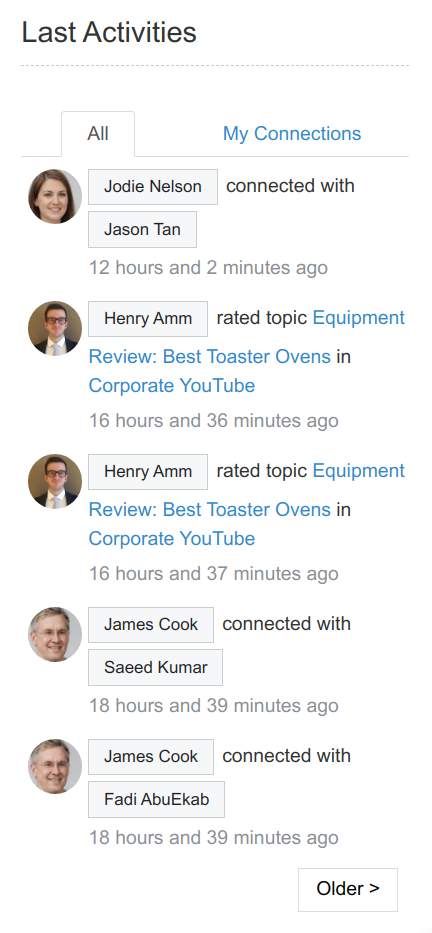 Activity Stream
The Activity stream shows recent employees' status messages and information about their current work, such as topics published, topics rated, tags added, communities created or communities joined.
The portlet provides a filter to show either all updates or only ones from colleagues the user is connected with, thus making the Social Intranet experience more personalized.
Blogs
Blogs allow you to share stories from a certain department or by a group of individuals around a broad topic, e.g. to promote events, share personal views about products, provide project updates, etc. Readers can leave comments to lend insight, ask questions and more.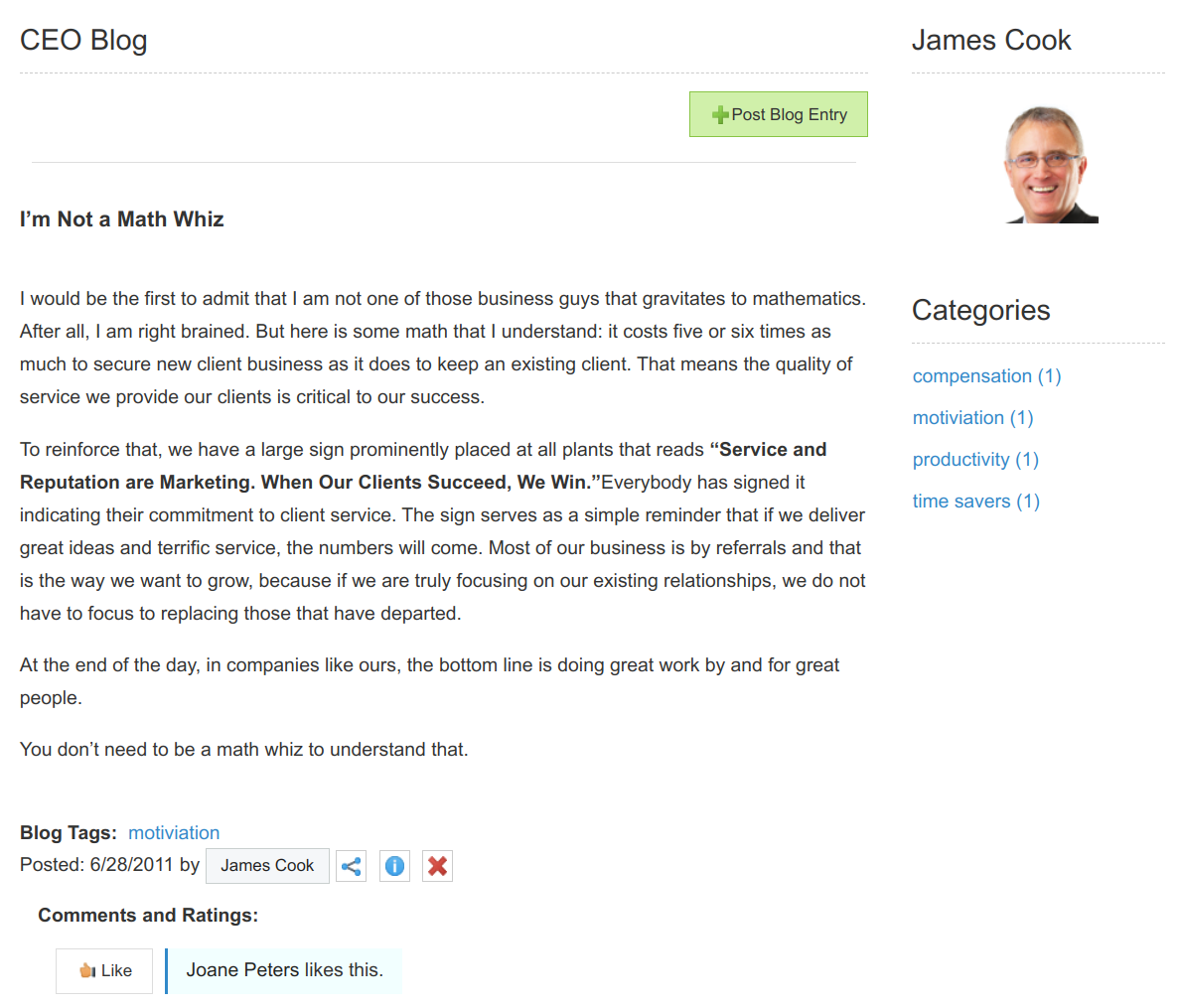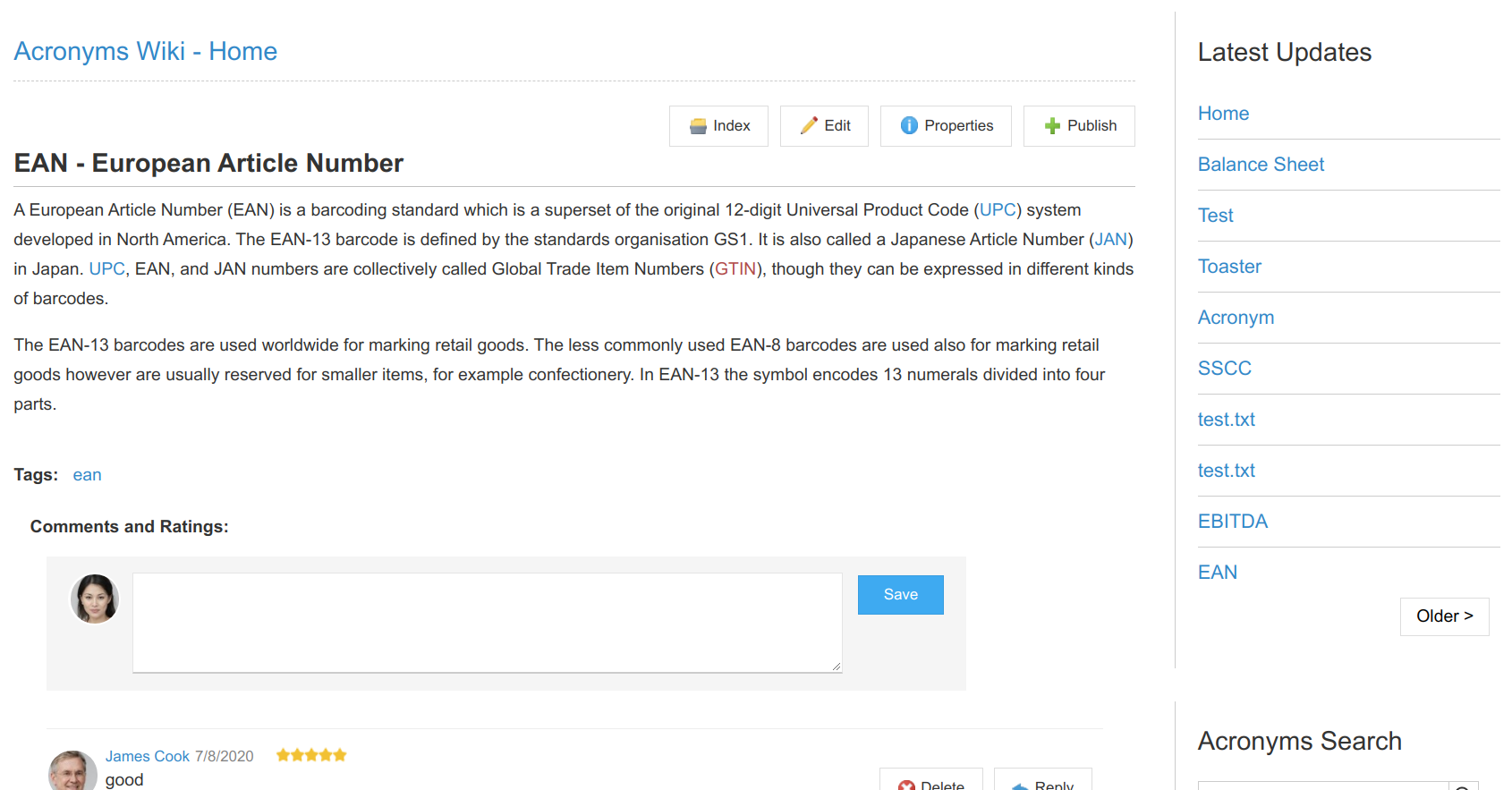 Wikis
Just like Wikipedia, with a Wiki you can organically build up a cluster of information around a general theme with a flatter hierarchy than a traditional folder-based approach. This can help increase employee productivity by offering more explorative discovery of a topic.
Employees use Wikis to create glossaries or build up a knowledge base over time. Linking between articles is achieved through placing a keyword inside double brackets, e.g. [[Area management]]. If the linked term does not exist as a page yet, it will show in red and users can directly create the new article from that link.
Knowledge Base
Knowledge Bases are collections of HTML pages, Wikis and other documents that form a library of topics that users can access through various lists and funnels that detail relevant metadata.
They are versatile repositories which increase employee productivity by offering an easy retrieval of relevant information through metadata or contextually relevant links.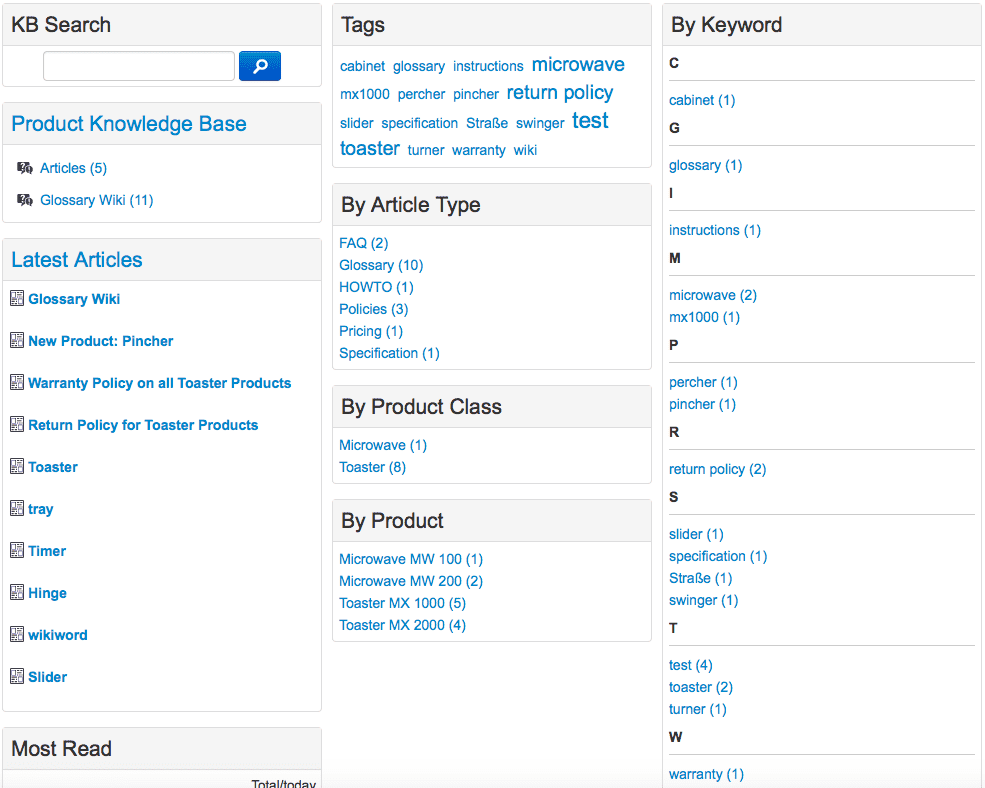 Idea Management
Users can submit and vote on other ideas or suggestions with a 'thumbs up' or 'thumbs down' button. Companies often use this as a suggestion box or to identify popular ideas.

Likes and comments
Users can like and comment on any content on the Intranet to help other users discover great content and provide feedback to the author. Comments themselves can be liked and replied to, to help foster a dialog in the organization.

Communities
Whether you want to crowdsource, manage a project or create social spaces; with communities you invite colleagues and external partners to a shared space to collaborate. This reduces the need for email chains and attachments buried in threads.
The Community Administration portlet can allow either administrators or everybody to create a new virtual collaboration space to exchange on a common subject or topic.
Communities can be public, require registration or be invitation only.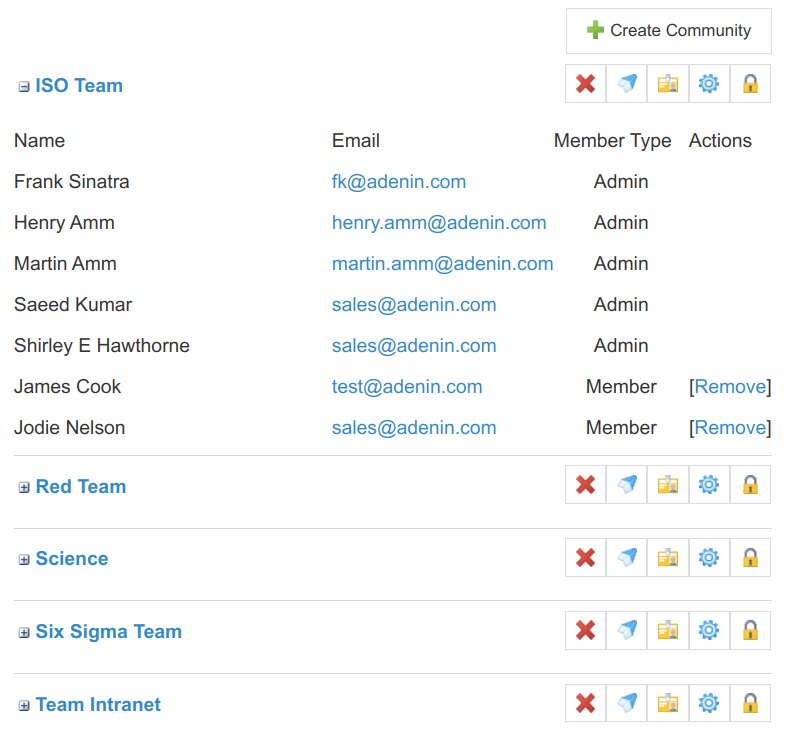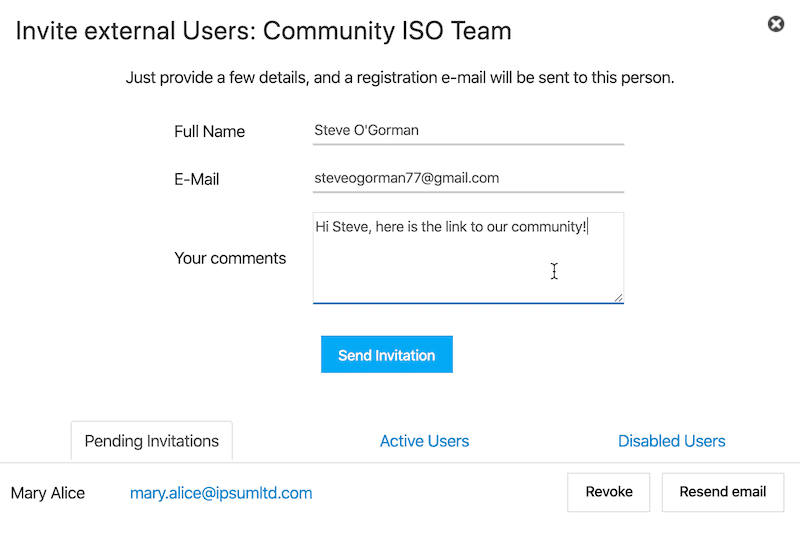 External invitations / Extranet
Even external users may be invited to access and edit content in communities, offering a convenient way to turn the Intranet into an Extranet.
This enables organizations to extend their reach beyond their company by increasing collaboration and strengthening business with partners, suppliers, vendors, customers and other. An admin can invite external users and revoke their access if needed.
Organizational Network
This portlet shows the reporting relationships of the user. The portlet shows people reporting to the profile owner ("Direct Reports") as well as the people he or she reports to ("Report-to chain").
Status Messages
This feature allows users to post their own status messages. They will be published on the user's profile page, together with other information about his or her current activities. Activities could be publishing, updating or rating any type of content or creating, joining or leaving a community.
Follow connections
In a Social Intranet, employees can connect with others and follow their status updates. The Followers / Following portlet shows a list or thumbnail grid of people the profile owner has a connection with and allows users to start following their connections
Team & Role Members
Get a list of all members who hold a particular role, making it easy to find subject matter experts (e.g. the person responsible for the content of a category/site, or the members of a project team).
Discover all IntelliEnterprise Intranet features