Digital Workplace
Collaborate, work better together and engage your workforce
As an out-of the-box intranet system, IntelliEnterprise includes authentication, security settings, permissions management,
scalability, integrations to backend systems and proven portal technologies, like personalization and multilingual interfaces
that any sophisticated intranet needs in place.
My Home
My Home is the user's personal home page where they can access all of the personalized information, applications and services. For example, this could show due workflow tasks, personal bookmarks, upcoming appointments and emails from Outlook.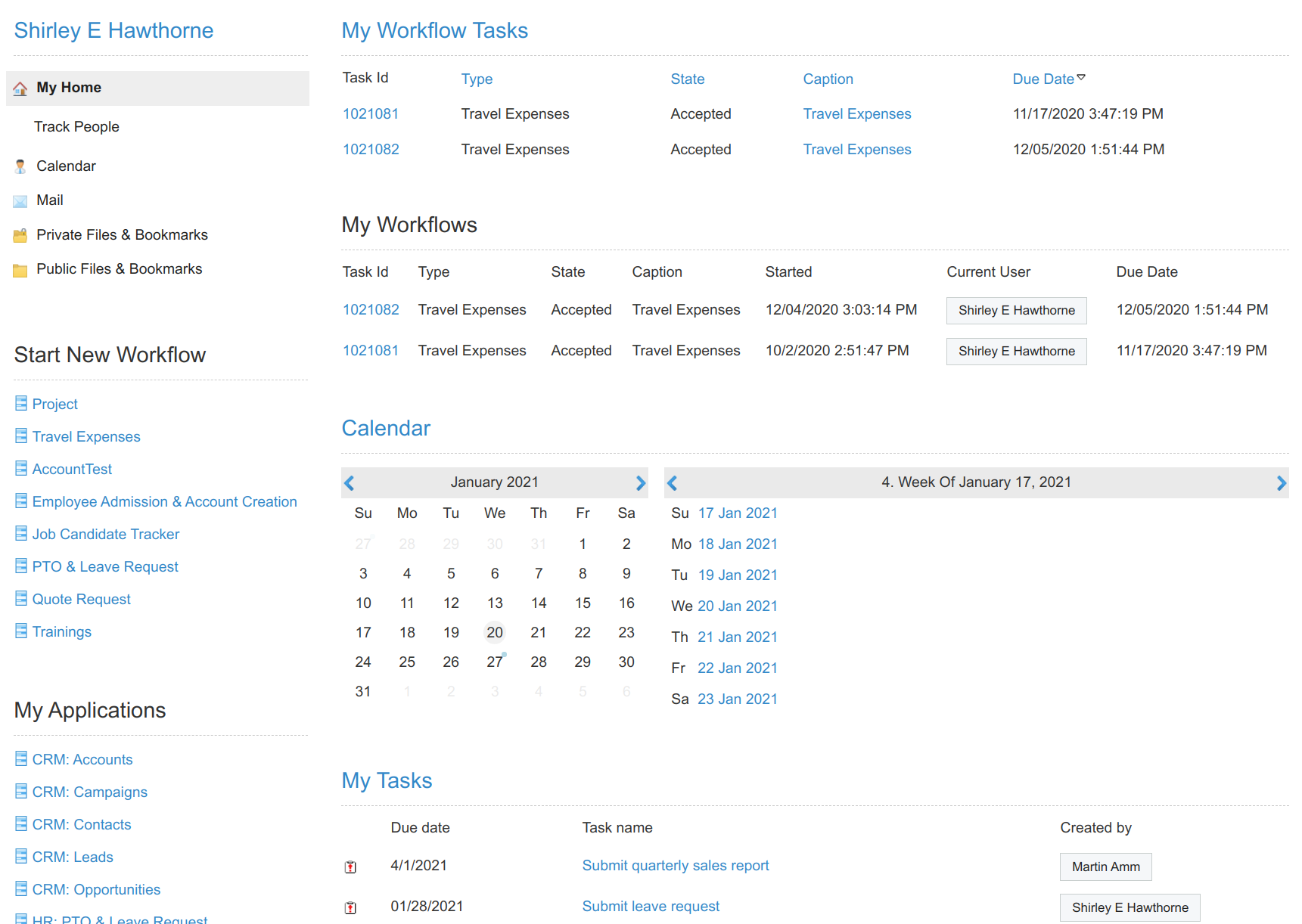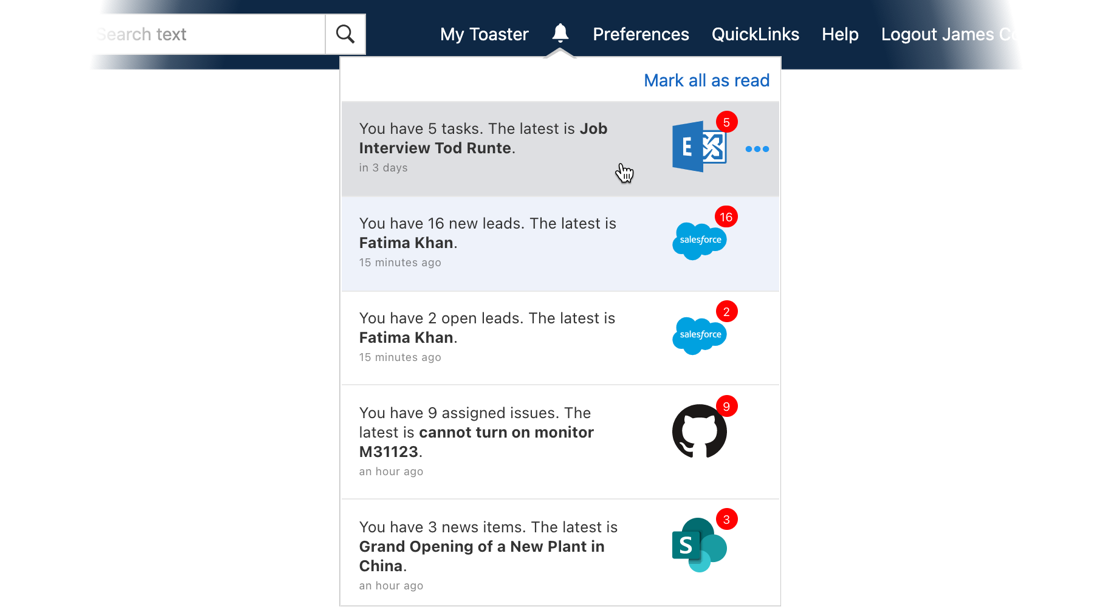 Notifications from external apps
You can integrate updates from dozens of SaaS apps neatly into the Notifications dropdown where users will be instantly made aware whenever a new lead came in, a server has gone down or a new ticket has been opened.
Clicking on a notification will open a detailed view of the notification in a modal.
Requires the Digital Assistant bundle
Embed Cards and Boards
You can display Cards or entire Boards from Digital Assistant anywhere in IntelliEnterprise. The Cards can be connected to dozens of SaaS applications which allows you to easily roll in external content from ERP, CRM, Helpdesk, Cloud storage, as well as dozens of other SaaS services.
Requires the Digital Assistant bundle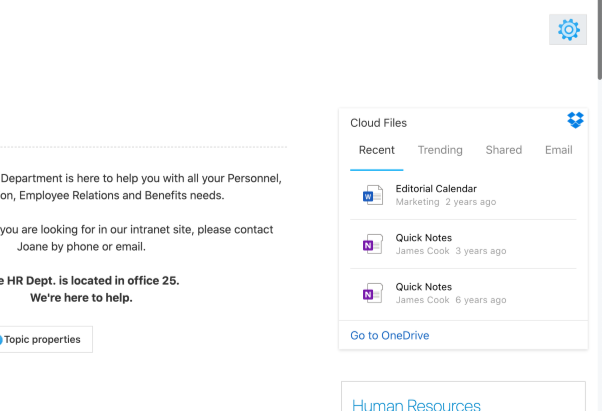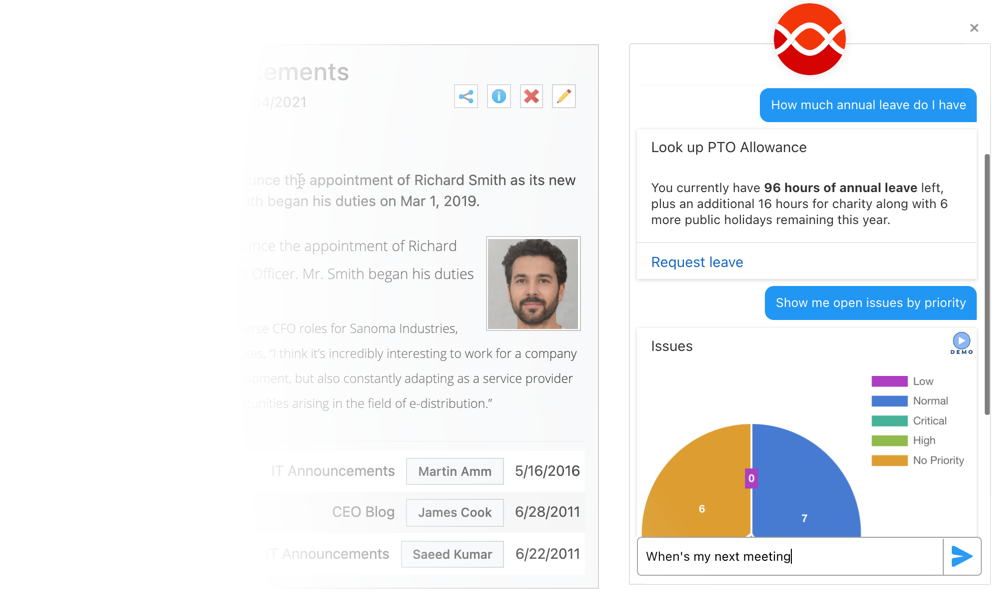 AI Assistant Chatbot
When users have a question like 'How much PTO do I have left?' or 'Do I have any open tickets?' then they can just ask their Chatbot agent that's conveniently accessible from the popup button on their screen.
The Natural Language Processing of the chatbot allows users to type a full sentence into the bot which will even make suggestions as you type to help you get to your answers even quicker.
Requires the Digital Assistant bundle
Integrations with workplace chat tools
With the increasing proliferation of workplace chats like Slack, smart home assistant like Alexa and companies shuffling often more than one Intranet, there is an increasing for successful Intranets to naturally be where users are, not be yet another tool they have to scan for information on a daily basis.
Through Digital Assistant you can embed Intranet information into other chat platforms, websites and devices, so users may ask their Intranet a question wherever they just happen to be in the moment.
Requires the Digital Assistant bundle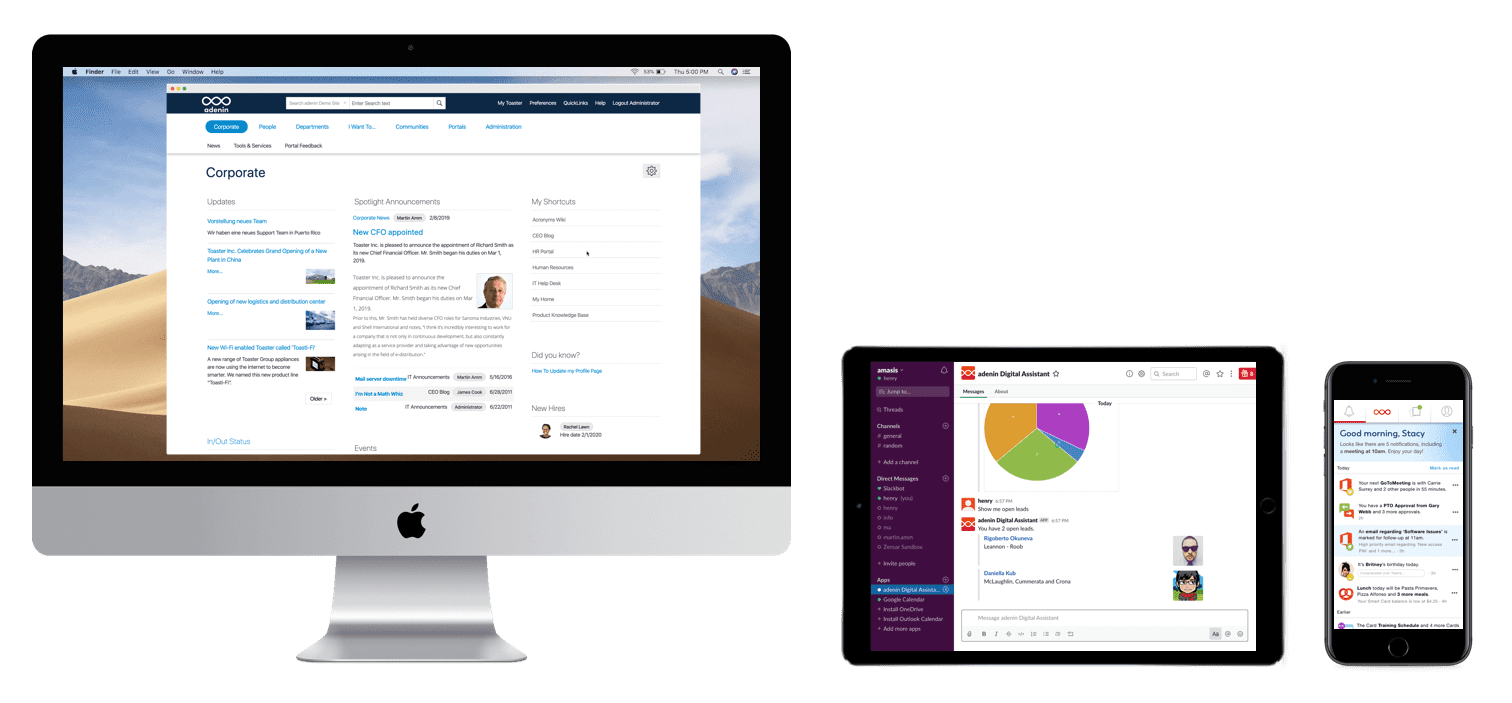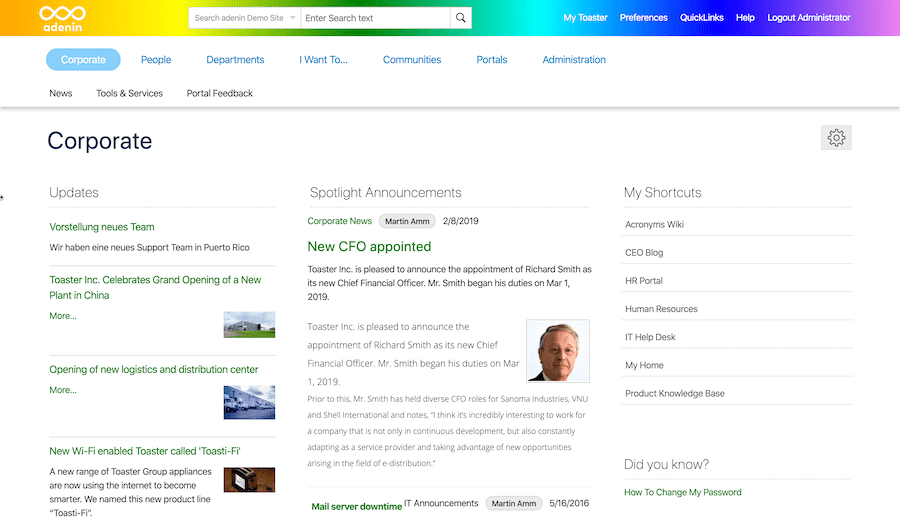 Custom styles
Choose from a range of pre-built styles that change the look and feel of the intranet. Styles are based on CSS so can be freely adjusted with the help of a web designer.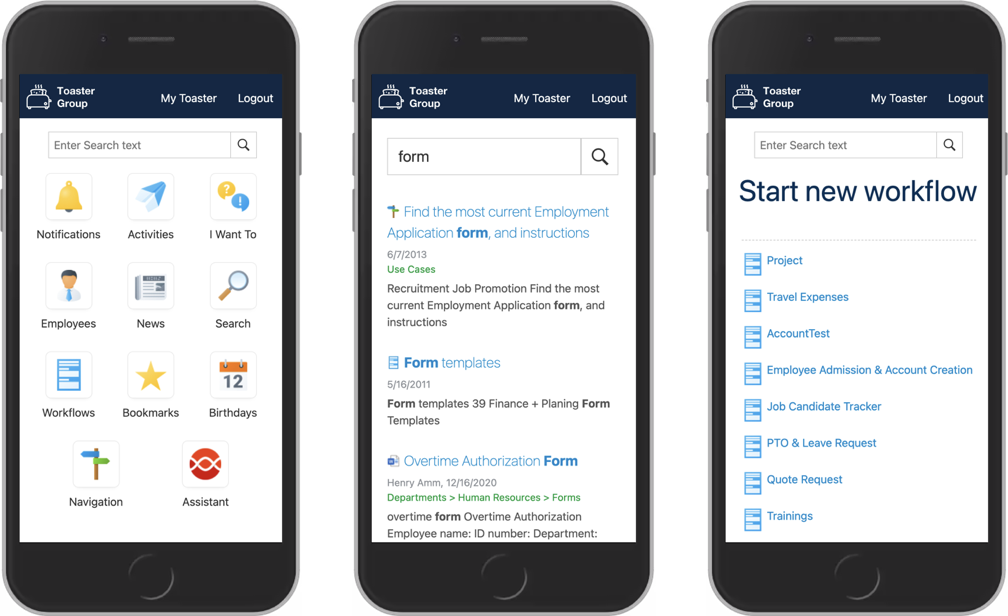 Mobile Layouts
When a user opens the Intranet from his smartphone, IntelliEnterprise will automatically rearrange Portlets into a single or multi-column layout. You can select a different layout per user agent, which allows you to show a single column layout for all smartphones and a double-column one on tablet devices.
Mobile intranet users can be directed to a specific landing page where they have easy access to portlets and links that are typically accessed while on the go.
IFrames
Display external web site, document or multimedia within the company's web page.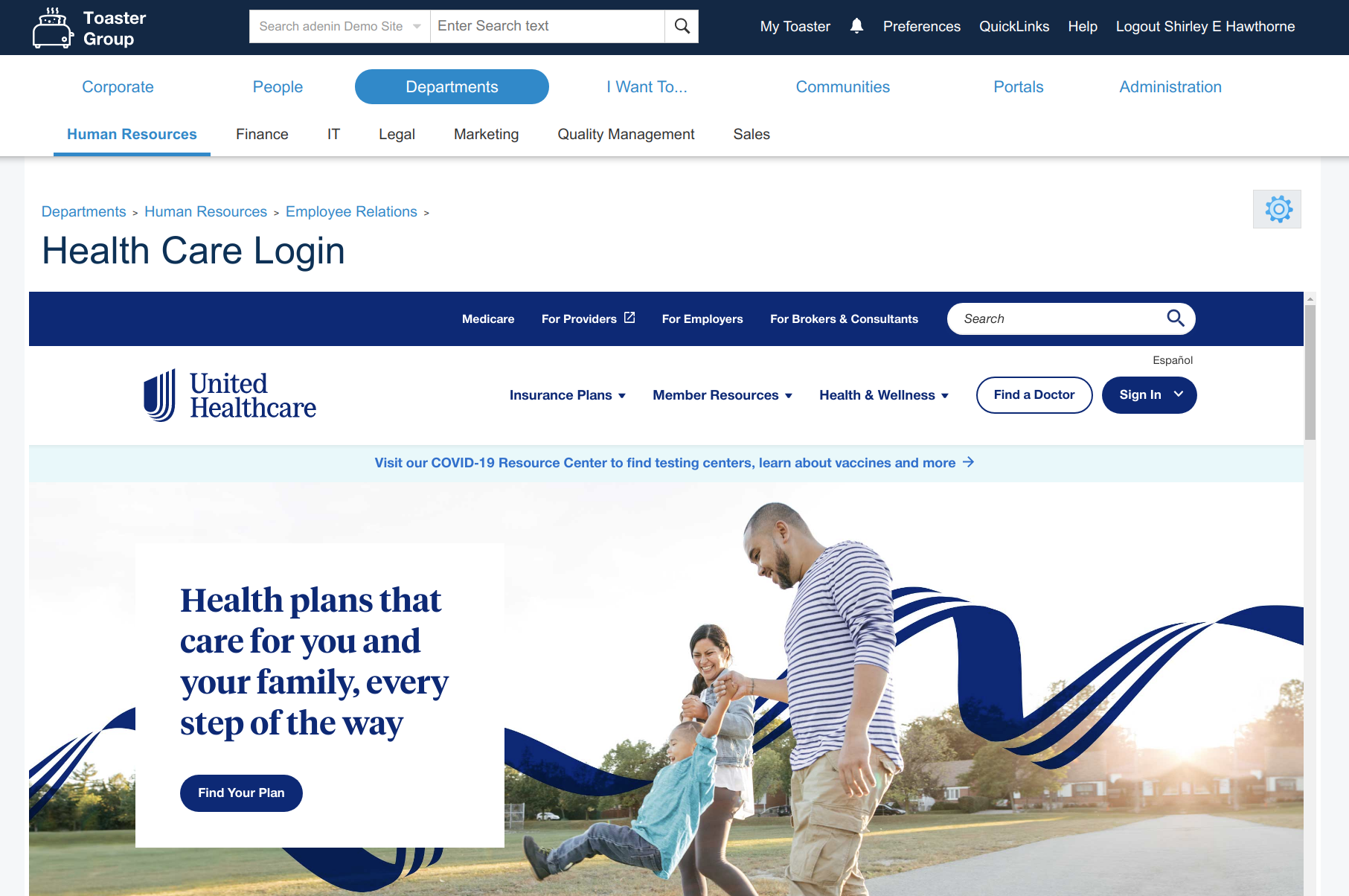 RSS Feeds
Imports selected, relevant and updated external news feeds into any portal page. It uses AJAX to load the RSS data in real time.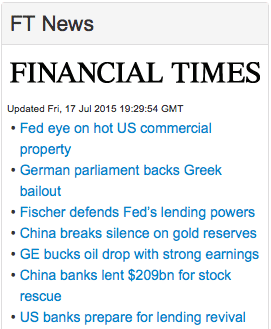 Quick Links
Shows the user their favorites, role-based shortcuts, use cases and complete Intranet sitemap in just one convenient dropdown.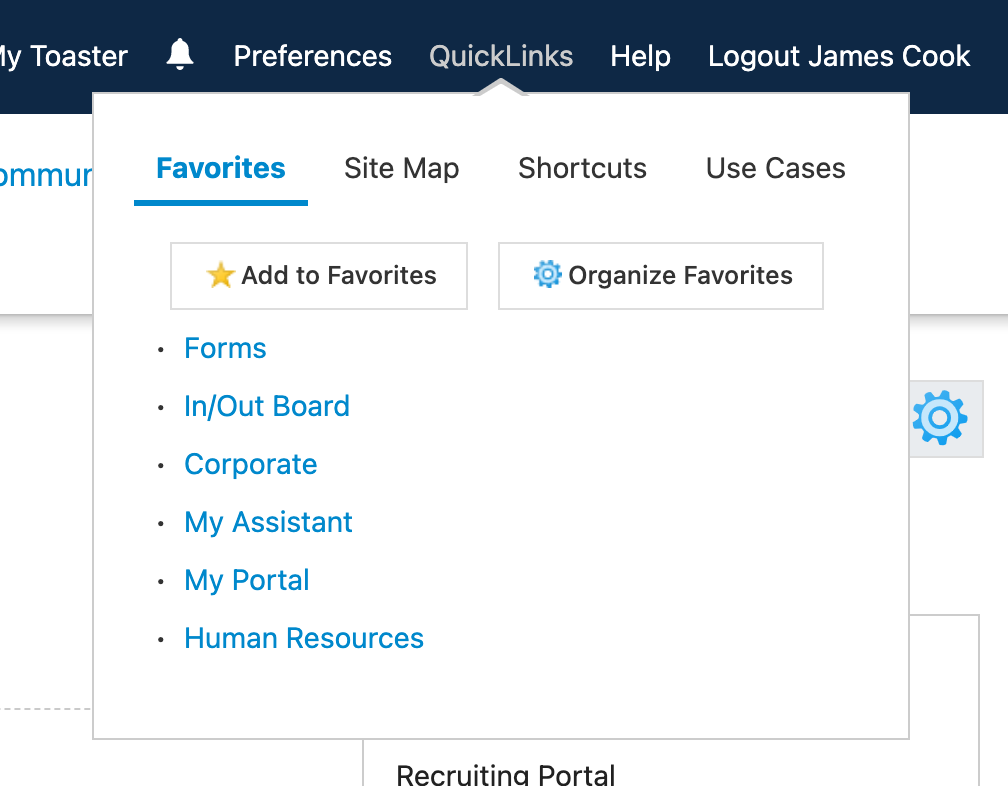 Web and Filesystem Spider
Automatically checks web sites for updates, for example to keep track of market prices, or can be used to automatically copy or move files from a filesystem to the Intranet.
Role-based security
Granular role-based security rules control the access permissions for all objects including categories, documents, portlets, applications, etc. Extensible security modelling allows for delegating partial administration rights to site administrators.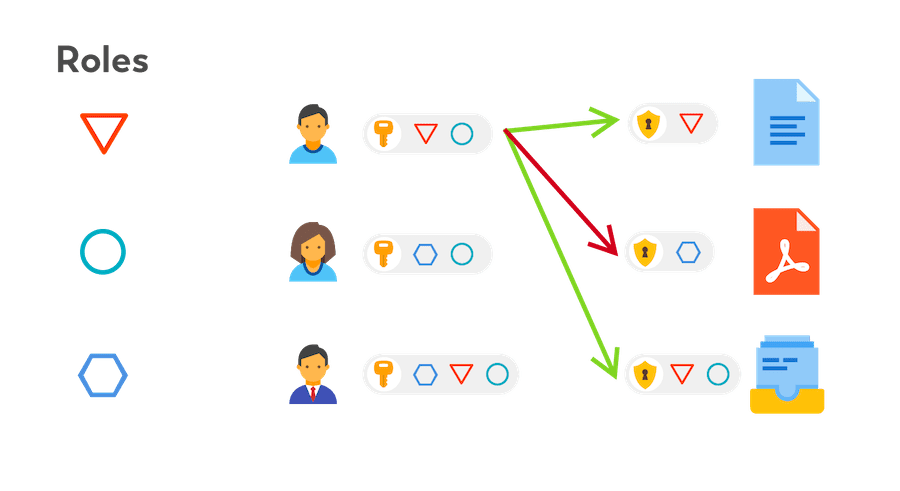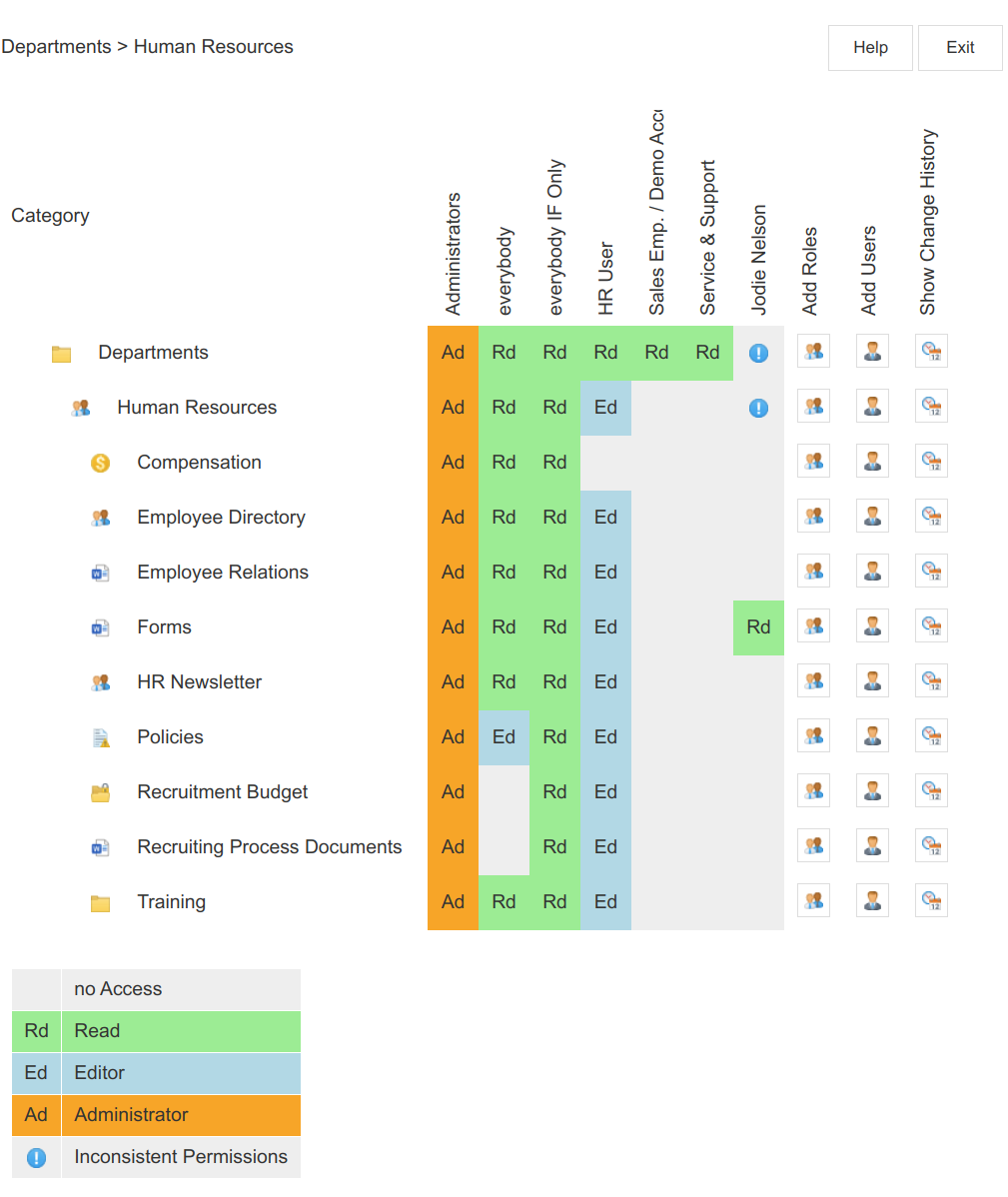 Permissions Manager
The Permissions Manager allows administrators to quickly see and edit a categories' permission structure. It shows the site map as well as the roles and users that have access to the category in a grid view and color codes their respective level of access.
Permissions can be changed and applied to an entire user role with one click. The Permissions Manager would also display a warning symbol where permissions are in conflict, making it easy to resolve any issues.
Portlets
Portlets are the containers in which any IntelliEnterprise function is displayed which make them the central building block for creating pages in IntelliEnterprise. They can be freely arranged between columns with drag-and-drop while columns themselves can be created and changed as needed.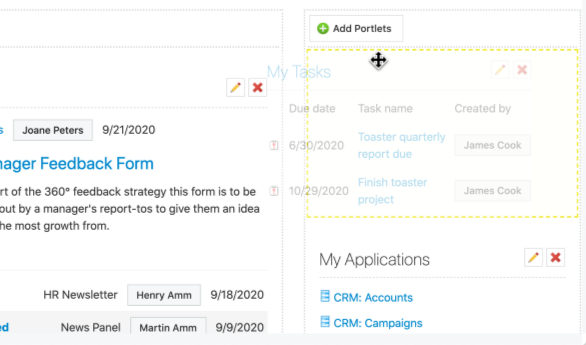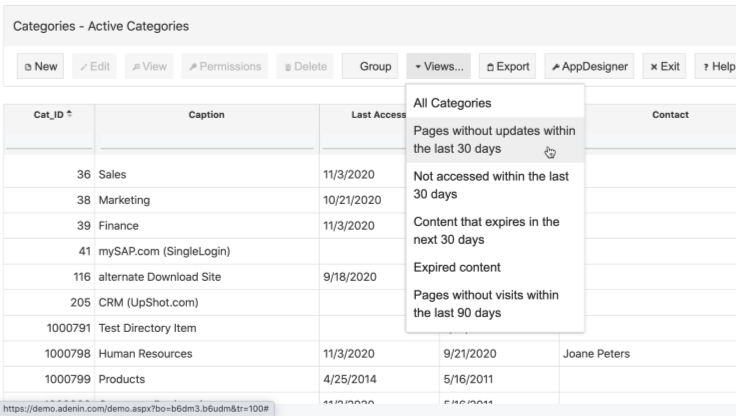 Content inventory
You can keep track of content in the Intranet to identify areas that are not frequently enough seeing visits or updates. This helps to create an effective content strategy that users start to rely on for their day-to-day tasks.
SSO Integration
You can sync users with Active Directory or LDAP for automatic user creation and Single Sign On. Groups can be remapped to correspond with Roles in the Intranet.
We also support federated authentication either through consuming external STS (Secure Token Service) like ADFS, or by acting as it's own STS. Thus IntelliEnterprise can be used as the authentication server for any other service that supports SAML Single-Sign On (SSO).
Portals
Portals are high-level pages of content and applications that provide shared information and collaboration tools for a project team, a department, a branch office, or the whole company. Administrators or Business Experts build these Portals simply by selecting Portlets from the Portlet Catalog.
Typically Portlets would try and offer a high-level overview on the first page (i.e. Dashboards, Summary views, etc.), with more in-depth content being available on subpages.
Job Scheduler
This is a Windows System Service that runs in the background and automates recurring and resource-intensive processes. You can scale out the job server(s) to dedicated servers.
Multilingual User Interface
IntelliEnterprise is available in the following languages: Chinese, Dutch, English, French, German, Polish, Portuguese, Russian and Spanish. Additional languages can be implemented upon request.
Scalability
You can host IntelliEnterprise utilizing Web Farms, Clustering and Network Load Balancing (NLB). As traffic grows, you can add more servers to the cluster. This ensures you can run IntelliEnterprise with a high availability and automatic repartioning of client traffic should a failure in a server be detected.
Discover all IntelliEnterprise Intranet features