See live Intranet examples
Over 100 features in our demo intranet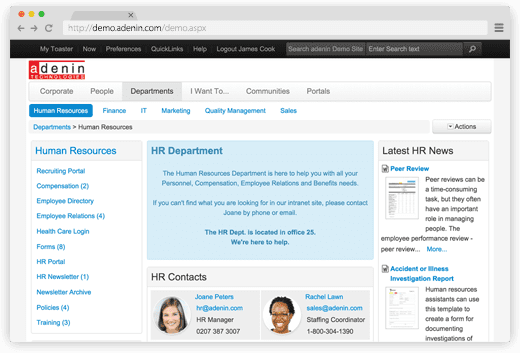 To help you get an idea of the range of use cases IntelliEnterprise supports as an Intranet we have set up a demo Intranet that includes over 100 modern Intranet example pages. We have set up three different personas, with different roles, intranet designs and preferences, that allow you to see different, personalized angles based on a user's wider context in the organization. Just play with it, and if you like what you see, you can schedule a personal demo anytime.
The Intranet of our sample company shows pages for departments, communities for collaboration, profile pages for users, task-based navigation, workflows and form submissions and an Extranet.
Features inside include Metadata and Tagging, Version History, Corporate YouTube, Meeting reservations, DirectEdit, Web Folders, Instant Messaging, Automatic thumbnail generation, and over 100 more features.
If you want to see a personal demo instead, you can request this here.
IntelliEnterprise is the modern Intranet software with over 100 features for collaboration, document management, people and applications. You can see a live example Intranet by filling out the form above, or download a free trial installation for your server.
Fill in your details for instant access to the IntelliEnterprise demo intranet project.