You're nearly there with embedding this Card into Viva Connections
Only needs to be done once:
Click the below Install now button to add the Card Maker add-in to SharePoint
2
Add a new Card maker Card to your dashboard. Then enter it's configuration pane
Paste your unique Card Share URL into the configuration pane
SharePoint integration
Embed Cards, access your smart assistant quickly and get AI-powered search suggestions inside SharePoint
Updated Nov 11 2022
Also available: You can create Cards to show inside Digital Assistant with data from the SharePoint API integration.
Make working together better with the Digital Assistant SharePoint extension. It's a flexible add-on for your SharePoint, that makes your Digital Assistant content integrate more seamlessly into your intranet.
Embed Adaptive Cards with the Digital Assistant WebPart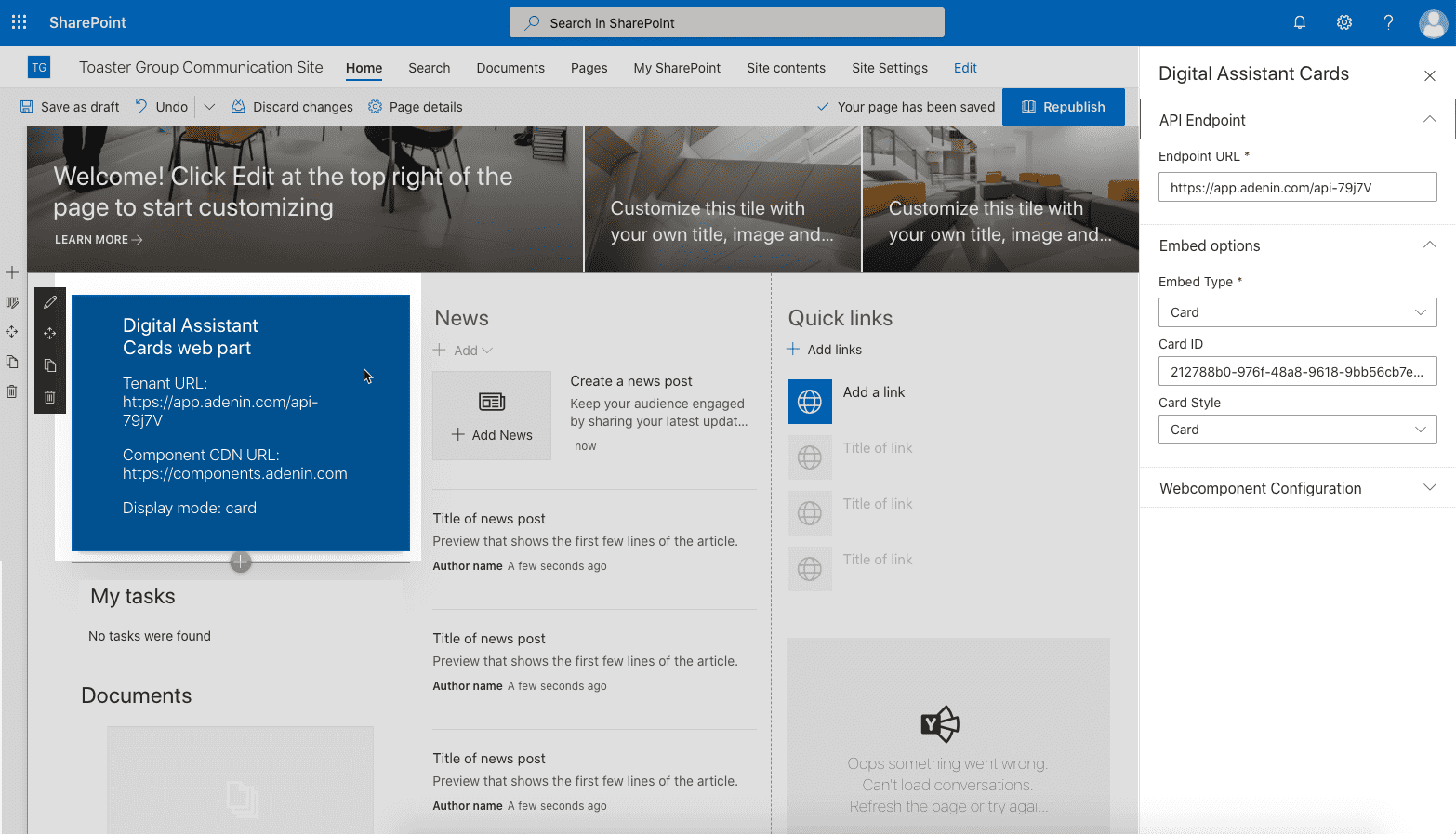 Easily embed any Digital Assistant Card with the Digital Assistant WebPart, making it simple to display data from other business apps and sources on any SharePoint page. Once connected, you'll be able to place any Adaptive Card you made in Digital Assistant directly from anywhere you can add WebParts in SharePoint, i.e. sites and groups.
Ready to supercharge your SharePoint intranet with the addition of a digital workplace Assistant? Get started today and see the difference Digital Assistant can make to your workplace.
How to install the SharePoint extension
Click Install now (top right-hand corner) to start the download of the Digital Assistant SharePoint package
Upload the package to your SharePoint by going to your Admin center and then navigate to All Admin Centers → SharePoint → More features → Apps → Open. This will bring you to the list of SharePoint apps, where you click on Upload.

Then select the package you uploaded from your computer and click on Enable app

When this is done, you can navigate to any page in SharePoint and add the Digital Assistant webpart (see detailed instructions below)

How to add an Adaptive Card as a SharePoint WebPart
Find the correct Card on your Digital Assistant Board, and click on the context menu button and then on Share and Copy to clipboard


If you haven't made any Adaptive Cards yet, just create one with the Adaptive Card Designer.
Then go to any SharePoint site where you can add WebParts, and in the WebPart selection menu search for adenin Card Factory and add that to your page.

Then paste the link under Card URL in the configurations panel, and adjust the height if necessary

All product names, logos, and brands are property of their respective owners. All company, product and service names used on this website are for identification purposes only. Use of these names, logos, and brands does not imply endorsement.