Browse Apps
G Suite integration
Add to Digital Assistant
Last updated May 13 2020
G Suite integration
Access the Google suite of apps and all of your files through your Digital Assistant
Seamless access to Gmail, Google Docs, Google Drive and Calendar within your Digital Assistant.
Search through all of your emails and files, get notified about changes in your favourite documents and files, and get updates and reminders for events in your Google Calendar with Digital Assistant.
Pin priority documents, files and meetings to your board for easy access and at-a-glance updates.

AI Trending Documents
The AI Trending Documents Card shows suggestions for documents you might find useful from the adenin AI engine in Digital Assistant. Suggestions are based on a variety of factors including your location, timezone, role, responsibilities, assigned tasks, and more.
This Card will suggest popular and frequently accessed documents from your connected data sources, as well as content such as Cisco Spark rooms, Whitepapers, training courses and videos to help you achieve more at work.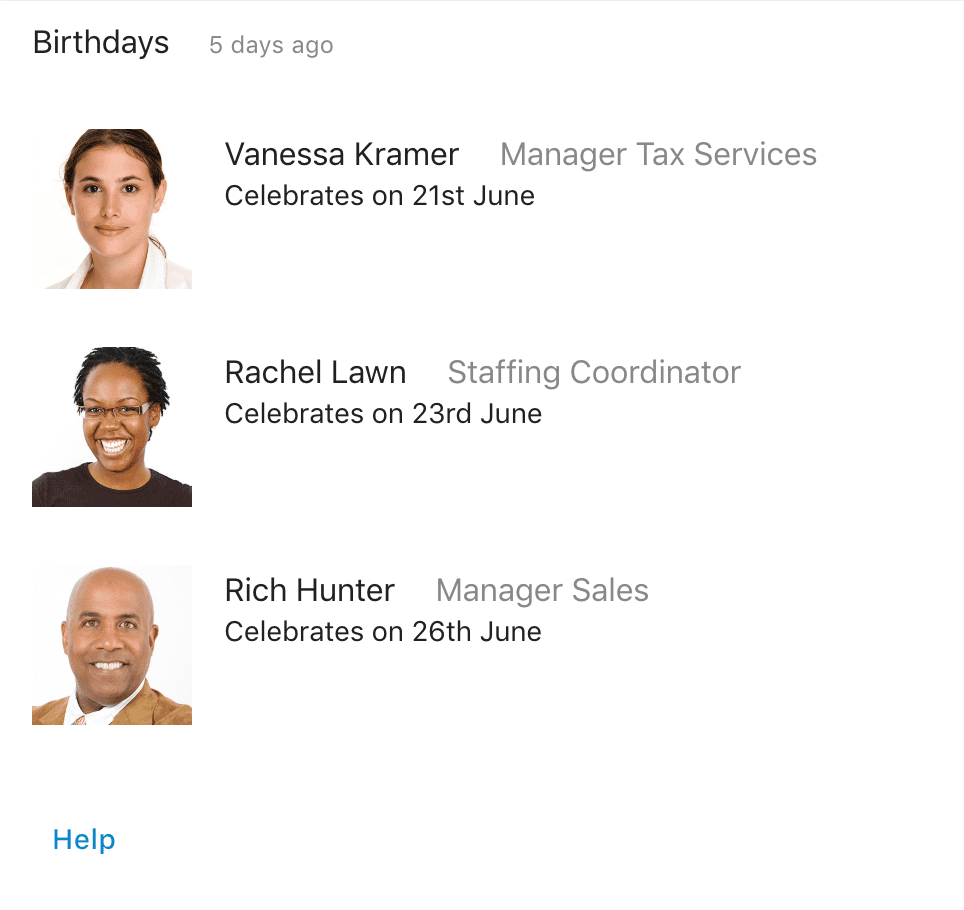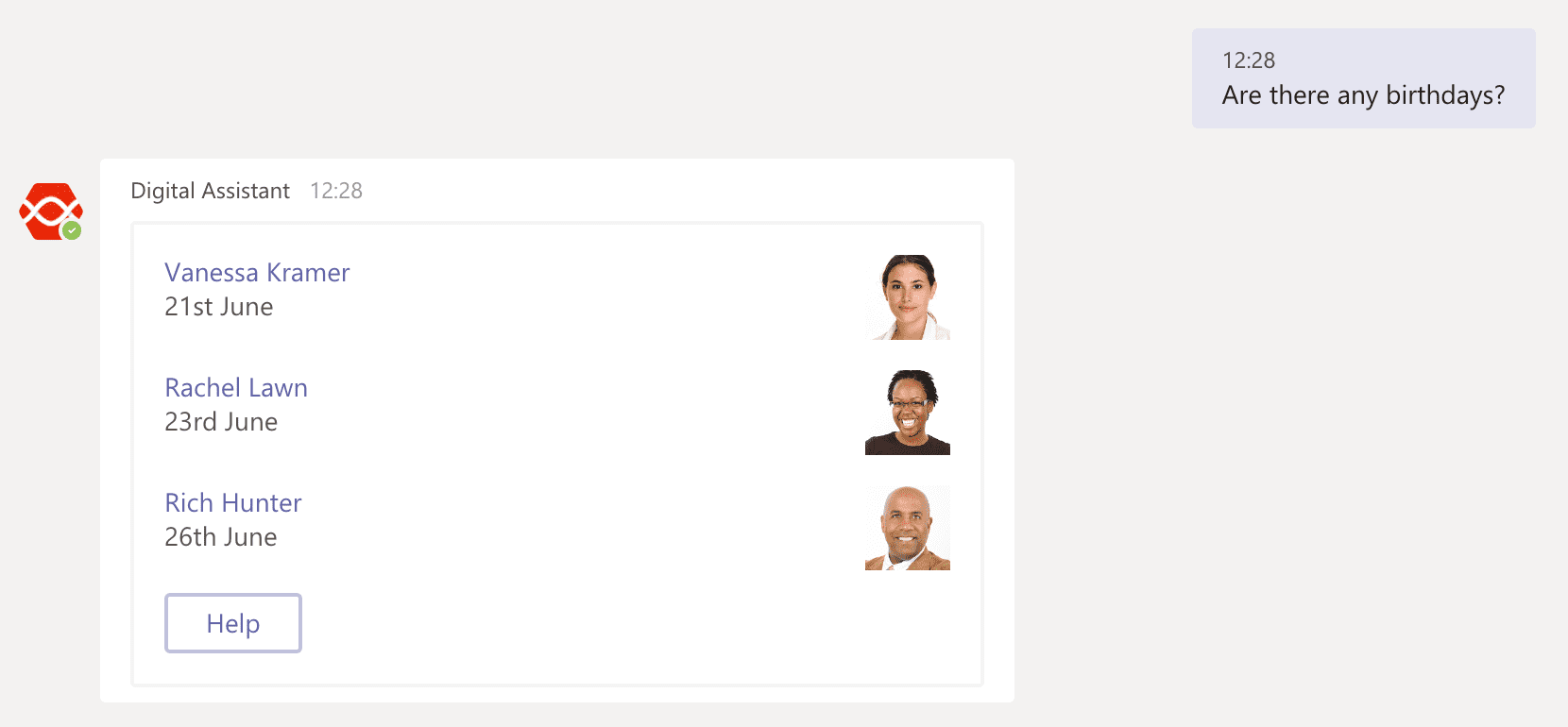 Birthday
The Birthday Card shows any employees in your team or department who have a birthday today. You can easily send your congratulations to your colleague from within the Card.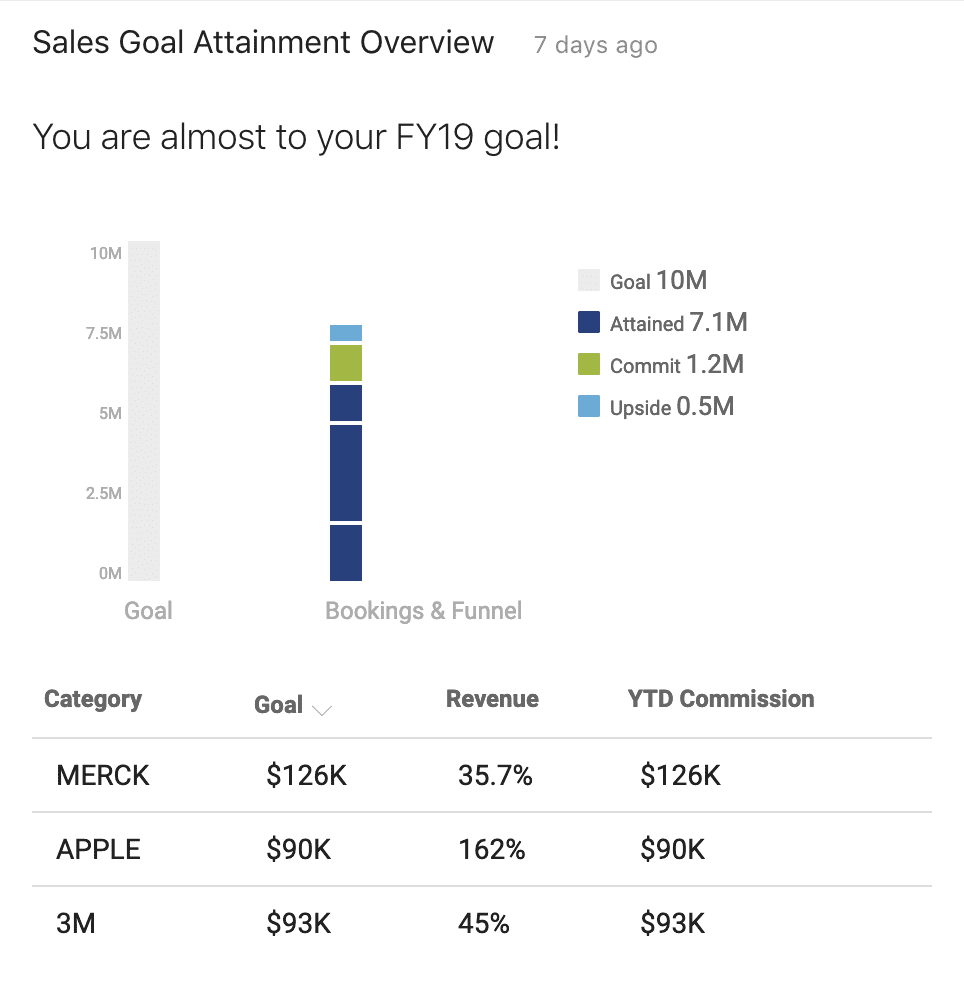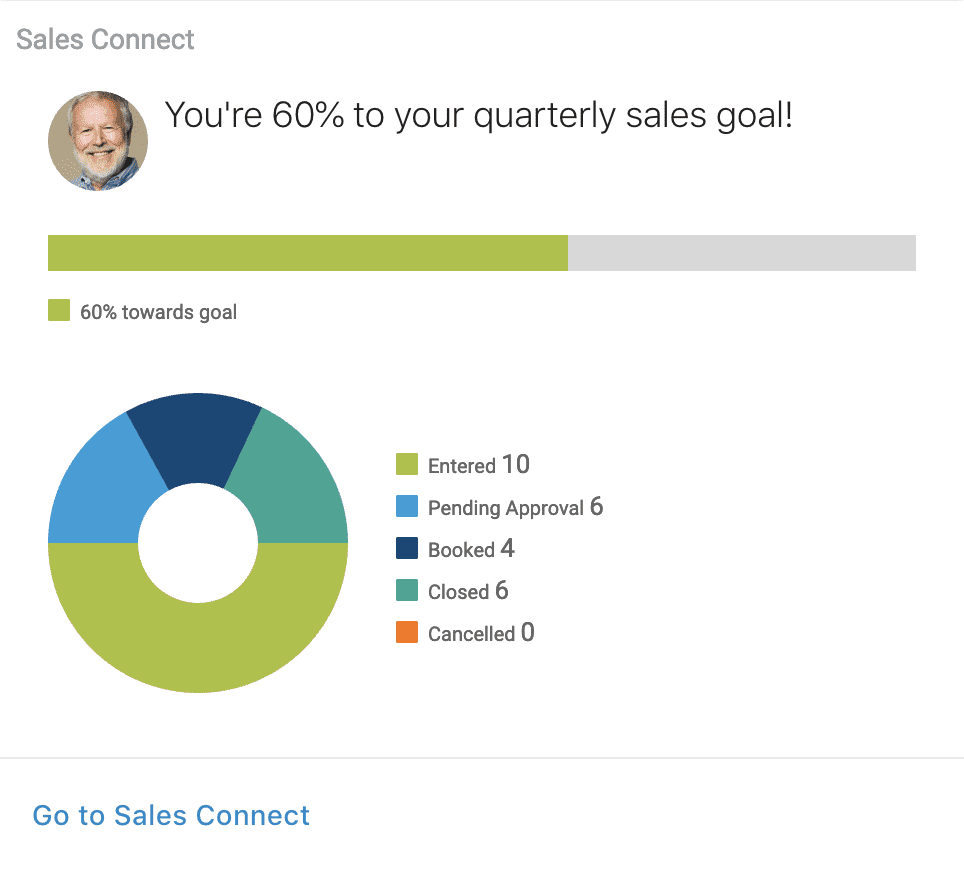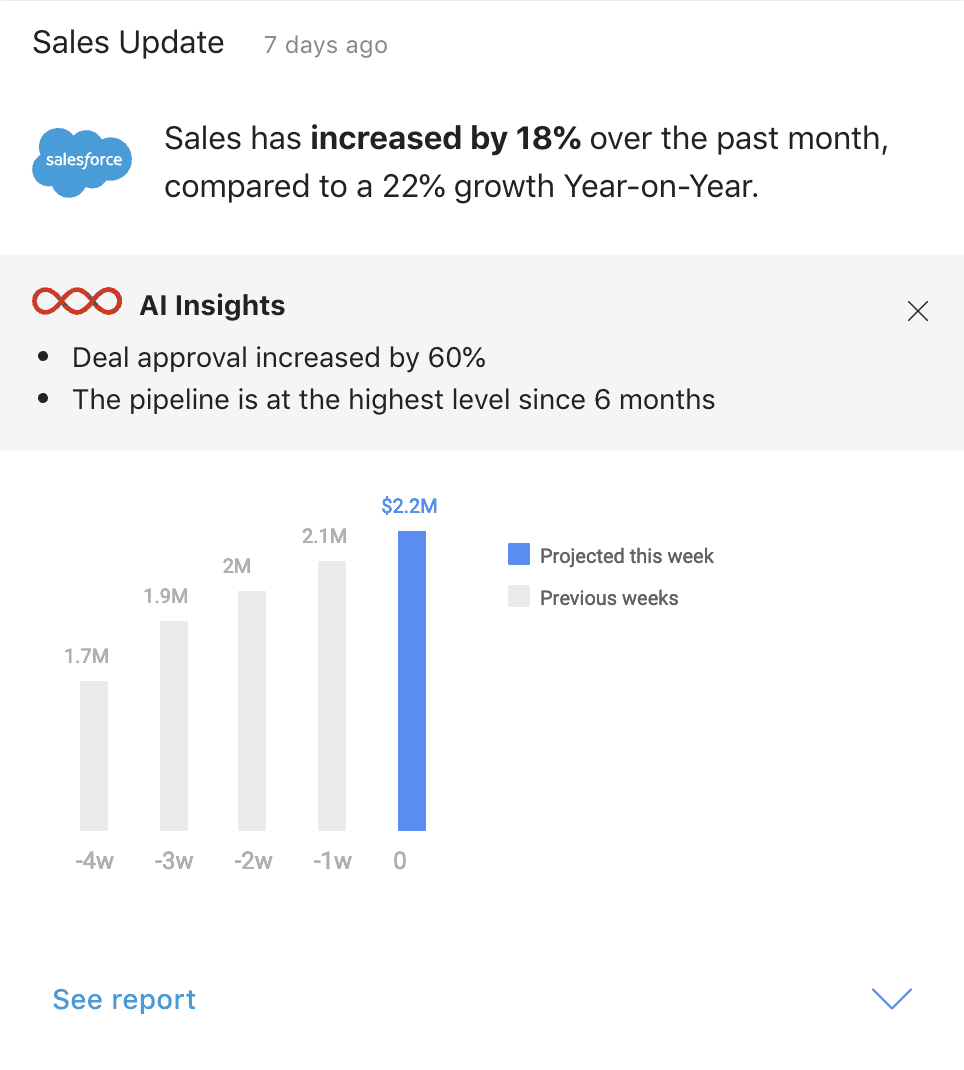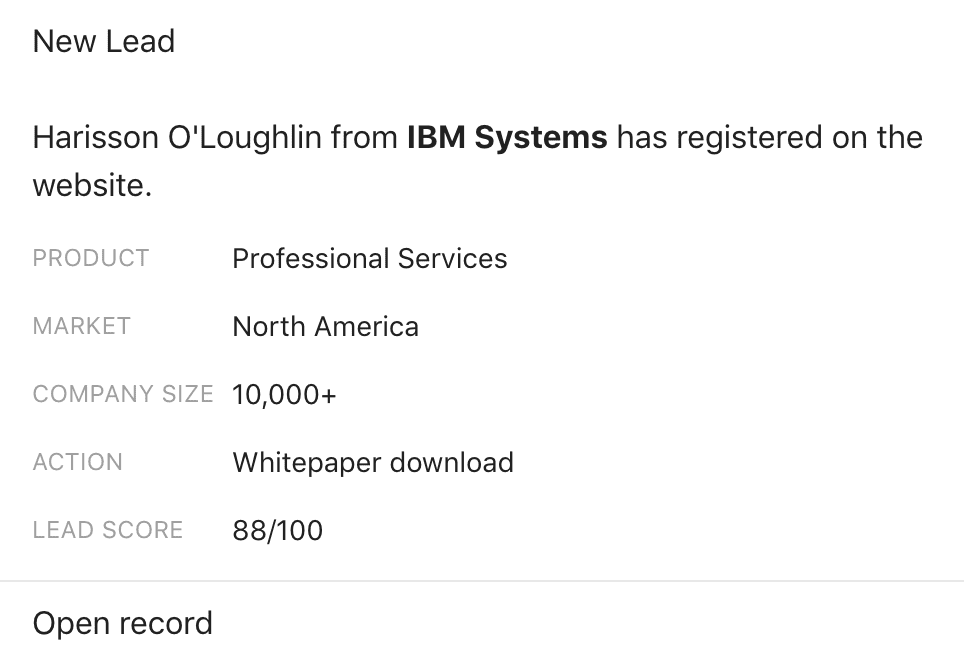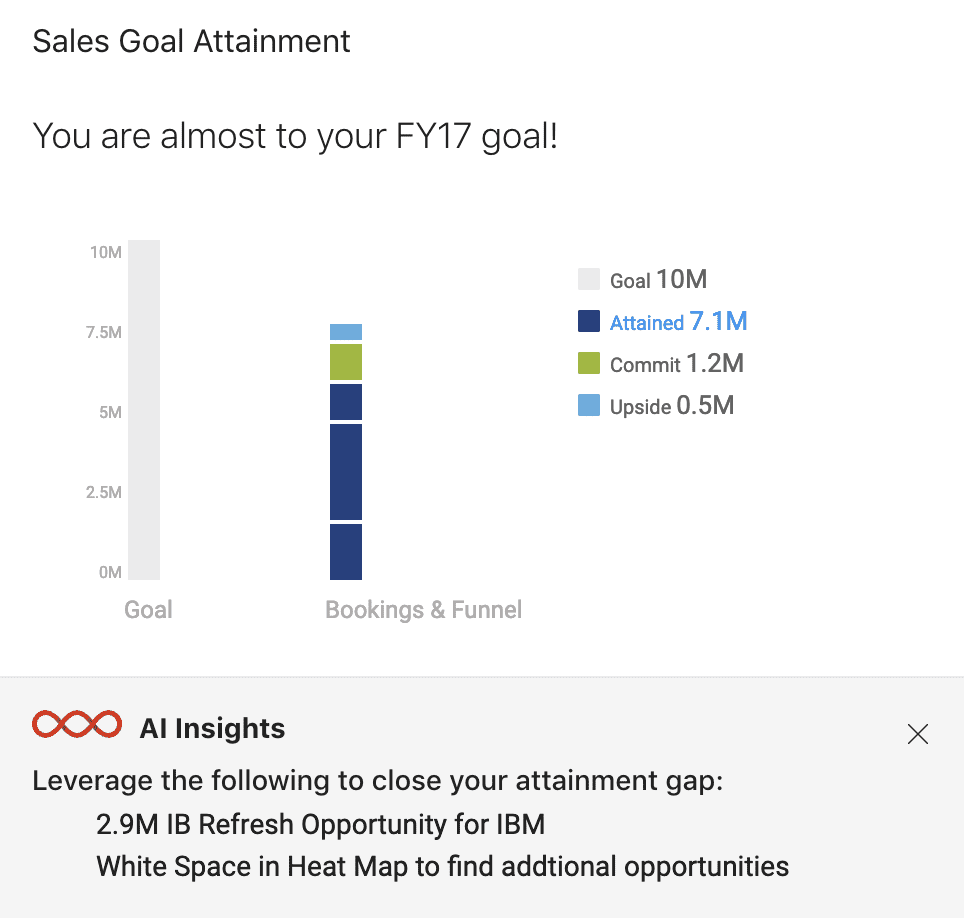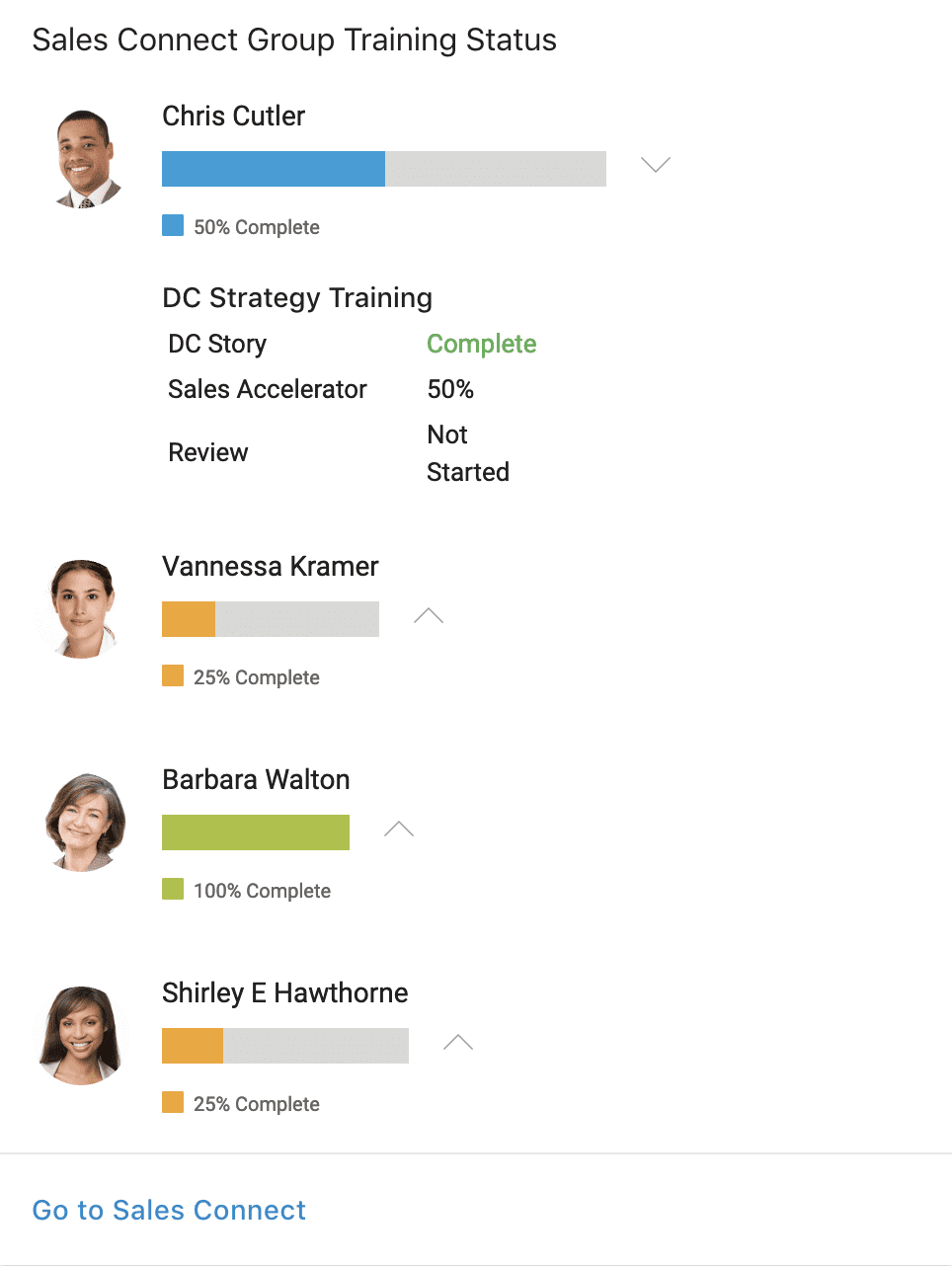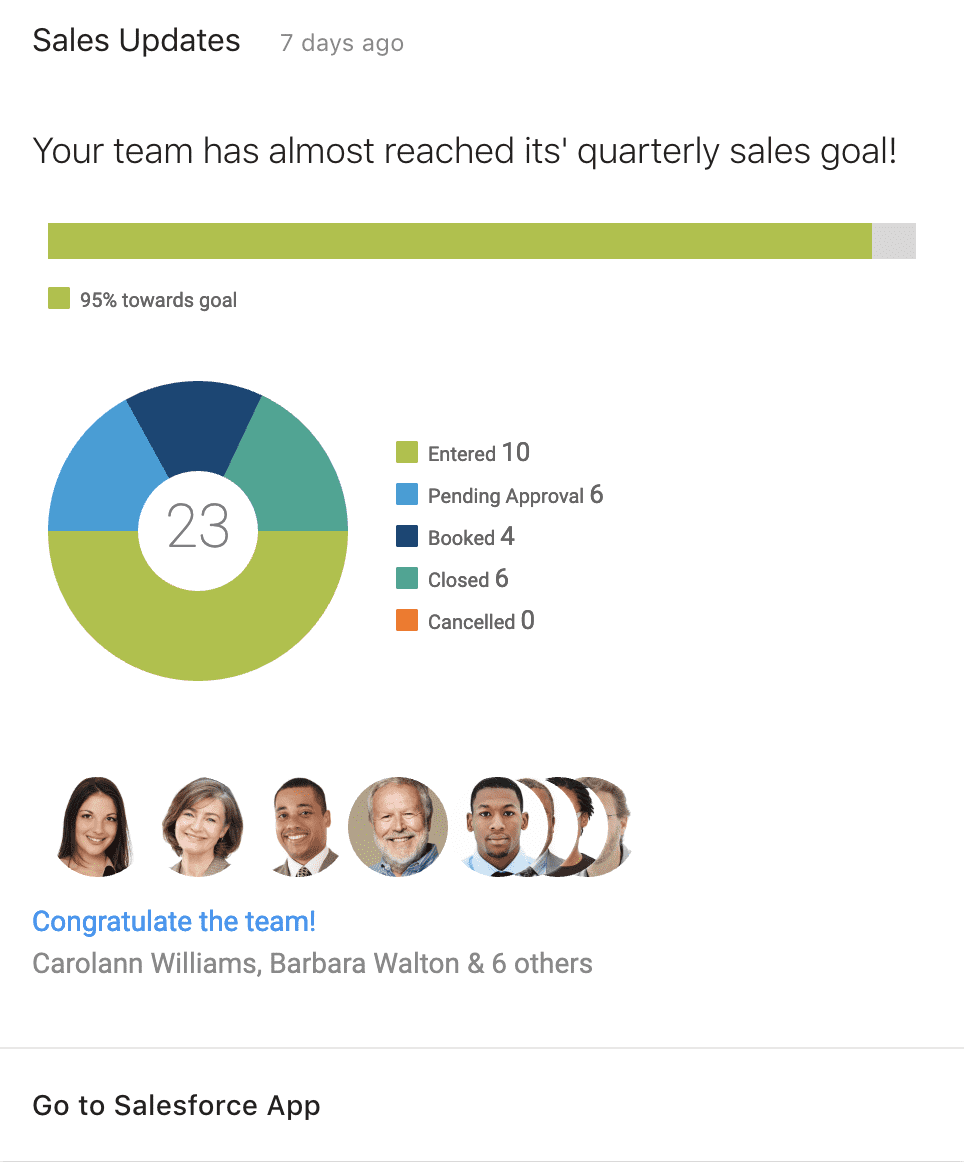 CRM
The CRM Card helps you track your and your teams progress towards weekly, quarterly and yearly sales goals. Keep an eye on your performance and see historical data and detailed financials in this Card, with beautiful graphics, charts and tables to help visualize your progress.
This Card will also notify you about interesting Sales events, such as new leads in your CRM, interesting Whitepapers and available training courses for you and your team.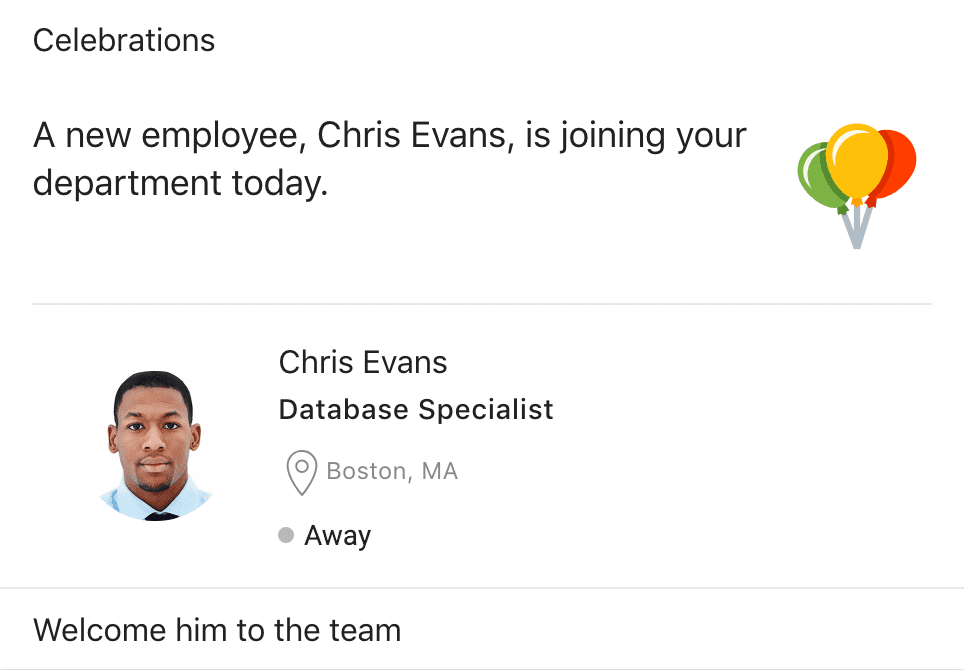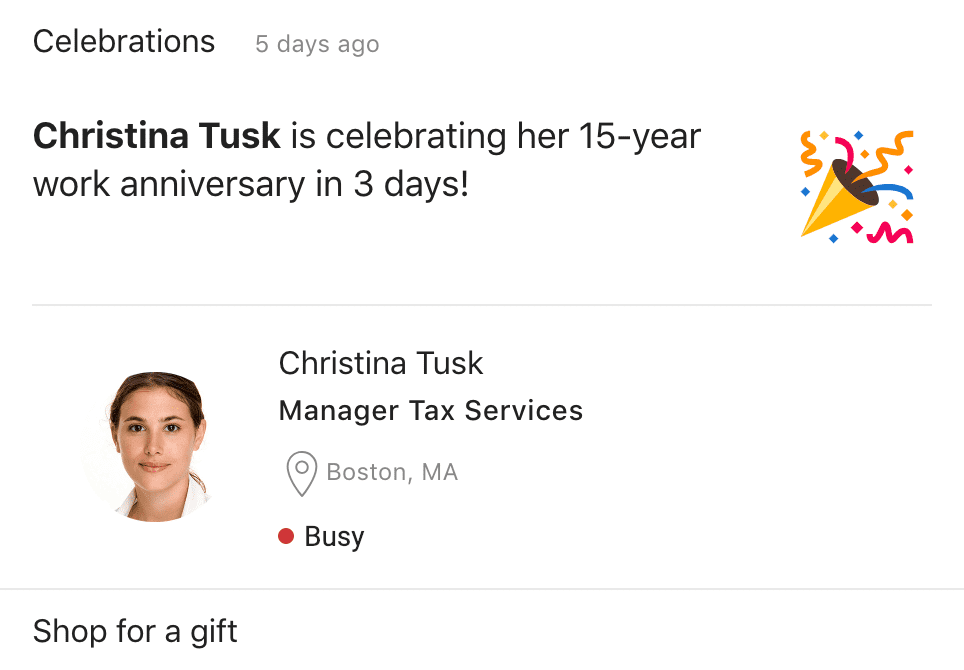 Celebrations
Foster employee engagement and create a social working environment with the Celebrations card. Your Digital Assistant notifies you about current and upcoming events, including work anniversaries, recognition awards or a new employee joining the team.
You'll get all the information you need to prepare for your colleague's work anniversary or welcome a new member to your team at a glance. And you can even take action from the Card with smart AI suggestions, so you can send a congratulations message without ever having to click 'New Email'.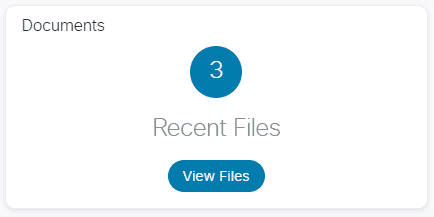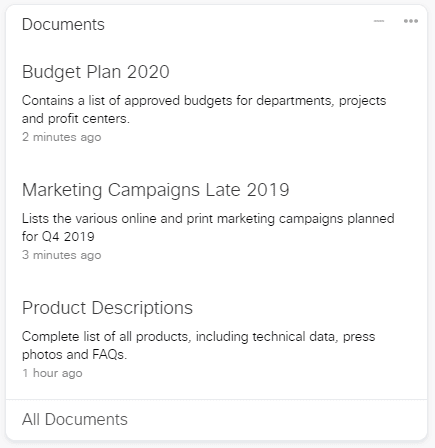 Cloud Files
Quickly search for and access documents and files across all of your favorite cloud storage providers with the Cloud Files Card.
The Cloud Files Card can additionally send you detailed notifications when files that you own or have shared with you are updated, so you can easily keep track of file changes. If you prefer to have that information at-a-glance, you can pin the Cloud Files Card to your dashboard.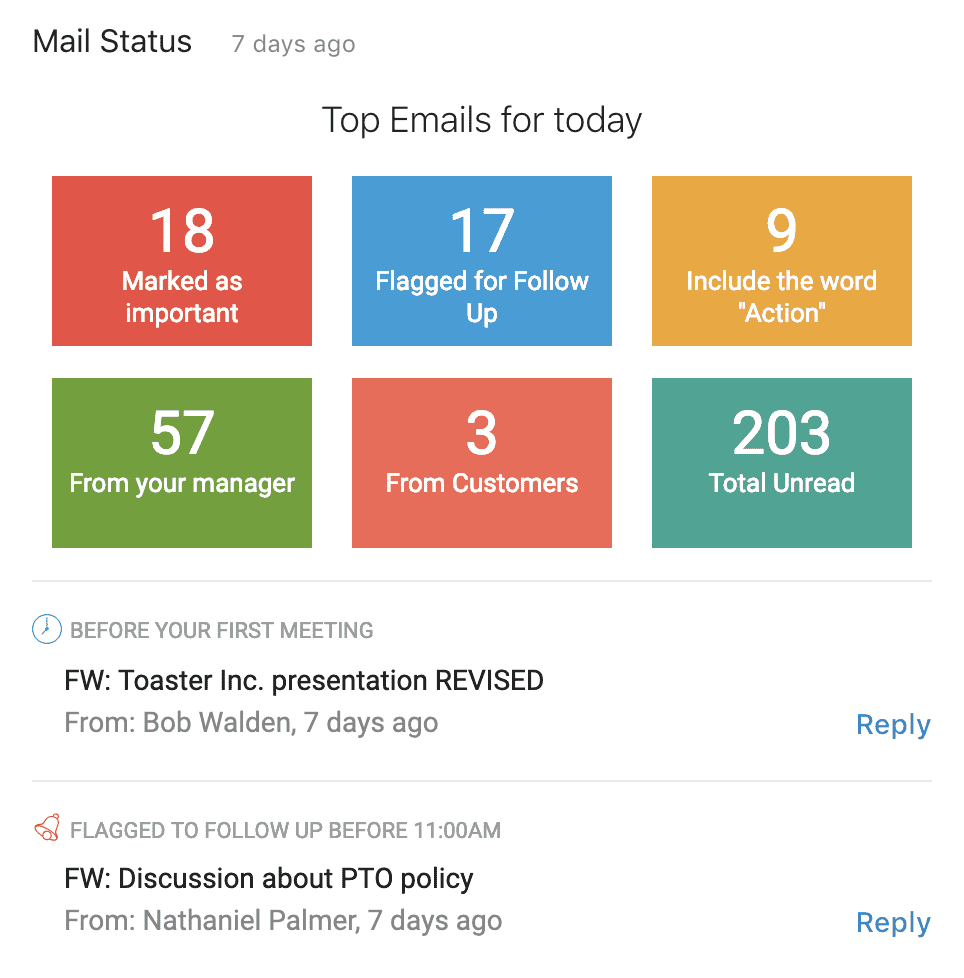 Mail
The Mail Card shows you a detailed overview of your inbox tailored to you. The AI highlights points of interest for you based on your role, and uses information from your calendar and project tracking applications to highlight emails that need attention.
This Card makes it much easier to keep track of a busy inbox by cutting through the noise. Never lose an important email from your client again and keep on top of tasks in flagged emails - the Mail Card makes being productive easier than ever.
Click on an email to open it in your email application, or reply to important emails directly from Digital Assistant by clicking on the reply button in the Card.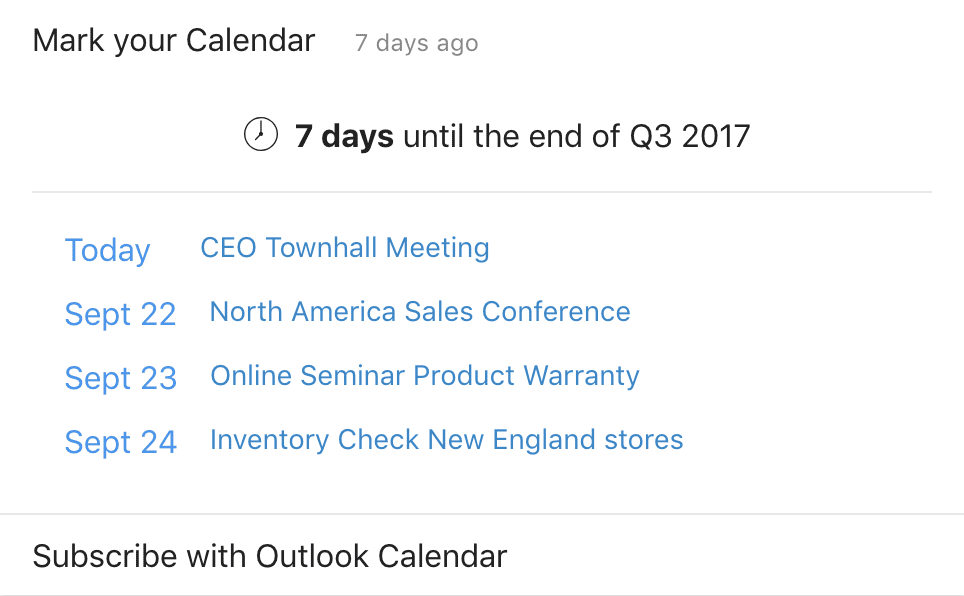 Mark Your Calendar
The Mark Your Calendar Card scans connected calendar applications, as well as company information, to show you a summary of important upcoming events. You can click on the events to get more information about them, and subscribe to the events in your own calendar applications with the click of a button.
This Card makes it simple to publicise information about company-wide events such as town halls, roundtables and conferences, so you can stay up to date with events within your organization.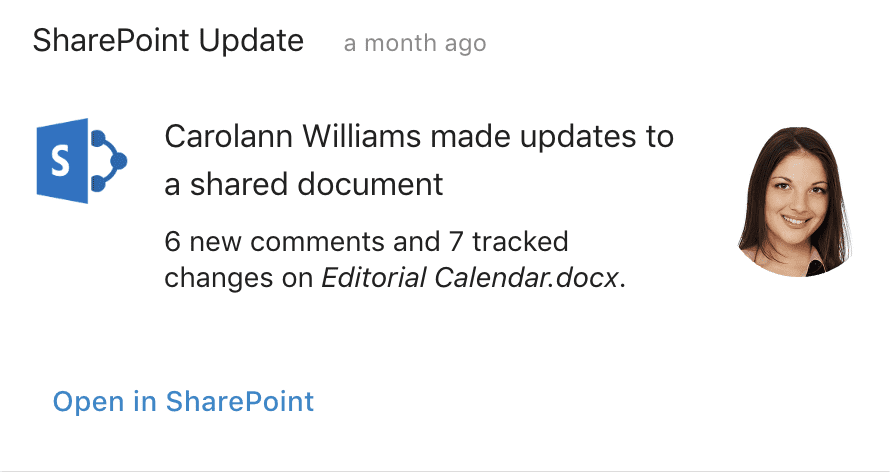 My Documents
The My Documents Card makes it simple to find and access documents across all of your connected applications, whether that's your SharePoint Intranet, personal Dropbox or inside your Salesforce CRM. Simply ask Digital Assistant to find a specific file or a set of files, and it'll return the answer to you in a Card with a direct link to the document or a list of available options that meets your search query.
The My Documents Card can also send notifications when tracked documents have been changed in a connected application, so you can keep an eye on updates to important files.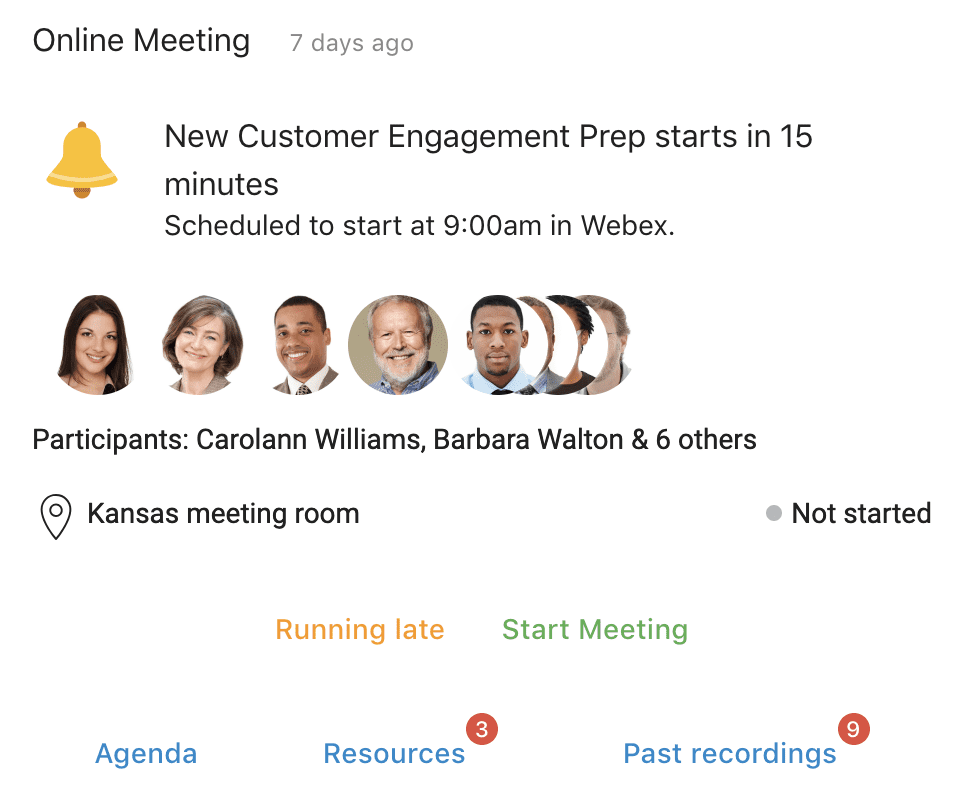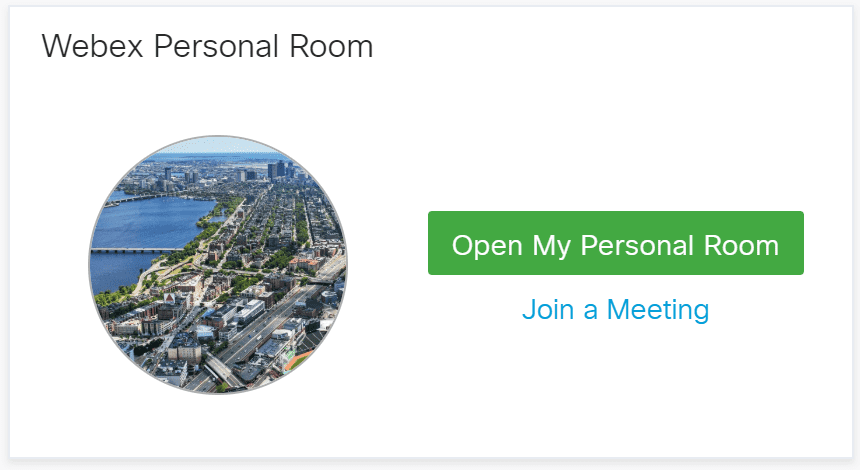 Online Meeting
The Online Meeting Card sends you reminders for upcoming online meetings, along with information about attendees and location. If the meeting is hosted via an online meeting service like Webex Spark, the Card will show you this information as well as a link to the online meeting room.
The Card lets you start or join the meeting, or indicate to other attendees that you'll be late, as well as see links to other pertinent information such as the meeting agenda. If you're hosting a meeting, the Card will give suggestions to open your personal Webex Spark meeting room before your meeting is due to start.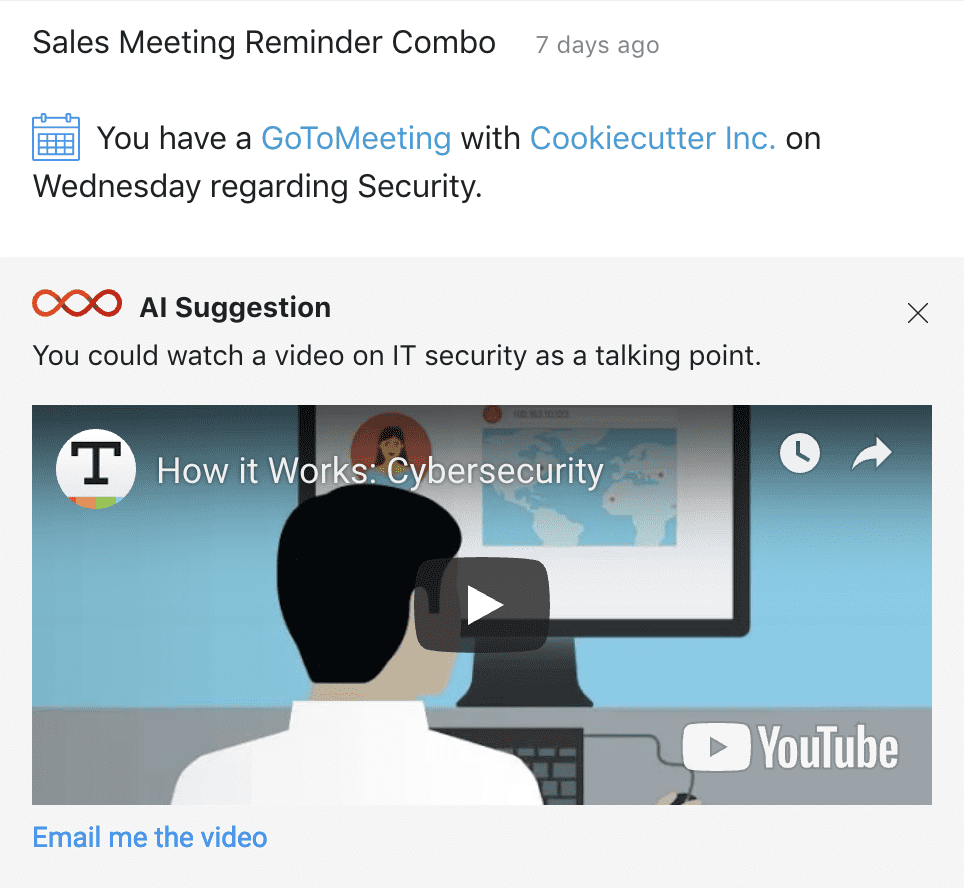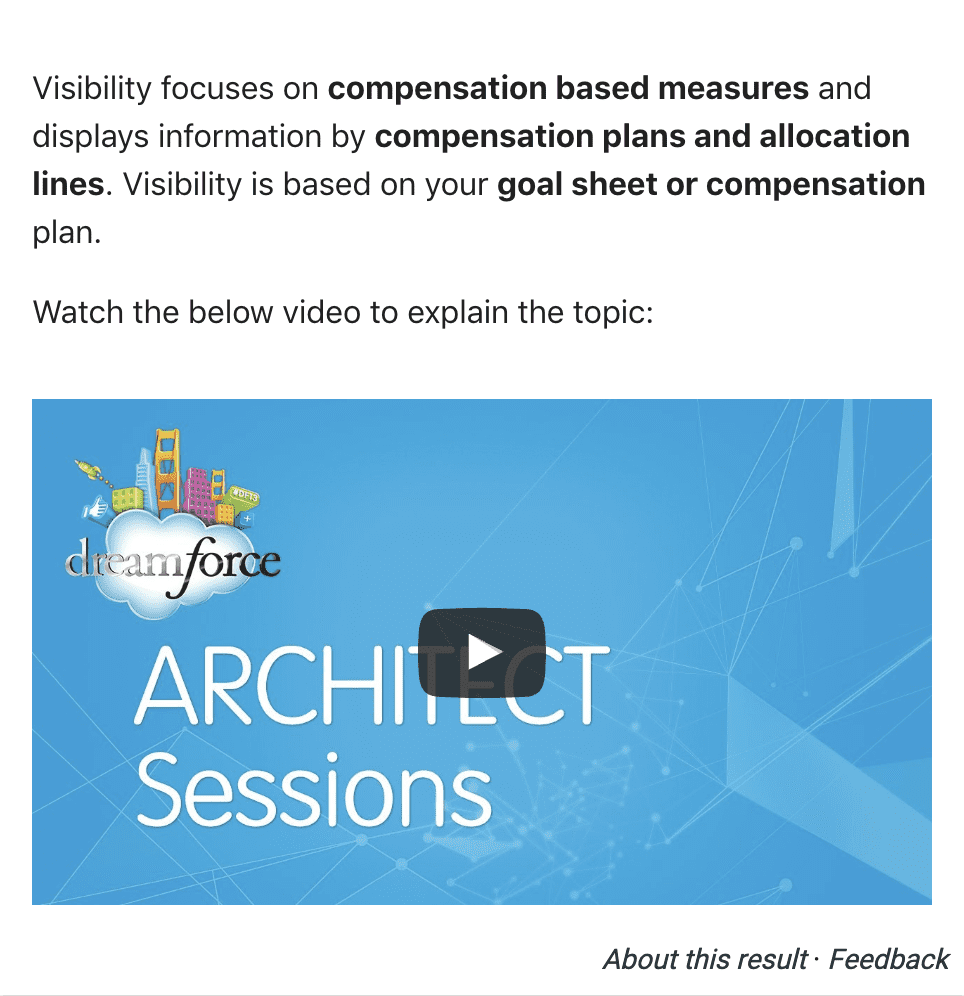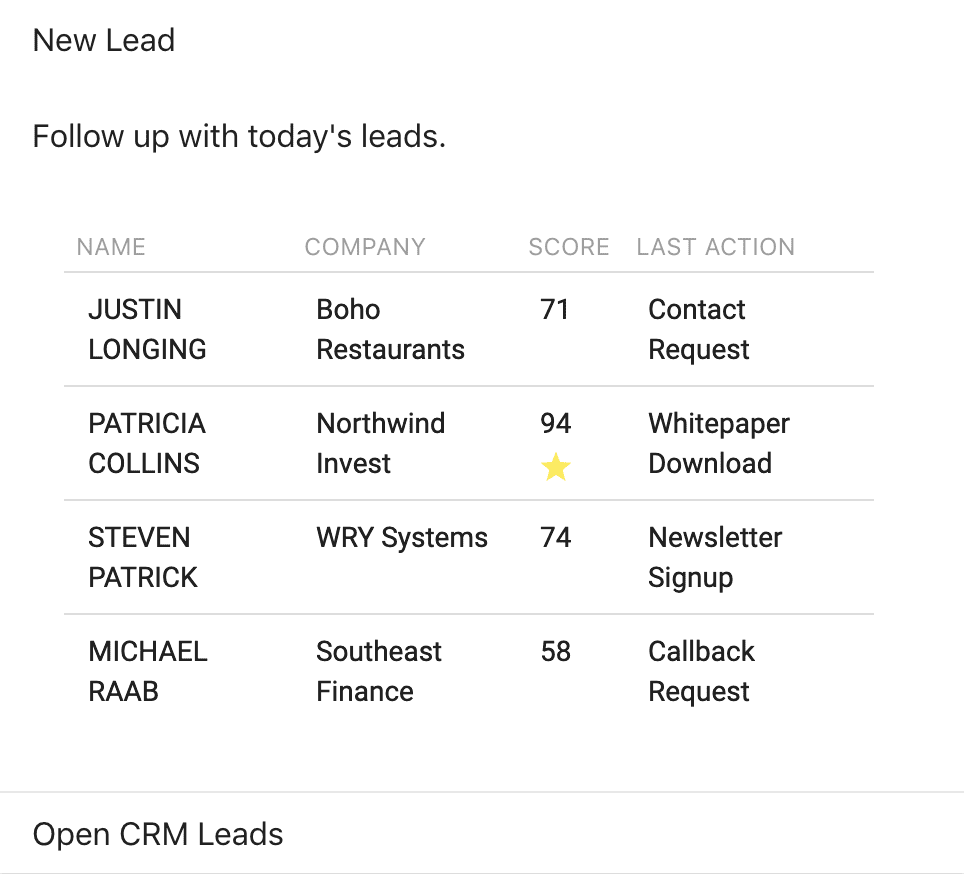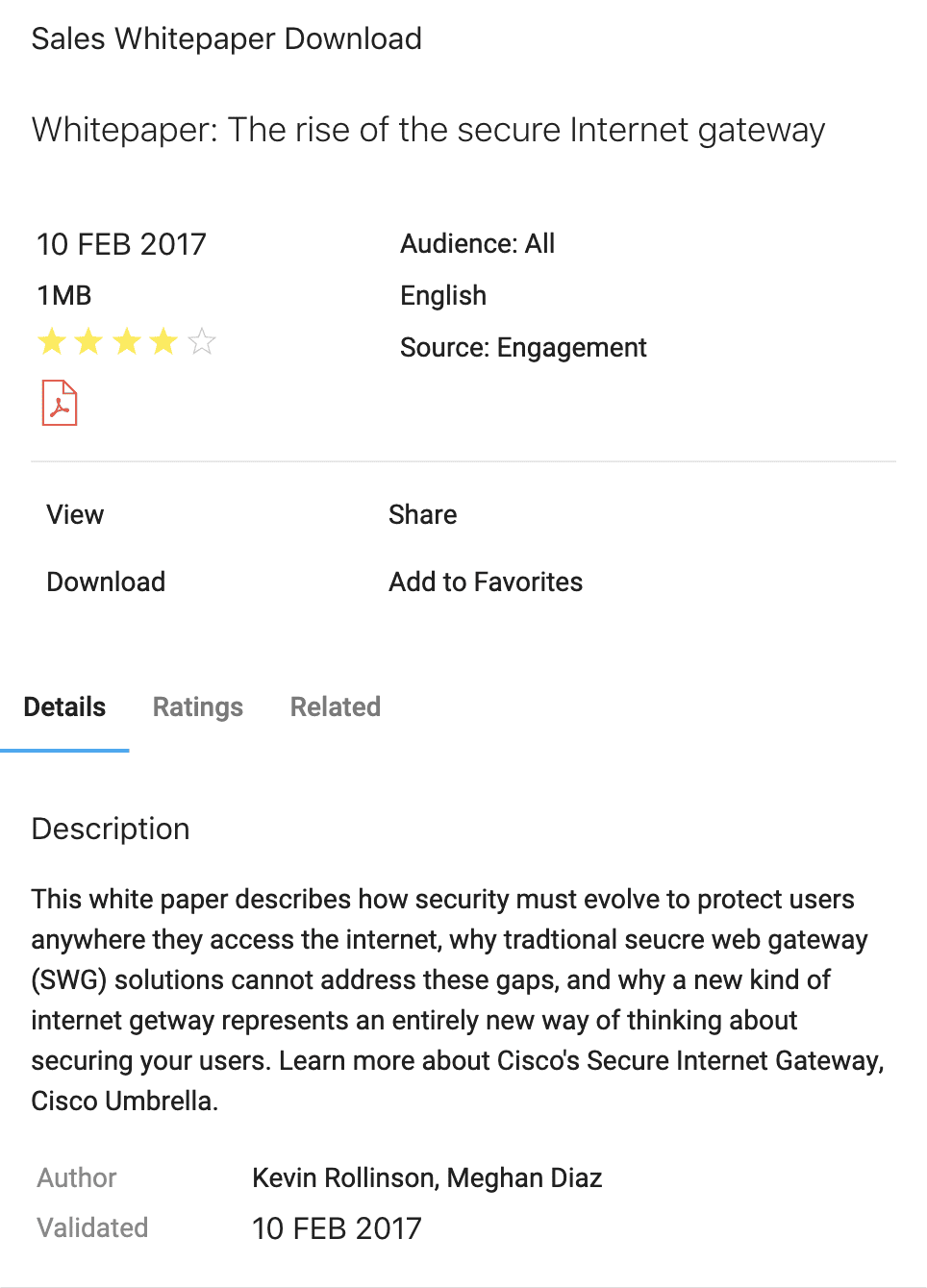 Sales Suggestions
Make your sales cycle smarter with Digital Assistant's Sales Suggestions Card. See suggestions for things you can do, watch and learn to improve your own sales skillset as well as improve your customer relationships and make more deals.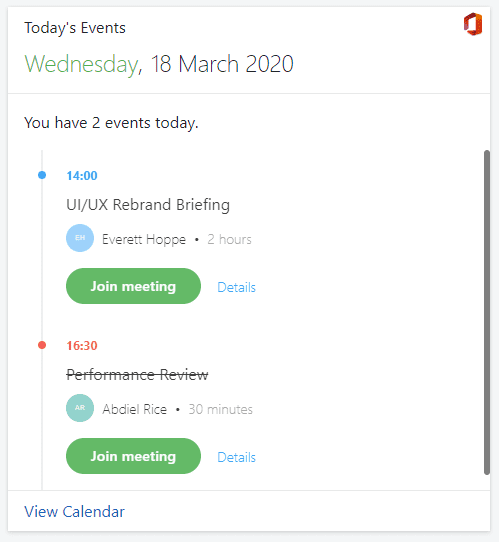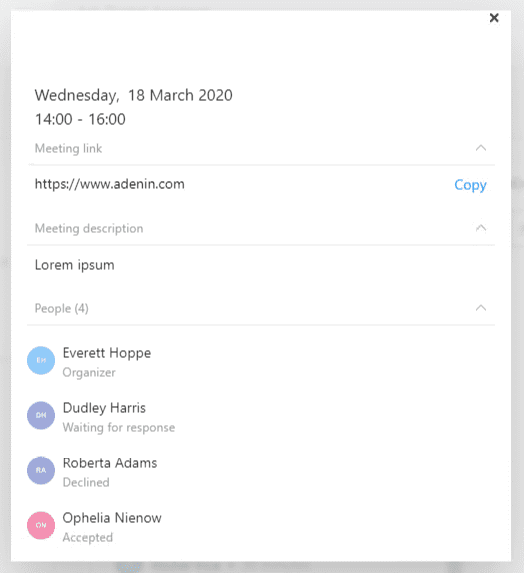 Upcoming Meetings
The Upcoming Meetings Card makes it simple to see an at-a-glance overview of your day. Any online or face-to-face meetings which are scheduled in your calendar will be shown along their details like the time, location, attendees and more.
Having an online meeting? adenin AI automatically extracts join links for all major online meeting providers, e.g. GoToMeeting, Zoom, Webex, Microsoft Teams, and more.
Without having to hunt for links and access codes, you can just click the "Join Meeting" button on the Card and you're in.
You can pin the Events Card to your Board to put a quick overview of your daily schedule at your fingertips. Additionally, you can subscribe to notifications from the Events Card to get real-time notifications when changes to your calendar happen, such as new meeting invites or a change in the start time of an existing meeting.
Updated 10/31/2019
This update brings in a number of improvements:
- Avatars now have a coloured background when there is no photo
- We're now hiding the events that have already occurred
- Improved tracking for the "Join meeting" button
- Cancelled events are shown in red and attendees that cancelled are also shown in red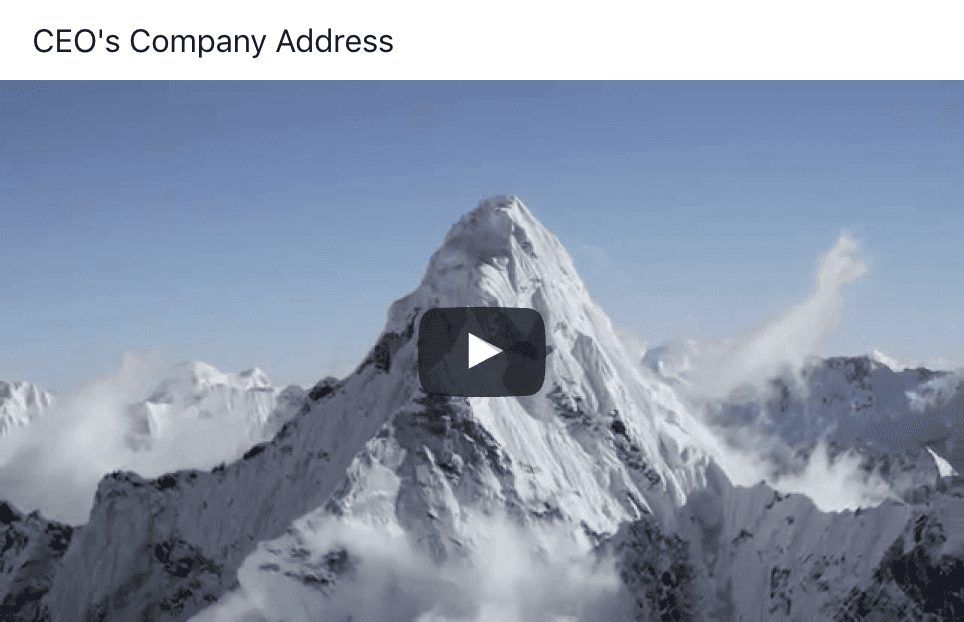 Video
The Video Card lets you watch a variety of content from a multitude of sources from within your Digital Assistant. Catch up on saved videos from your Pocket, watch a video your colleague has shared with you via Dropbox or view a company publication on YouTube.
You can even watch Video Card content on smart devices with screens such as the Amazon Echo Show or Lenovo Smart Display, as well as on your mobile devices or computer.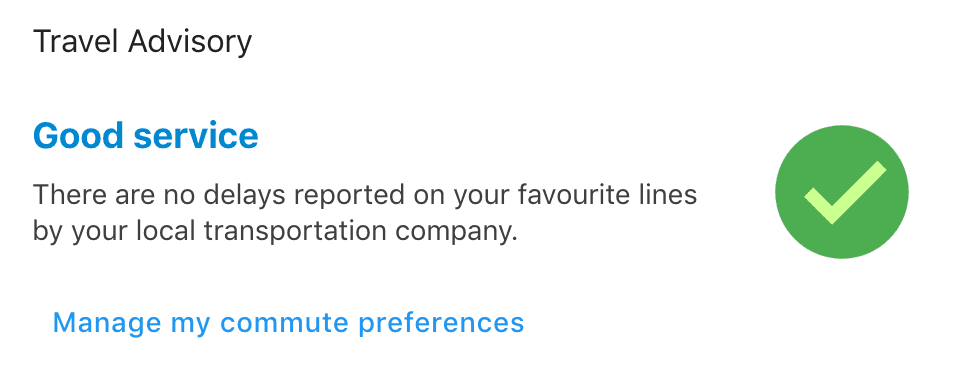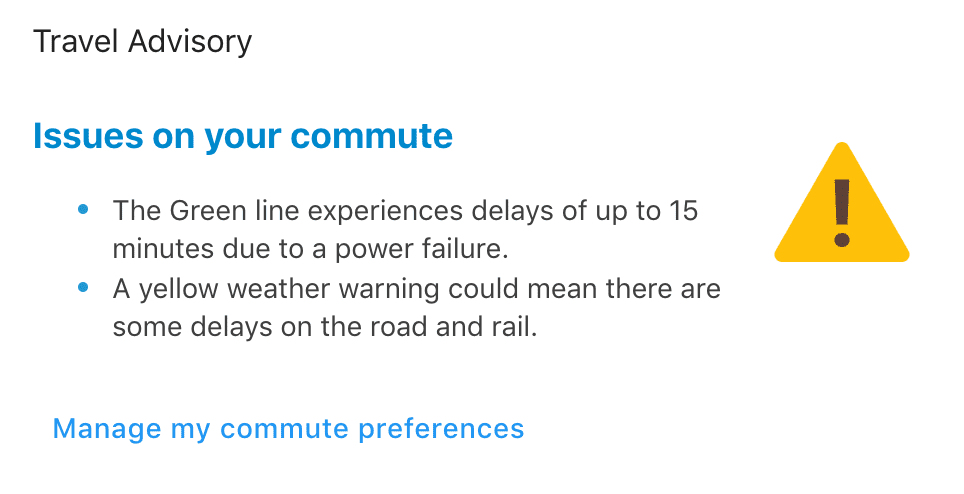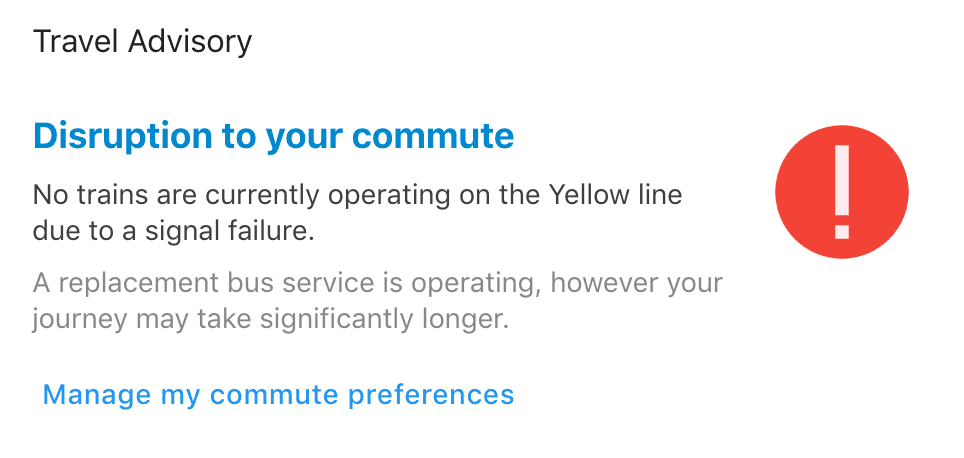 Your Commute
Whether you drive, cycle or take public transport, the Your Commute Card shows you up-to-date information tailored to you and your commute every day, so you can stay informed about potential travel disruptions and explore alternative routes if necessary.